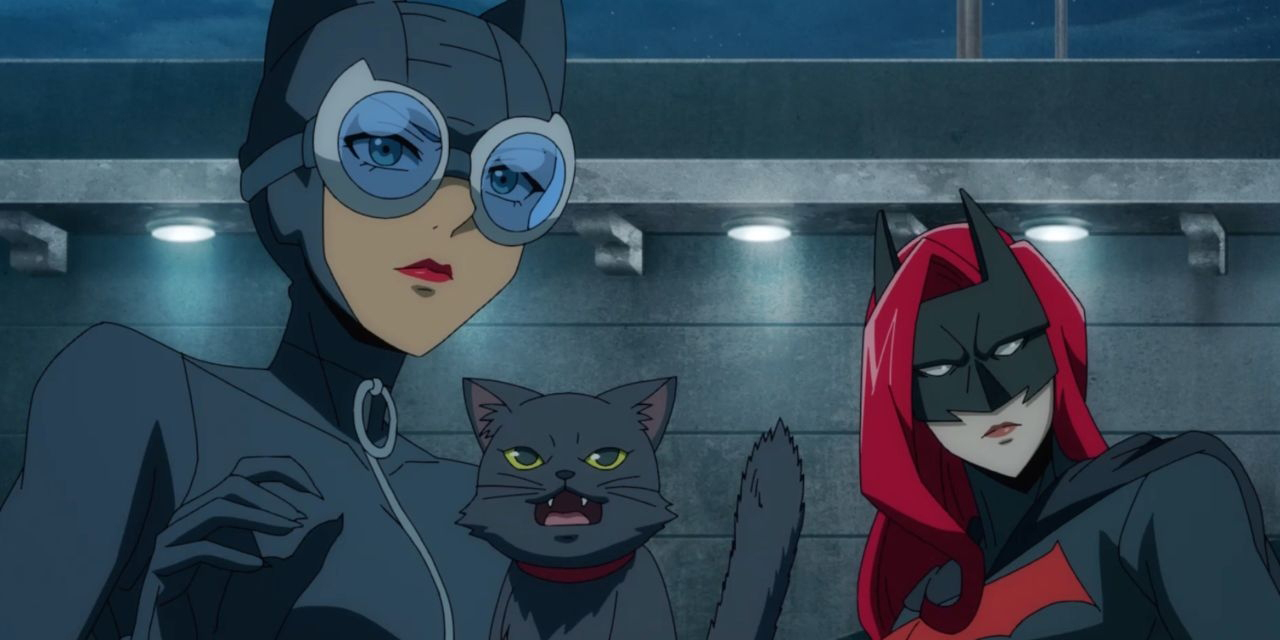 Josh Reviews Catwoman: Hunted
In the new animated DC universe movie, Catwoman: Hunted, Selina Kyle steals a priceless gem from the criminal organization called Leviathan.  As Leviathan tries to hunt Catwoman down to take revenge, Selina winds up teaming up with Batwoman, Julia Pennyworth, and King Faraday, who are attempting to take down Leviathan's underworld empire.
This anime-inspired animated film has a different feel than most of the direct-to-DVD/blu-ray DC animated films.  I'm not a big fan of the huge-eyes anime-style character design, but I did enjoy the jauntily-paced action.  There's not a heck of a lot of plot to this movie, much of it is just action-action-action.  It's fun, but pretty superficial.  Sadly, I felt that the film suffered almost any time the characters stopped to talk.  I found most of the dialogue to be either stiff exposition or eye-rolling faux cool "banter" that to me sounded juvenile.
The voice cast is strong, with the home run being the genius idea of casting Stephanie Beatriz (who I've loved for years for her role as Rosa Diaz on Brooklyn Nine-Nine and who has exploded this year from her performance as Mirabel in Encanto) as Batwoman.  Ms. Beatriz is perfect in this role.  Her non-nonsense deadpan is just right for Batwoman.  (Ms. Beatriz is also one of the only female voice-actors who doesn't make the bad choice of coating their line-delivery with extra sultriness.)  I wish Batwoman had more to do in the film.
The rest of the ensemble is a fun assembly of talent, as is often the case for these DC animated films.  We get Elizabeth Gillies as Catwoman, Jonathan Banks (Breaking Bad, Better Call Saul) as Black Mask, Lauren Cohan (The Walking Dead) as Julia Pennyworth, Jonathan Frakes (Riker on Star Trek: The Next Generation) as King Faraday, Keith David (The Thing, Platoon, Cloud Atlas) as Tobias Whale, and Kirby Howell-Baptiste (The Good Place, Barry) as Barbara Minerva.
I enjoyed the stylish opening credits.  (I was a bit confused as to what we were seeing unfold behind the credits; at first I'd worried the credits were giving away the story of the film we were about to watch, but it turns out they were showing us what Selina was up to before the movie begins.)
I'm thrilled that they used Darwyn Cooke's redesign of the Catwoman costume for Selina's costume here.  (I also enjoyed seeing her dressed in a costume reminiscent of the classic Catwoman design from the fifties in the opening sequence.)
I wish they'd taken the time to animate Black Mask's mouth moving.  It feels like a cheap cheat that they didn't.
It was fun to see Julia Pennyworth in one of these animated films; I just wish she had more to do in the story.
Batwoman looks like an idiot when she falls for Catwoman's pretending to seduce her, in order for her to steal Batwoman's phone.  My eyes rolled.
The film has a weird structure.  From the title, I'd expected that we'd get a chase movie, with Catwoman being pursued by Leviathan after she crosses them in the opening sequence.  But it turns out there's basically just two sections to the film: the long opening heist (which I mostly enjoyed), and then to my surprise Selina and Batwoman find Leviathan's HQ right away, and the rest of the movie is basically just a big extended fight sequence.
Catwoman: Hunted was fun but forgettable.  I wish we'd gotten a more interesting story.  This voice cast and the strong fight animation should have combined to make for a more interesting story, with more excitement and suspense and a deeper investigation into these characters.
Please support MotionPicturesComics.com by clicking through one of our Amazon links the next time you need to shop!  As an Amazon Associate, I earn from qualifying purchases.  That means I'll receive a small percentage from any product you purchase from Amazon within 24 hours after clicking through.  Thank you!