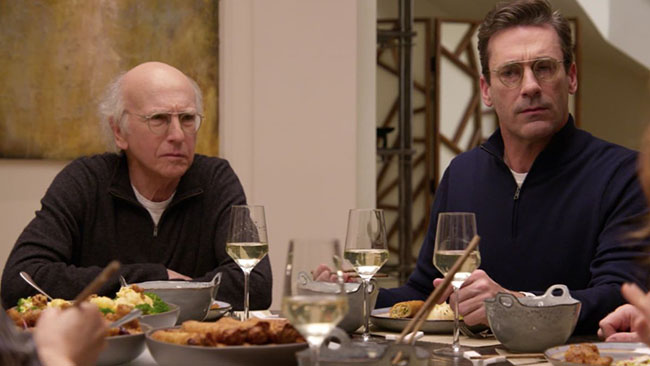 Josh Reviews Curb Your Enthusiasm Season 10
We had to wait a long time between the eighth and ninth seasons of Curb Your Enthusiasm (over five years), and when that ninth season of Curb finally arrived, I felt the show had lost its way somewhat.  It was still extremely funny, and jam-packed with wonderful and crazy ideas.  But the longer-running episodes felt shaggier, and more hit-and-miss.  Plots didn't fit together with the clockwork precision of earlier Curb (and, of course, Seinfeld).  It still made me happy, but I felt the show's best days were behind it.  I'm thankful that we only had to wait two years between the ninth and tenth seasons of Curb.  This tenth season isn't a reinvention of the show; it's stronger than season nine, I think, but I doubt anyone would argue this is one of the best seasons of the show.  Still, not being as good as the best seasons of one of the best TV shows ever made is not a crime!!  I really enjoyed this season, and I think this show still has a lot of life left in it.  There was plenty that didn't quite work here in season ten, but there was so much to enjoy it's hard for me to really complain.  Let's dig in…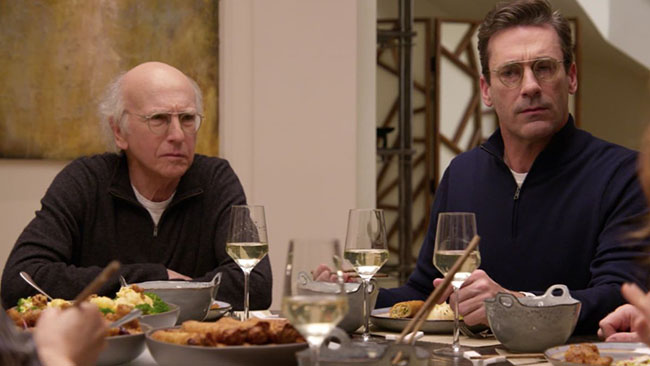 The first three episodes of the season had me very concerned.  Those episodes focused primarily on Larry's running afoul of the #metoo movement.  The idea that the ornery, prickly Larry of Curb — who also happens to be a wealthy, privileged, older white man — would find himself the subject of ire from the #metoo movement is an idea with a lot of merit.  However, I felt those first few episodes made the mistake of drifting into mockery of the #metoo movement.  There's a subtle but critical difference between mining comedy from that movement (and Larry's being made a target of it), versus belittling the movement and the women who accuse men of misdeeds, and I think the show was on the wrong side of that line.  The women who were accusing Larry of misconduct were depicted as buffoonish and ridiculous, which I think was a big mistake.  I don't think this was a good look for the show.  Frankly, I didn't find it funny; I found it almost unpleasant.
Thankfully, the show moved away from those stories, and the main season-long story-line wound up being the far more interesting (and far better basis for great comedy) story of Larry's feud with coffee-store owner Mocha Joe (Saverio Guerra), leading to Larry's opening up a "spite store" — his own coffee shop, Latte Larry's, right next door to Mocha Joe's.  The whole idea of a "spite store" is brilliant.  Who hasn't ever seen two very similar stores in close proximity to one another, and wondered what the deal was?  It's a perfectly "Larry" thing to do, and the show got a LOT of mileage out of Larry's adventures opening this coffee business of his own — assisted, as always, by Leon (J.B. Smoove) — from his quest for the best beans to his unique new ideas about the design of his store's restrooms.
The highlight of the season, for me, was a episode eight: "Elizabeth, Margaret and Larry".  There was lots of great stuff in that episode, such as Larry's sleeping with Cheryl's sister Becky (Kaitlin Olson).  But it was Jon Hamm's transformation into a Larry David duplicate that made this episode an all-timer.  I've always found Jon Hamm to be incredibly funny; he hit it out of the park here as he gradually mimicked more and more of Larry's behavior.  (Re-enacting the scene from the season premiere, in which Jon/Larry argued with Mocha Joe about the temperature of his coffee and the wobbliness of his tables, was genius.)  Whatever your feelings about season ten as a whole, I can't imagine anyone arguing with the greatness of this particular episode.
There were many other terrific comedic moments throughout the season: Larry's wearing a MAGA hat in order to prevent people from coming up and chatting with him; Larry's getting seated in the ugly section at a restaurant (Nick Kroll was very funny as the maitre d'); Jeff's being mistaken for Harvey Weinstein.  I enjoyed the explorations of side-sitting, yo-yo-diets, and texting while driving.
I loved the further development of the Larry-Cheryl-Ted Danson love triangle and all the awkwardness that ensued from that.  I was pleased that Richard Lewis got several meaty storylines this season (such as dueling with Larry over who gets to pay the bill for their lunches, and his "serious" acting gig playing a man with disabilities which was unfortunately waylaid by his consumption of bad licorice that Larry had intended for Susie).  I loved seeing Chaz Bono, and the ensuing conversations about the size of his new johnson.  (Establishing that Leon hosts big johnson club meetings at Larry's house was amazing.)
Bob Einstein, who played Marty Funkhouser so brilliantly on the show, sadly passed away last year.  The show didn't address his death, other than a comment early on that he was abroad.  If Curb returns for an eleventh season, I hope they give Marty a proper send-off.  In the meanwhile, I really enjoyed Vince Vaughn's work as Freddy Funkhouser; he fit perfectly into the mix with Larry, Jeff, Richard Lewis, etc.
There were many other wonderful guest stars throughout the season, including but not limited to: Laverne Cox, Alan Tudyk, Fred Armisen, Philip Rosenthal, Isla Fisher, Clive Owen, Jane Krakowski, and Richard Kind.  I also loved seeing the various other celebrities who appeared in the finale, having started spite stores of their own.  Jonah Hill and Mila Kunis were both great, and you haven't lived until you've seen Sean Penn shouting at a bird.  Brilliant.
I hope we get another season of Curb sometime in the not-too-distant future.  (The idea of watching Larry deal with social isolation is delicious.  Larry has been practicing this for years!!  Larry's obsession with Purell — which he insisted be on every table of his coffee shop — seems prescient now, huh?  Also: watching all of the Purell burn in the finale plays a LOT differently now than when those scenes were filmed!!)  For now, I'm happy with season ten.  As I noted above, it might not be anywhere near the creative peaks of earlier seasons of this show.  But that doesn't mean it's not still pretty, pretty great.
Please support MotionPicturesComics.com by clicking through one of our Amazon links the next time you need to shop!  We'll receive a small percentage from any product you purchase from Amazon within 24 hours after clicking through.  Thank you!