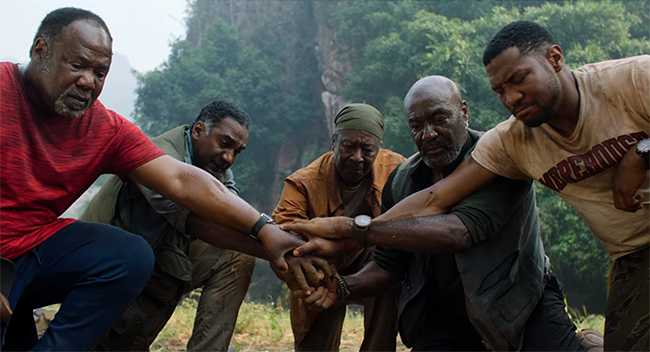 Josh Reviews Da 5 Bloods
In Da 5 Bloods, Spike Lee's 2020 film, four Vietnam veterans (played byDelroy Lindo, Clarke Peters, Norm Lewis, and Isaiah Whitlock, Jr.) reunite to travel back to 'Nam.  Purportedly their mission is to recover and bring home the body of their fallen squad leader, but in fact they're after a crate of CIA gold that they found and buried back during the war.  I was extremely taken by this film.  (It was one of my favorite movies of 2020!)
First of all: what a cast.  Delroy Lindo, Clarke Peters, Norm Lewis, and Isaiah Whitlock, Jr. are each absolutely fantastic as the four surviving "Bloods".  Delroy Lindo plays Paul, who on the surface seems like the most haunted of the men by his experiences in the war.  Mr. Lindo's blazing intensity is extremely well-used in the film.  As an audience member I was fearful both for and of Paul from the first moment I laid eyes on him, and wow does Mr. Lindo just crush several key monologues in the film.  I fell in love with Clarke Peters in The Wire and then again in (the beautiful, brilliant, vastly underseen) Treme, and he is marvelous as always here as Otis.  Otis seems to have made most of the arrangements for this return visit to Vietnam, and some of those arrangements seem like they might have been a little sketchy.  Mr. Peters' innate likability plays nicely against the suspicions the film's plot raises about Otis.  Norm Lewis plays Eddie, who seems to be the most financially successful of the Bloods, though he is still committed to this mission back into the jungle with his friends (for reasons we discover).  I love how Mr. Lewis makes Eddie the Blood who seems the most out of his element, back in the jungles of 'Nam.  Then there is Isaiah Whitlock, Jr.; if the movie did nothing more other than to give him a new opportunity to say "sheeeee-it" on film (something which made this fan of The Wire supremely happy), then dayyenu!  That would have been enough.  But he's got a lot of fun things to do in the film; he might just have been the Blood I most wanted to see get out of this situation intact!  (Though, seriously: that "sheeeee-it" is reason alone to see this film!)  Jonathan Majors (The Last Black Man in San Francisco, Lovecraft Country) is very solid as Paul's grown-up son David, who finagles his way into being a part oof the men's mission.
The late, great Chadwick Boseman is tremendous, as he always was, as the Bloods' dead leader "Stormin" Norman.  Mr. Boseman isn't in too many scenes, but his role is critical.  We need to understand the deep connection these men feel to their fallen comrade.  And, wow, does Mr. Boseman ever sell that.  His charisma, his special energy practically bursts through the screen.  This is a spectacular performance, and it just makes Mr. Boseman's far-too-early passing hurt even more.
The Vietnam caper aspect of the story is compelling, but what's special about the film is the way Mr. Lee anchors this adventure story within the broader picture of the African American experience, both during the seventies and to this very day.  Mr. Lee has a knack for making his films — whatever their story or setting — profoundly relevant to the time in which they were made, and he succeeds with that in a powerful way here with Da 5 Bloods.  I was moved by the war Mr. Lee intercut real footage from across the decades into the film at key moments — visual references to social injustice and protest from the sixties right up until today.  Mr. Lee had a point to make with this film, and he makes it spectacularly well.
It's long-in-coming to get a great Vietnam film that centers itself on the experience of African-American soldiers in the war.  Additionally, I was pleased that this Vietnam film does not tune the Vietnamese characters into caricatures or one-dimensional villains.
But my favorite moments in the film weren't the political ones; it was the scenes in which Mr. Lee (who co-wrote the film along with Danny Bilson, Paul De Meo, and Kevin Willmott) allow the characters to play off of one another, to bicker about politics and music and their personal history.  I loved how fleshed out these characters were, and how thoroughly these phenomenal actors were able to bring them to life.
From a filmmaking point of view, I was repeatedly impressed with Mr. Lee's skill throughout this film.  I particularly enjoyed the playful way Mr. Lee and his team played with the aspect ratio of the film.  The film moved between a variety of different proportions: 2.39:1 digital for the present-day city scenes, 1.33:1 16mm for the Vietnam flashbacks, 16:9 digital for the present-day jungle and 2.39:1 Super 8 for home movies.  The use of these different formats, film-stock and color-timing is crucial to help center the audience as we jump around in time throughout the film, and I loved the playful audacity of these shifts in style.  (You can read more about Spike Lee and cinematographer Newton Thomas Sigel's work on Da 5 Bloods here.)
The movie stretches credulity to have the same actors play themselves in the present day and also six decades prior.  (There were a few times when, based on the ages of the actors involved, I wondered if maybe the present-day scenes of the movie were meant to be taking place in the nineties or early aughts, but the MAGA references make clear that's not the case.)  That might make your head spin at times, as it did mine.  But I understand the reasons for wanting these same actors to play the roles in both time-frames of the movie.  Their performances make it worth the audience perhaps pretending that the Vietnam war wasn't quite so many decades ago.  I also will mention that there's one moment of over-the-top gory violence late in the film that I think was a mistake.  Not the plot twist, but the execution of the gore on-screen.  It was so horrible that for me it rounded the corner into silly Monty Python territory, which I suspect was not the intention.  I think that was a mis-step.
But other than that, I was hooked into Da 5 Bloods from start to finish.  It's a pleasure to see that Spike Lee remains in full command of his storytelling and filmmaking powers, this deep into his career.  I can't wait for what's next.
Click here to purchase my "Maclunkey" Star Wars/Highlander mash-up t-shirt!

Please support MotionPicturesComics.com by clicking through one of our Amazon links the next time you need to shop!  As an Amazon Associate, I earn from qualifying purchases.  That means I'll receive a small percentage from any product you purchase from Amazon within 24 hours after clicking through.  Thank you!