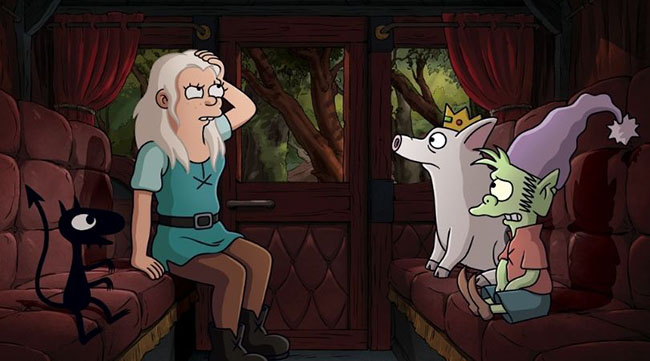 Josh Reviews Disenchantment Season Three
I'm continuing to enjoy Matt Groening's Netflix animated series Disenchantment!  Overseen by Mr. Groening and Josh Weinstein (a writer of many wonderful episodes of The Simpsons and Futurama), Disenchantment is an adventure comedy series set in a fantasy world.  Matt Groening has described the show as being "about life and death, love and sex, and how to keep laughing in a world full of suffering and idiots, despite what the elders and wizards and other jerks tell you."  That's a pretty solid description!
The series focuses on Bean, the tough, smart, hard-living princess of Dreamland, voiced by Abbi Jacobson.  Bean's two closest friends are a demon Luci (Eric Andre) and an Elf named Elfo (Nat Faxon).  Over the course of the three seasons so far, I've quite enjoyed the rich, weird fantasy world that has been developed on the show!  This series isn't on the level of The Simpsons or Futurama (the former a pop-culture juggernaut and the latter an overlooked comedic masterpiece), but it's a great deal of fun and I recommend it.
While each episode tells a complete story, I've quite enjoyed the tight continuity between episodes.  This gives Disenchantment a different feeling than either The Simpsons or Futurama, which were more episodic.  (Futurama had more continuity than The Simpsons ever did, but Disenchantment is several steps beyond.)  Each season of the show feels like a chapter in a larger story.  I've been impressed with how the writers have been able to balance their storytelling, far better than so many other streaming shows.  Each episode has a distinct identity and tells a complete story.  At the same time, the episodes lead smoothly one into the next in a way that makes it hard to stop watching when an episode's credits roll!  By the end of each ten episode season, I've felt satisfied and also eager for the next season.  The show's penchant for season-ending cliffhangers (something never done on The Simpsons or Futurama) makes the wait between seasons difficult!
Speaking of balance, I've also been pleased by the show's balance between plot and comedy.  This is a densely plotted show.  A lot happens in each episode, and after each ten episode season I've felt like the characters and the story have moved on to the new stage.   (I love that the series isn't stuck in the same status quo from year to year.)  At the same time, the show is very funny!  Perhaps not at the level of the very best comedies on TV these days, but the series is consistently a lot of fun, filled with gags and wordplay that make me smile.
I've enjoyed the development of the characters on this show, particularly Bean, who is probably the most deeply developed character on any of Mr. Groening's shows.  Bean is a fantastic character; she's a compelling heroine who also continues to make the type of selfish, flawed decisions that real-life human beings tend to make.  But I've really grown to love Bean over the course of these three seasons.  The high point of this season for me was the sweet, melancholy story of Bean's romance with the mermaid Mora in the episode "Last Splash."  (I love that the show gave Bean this lesbian romance.  I wish they'd allowed this story to last beyond that one episode.  I hope we see Mora again in the future.)
As with Mr. Groening's other animated shows, the series has also built up a deep bench of wonderful supporting characters.  I love Maurice LaMarche as Odval, the slippery prime minister of Dreamland; Sharon Horgan (Catastrophe) as Bean's mother Queen Dagmar; John DiMaggio as Bean's father King Zog; Tress MacNeille as Queen Oona, King Zog's part-amphibian second wife; and more.  I was particularly happy that season three gave a spotlight to Prince Merkimer, Bean's one-time fiancé who was turned into a pig, and who is voiced to very funny effect by Matt Berry.
The one off-spot for me this season was the running story of King Zog's descent into madness.  This was a sad and unsettling story that felt to me like a bucket of cold water on the general fun of the show.  I'm usually in support of these types of animated shows being allowed to build into some true emotional depth.  And it makes sense that the show would show some consequences to all the abuse that poor Zog has suffered.  But this story felt like it went too far for me.  If any of it was supposed to be funny, it wasn't to me.  I found it hard to jump from the unpleasant scenes of Zog's suffering back into the usual comedy of the show.  This storyline was left unfinished in the season finale; I hope it is resolved in a more satisfactory way in season four.
Speaking of which… do I really have to wait a year for season four?  That is painful!  To fans of The Simpsons or Futurama who haven't yet sampled Disenchantment, I encourage you to give it a try.  Is this groundbreaking TV?  No.  But it's very solidly entertaining, and it's worthy of more attention than it's been getting.
Click here to purchase my "Maclunkey" Star Wars/Highlander mash-up t-shirt!

Please support MotionPicturesComics.com by clicking through one of our Amazon links the next time you need to shop!  As an Amazon Associate, I earn from qualifying purchases.  That means I'll receive a small percentage from any product you purchase from Amazon within 24 hours after clicking through.  Thank you!