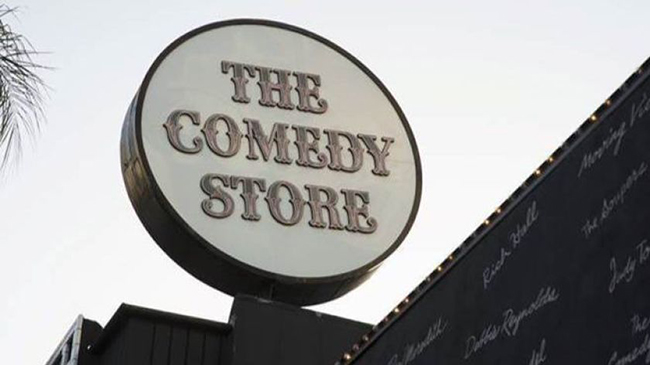 Josh Reviews The Comedy Store Five-Part Documentary Series
Mike Binder's five-episode documentary series, The Comedy Store, explores the history of the iconic L.A. comedy spot.  Filled to overflowing with an extraordinary array of interviews with an incredibly deep bench of comedians — a mix of huge names and lesser-known talents — this is a thoroughly enjoyable oral history of this specific establishment as well as the past several decades of stand-up comedy.
The Comedy Store is a famous stand-up spot that for decades was run by Mitzi Shore (a memorable personality, as the series spends a great deal of time exploring).  As the series recounts, Mr. Binder has a personal connection to the Store, having gotten his start there in the seventies.
The most impressive achievement of Mr. Binder's documentary is the extraordinary array of comedians who he was able to get to participate.  It's great fun to hear the story of the Comedy Store told by these amazingly funny individuals, including (but by no means limited to): David Letterman (being as relaxed on camera as I can recall seeing him in decades), Jay Leno, Richard Lewis, Bill Burr, Marc Maron, Chris Rock, Damon Wayans, Jim Carrey, Nikki Glaser, Michael Keaton, Whoopi Goldberg, Sebastian Maniscalco, Tiffany Hadish, Iliza Shlesinger, Joe Rogan, Tim Allen, Sandra Bernhard, Whitney Cummings, Yakov Smirnoff, Paul Rodriguez, Bobby Lee, Howie Mandel, Tom Dreesen, Brian Holtzman, and many, many more!  What an array of interview subjects!
These interviews are intermixed with a delightfully rich array of archival footage of stand-up comedy performances from throughout the many decades of history of the Comedy Store.  I was impressed with the editing, and how often the show was able to cut from one comedian recalling a particular bit that they or someone else did on stage at the Store, to an actual clip of that bit being performed.
The series is very leisurely paced.  That could be seen as a downside for some.  Personally, I enjoyed the time Mr. Binder spent allowing these very funny people to tell their stories.  I did, though, find that I often wouldn't watch a full episode in one sitting.  This was a show that I enjoyed watching in shorter 30-40 minute blocks.  (The specific divisions between the episodes aren't that important, so I often found myself watching, say, the last 20 minutes of one episode and then the first 15 minutes of the next, before pausing to continue another day.)
Mr. Binder allows himself to appear frequently on screen, as we see him conversing with his interview subjects.  Sometimes I find it distracting when the documentary's maker appears on-screen, but here I thought it worked.  I enjoyed the conversational flow of the series.  Mr. Binder's personal connection with so many of these featured interview subjects enhances the series, in my opinion.
The one huge glaring off-spot of The Comedy Store for me was the inclusion of Louis C.K.  While I'm not of the opinion that Mr. C.K. necessarily deserves to be excommunicated forever because of his (gross, unpleasant, and entirely inappropriate) misdeeds, I don't feel he has done the work or self-reflection needed to be allowed to, for example, just be dropped into a documentary like this without any comment.  There's one very quick moment in which Mr. Binder and Mr. C.K. tangentially address Mr. C.K.'s actions, but I was very off-put by Mr. C.K.'s comments in that moment, which in my opinion totally missed the point of what was wrong about what he did.  We also get a few moments of a conversation between several other comedians discussing "cancel culture" and they (incorrectly, in my mind) lump in Louis C.K.'s off-stage misdeeds with comedians who have gotten into trouble for jokes they told on stage, which in my opinion are two totally different categories and shouldn't be conflated.  These moments stuck out like a sore thumb for me.
It's an unfortunate blemish on a series that I otherwise enjoyed and recommend to anyone who loves comedy.
Please support MotionPicturesComics.com by clicking through one of our Amazon links the next time you need to shop!  As an Amazon Associate, I earn from qualifying purchases.  That means I'll receive a small percentage from any product you purchase from Amazon within 24 hours after clicking through.  Thank you!