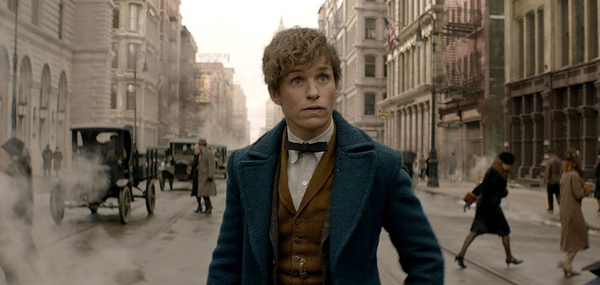 Josh Reviews Fantastic Beasts and Where to Find Them
Set more than a half a century before the events of the seven Harry Potter books (and the eight movie adaptations), Fantastic Beasts and Where to Find Them introduces us to a young man named Newt Scamander.  Mr. Scamander was mentioned in the original Harry Potter series as the author of a textbook called Fantastic Beasts and Where to Find Them.  This film of the same name introduces us to Mr. Scamander as a young man, traveling to New York City with a suitcase full of magical creatures.  When several creatures are accidentally set loose, Mr. Scamander and several new friends — the magic-wielding sisters Tina and Queenie, as well as the No-Maj (non-magical) Jacob Kowalski — set off to recapture them.  All the while, though, a terrible threat haunts New York City…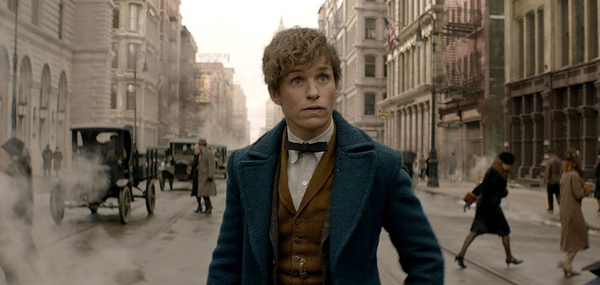 I can completely understand the desire to continue the Harry Potter saga beyond the adaptations of J.K. Rowling's seven Harry Potter novels.  I can of course see the studios' financial desire — the eight Harry Potter films were huge money-makers, so of course the studio would want to make more.  But as a fan, I can also understand the desire to tell more stories in this rich universe.  Although the seven books told the story of Harry Potter, and that story has been completed, the wizarding world created by Ms. Rowling — and brought to life on-screen by so many talented craftsmen and women — has such life in it that I can see there being plenty of room for further adventures.  Just as I believe there is room for more Star Wars adventures beyond the story of the Skywalker family (and I am excited to see the first on-screen attempt at this, Rogue One, in just a few weeks!), so too do I believe there is room for additional Harry Potter adventures that don't involve Harry Potter.
So I have no automatic objection to the notion of a Harry Potter spin-off film.  And this film has been assembled with some key creative people in place to help make this feel like a legitimate expansion of the Harry Potter universe rather than a cheap cash-grab.  First and foremost, the script was written by J.K. Rowling herself.  What better way could there possibly be to ensure that this spin-off is legitimate??  It's a clever move, and although Ms. Rowling did not write any of the screenplays for the previous Harry Potter films, her work here is strong.  But it's the legitimacy that her involvement gives Fantastic Beasts that is the most important aspect of her participation, I think.  On the film-making side, Fantastic Beasts is directed by David Yates, who directed the last four Harry Potter films.  After important initial contributions from Chris Columbus and Alfonso Cuaron, it was Mr. Yates who oversaw the majority of the film franchise and who brought the series to a strong finish.  So having his involvement behind the camera ensures that Fantastic Beasts feels like a continuation of what has gone before rather than a separate (and worse, irrelevant) thing.
So while the involvement of J.K. Rowling and David Yates gives Fantastic Beasts and Where to Find Them legitimacy as a true continuation of the Harry Potter mythos, and strong continuity with the previous films, is this new film itself actually any good?
Yes, I am pleased to report, it is!  While the film doesn't have the mythic power that the original Harry Potter films attained in their later installments, Fantastic Beasts is a fun, rollicking adventure that feels very much of a piece with what came before whole also being able to strike off on its own path.
Eddie Redmayne stars as Newt Scamander, and Mr. Redmayne's performance is… interesting.  Mr. Redmayne is not a charismatic lead.  In fact, he seems to have intentionally leaned in the opposite direction, making Newt an extremely gentle and quiet man, almost always avoiding eye contact with those who share the screen with him.  This makes Newt endearing, although he winds up being so internal a character that I found him to be the least interesting of the new main characters introduced in the film.
Katherine Waterston made quite an impression on me in Inherent Vice (and not just because of her copious amounts of nudity), and so it's nice to see her given a substantial leading role here.  I really enjoyed her character of Tina.  Tina is in some ways timid and mousy, while at the same time being incredibly firm and brave in standing up for what she believes is right.  I enjoyed the slow flowering of her relationship with Newt, and of all the characters in the film it is Tina who I am most interested in seeing continue to develop in future films.
Alison Sudol takes a big step into stardom with her wonderful performance as Queenie, Tina's mind-reading sister.  Ms. Sudol bring such joyfulness to her performance that Queenie is instantly lovable.  I enjoyed the relationship that the film developed between Tina and Queenie, two very different sisters who nonetheless share a close bond as well as qualities of loyalty and honesty.  And, of course, it would be hard not to enjoy the puppy-dog love that grew between Queenie and Jacob Kowalski.
Speaking of Jacob, Dan Fogler was fun as the friendly wannabe-baker Jacob.  I love the idea of including a non-magician as a main character in this film, something that the original Harry Potter series never did.  I hope that Jacob remains an integral part of this series moving forward.
I loved Colin Farrell as the villainous Graves.  I liked the look of the character, and I loved Mr. Farrell's stern, strong performance.  Here was a formidable character for our heroes to face.  I wish we'd gotten to learn a little more about what makes Graves tick here in this first film.
Ezra Miller (so wonderful in The Perks of Being a Wallflower, and now cast as The Flash in the new DCU movie series) and Samantha Morton were both enjoyable as Credence and his wizard-hating mother, though I wish their characters had been developed beyond being clones of Carrie and her mother.
One thing I look for in sequels is new ideas.  Is there anything new that this film has to say, and/or to contribute to the franchise, or is it just a retread of what has come before?  One area in which Fantastic Beasts and Where to Find them succeeds admirably is in that it feels to me like it is chock full of new ideas.  One of my favorite is the Obscurus.  I don't want to reveal too much, as that would ruin some of the film's surprises, but suffice it to say that this felt like a classic Harry Potter type of magical construct, and I love the way it was realized in the film.
I also loved all of the new magical creatures introduced in the film.  For a film called Fantastic Beasts and Where to Find Them, it's critical that the film give us some fantastic beasts, and the film delivers very well in this area.  The conceptualization by J.K. Rowling combined with gorgeous design-work and beautiful CGI execution combine to create a bevy of memorable creatures that populate this film.
I am somewhat torn on the film's prequel setting.  I love the way 1920's New York City was realized in the film.  The production design and visual effects and costuming all work together marvelously in order to create a truly magical picture of 1920's New York.  The idea of setting this fantasy story in that environment is a wonderful one, as old-time New York provides a phenomenal backdrop for the events of the film.  So in that way, the prequel nature of the film works.  On the other hand, the reason I usually dislike prequels is because I feel they rob the story of much of its drama.  However bad the new big bad villain is — and the film works very hard to introduce a new villain to rival Voldemort — we know that nothing that bad can happen because the world is still standing just fine many decades later when the original Harry Potter story takes place.
OK, I'm going to step into SPOILER territory now, gang, so beware.
The film really does try to build up Gellert Grindelwald as a new big-bad.  The film opens with a rush of headlines trumpeting the existence and menace of this evil wizard.  (That opening is a mistake, in my opinion.  It would have been better, I feel, to start small with Newt's arrival in New York, and only gradually reveal the larger story.  The rush of newspapers in the opening left my head spinning and wound up being more confusing than I think the filmmakers intended.)  The whole idea of trying to create another Voldemort seems like a foolish endeavor, in my mind.  And the film's big reveal at the end, in which Johnny Depp pops up as Grindelwald, was a huge letdown in my mind and the film's biggest mis-step.  After all of those Pirates of the Caribbean and Alice in Wonderland movies, I'm just not interested in seeing another goofy, heavy-makeup Johnny Depp performance.  And the makeup design was extremely silly rather than menacing.  (Even the name, Gellert Grindelwald, sounds silly to me, laughable rather than menacing.)
The big shame of it all is that they have Depp's Grindelwald replacing Colin Farrell's Percival Graves, who, as I'd written above, I'd thought was a wonderful new character and a really great new villain.  I loved Mr. Farrell in the role, and I was really looking forward to seeing where this character went.  Now we learn that maybe he never really existed?  I hope they find some way to reveal that's not exactly the case, and to somehow involve Mr. Farrell's Graves in future films.  For now, I must say that the Grindelwald revelation had the exact opposite effect for me that I think the filmmakers intended — I am not at all excited to see this character in a major role in the next film.  Oh well.
Despite the Grindelwald business, I am very interested to see where the next film goes.  Ms. Rowling has revealed that they have planned this to be the first of a five-film series, and also that perhaps Newt will not be the lead character in all of them.  I am fine with that, by the way.  I like using Newt as the introduction to this new saga, but it would be interesting if, unlike the original Harry Potter books/films which centered on the same three lead characters throughout, if this series focused on different main characters in each installment.  I also find myself thinking about what the titles will be of the future films.  It's hard to beat the "Harry Potter and the so-and-so" title convention of the original books/films.  Will all of these new films be titled after a wizarding textbook?  I'm curious to see where this goes…
Other comments:
I loved seeing the great Ron Perlman pop up as the goblin speak-easy owner Gnarlack.  I love Ron Perlman!  I hope he pops up again in a future film.
I hate the new term "No-Maj."  It's a poor substitute for "Muggle" which is such a wonderful unique, unexpected word.  No-Maj is far more obvious.  On the other hand, I enjoyed learning about how American wizards lived and organized themselves, and I'd love to see these American magical institutions developed further in future films.
Newt seemed pretty sloppy in losing track of several of his magical creatures almost immediately after arriving in New York, didn't he?
I was disappointed in the end that Newt, Tina and Queenie allowed Jacob's memories to be erased.  I was hoping they'd stand up more for their friend.  I also don't love this as a narrative device.  I dislike mind-control, mind-erasing or amnesia plot-twists in TV shows or movies, and I hope the sequel — assuming Jacob will be involved — doesn't waste too much time before restoring his memories.
Overall I quite enjoyed Fantastic Beasts and Where to Find Them.  I am pleased that Ms. Rowling and Mr. Yates and all of the other talented men and women who worked on this film were able to show that they could create a successful Harry Potter movie that doesn't feature Harry, Hermione, or Ron.  This throws open the doors to all sorts of future storytelling opportunities.  I am ready for the ride.