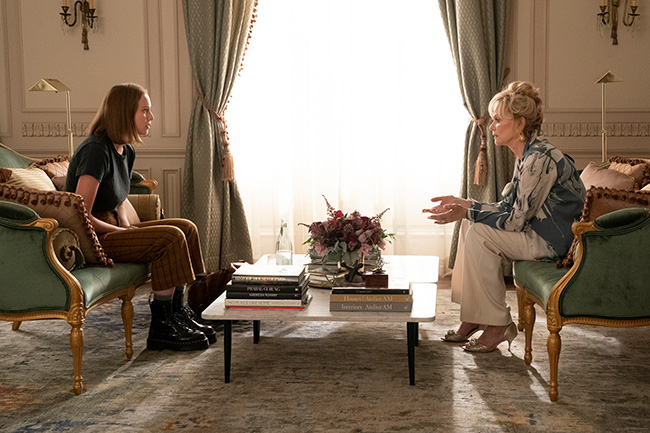 Josh Reviews Hacks
In Hacks, Jean Smart stars as famous comedian Deborah Vance.  Ms. Vance was a groundbreaking female comedian and has settled into a luxurious life doing her regular act at a Las Vegas casino.  But after years of being king of the Vegas hill, she's in danger of losing her spot at the casino.  At the behest of her agent, she hires a young comedy writer named Ava to write her some new material.  Ava has strong opinions but no job prospects after an unfortunate Twitter joke torpedoed her career and her life.  Ava resents having to write jokes for someone she views as an over-the-hill hack, while Deborah resents this young nobody's suggestion that her comedy needs any sort of reinvention.
Wow has this been a hell of a year for the great Jean Smart.  I've been a fan ever since seeing her on 24 years ago; she impressed me with her spectacular work on the HBO Watchmen miniseries and she blew me away with Mare of Easttown.  It was great fun to move onto Hacks immediately after finishing Easttown.  I am left with the inescapable conclusion that there's absolutely nothing Ms. Smart cannot do.  She's 100% the reason to watch this show.  Deborah Vance is a fantastic character for her to play, and Ms. Smart really sinks her teeth into the role.  The title of the series suggests that Deborah Vance might really be the type of hack that Ava clearly thinks she is at first.  That could have been a funny comedy premise for a show.  But the show never settles for that easy approach, choosing instead to gradually explore Deborah's life as a groundbreaking female super-star, and all of the challenges that came from that.  The show doesn't shy away from exploring Deborah's difficult experiences as a woman in the boys club of Hollywood and then comedy.  But it also doesn't dwell on that either, or use that as an excuse for Deborah's bad behavior.  I love that the series clearly has great empathy for this woman, while also allowing her to be a nuanced and real human being who can be heroic and flawed all at the same time.  It's a beautifully written character and wow does Ms. Smart just knock the hell out of this performance, absolutely commanding the screen every second she's in a scene.
In what is basically her first major on-screen role, Hannah Einbinder is tremendous as Ava.  For anyone to share the screen with Ms. Smart in this role would be a challenge; for a relative newcomer I can't imagine how hard that must have been and how highly the odds were stacked against her success.  But I thought Ms. Einbinder was a delight as Ava, a young woman who often seems to be even more self-centered and self-destructive that Deborah!  Ava is, well, she's a lot at times.  The show is so unafraid to allow Ava to act egregiously poorly that it's frankly a little hard to watch.  There were a few moments where I felt almost like the show was daring the audience to give up on Ava and hate her.  But clearly the show wants you to hang in there and find empathy for Ava as well; and I quite enjoyed the journey.  I was impressed by how nimbly Ms. Einbinder was able to go toe-to-toe with Ms. Smart.  I loved the gradual way in which these two strong women grew to understand one another over the course of the season.
The series was created by Lucia Aniello, Paul W. Downs, and Jen Statsky.  (Ms. Stastsky's name is known to me because I've been a fan of her writing on Parks & Rec and The Good Place — though mostly I know her from her terrific appearances on The Good Place: The Podcast.)  Hacks is a character study first and a comedy second, but don't let that lead you to think the show isn't funny.  It's extremely funny, and at the same time I was impressed by how deeply the show chose to dig into the characters of Deborah and Ava.
While Hacks is clearly focused on those two women, it is also populated by a great supporting group of characters.  Carl Clemons-Hopkins made an impression on me with his terrific outfit at the 2021 Emmy Awards… so it was a delight to watch this series a few weeks later and discover he was also a terrific actor, playing Deborah's right-hand-man Marcus.  I love how funny Mr. Clemons-Hopkins made this straight-laced fellow.  I loved following the story of his sweet crush on the water-guy who was Deborah's nemesis (Wilson, played perfectly by Johnny Sibilly)!  Series co-creator Paul W. Downs was in many of the show's funniest scenes as Deborah and Ava's sweet but put-upon manager Jimmy, and Megan Stalter is a lot of fun as Jimmy's hapless assistant Kayla.  Christopher McDonald (a familiar face in movies from Thelma & Louise to Happy Gilmore to The Iron Giant) is great as Marty, the owner of the casino where Deborah performs, and who vacillates between being an enemy and a love-interest.  Poppy Liu is hilarious and very memorable as Kiki, Deborah's personal blackjack dealer.  Kiki could so easily have been just a figure of ridicule; I love how instead the show allows her to develop into an interesting woman who is still very, very funny.  Kaitlin Olsen is note-perfect as D.J., Deborah's somewhat lost grown daughter.
Frankly, the only off-note in the entire season for me was the very last 30 seconds of the finale.  It was one self-destructive move too far from Ava, in my opinion.  Rather than leaving me excited for another season, that moment left me dreading seeing the blowback of Ava's incredibly foolish action.  I think they really misplayed that ending, and I'm bummed the show ended on a sour note for me.
But, except for that, I loved the ride of this first season of Hacks.  What a delight to see a story focusing on these two wonderfully complex and funny women.
Photo credit: Jake Giles Netter/HBO Max
Click here to purchase my "Maclunkey" Star Wars/Highlander mash-up t-shirt!

Please support MotionPicturesComics.com by clicking through one of our Amazon links the next time you need to shop!  As an Amazon Associate, I earn from qualifying purchases.  That means I'll receive a small percentage from any product you purchase from Amazon within 24 hours after clicking through.  Thank you!