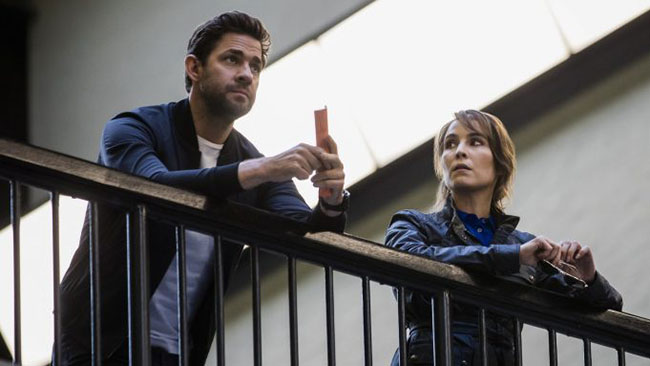 Josh Reviews Jack Ryan Season Two
In the second season of Amazon's Jack Ryan, Jack finds himself in the middle of turmoil in Venezuela.  After his friend Senator Moreno is murdered while part of a delegation in Venezuela, Jack tirelessly tries to weed through the complicated local politics to find the people responsible for Moreno's death… a trail that Jack soon comes to believe will lead straight to Venezuela's president, Nicolás Reyes.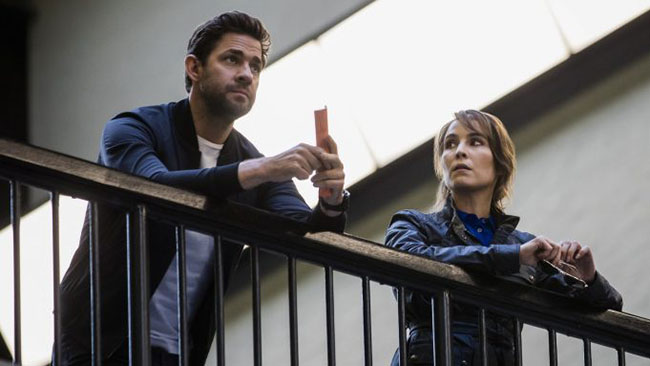 I loved the first season of Jack Ryan.  While this second season was also enjoyable to watch, it didn't work for me nearly as well as the first season.
Tom Clancy wrote so many Jack Ryan novels, and even the ones that were adapted for the screen had a lot of liberties taken with them.  This means that there is a wealth of as-yet unseen-on-screen material for the Jack Ryan show-runners to pull from.  So I was surprised that this season borrowed so heavily from Clear and Present Danger, most notably the van attack in episode one that starts this whole story in motion, as well as the story-line of a group of U.S. black-ops soldiers operating in the jungle behind enemy lines who are eventually betrayed by their supervisor in the U.S. government.  That van attack in particular is probably the most memorable element of the Clear and Present Danger film.  So why re-do it for the show?  It gave this season a feeling of been-there, done-that familiarity to me right off the bat.
I also didn't love the angry this-time-it's-personal attitude that Jack had throughout this season.  (This was visually embodied by his scruffy beard, just in case we needed this spelled out for us.)  I didn't feel the show really earned the grief and anger that they told us Jack was carrying (we don't really know Jack's Senator friend who gets killed in the first episode, so his death doesn't have the weight the writers wanted it to have), and I found it a little boring as a narrative short-cut to pathos.  This angry-and-detached Jack wasn't as interesting to me as the smart-and-passionate Jack from season one.
As it was in season one, the show continues to be carried by the terrific work of John Krasinski and Wendell Pierce as Jack Ryan and James Greer.  I love these two and their versions of these characters.  I was glad that this second season gave them a number of great moments together and allowed their often-abrasive relationship to deepen.  Mr. Krasinski's every-man quality continues to serve his interpretation of the character well.  Jack does all sorts of super-human stuff, but Mr. Kransinski is able to keep even the wildest twists grounded and believable (well, mostly), and his inherent likability keeps us rooting for Jack throughout.  Mr. Pierce, meanwhile, allows Greer to maintain his toughness and take-no-bullshit attitude while also showing us his inherent nobility and goodness.  He did strong work with the storyline of Greer's covering up a serious medical condition that threatened to end his career in the field, and I liked that the show continued to make a point of Greer's being a Muslim.
I was pleased to see John Hoogenakker return as Matice, the black-ops leader.  (I'm curious as to why they didn't call this character Clark, as he was in the books and movies?)  I was bummed he got written out — this was a really interesting character.
I really enjoyed the work of Jovan Adepo as Marcus Bishop, an ex-Navy soldier recruited by Matice for his covert mission into Venezuela.  Mr. Adepo wowed me as Will Reeves/Hooded Justice on HBO's Watchmen show, and he was terrific here as well, giving Marcus a similar good-guy every-man quality to what Mr. Krasinski brought to Jack.  (I just wish so much of the season's story didn't hinge on his character Marcus' bone-headed decision to leave his boat in the middle of a mission.)
Noomi Rapace joined the show as Harry, a German spy with a complicated agenda.  I love Ms. Rapace and it was fun to see her in the mix here.  She had good chemistry with Mr. Krasinski's Jack.  I wish I better understood why Harry was so loyal to Max, a character who did a lot of terrible things on the show.
Great character actor Michael Kelly was a great addition to the ensemble as Mike, the CIA station chief in Venezuela with whom Jack and Greer wind up working closely.  Mr. Kelly always does strong work, and I really liked his portrayal of Mike, who had a funny twinkle in his eye but was also a tough, hardened operative.  I hope Mike returns in season three.
I really enjoyed the strong new group of actors who joined the show to play all of the new characters in and around the Venezuelan government, including Jordi Mollà as President Reyes; Francisco Denis as Reyes' friend and advisor Miguel Ubarri; Cristina Umaña as Gloria Bonalde, the populist candidate running to unseat Reyes; and more.  I also enjoyed seeing The Mummy's Arnold Vosloo pop up as a South African arms dealer.  Tom Wlaschicha (who played Jaqen H'Ghar on Game of Thrones) was very creepy as the murderous Max, though he was a little flat as one of the main villains.
I was sorry that Abbie Cornish's Dr. Cathy Mueller didn't return for this second season.  I wonder why?  It's weird that the show never even mentions her character, even just to say that Jack and Cathy had broken up.  I hope she returns in the future.
The show continued to look great in season two.  The production values are top-notch.  Pretty much every episode has some sort of action set-piece, and they are all extremely well executed.
I like the eight-episode length for these seasons.  At that length, the show doesn't get too bogged down at any point.  The story zips along at a rapid clip.
I just wish the story in season two was a little more compelling.  I wasn't as engaged with Jack's journey as I was in season one, and while I liked all of the new supporting characters, I didn't think any of the new villains were as complex and interesting as the characters we got in season one.  Neither Max nor Reyes nor any of the other bad-guys we met this season felt like worthy adversaries for Jack.  And while the show did a good job in fleshing out the layers of the story in this fictionalized version of Venezuela, I didn't find any of this as compelling as I did the world-building of season one.
I don't want to be too critical.  This was still a well-made season of television, and I will be here for season three whenever that arrives next year.  (I assume!)  But season two of Jack Ryan lacked, for me, the spark of season one.  I hope they're able to recapture that for future seasons.
Please support MotionPicturesComics.com by clicking through one of our Amazon links the next time you need to shop!  We'll receive a small percentage from any product you purchase from Amazon within 24 hours after clicking through.  Thank you!