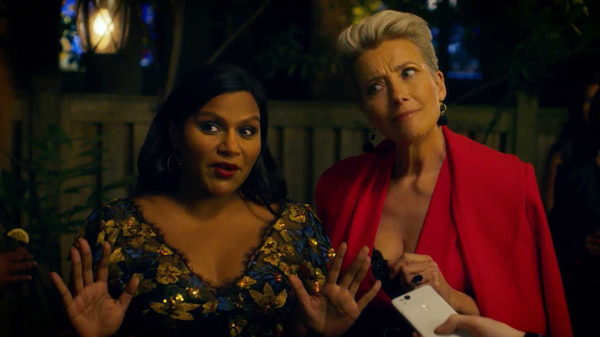 Josh Reviews Late Night
In Late Night, written by Mindy Kaling and directed by Nisha Ganatra, Ms. Kaling stars as Molly Patel, a young woman hired as the only woman on the all-white-male writing staff of a late-night talk.  That talk show is run by multi-decade late-night veteran Katherine Newbury, played by Emma Thompson.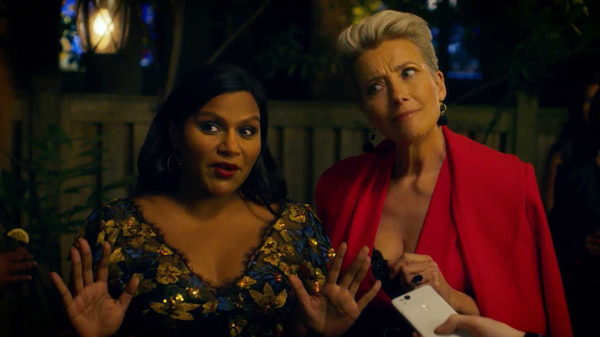 Late Night is a terrific film.  Ms. Kaling's script is very funny, while also containing well-developed characters who go through true dramatic arcs.  Ms. Kaling herself is a winning lead.  Molly is a heroic character, bravely pushing her way into the white-male-dominated comedy-writing world without losing her sense of self.  At the same time, Ms. Kaling allows Molly to look occasionally foolish and to be endearingly flawed and imperfect.
But it's Emma Thompson on whose shoulders the film truly rests, and the great Ms. Thompson delivers a powerhouse performance as Katherine Newbury.  Katherine, like Molly, had to force her way into a white-male-dominated world.  She's been at the top of the pack for decades, but now her show is losing viewers and she finds herself on the edges of relevance, as her new network head (Amy Ryan) moves to take her show away from her.  Katherine goes on a compelling journey in the film, as she is forced to take stock of her life and her career, the choices she's made and their repercussions.  The film doesn't pull its punches, and Ms. Thompson is able to completely inhabit this woman and take the audience along on this story.  Ms. Thompson's charisma and energy also allows us to see exactly why Katherine has been a late-night star for decades.  This is a terrific performance.  Ms. Kaling and Ms. Thompson have sparkling chemistry; the best scenes in the film are the ones with just the two of them.
The rest of the ensemble is very strong.  The Wire's Amy Ryan is perfect in her handful of scenes, and Ms. Ganatra and Ms. Kaling have populated Katherine Newbury's writers' room with a terrific ensemble of actors.  Veep's Reid Scott is terrific as Tom, the head monologue writer who is at first disdainful and threatened by Mindy's presence in the writer's room.  He's very funny, while also allowing Tom to have a core of humanity.  Denis O'Hare is also note-perfect as Brad, Katherine's right-hand man and show-runner, who is the one to hire Molly but more out of a desire to make Katherine's show as great as it can be rather than out of any sort of idealistic stance.  Paul Walter Hauser (who was great in his appearances on Unbreakable Kimmy Schmidt), Max Cassella, John Early, and Hugh Dancy are all fun and funny.  I love how the film was able to give each of them a distinct character and identity, rather than the writers' room just being a mass of undistinguishable white faces.  Ike Barinholtz is perfection as the crass young comedian who the network wants to take over Katherine's show.
And then there is the great John Lithgow, who knocks it out of the park as Katherine's ill husband, Walter.  Mr. Lithgow brings a dramatic weight, balanced by a warmth and gentleness, that is incredible and absolutely perfect.  The scenes with Walter could have easily been the film's weak link — serious moments in which the fun of the film ground to a screeching halt.  Instead, I think that Mr. Lithgow's scenes are among the very best moments of the film.  This is a mark of strong writing and directing, but mostly of Mr. Lithgow's astonishing skill as an actor.
I love comedy and late night shows and I am someone who's always been interested in looks behind the scenes of both of those types of things.  (James A. Miller and Tom Shales' Live From New York holds an important place on my bookshelf.)  And so I suspected that Late Night would be up my alley.  I wasn't wrong.  But the film is very accessible.  It's not too mired in the details of how late-night talk-shows get made.  There's enough detail to keep serious comedy fans intrigued, but this is a film far more interested in telling a story about these characters than it is in depicting the exact ins-and-outs of how a late-night talk show gets made.  For this movie, that was the exact right choice.
Late Night is a winner.  I highly recommend it.
Please support MotionPicturesComics.com by clicking through one of our Amazon links the next time you need to shop!  We'll receive a small percentage from any product you purchase from Amazon within 24 hours after clicking through.  Thank you!