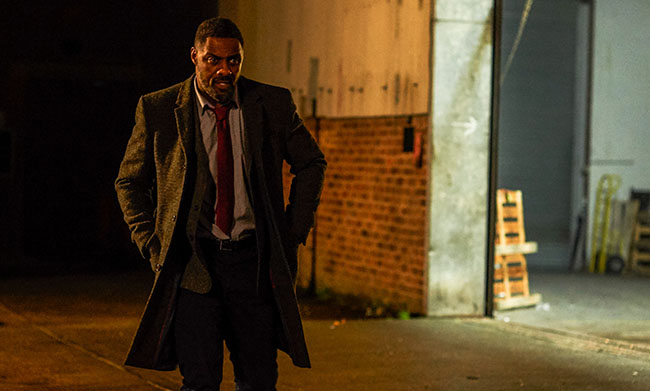 Josh Reviews Luther
Idris Elba (The Wire) stars as DCI (Detective Chief Inspector) John Luther in the BBC television series Luther.  Luther is a brilliant investigator but he always seems to tread right up (and sometimes over) to the boundary separating a by-the-book police officer with someone willing to step over into the dark side and do whatever he feels it takes to see the guilty punished.  Five short series (seasons) of Luther have been released since 2010.  The series was created by Neil Cross, who has written every episode.  Over the past several months, I slowly made my way through the series.  I thought Idris Elba's performance in the lead role was phenomenal, though the unrelenting bleakness of the show made it difficult at times to get through.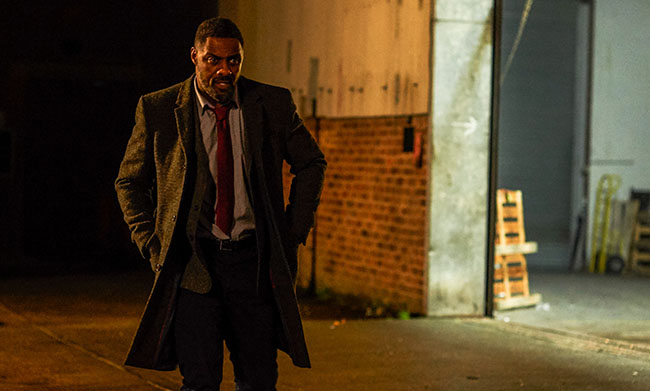 Idris Elba's extraordinary work as Stringer Bell in The Wire made me an instant fan, and I've enjoyed his work in a variety of projects ever since.  He's been great as Heimdall in Thor and a variety of subsequent Marvel movies, and his work has always impressed even in otherwise mediocre movies (such as Pacific Rim, Star Trek Beyond, Prometheus, and American Gangster).  His presence as the lead in Luther is what made me want to watch the show, and there's no question that it's his intense, live-wire of a performance that is the best thing about it.  Mr. Elba's presence dominates the screen in a way that few actors can manage.  The series provides a fantastic showcase for his talents.  The show's storytelling is 100% focused on Luther.  There are some wonderful actors in supporting roles, but none of those characters are very fleshed out.  This is the Luther show, through and through.  Mr. Elba's passion and magnetism sucks the viewer right in, and you travel with him through these stories.  He is tremendous, start-to-finish.
In the past decade-plus, we've seen a lot of great shows about charismatic but deeply messed-up male leads.  (Mad Men, Breaking Bad, The Sopranos, The Shield, Boardwalk Empire, and many more.)  Luther fits squarely into that mold.  It can a bit of a tiresome structure for a show; it's one that I don't think has aged well since the series premiered in 2010.  My interest has waned in that type of show, and there were times when I felt Luther teetered on the edge of becoming a show I didn't want to watch.  But Mr. Elba's magnificent performance always pulled me back in.  I loved this character and ultimately I wanted to follow his journey!
Though, wow, it was sometimes hard, because I found the show's unending horror to be difficult to stomach.  First of all, every episode is about some sort of horrible murder (often multiple murders).  I've never been one for crime shows, and Luther felt like it was particularly graphic in its depiction of these horrific deaths.  The show often followed the victim(s) through a series of scenes leading up to their deaths.  This was designed to build tension — which it did, very successfully.  But I also found it extremely unpleasant, spending time watching these characters who were about to meet terrible deaths.  Additionally, the series piled tragedy upon tragedy onto Luther.  This gave Idris Elba lots of wonderfully dramatic and emotional moments to play.  But it all became a little much after a while (and also somewhat unbelievable that so much horror could happen to one man).  There were only 20 episodes of Luther made, but I found myself spacing them out over months because I couldn't handle too much of this show at once.
As I mentioned above, the series had a fantastic group of actors filling out Luther's world, even though the show never spent much time developing them.  But I really enjoyed the work of this ensemble; they were key in fleshing out the world of the show and making it all feel real.  Indira Varma (Ellaria Sand from Game of Thrones) was very strong as Luther's wife Zoe.  She did great work in making her feel like a fully-realized, three-dimensional woman, and not just a damsel in distress or cliche nagging and/or worried wife.  Saskia Reeves (who I'll always know best from her work as the Lady Jessica in the terrific and underrated 2000 Sci-Fi channel adaptation of Frank Herbert's Dune) was fantastic as DSU Teller, Luther's supervisor in season one.  (I wish they hadn't written her out of the show after season one!  I really missed her in future seasons and kept hopping she'd reappear.)  That said, I also very much enjoyed her replacement: Dermot Crowley as DSU Martin Schenk.  Schenk went from a great opponent to Luther to a wonderful ally.  Warren Brown was perfectly cast as Luther's solid right-hand man DS Justin Ripley.  Paul McGann was also just right as Mark, a man involved with Zoe in season one who followed an unusual path as the show progressed (which I won't spoil here).  Nikki Asuka-Bird was a fine addition to the show in later seasons as DCI Erin Gray.  Rose Leslie (Ygritte on Game of Thrones) was fantastic as DS Emma Lane in season four.  I was very disappointed they didn't bring her back for season five!  If there's ever a season six, I hope she's in it.
And then, of course, there is Ruth Wilson as Alice Morgan.  In the very first episode, John Luther investigates a series of murders that he quickly discovered were committed by Alice, but in the end he's not able to prove it.  Surprisingly, this psychotic murderer then basically became the second lead for much of the remainder of the show.  I was very surprised by that development, and frankly it took me a while before I got used to the idea.  It just seemed inconceivable to me that Luther would allow himself to have anything to do with this woman, and I found many of the early plot twists that kept the two entangled to be rather unbelievable.  Still, once I accepted that the strange connection between Luther and Alice was baked into the DNA of the show, I found myself quite enjoying their scenes together.  And while I might have found some of the plot twists to stretch my credulity, there's no doubting the spectacular, instantly memorable work of Ms. Wilson.  She is magnificently slimy and devious and scary and magnetic, all at once.  It's a delightfully great performance.
If you haven't yet seen Luther, I advise you stop reading here.  SPOILERS ahead!  For fans of the show, here are some more thoughts on the five series (or seasons in American-speak) of the show:
Series One: Many of the aspects of Luther that I most enjoyed were right there from season one; as were some of the show's problems.  In the former category, Idris Elba's commanding performance was riveting right from the first minute, and the key elements of the show's formula were clearly established from the first episode, as we see that Luther is a brilliant investigator beset by personal problems and lots of "outside of the office" issues.  I immediately respected the artistry of the series, while at the same time I found the show's grim tone and focus on gruesome murders to be off-putting and hard to get through.  I was very surprised that Luther almost always failed to solve the case in time to save any of the hapless innocents we'd meet in each episode.  I loved the show for being brave enough to make those choices, but it also meant I found the episodes to be, for the most part, very unpleasant, without any sort of cathartic release at the end of the good guys triumphing.  I loved meeting Alice Morgan in the first episode, and Ruth Wilson's work was terrific.  But as I commented above, the series didn't quite sell for me the idea that Luther would continue to associate with this murderous psychopath.  Also, I found the dramatic plot twists at the end of the season (involving the fates of Luther's partner DCI Ian Reed, and his ex-wife Zoe), to be soap-opera-ish and unbelievable, and also just too unpleasant for me to stomach.  Watching episodes five and six, I wasn't sure I'd continue watching the show beyond this first season, but that thrilling season-ending cliffhanger got its hooks into me and I ultimately couldn't resist continuing.
Series Two: After the six-episode first season, season two adjusted to a structure of four episodes in total, consisting of two two-parters.  The series would continue to follow this basic structure for the remainder of its run (except for season four, which consisted of only two episodes).  I was bummed that the start of the season didn't pick up immediately after the end of season one; it deflated what had been a terrific cliffhanger for me, by quickly establishing the new status quo.  I was sad that Saskia Reeves wasn't back (and I still miss her from the show!!), but I loved the idea of Schenk as Luther's new boss.  The murder cases were still horrific, but I felt they were more interesting this season.  I rolled my eyes at the new story of Luther's new out-of-the-office problems, in this case his efforts to protect a young girl, Jenny, from her former dark life of prostitution and other horrors.  It just seemed unbelievable to me that Luther would so quickly get himself wrapped up in another dangerous criminal situation outside of his job.  I wasn't enjoying this aspect of the Luther "formula," but I will say I quite liked the way the season developed the bond between Luther and Jenny, and I was quite engaged by that story by the time it reached its climax in the season finale.  I was sad that Jenny wasn't brought back for season three, and that we haven't heard anything from this character ever again.
Series Three: I thought this was one of the strongest seasons, as I thought all of the murder cases were interesting and engaging (though still stomach-churningly horrible), and this season had one of the most interesting out-of-the-office B-stories for Luther, in this case involving a loathsome internet troll who is murdered.  The story in episodes 3 and 4 of a vigilante killer who very publicly executes people who have done horrible things was one of my favorite Luther murder cases.  This one felt very Black Mirror-esque, and I enjoyed how the writers twisted the screws on Luther as the case continued to escalate.  I enjoyed the introduction of DCI Erin Gray.  My biggest objection to this season was the killing-off of one of the show's major supporting characters.  It felt needlessly bloody to me; it was an unpleasant reminder of this show's unremittingly grim worldview.
Series Four: The shortest Luther season — only two episodes!! — is also my favorite.  I was thrilled by the introduction of Game of Thrones' Rose Leslie as Luther's new partner Emma Lane.  I loved Ms. Leslie's work on the show.  In just two episodes, she quickly became, for me, the most interesting and memorable supporting character on the show since Ruth Wilson's Alice Morgan (who was introduced in the very first episode).  I enjoyed the way the show shifted the character of Erin Gray from an ally to an adversary for Luther.  However, I thought her new partner was over-the-top in his one-dimensional hatred of Luther and willingness to do ANYTHING to bring him down.  I loved the different tone of the first few minutes of the first episode, and the way the story was allowed a chance to breathe at the beginning.  But once things got rolling, this two-parter moved like gangbusters.  The serial killer being chased by Luther and Emma was just as horrific as usual, but I was gripped by the twisty narrative of these two episodes.
Series Five: The season opened with a major disappointment for me, in that Rose Leslie wasn't back!!  I missed her this season, and I hope that if the show continues that she'll make a return appearance.  I quite enjoyed the new partner introduced for Luther, DS Catherine Halliday.  I loved her character, who was a far more upbeat and well-adjusted character than we'd ever before seen on the show.  (Of course, she met an ugly fate, like so many of Luther's previous partners.  I wish the show hadn't made that choice.  It was too formulaic and also too unpleasant to suit me.  On a similar note, I was also not wild about the show's dispatching of the lovable Benny, who up to that point had been one of Luther's most longest-lived co-workers.)  Although I never quite bought into the Luther-Alice relationship in the early seasons, I wasn't satisfied by her apparent off-screen death in season four, so I was delighted that Ruth Wilson was back as Alice in season five, and this was probably my favorite Luther-Alice storyline of the entire series.  I was also pleased to see that crime lord George Cornelius was back as an enemy for Luther this season.  I really enjoyed that character; he was one of the show's best and most formidable opponents for Luther.
Will there be more Luther in the future?  The ending of season five is a nice place to stop, but it doesn't necessarily feel like the definitive end of the show.  I'd certainly be up for additional adventures of DCI John Luther.
Please support MotionPicturesComics.com by clicking through one of our Amazon links the next time you need to shop!  We'll receive a small percentage from any product you purchase from Amazon within 24 hours after clicking through.  Thank you!
Photo credit for top image: Des Willie/BBCAmerica.