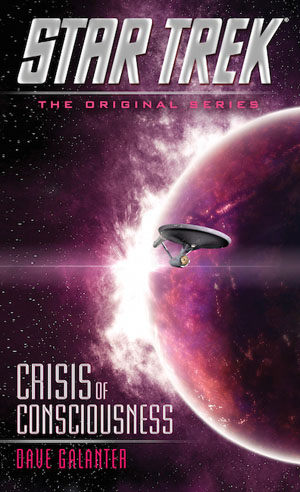 Star Trek: Crisis of Consciousness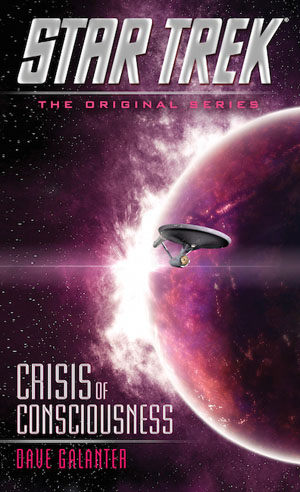 I'm a big fan of author Dave Galanter, and I can't believe it's taken me so long to catch up to his most recent Star Trek novel, Crisis of Consciousness, which was published in 2015.  Mr. Galanter has written a number of great Trek books, including Troublesome Minds, which is one of my favorite stand-alone Original Series novels of the past several years.  He was also involved, for a while, with the Star Trek fan-film project Star Trek: Phase II (also known as Star Trek: New Voyages).  Mr. Galanter wrote the script for the excellent Phase II episode "Enemy: Starfleet!"  (He was also involved in other Phase II projects that sadly never saw the light of day, as the project has dissolved in the aftermath of CBS/Paramount's draconian "fan film guidelines."  I'd been particularly excited to see a Phase II adaptation of Troublesome Minds, which was rumored for a while.  Oh well!)
As Crisis of Consciousness begins, Captain Kirk and the Enterpise crew have just overseen the induction of a new species, the Maabas, into the Federation.  This formerly xenophobic culture has begun to embrace the wider universe around them.  But just as the Enterprise is about to deliver Ambassador Pippenge and his team back to their planet, they encounter another species, the Kenisians, who angrily declare that the Maabas' world used to be their own, and they demand it back.  The Kenisians are Vulcanoids, sprung off from main Vulcan society uncounted millennia ago, who have now evolved into "multividuals."  When one of their kind passes away, their katra is absorbed into a new host mind.  Zhatan, the Kenisian commander, contains hundreds of her ancestors within herself.  How can long-ago grievances ever be forgotten when one's long-dead ancestors are not dead at all, but alive within you?
Mr. Galanter has crafted a wonderful story that feels new and original, and yet perfectly of a piece with classic Star Trek.  Crisis of Consciousness presents a number of new sci-fi situations and moral dilemmas for Kirk, Spock, and the crew of the Enterprise to wrestle with.
I loved the concept of the "multividuals."  It reminded me, intriguingly, of Dune, and the way certain characters such as Aliya and the Bene Gesserit contained the consciousnesses of their ancestors within them.  In this novel, Mr. Galanter expands upon that idea in a number of fascinating way, as we see both the positive aspects of this unique mental situation, and the way the Kenisians have constructed their society upon this methodology, and also the challenges of trying to exist as an individual person with hundreds of other personalities roiling within you.  I particularly enjoyed the novel's depictions of Spock's interactions with Zhatan and the other Kenisians, as these aliens are so similar to Vulcans in so many ways, and yet so different in so many others.
As he had done in Troublesome Minds, Mr. Galanter demonstrates a mastery of the characters and personalities of Kirk, Spock, McCoy, and all of the original Series characters.  The dialogue rang perfectly true to me throughout the novel.  This was very impressive.  (As an aside, I enjoyed the one or two uses of the word "troublesome" in the story, which subtly linked events in this novel with those in Mr. Galanter's book Troublesome Minds!)
I enjoyed the attention paid to Scotty, particularly in the second half of the novel.  It's nice to be reminded of Mr. Scott's extraordinary skill as an engineer — I loved getting to see this character shine.
I was also delighted by the inclusion of Lieutenant Palamas, who appeared as the Enterprise's archaeology and anthropology officer in the Original Series episode "Who Mourns for Adonais?".  Because of the stand-alone nature of the Original Series episodes, there were a number of examples of an Enterprise crew-person having a major role in an episode, never having been seen before or reappearing after.  Lieutenant Palamas was a classic example.  And so I was thrilled to see Mr. Galanter include her in this novel, taking the time to flesh out her character and plant the seeds of a connection between her and Scotty, which we saw in "Who Mourns for Adonais?".  Mr. Galanter did a terrific job bringing Palamas to life, and giving her more personality and competence than she had in that Original Series episode.  (For all that the Original Series was extraordinarily progressive, it sometimes fell down in its depiction of female Starfleet officers like Palamas and Marla McGivers in "Space Seed," who were swept off their feet by strong male antagonists in a manner not befitting Starfleet Officers.  For that matter, Scotty's possessive attitude toward Lieutenant Palamas in "Who Mourns for Adonais?" was pretty ugly, also, in my opinion.)
In addition to his terrific depiction of the main Enterprise crew, Mr. Galanter also skillfully developed a number of new alien characters in the book, including the Maabas Ambassador Pippenge (who goes through quite an ordeal, getting kidnapped along with Spock) and the Kenisians Zhatan, Sciver, Nidal, and others.
The only off-note in the novel, for me, was the final chapter, which recasts events in the novel as an instigating force that would eventually lead to Spock's pursuit of Kohlinar, an attempt to purge himself of all emotion, as seen in Star Trek: The Motion Picture.  That Spock would take so severe an action, following the events of the Original Series, has often seemed to Trek fans as out of character, and I have seen a number of Star Trek \books and comics that have attempted to provide their own explanation for why Spock would take this seemingly out-of-character action.  (Pocket Books' The Lost Years series of novels from several decades ago is a prime example.  I mentioned the fan-film series Star Trek Phase II/New Voyages above — another great fan-film series, Star Trek: Continues, attempted to provide their own explanation in their series' finale episode.)  I appreciate Mr. Galanter's attempt to provide his own explanation.  But this novel is set very early in Kirk and the Enterprise's five-year mission.  (The inclusion of Lieutenant Palamas means this story happened before the events of "Who Mourns for Adonais?", which was only the second episode of season two of The Original Series.)  I don't at all like the idea that Spock was already thinking about purging himself of all emotion so early in the five-year-mission.  It casts a pall over all the Trek stories that followed, and feels like it undermines all the growth we saw Spock achieve over those years ahead.  So this didn't work for me at all.
On a brighter note, I must say that I LOVED the gorgeous cover, created by Doug Drexler!  It's one of the most gorgeous images of the Enterprise in space that I have ever seen.  It's a perfect cover for a great novel.
I throughly enjoyed Crisis of Consciousness.  Particularly in the second half of the novel, when the stakes were raised and events were unfolding at a rapid pace, this was a thoroughly enjoyable page-turner.  I hope it won't be too long before Mr. Galanter returns to the world of Star Trek.
Please support MotionPicturesComics.com by clicking through one of our Amazon links the next time you need to shop!  We'll receive a small percentage from any product you purchase from Amazon within 24 hours after clicking through.  Thank you!
Previous Star Trek novel reviews:
Star Trek – Unspoken Truth , Troublesome Minds, Cast No Shadow, Excelsior: Forged in Fire, Allegiance in Exile, Legacies Book 1: Captain to Captain, Legacies Book 2: Best Defense, Legacies Book 3: Purgatory's Key, The Face of the Unknown, From History's Shadow, Elusive Salvation, Assignment: Eternity, The Rings of Time, The Weight of Worlds, No Time Like the Past, Foul Deeds Will Rise, The Antares Maelstrom, The Shocks of Adversity
Star Trek: The Next Generation – The Sky's The Limit, Resistance and Q & A, Before Dishonor and Greater than the Sum, Destiny trilogy, A Singular Destiny, Losing the Peace, Immortal Coil, Cold Equations Book 1: The Persistence of Memory, Cold Equations Book 2: Silent Weapons, Cold Equations Book 3: The Body Electric, The Light Fantastic, Takedown, Armageddon's Arrow, Prey Book 1: Hell's Heart, Prey Book 2: The Jackal's Trick, Prey Book 3: The Hall of Heroes, Headlong Flight, Hearts and Minds, Available Light, Collateral Damage
Star Trek: Deep Space Nine – DS9 relaunch overview, The Soul Key, The Never-Ending Sacrifice, Plagues of Night and Raise the Dawn, Section 31: Disavowed, The Missing, Sacraments of Fire, Ascendance, Force and Motion, The Long Mirage, Section 31: Control, Enigma Tales, Gamma: Original Sin
Star Trek: Voyager – Full Circle, Unworthy, Children of the Storm, The Eternal Tide, Protectors
Star Trek: Enterprise — Kobayashi Maru, The Romulan War: Beneath the Raptor's Wing, The Romulan War: To Brave the Storm, Rise of the Federation: A Choice of Futures, Rise of the Federation: Tower of Babel, Rise of the Federation: Uncertain Logic, Rise of the Federation: Live By the Code, Rise of the Federation: Patterns of Interference
Star Trek: Titan – Book 1: Taking Wing, Book 2: The Red King, Book 3: Orion's Hounds, Book 4: Sword of Damocles, Under a Torrent Sea, Synthesis, Fallen Gods, Absent Enemies (e-book), Sight Unseen, Fortune of War
Star Trek: Typhon Pact – Book 1: Zero-Sum Game, Book 2: Seize the Fire, Book 3: Rough Beasts of Empire, Book 4: Paths of Disharmony, The Struggle Within (e-book), Plagues of Night and Raise the Dawn, Brinkmanship
Star Trek: The Fall — Book 1: Revelation and Dust, Book 2: The Crimson Shadow, Book 3: A Ceremony of Losses, Book 4: The Poisoned Chalice, Book 5: Peaceable Kingdoms
Star Trek: New Frontier – Series overview, Stone & Anvil, After the Fall, and Missing in Action, Treason and Blind Man's Bluff
Star Trek: Department of Temporal Investigations – Watching the Clock, Forgotten History, The Collectors (e-book), Time-Lock (e-book), Shield of the Gods (e-book)
Star Trek: The Lost Era – Book 1: The Sundered (2298), Book 2: Serpents Among the Ruins (2311), Book 3: The Art of the Impossible (2328-2346), The Buried Age (2355-2364), One Constant Star (2319)
Star Trek: Mirror Universe (Books 1 & 2) – Star Trek: Mirror Universe: Shards & Shadows – Star Trek: Mirror Universe: The Sorrows of Empire — Star Trek: Mirror Universe: Rise Like Lions –  Star Trek: Myriad Universes (Books 1 & 2) – Star Trek: Myriad Universes: Shattered Light
Beyond the Final Frontier — Josh's favorite Star Trek novels