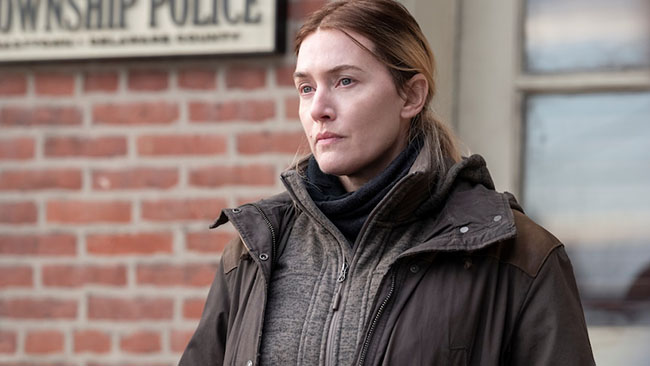 Josh Reviews Mare of Easttown
Soon after watching The Queen's Gambit, I moved on to enjoy another magnificent seven-hour TV miniseries: Mare of Easttown.  I think I liked this even more than The Queen's Gambit!  The series was written by Brad Ingelsby (who has written the screenplays for a number of films, including Out of the Furnace and The Way Back) and directed by Craig Zobel (who, among his other directing credits, directed the "International Assassin" episode of The Leftovers!!).  It stars Kate Winslet as the titular Mare.  Mare is famous in her close-knit small town because she scored the winning point in a high school basketball championship game 25 years earlier.  Now she works as a police detective.  But her life is a mess, she's been unable to solve a year-old case of a missing teenaged girl (the daughter of one of her friends, no less), and now another teenage girl has been found murdered.
I adored this series.  I was immediately captivated by Kate Winslet's performance.  There are a lot of tremendous actors on this show, but Mare of Easttown rests on Kate Winslet's performance, just as The Queen's Gambit rested on Anya Taylor-Joy's.  It is an absolute joy to watch Ms. Winslet's work in this series.  Is there any doubt that she is one of the best actors working today?  She brings such richness and nuance to her work as Mare.  I grew to love and root for Mare over these seven episodes; she's the hero of the show and I was invested in her journey.  But what makes this so compelling is the way Ms. Winslet (and the wonderful script by Brad Ingelsby) presents Mare as such a fully-realized, flawed human being.  She's bad-tempered and stubborn and she drinks a lot and eats junk and I loved her all the more for all of that.  Once again, this well-made mini-series format is perfect for telling this type of story, because we get to spend so much more time with Mare over the course of this seven-hour series than we could in a two-ish hour feature film.  Ms. Winslet fully commits to this role, and the result is an extremely memorable, affecting performance.  (Ms. Winslet also fully commits to Mare's very specific accent.  I can't really speak to how accurate that accent is or isn't, but I was impressed by how completely Ms. Winslet was able to inhabit that accent.  As my wife knows, I quickly became completely obsessed by how Ms. Winslet — and the other actors on the show — pronounced the "o" in "home"…)
One of the most compelling aspects of the show is how we gradually learn how interconnected the characters and families of this small town are.  Mare seems to know everyone (something which astonishes Detective Zabel when he starts working with her) and everyone knows her, and all of their lives seem to be interwoven.  This makes the case Mare is working, and the various hidden secrets that eventually emerge, much messier and more complicated.  This leads to an extremely compelling story.
The ensemble cast that brings the people of Easttown to life are phenomenal.  Let's start with the great Jean Smart.  I loved her even back in the bad seasons of 24, and she blew me away recently in Damon Lindeloff's Watchmen TV series.  She's having a heck of a year between this and Hacks (which is the next show on my to-watch list).  Ms. Smart plays Mare's mother Helen, who lives with her.  I could not get enough of Ms. Smart as this character — what a wonderful creation!  Helen is so interesting; tough and acerbic, and also sad, and also extremely funny.  I loved the interactions between Mare and Helen, and I loved how the show allowed us to gradually get to know Helen and to understand her.  Helen is also involved in the stand-out funniest scene in the show, in which a dramatic secret is revealed at a post-funeral gathering.  (I won't spoil the moment, but if you've seen the show, you surely know what I'm talking about!)
(Aside: there's one scene that's a funny moment in which Mare is trying to leave the house while Helen leans on the railing over the stairs to banter with her.  Both my wife and I were very concerned that Helen was going to fall off the railing!!  We didn't like how precariously she was sitting!!  We were relieved when nothing bad happened to Helen.  But after we finished the show, we read that Ms. Smart actually did hurt herself while making the show — apparently she DID fall off that railing while filming that scene!!  Oy!)
I've been enjoying Evan Peters' work for years in films such as Kick-Ass and the X-Men films (beginning with Days of Future Past), and I was so excited when he popped up in WandaVision.  He takes his skills to the next level here as Detective Zabel, a county detective called in to assist Mare in the murder investigation (much to Mare's chagrin).  Mr. Peters is phenomenal here!  I loved Zabel.  I loved his cheerful enthusiasm and the way he slowly got Mare to warm up to him.  Mr. Peters is very funny, but also 100% believable in the dramatic moments.  (And how great was he when we see Zabel drunk out of his mind at the bar, after his school reunion??)
Guy Pearce (Memento, L.A. Confidential, Prometheus) is terrific as Richard Ryan, an author who Mare first meets at a bar.  Richard isn't from Easttown, and he's a part of a more upper-crust world that is different than the one that Mare inhabits.  Richard sticks out in Mare's world, and in the show — and I love him for that.  Guy Pearce is wonderful at creating a character who is very different from Mare, and yet we can see why she likes him, and he her.  I loved the chemistry that Ms. Winslet and Mr. Pearce had together.
Julianne Nicholson blew me away with her work as Mare's close friend Lori.  I wasn't familiar with Ms. Nicholson's work before this, though she's had a lengthy career.  But now I am a fan for sure.  I love the gentle humanity that Ms. Nicholson brought to Mare.  I loved all of her scenes together with Kate Winslet.  You truly believe that Mare and Lori are lifelong friends.  I was also very impressed with the work of Angourie Rice as Mare's daughter Siobhan.  Ms. Rice has been fun as Betty Brant in Spider-Man: Homecoming and Far From Home, and I also really enjoyed her episode of Black Mirror from a few years ago, but she's operating on a whole new level here.  I also enjoyed the performances of David Denman (Roy from The Office) as Mare's ex-husband Frank; Neal Huff as Mare's cousin Father Dan Hastings; Cailee Spaeny (Rose in Bad Times at the El Royale) as teenage mom Erin McMenamin; John Douglas Thompson as Mare's boss, Police Chief Carter; Sosie Bacon as Carrie, the mother of Mare's grandson who is fighting Mare for custody; James McArdle as Deacon Mark Burton; Enid Graham as Dawn Bailey, mother of the missing girl Katie Bailey; Kate Arrington as Frank's fiancee Faye; Phyllis Somerville as Betty Carroll, the elderly woman who keeps calling Mare; Joe Tippett and Robbie Tann as John and Billy Ross; Patrick Murney as Kenny McMenamin, Erin's father; Chinasa Ogbuagu as Beth Hanlon and Dominique Johnson as her drug-addicted brother Freddie, and so many more!!!
While Mare of Easttown's main appeal, for me, was in its being a character study of Mare — and also in the exploration and development of so many of the other characters on the show — it was also a murder mystery, and it was critical that mystery resolve in a satisfying way.  I found myself wondering, in the early going, whether the year-old cold case of the disappearance of Katie Bailey was there just to be background trauma for Mare and others in the town, or if that case would wind up being connected to the murder.  What kind of show would this turn out to be, I wondered?  I won't spoil the answer here, but I will say that I was very satisfied with the direction in which the show went.  The mystery unfolded at a good pace.  I was shocked that we got some big-time revelations several episodes before the end — long before I'd expected them to come!  I enjoyed how the series' final few episodes continued to gradually peel back more and more of the layers of the story and the secrets, until finally at the end all of the pieces fell into place.  Bravo to Mr. Inglesby on his perfectly-paced script, and bravo also to director Craig Zobel and the project's editors for the skill at which they assembled everything.
I was also incredibly impressed at the show's careful balance of tone.  There is some extremely heavy, depressing and horrifying stuff that happens in this show.  At the same time, I never found the show to be a dreary slog.  There's a life to the show and the characters that I found invigorating… and there's a surprising amount of humor to be found, as well!  Rather than undermining the drama, I felt that the humor enhanced the story and hooked me even more deeply into the characters and their world.
I'm bowled over by the quality of Mare of Easttown.  This is a tremendous achievement and I'm so happy to have seen it.
Click here to purchase my "Maclunkey" Star Wars/Highlander mash-up t-shirt!

Please support MotionPicturesComics.com by clicking through one of our Amazon links the next time you need to shop!  As an Amazon Associate, I earn from qualifying purchases.  That means I'll receive a small percentage from any product you purchase from Amazon within 24 hours after clicking through.  Thank you!