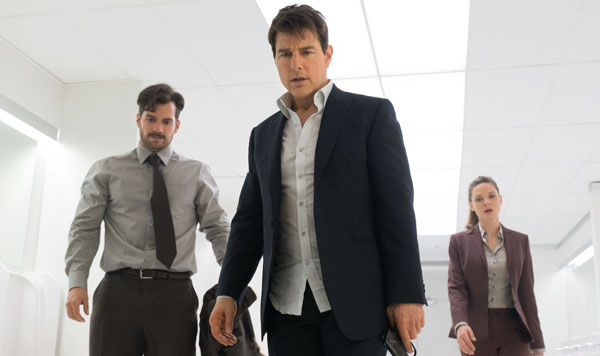 Josh Reviews Mission: Impossible — Fallout
It is astonishing to me that not only does Tom Cruise's Mission: Impossible film franchise still exist a whopping twenty-two years after the first movie was made (1996's Brian DePalma-helmed Mission: Impossible), but that the series has arguably never been better!  I really like that first Mission: Impossible.  The second film is the weakest, but things got back on track with J.J. Abrams' Mission: Impossible III, and the series has been on a heck of a roll since then.  Brad Bird (The Iron Giant, The Incredibles) came on to helm the fourth film, Mission: Impossible — Ghost Protocol, which was even better than the third film, and then Christopher McQuarrie (author of The Usual Suspects) came on to helm the fifth film, Mission: Impossible — Rogue Nation, which I thought was the best film of the series!
For the first time in this film franchise's history, a director has returned for the next film, with Mr. McQuarrie returning to the director's chair for Mission: Impossible — Fallout.  While we've had to wait a lot of years between the last several installments, this sixth film comes fairly hot on the heels of 2015's Rogue Nation, which was a pleasant surprise.  With Mr. McQuarrie back at the helm, and most of the cast of Rogue Nation returning, would Fallout be able to match the greatness of that film?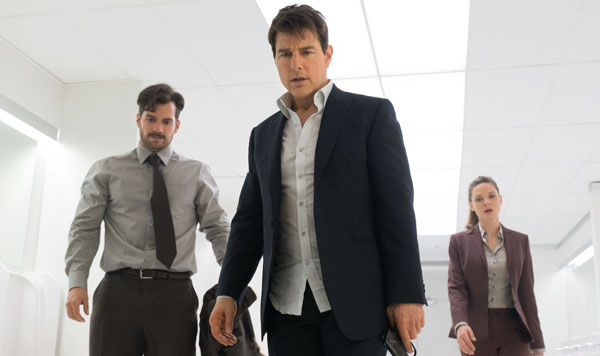 I am pleased to say it does!  I'll have to see Fallout again to decide if I think it's better than Rogue Nation, but it's certainly as good and a wonderful follow-up piece.  Mission: Impossible — Fallout is a triumph of fun pop action-adventure filmmaking.  It's a delight from start to finish, filled with terrific characters, a tightly-woven plot (that actually, for the most part at least, makes sense), and some of the most outrageously bonkers action sequences I have ever seen.  I loved it.
Fallout certainly stands on its own, but for fans of this series, it's a delight to see the way these films have gradually begun to cohere into a larger continuity.  I love how Missions III, IV, V, and now VI all fit together, leading one into the other and developing characters (good guys and bad guys) across the films.  The first few Mission films were completely stand-alone, and it was certainly fun to see different directors craft entirely different types of Mission films.  But I love seeing the connections between these more recent films, and Mission: Impossible — Fallout is filled with pay-offs to character relationships we've been watching develop across these past several films.
Whereas the first several Mission films were about Ethan Hunt: superhero — on his own fighting bad guys (with his team of partners quickly tossed aside), I love the way Ghost Protocol and Rogue Nation developed the team surrounding Ethan, and Fallout thankfully follows in those footsteps.  Ethan Hunt has developed quite a family of allies and friends at this point, and I love the way the film explores those relationships and allows each character a chance to shine.  The scenes with this group together bantering and bouncing off of one another are among my favorites in the film.
What a cast this movie has.  Let's begin with Tom Cruise, who is effortlessly great as Ethan Hunt.  I love how Mr. Cruise's stubborn persistence in keeping this franchise alive into its third decade has resulted in his having successfully created for himself a James Bond type of super-spy action-hero role.  Mr. Cruise has now played Ethan Hunt longer (if we're counting years) than any single actor has played James Bond!  He gives Ethan Hunt a charming affability that makes him easy to root for.  There a funny moment in the last film, during the fight at the theatre, when, after getting hit hard, you see Ethan hold up one finger, asking the bad guy to give him just a second to catch his breath.  That made me laugh, and I was intrigued to see Mr. Cruise and Mr. McQuarrie lean more heavily into that sort of "I'm getting too old for this shit" approach here in Fallout.  After six films, this approach works and feels honest, and it gives Ethan a newly hangdog-like sympathetic bent.  (Harrison Ford was the master of this approach in the way he played Indiana Jones right from the beginning in Raiders.)  As the stunts in the Mission series have grown more and more outrageous (more on this in a moment), I like seeing Ethan depicted less like a super-hero god and more like a human man barely keeping his head above water.
Ving Rhames and Simon Pegg are back as Ethan's two main IMF allies, Luther and Benji.  Luther was one of the best characters in the very first Mission: Impossible film, and I'm pleased that these latest installments have brought him back into the fold.  His deadpan unflappability continues to be very funny.  On the other end of the spectrum is Simon Pegg as Benji.  Benji was introduced in Mission: Impossible III, and he quickly became a key player in the franchise.  His excitable nervous energy continues to be a great comedic contrast with both Ving Rhames' Luther and Tom Cruise himself.
Rebecca Ferguson was introduced in the last film, Rogue Nation, and like everyone else I immediately fell in love with her portrayal of the kick-ass Ilsa Faust, the first ever character in this series who truly seems a match for Ethan Hunt.  I am thrilled they found a way to bring her character back for this new film, and I enjoyed the way they were able to put Ilsa and Ethan at odds while still allowing Ilsa to be smart and heroic.  (And fierce.  There's a moment late in the film where I feared they'd made Ilsa into a damsel in distress, but luckily that was just a temporary fake-out, and it was Benji who became the damsel in distress and Ilsa who had to find a way to beat the bad guy and save him.)  I love the way this film gently moves forward Ilsa and Ethan's relationship.  (I was surprised and impressed by the restraint shown by Mr. McQuarrie and his team in keeping this a chaste relationship.  This is an unusual choice for this type of film, but it was the right choice.  Though by the end of this film, the filmmakers had really gotten me rooting for an Ethan-Ilsa romantic relationship.  Assuming there is a seventh Mission film, I'd love to see this relationship continue to develop.)
Alec Baldwin was also introduced in Rogue Nation, as the CIA Director obsessed with shutting down the IMF and curbing what he saw as Ethan Hunt's irresponsibility.  I was pleased to see Mr. Baldwin return, now on Ethan's side as the Secretary of the IMF (as established at the end of Rogue Nation).  Mr. Baldwin fits perfectly into the film and the ensemble.  He played the hero of a similar type of spy-adventure film back in 1990's The Hunt for Red October, and so it's great fun seeing him, as an older man, still involved in type of movie.  He gets a great "welcome to the team" moment midway through the film that was a high point for me.  (And good lord, I could listen to his great, gravelly voice give exposition all day long.)
Surprisingly, Sean Harris also returned from Rogue Nation as the villain Solomon Lane.  This was an unexpected choice (because his story seemed to be over at the end of Rogue Nation), but a good one.  One tiny problem I had with the end of Rogue Nation was that I felt the super-smart Lane was defeated a tick too easily, so I'm glad he was still a threat in this movie.  Sean Harris's creeply quiet, raspy voice is still so weird and chilling.
Most delightful of all was the return of Michelle Monaghan as Ethan's wife Julia.  Ms. Monaghan was a main character in Mission: Impossible III, and she appeared briefly in Ghost Protocol, but she was entirely absent from Rogue Nation.  I was so happy to see her character return.  Ms. Monaghan is a spectacular actress, and her character remains very important to this series.  The climax of Fallout brings a satisfying sense of closure to Ethan and Julia's relationship, a wonderful payoff to the story begun way back in M:I-III.  
In terms of new characters, the standout is Henry Cavill's portrayal of CIA agent Walker, a brute-force type of fellow (in contrast to Ethan Hunt's style of careful, intricate planning).  Mr. Cavill was a delight in the role.  I've enjoyed his portrayal of Clark Kent/Superman in the recent DC Universe films, but it was a pleasure to see him able to cut loose as this far more morally ambiguous character.  I loved his interplay with Tom Cruise's Ethan, it was fun watching them dance around one another and antagonize one another.
Angela Bassett is great in her small role as the new CIA Director, and Wes Bentley was fun in a third-act role whose details I shall not spoil.  I also enjoyed Vanessa Kirby as the White Widow, an information broker character very much in the mold of Max from the first film.  (After seeing the film, I read on-line that she was actually supposed to be Max's daughter!!  Wow!!  I love that.)
The Mission: Impossible films have come to be known, in recent years, for their increasingly outrageous practical stunts.  Tom Cruise hanging off a plane was an incredibly memorable moment from Rogue Nation, but Fallout tops that over and over and over again.  The film is packed jam full with one insane action set-piece after another.  It's extraordinary.  There's a fist-fight in a bathroom early in the film that is brutal, a small-scale yet riveting fight.  There's a fast-paced motorcycle chase across Paris in the middle of the film that had me laughing with glee at the propulsive energy of the sequence.  (That sequence includes the stand-out moment featured in the trainers in which you see Mr. Cruise, riding a motorcycle, get hit by a car and thrown off at high velocity.)  There's the halo-jump sequence over Paris, in which Ethan and Walker free fall down into a thunderstorm.  (Apparently, Tom Cruise jumped out of an airplane over 100 times to get those shots.)  Then there is the positively nutso helicopter chase at the climax of the film, which is like the Mutara Nebula fight from the end of Star Trek II.  It's extraordinary, a bravura sequence of action-adventure filmmaking that left me in awe.
Watching these stunts, knowing they were done for real, gives the film an intensity that is key to its success.  It's why I recommend you see Mission: Impossible — Fallout on the biggest screen possible.
I also have to complement the terrific score by Lorne Balfe.  I can't believe this is the same person who created the terrible, obvious score for Pacific Rim: Uprising.  I loved the music in Fallout — it was propulsive and exciting, and made great use of the classic Mission: Impossible theme composed by Lalo Schifrin.
There were a few off-notes in the film.  (Beware SPOILERS ahead in the next two paragraphs.)  A weak note of Rogue Nation for me was that Solomon Lane's "Syndicate" was described as an Anti-IMF, the "Rogue Nation" of the title — but while an Anti-IMF is an awesome idea, I never really felt the film sold Lane's band of terrorist thugs as such a large, expansive threat.  They just felt like the small group of terrorists we've seen before in movies many times.  I was excited when, early in Fallout, it became clear that the Syndicate hadn't actually been defeated with Lane's capture.  But the threat of Lane's "Apostles" in this film didn't feel any larger-scale than had been the case in Rogue Nation.  I feel like the filmmakers wanted Lane to be part of a global S.P.E.C.T.R.E.-like organization, but I don't think they were successful in selling that.
I was also bummed that the film killed off both Henry Cavill's Walker and Alec Baldwin's Secretary Hunley.  It makes perfect plot sense that Walker would die in the end — my objection is just that I loved Walker as a nemesis to Ethan Hunt so much in this film that I'd have loved him to be able to return in the future.  I have a deeper objection to the death of Alec Baldwin's character.  First off, the series has now made a habit of killing off the IMF Secretary (Tom Wilkinson played the IMF Secretary who got killed in Ghost Protocol), and I don't like to see these films repeating themselves like this.  Second, I really loved Alex Baldwin in this series, as I noted above, and so I'm bummed that he's been written out of the series.  Third, as I also mentioned above, one of my favorite moments in the film was the "welcome to the team" scene, a great little beat that was immediately undercut by Hunley's death moments later.  I wish that happy moment had been allowed to stand.  Most importantly, I didn't feel Hunley's death added anything to the film — it felt to me like a needless waste of a great character.  I can understand the desire to have some casualties in the film for the events and the threats to have weight.  But mere moments after Hunley's death, we're back to silly banter with Benji's being unable to read his computer screen tracking Ethan correctly.  So it's not like the film used Hunley's death as a way to change up the tone for a more-serious third act.  The effect would have been the same had Hunley been injured but not killed, and then we'd have had the potential for more Alex Baldwin in the next film.  Oh well.
I was a little bummed that Jeremy Renner didn't return as Brandt (after appearing in both Ghost Protocol and Rogue Nation), but Fallout is so stuffed with characters that I didn't miss him.  I've also been hoping that Paula Patton would return, after being so wonderful in Ghost Protocol, but so far she's been absent since that film.  I guess her character has become a little superfluous since the inclusion of Rebecca Ferguson's Ilsa, but I think these movies have room for two beautiful, ass-kicking women.  I hope both Mr. Renner and Ms. Patton will return to the series eventually.
I really loved Mission: Impossible — Fallout.  Bravo to Christopher McQuarrie and Tom Cruise, and the incredible team that surrounded them, for creating this fun, exciting film.  How many times is the sixth film in a series as creatively successful as this one??  I'm impressed, and I can't wait to see Fallout again.