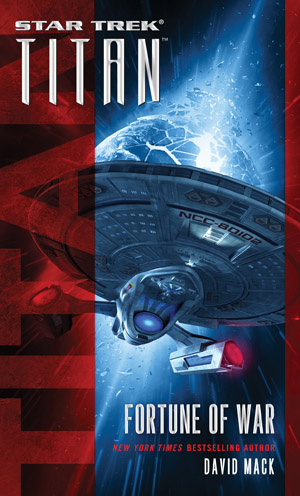 Star Trek Titan: Fortune of War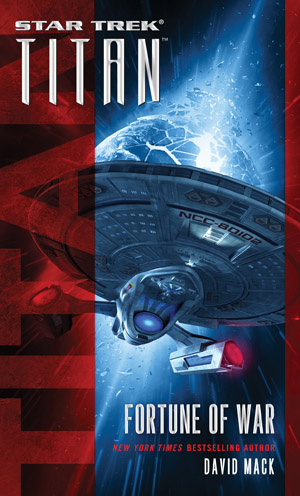 For quite a number of years now, Pocket Books has been publishing a continuing series of Titan novels, chronicling the exploits of the U.S.S. Titan under the command of William Riker.  I enjoyed the way the post-Nemesis novels finally allowed Riker to have his own command, and over the many books, the various Titan-series authors have explored and developed a multi-species supporting cast surrounding Riker and Troi.  The Titan has developed a remarkably deep bench in terms of its supporting players, helping to solidify the Titan series as a key piece of the connected series of Pocket Books' Star Trek novels.
A few years ago, the multi-book series "The Fall" shook things up and we saw Riker promoted to Admiral.  At the time, I wasn't sure what that would mean for the Titan series moving forward, but I have been pleased that the series has gone on, continuing to follow Admiral Riker as well as the crew of the Titan, now under the command of Captain Christine Vale, who was formerly Riker's first officer.  Vale was introduced way back in the post-Nemesis "A Time To…" series of Next Generation novels (at least that's where I first encountered the character, it's possible she also appeared in the Corps of Engineers e-book series, which I never read) and I am pleased that she has continued to be a major player in these Titan novels.
David Mack's recent Titan novel, Fortune of War, picks up a thread from a long-ago episode of The Next Generation.  In the season three episode "The Survivors," the Enterprise crew comes across an elderly human couple living all alone on a planet that has been devastated of all other life.  They eventually discover that the old man is in fact a powerful alien, who was able to survive when an alien race, the Husnock, invaded the planet.  When the Husnock invaders killed his wife, the alien lashed out and, in a single instant, annihilated the entire Husnock race.
Now, two decades later, a Starfleet team has discovered a barren world that they believe once belonged to the Husnock.  Although every last Husnock was wiped out, much of their powerful technology remains.  This discovery starts a chain reaction in which several competing galactic powers begin working to lay their hands on this powerful technology at all costs.
David Mack is a great author and he is particularly skilled at crafting exciting Star Trek action sequences.  This book is right in his wheelhouse, as he has crafted a fast-paced adventure story in which we follow both the Titan crew as well as a number of competing, nefarious interests, as each tries to outmaneuver the other in order to capture the Husnock technology.  I enjoyed the way Mr. Mack was able to introduce a number of new characters in the story, most of whom were folks who the Titan crew needed to outwit.  Mr. Mack was able to include Breen, Nausicans, Orions, Denobulans, and many more Trek alien races in his twisty tale.  I particularly enjoyed the way Mr. Mack included a crew of Pakleds in his story, and how he was actually able to develop these silly aliens (seen in the second-season TNG episode "Samaritan Snare") into interesting characters.
The previous Titan novel, Sight Unseen, had ended with a cliffhanger that revealed that the new Titan first officer, Dalit Sarai, was spying on Riker and Captain Vale for Starfleet Intelligence.  I was pleased that Fortune of War picked right up on that story-line, and made that a major thread in this novel.  I'm glad this wasn't left hanging.
I was interested to see the dark place to which this novel took the Titan's chief engineer, the Efrosian Ra-Havreii.  However, I was somewhat surprised that his story wasn't really resolved by the end of the book.  I hope the next Titan novel picks up on this thread, and I look forward to seeing where this interesting character's story goes next.
I was happy to see that the Ferengi Brunt (played so memorably by the great Jeffrey Combs on Star Trek: Deep Space Nine) as well as Quark's nefarious cousin Gaila (much-mentioned but never seen until the season five DS9 episode "Business as Usual") were both involved in this story.
I smiled at the way Starfleet orbital skydiving suits were used in the story's climax.  (We saw these in J.J. Abrams' rebooted Star Trek movie from 2009, and while for the most part the novels have avoided referencing that movie or any aspect of that movie's post-Nemesis events set in the "Prime" timeline involving Spock and Romulus, this was a nice little nod.)
Fortune of War was another strong addition to the Titan series.  I hope it won't be too long a wait for the next installment!
Previous Star Trek novel reviews:
Star Trek – Unspoken Truth , Troublesome Minds, Cast No Shadow, Excelsior: Forged in Fire, Allegiance in Exile, Legacies Book 1: Captain to Captain, Legacies Book 2: Best Defense, Legacies Book 3: Purgatory's Key, The Face of the Unknown
Star Trek: The Next Generation – The Sky's The Limit, Resistance and Q & A, Before Dishonor and Greater than the Sum, Destiny trilogy, A Singular Destiny, Losing the Peace, Immortal Coil, Cold Equations Book 1: The Persistence of Memory, Cold Equations Book 2: Silent Weapons, Cold Equations Book 3: The Body Electric, The Light Fantastic, Takedown, Armageddon's Arrow, Prey Book 1: Hell's Heart, Prey Book 2: The Jackal's Trick, Prey Book 3: The Hall of Heroes, Headlong Flight
Star Trek: Deep Space Nine – DS9 relaunch overview, The Soul Key, The Never-Ending Sacrifice, Plagues of Night and Raise the Dawn, Section 31: Disavowed, The Missing, Sacraments of Fire, Ascendance, Force and Motion, The Long Mirage, Section 31: Control, Enigma Tales, Gamma: Original Sin
Star Trek: Voyager – Full Circle, Unworthy, Children of the Storm, The Eternal Tide, Protectors
Star Trek: Enterprise — Kobayashi Maru, The Romulan War: Beneath the Raptor's Wing, The Romulan War: To Brave the Storm, Rise of the Federation: A Choice of Futures, Rise of the Federation: Tower of Babel, Rise of the Federation: Uncertain Logic, Rise of the Federation: Live By the Code, Rise of the Federation: Patterns of Interference
Star Trek: Titan – Book 1: Taking Wing, Book 2: The Red King, Book 3: Orion's Hounds, Book 4: Sword of Damocles, Under a Torrent Sea, Synthesis, Fallen Gods, Absent Enemies (e-book), Sight Unseen
Star Trek: Typhon Pact – Book 1: Zero-Sum Game, Book 2: Seize the Fire, Book 3: Rough Beasts of Empire, Book 4: Paths of Disharmony, The Struggle Within (e-book), Plagues of Night and Raise the Dawn, Brinkmanship
Star Trek: The Fall — Book 1: Revelation and Dust, Book 2: The Crimson Shadow, Book 3: A Ceremony of Losses, Book 4: The Poisoned Chalice, Book 5: Peaceable Kingdoms
Star Trek: New Frontier – Series overview, Stone & Anvil, After the Fall, and Missing in Action, Treason and Blind Man's Bluff
Star Trek: Department of Temporal Investigations – Watching the Clock, Forgotten History, The Collectors (e-book), Time-Lock (e-book), Shield of the Gods (e-book)
Star Trek: The Lost Era – Book 1: The Sundered (2298), Book 2: Serpents Among the Ruins (2311), Book 3: The Art of the Impossible (2328-2346), The Buried Age (2355-2364), One Constant Star (2319)
Star Trek: Mirror Universe (Books 1 & 2) – Star Trek: Mirror Universe: Shards & Shadows – Star Trek: Mirror Universe: The Sorrows of Empire — Star Trek: Mirror Universe: Rise Like Lions –  Star Trek: Myriad Universes (Books 1 & 2) – Star Trek: Myriad Universes: Shattered Light
Beyond the Final Frontier — Josh's favorite Star Trek novels