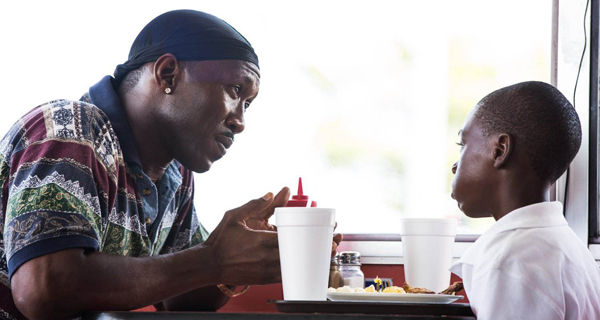 Josh Reviews Moonlight
In Barry Jenkins' riveting, heartbreaking film Moonlight, we follow the journey from childhood to manhood of a gay, African-American boy Chiron.  The film presents Chrion's story in three parts.  At first, we meet Chiron as a quiet, lonely boy who is bullied by his peers and being raised by a single mother.  Chiron forms a connection with a drug-dealer, Juan (Mahershala Ali), who takes Chiron under his wing.  In the second part, we see Chiron as a high school student, struggling to come to grips with his homosexuality while dealing with his mother, now lost to drug abuse, and the increasingly brutal torment from the other boys at school.  In the third part, we see Chiron as a muscled drug-dealer himself, styled after Juan, who is drawn back to his home town and a re-connection with a childhood friend, Kevin.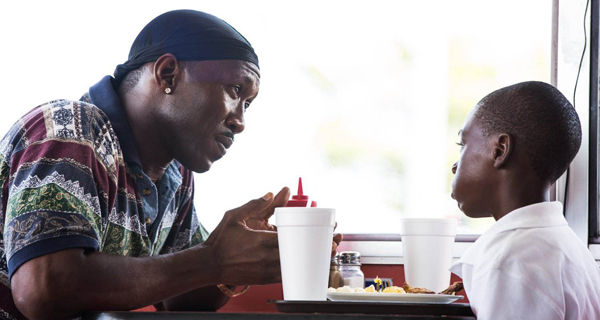 Moonlight is a triumph, a deeply emotional film that is a richly affecting character study of this lost boy, Chiron.  The central question of Moonlight is of Chiron's identity.  Who is he, at heart, and who will he become?  The three chapters are each titled with one of his names or nicknames (part one is "Little," part two is "Chiron," and part three is "Black").  In a critical scene in the first chapter, Juan tells a story of how he earned the nickname "Blue" as a child.  When Chiron asks him if that's the name he then went by, Juan responds by saying that you can't let others define your identity for you.  In that chapter, we see that Chiron as a boy is known as "Little" by the other kids because of his small stature and quiet, gentle nature.  They look down on him, and bully him.  "Black," meanwhile, is an affectionate nickname that his friend Kevin gave him.  But in chapter three, the persona of "Black" that Chiron has created seems to be a striking recreation of Juan, the role model who, briefly, meant so much to Chiron as a little boy.  But none of these personas represent who Chiron is as a person; "Black," the hardened drug-dealer, least of all.  The wrenching question raised by the film, and running across all three chapters, is whether Chiron can somehow navigate the tough circumstances in which he has grown up in order to find himself.  The movie's ambiguous ending does not allow us any happy, easy answers.
Mahershala Ali has had a hell of a 2016.  He was phenomenal as the villain in Luke Cage, and very solid in a small but important role in Hidden Figures.  But man oh man does he crush it here in this role of Juan.  I've been a fan of Mr. Ali's ever since seeing him in the sci-fi show The 4400.  Mr. Ali was easily the best thing about that show, and it's a pleasure to see him given such a juicy role here.  Mr. Ali brings great warmth and tenderness to the character.  There is nothing manipulative in Juan's friendship with Chiron.  We can see that his concern for the "little man" is genuine.  Their final scene together, at the very end of the first chapter, is devastating.  As we see Juan wordlessly hang his head — an incredible piece of performance by Mr. Ali — we can see that Juan, though a tough criminal, has not lost his humanity.
All three actors who play Chiron are incredible.  Alex Hibbert plays Chiron as a boy, and he is phenomenal.  It's an almost wordless part, and Mr. Hibbert conveys a world of emotion and inner life through his eyes, and the expressions on his face.  Whenever I see a truly great performance by a child actor on screen, I always give a lot of credit to the director, so bravo to Mr. Jenkins for drawing such a magnificent, touching performance out of Mr. Hibbert.  Ashton Sanders plays Chiron as a lanky, lonely teenager.  This Chiron talks more than he did as a kid, but this is still a performance told mostly through the pained looks we see on Mr. Sanders' face, and the somewhat contorted way in which he holds his body.  Mr. Sanders' body language shows us clear as day that if this Chiron could roll up into a tiny ball and hide away from the world, he surely would.  Then there is Trevante Rhodes, who plays Chiron as an adult.  There is a powerful shock in seeing quiet little Chiron having become a buff, fearsome-looking drug-dealer.  Mr. Rhodes is an imposing physical presence, but in his open face and, most especially, in his questing, expressive eyes, we still see the gentle Chiron we thought we knew.  All three actors are magnificent, each perfectly cast, and together their work accretes into a rich portrait of the life of this boy.
Naomie Harris (Moneypenny in the last two James Bond films, Skyfall and Spectre) is the only performer to appear in all three chapters, playing Chiron's mother Paula.  We see Paula in three very different places in her life in these three chapters, and Ms. Harris is impressive in her ability to depict this wide range of emotion and physicality.  She is able to bring Paula to life as both a horrifying creature and also a loving mother.  It's an astounding piece of work.
I enjoyed Janelle Monáe in Hidden Figures just a few weeks ago, but if anything she's even more impressive here despite this being a much smaller role.  Ms. Monáe plays Theresa, Juan's girlfriend and a substitute mother-figure for Chiron.  We see Theresa through young Chiron's eyes as an idealized woman, gentle and caring.  I'd have loved to have seen more of this character, and to have been able to learn more about what happened to her later in her life.  Ms. Monáe's performance is filled with warmth and tenderness.
Had I seen Moonlight before writing my Best Movies of 2016 list, it surely would have been included, and in a high position.  I applaud writer/director Barry Jenkins (adapting In Moonlight Black Boys Look Blue by Tarell Alvin McCraney) for crafting such a wonderful, emotionally rich character piece.  This is one of those movies that is so great, and so powerful, that not only am I sure that I will now be following all of its key players with great interest to their future projects, whatever they may be, but I suspect that I will forevermore think of these actors as the roles they played here in Moonlight.
This is a movie that will stay with you.