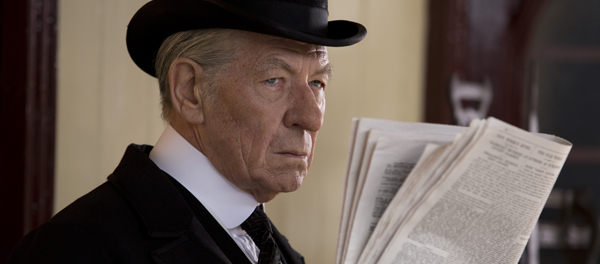 Josh Reviews Mr. Holmes
In Bill Condon's magnificent new film, Mr. Holmes, Sir Ian McKellan stars as an elderly Sherlock Holmes.  Now 93 years old, Holmes has long-since retired and lives far from London (and 221B Baker Street) in a quiet, rural farmhouse.  Holmes' main occupation has become raising bees, and his only two companions are his housekeeper Mrs. Munro (Laura Linney) and her young son Roger (Milo Parker).  The once-brilliant Holmes now struggles with a fading memory.  At Roger's prodding, he attempts to reconstruct the details of his final case, the one whose resolution drove him to abandon his profession as a detective.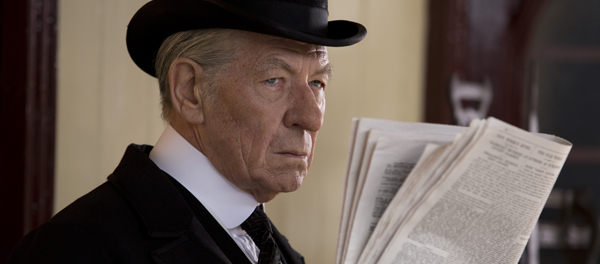 Mr. Holmes is a masterpiece, a beautiful story of the later years of a former legend.  The film cleverly treats Holmes as if he were a real person (rather than a fictionalized character), about whom his partner John Watson wrote many books, and explores what might have happened to this brilliant mind when beset by old age.  I am reminded of the cleverness of the appendices to The Lord of the Rings, which make the case that a story's ending becomes happy or sad based on where you choose to end the telling.  If you stop reading The Lord of The Rings at the end of the last chapter of The Return of the King, then the story has, for the most part, a happy ending.  But if you continue through the appendices and read more about the lives of the characters, through to their later years and their deaths, then the end of the tale becomes far more heartbreaking.  Such is the case here with Mr. Holmes, as the film (based on the novel A Slight Trick of the Mind, by Mitch Cullin) takes the story of Sherlock Holmes past the years of his adventures as a detective to see what the man might have been like at the end of his very long life.
The result is a gorgeous, delicate story, a wonderful character piece that is anchored by a mesmerizing performance by Ian McKellan.  Sherlock Holmes feels like a role that Mr. McKellan was born to play.  He brings great gravitas and intelligence to the role of Holmes, while also gently allowing the audience to see the man's beating heart, his loneliness and creeping sadness at the devolution of his faculties.  It's an extraordinary, riveting performance, one that had my attention completely glued to the screen.  It's great fun seeing director Bill Condon reunited with Mr. McKellan, with whom he collaborated back in 1998 with Gods and Monsters (a terrific film that I really need to re-watch one of these days).  It makes me happy to see Mr. Condon freed from directing Twilight movies and back to making this sort of thoughtful, small-scale film.
Mr. Holmes isn't just a character study, it also manages to be a compelling mystery with multiple layers, as we watch Holmes try to fight his failing faculties to remember the details of his final case, while also getting to see, in flashback, the younger (but still past his prime) Holmes try to solve the mystery that wound up ending his career.  It's just as much fun watching Mr. McKellan play a younger, spryer Holmes as it is to see him play the 93 year-old version.
Laura Linney is wonderful as always, creating is Mrs. Munro a complex woman who cares about Mr. Holmes but who cares more about her son and his future.  Milo Parker, meanwhile, is extremely impressive as the young Roger.  He's able to hold his own with the force of acting nature that is Mr. McKellan, seemingly without any trouble.  The relationship the blossoms between Holmes and Roger in the film is terrific, sweet and engaging while managing to avoid many of the familiar tropes of stories about a young man finding a wizened, charismatic mentor.
I enjoyed the film's playfulness in exploring what life might have been like for Sherlock Holmes had the man actually lived.  We get to see how Holmes deals with the throngs of people who visit his famous address in the hopes of getting a glimpse of him, and, in one of my favorite moments in the film, we see Mr. McKellan as Holmes watching a Sherlock Holmes movie, a version of the Basil Rathbone Holmes films in which (in a wonderful bit of meta casting), Nicholas Rowe (who starred as Young Sherlock Holmes in the 1985 film) plays Holmes.
But the main reason to see the film is so that you can enjoy the towering performance by Ian McKellan.  It's an extraordinary piece of work.
I was quite moved by the gentle Mr. Holmes, and I highly recommend it.