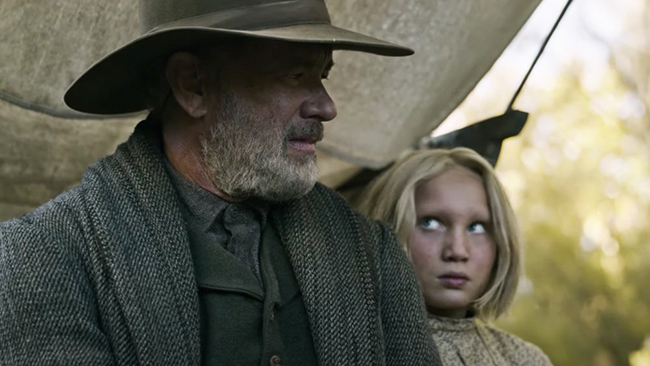 Josh Reviews News of the World
In News of the World, Tom Hanks plays Captain Jefferson Kyle Kidd, a veteran of the Civil War who now eeks out a living by traveling from town to town to read from newspapers for the townspeople's entertainment and edification.  Captain Kidd winds up entangled with a young girl named Johanna, who was kidnapped from her family years ago and raised among a tribe of Native Americans; now she is alone and Captain Kidd sets out to reunite her with her surviving family members.  This was one of my favorite movies of 2020!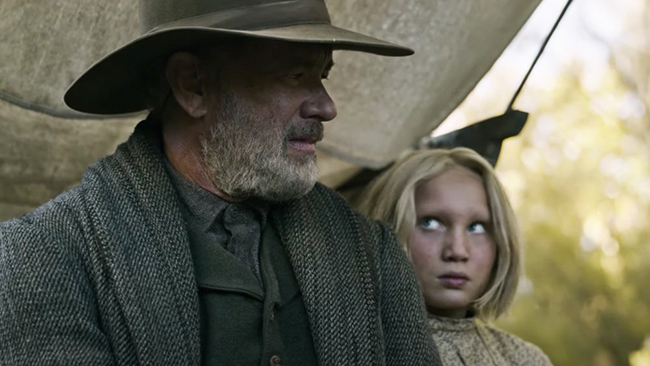 News of the World was adapted from the novel by Paulette Jiles and was directed by Paul Greengrass, who also co-wrote the screenplay with Luke Davies.  I thought the film was a delightful departure for Mr. Greengrass.  It's far more slowly paced and elegiac than the intense dramas and action films for which Mr. Greengrass is best known (The Bourne films, Green Zone, Captain Phillips).  But Mr. Greengrass' skill is on display in every frame of this beautiful, melancholy film.  His eye for composition is well evident.  This is a gorgeous film to look at; the vistas of the American frontier are dazzling.  Mr. Greengrass' skill at character drama are front and center.  And he remains an expert at crafting an action sequence, such as the tense mid-movie shoot-out between Tom Hanks' character, Captain Kidd, and the three criminals who try to steal Johanna away from him.
There's nothing earth-shatteringly surprising or original in the film's story.  I've seen many previous versions of this story, in which a tough older man gradually bonds with a younger child thrust into his care.  And yet I was pleased by how well the film drew me into this tale, despite the familiarity of its overall structure.  I quite enjoyed this film; I was invested in these characters' story.
A good deal of the credit must go to the strong two main actors.  Let's start with the great Tom Hanks, who gives yet another spectacular performance.  Now, admittedly, this isn't exactly groundbreaking territory for Mr. Hanks; he's played the grizzled guy with a heart of gold before.  But the power of his charisma and persona shine through the screen in a way that is quite remarkable.  And when Mr. Hanks really brings it, there are few who can match him.  I'm thinking in particular of a scene, late in the film, in which Captain Kidd finally faces the grief he's buried.  It's an extraordinary few moments of film.  That scene stuck with me long after I'd finished watching this movie.
Helena Zengel plays Johanna.  She's gotten a lot of acclaim for her performance (including being nominated for a Golden Globe), and it's well-deserved.  This is a near-silent performance, and yet Ms. Zengel is able to express so much through her body language, through her face, and through her eyes.  There's a beautiful naturalism to her work.  Bravo to her, and also to director Paul Greengrass for working with her to create this performance.
There are some who might find this film too slow, but I settled very nicely into the leisurely pacing of Mr. Greengrass' movie.  It took some time to get from place to place in the era of News of the World; it feels right to me that the film's pace mimics that.  And while this isn't the most complex or sophisticated character study you'll ever find, I enjoyed the way the film's deliberate pace allowed me as an audience member to gradually get to know these two main characters.
News of the World isn't flashy, but this is classical movie-making of a type that quite appealed to me.  This was one of two fantastic late-in-2020 Tom Hanks films that I enjoyed.  I'll be back with my review of the other, Greyhound, later this week!
Click here to purchase my "Maclunkey" Star Wars/Highlander mash-up t-shirt!

Please support MotionPicturesComics.com by clicking through one of our Amazon links the next time you need to shop!  As an Amazon Associate, I earn from qualifying purchases.  That means I'll receive a small percentage from any product you purchase from Amazon within 24 hours after clicking through.  Thank you!