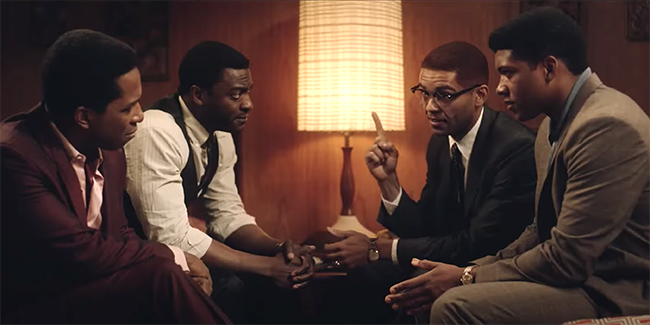 Josh Reviews One Night in Miami
I only just recently finished listing my favorite movies of 2020, and already I've seen one of the first great movies of 2021: One Night in Miami.
The film is a fictionalized version of what might have happened on the night in February, 1965, when Cassius Clay, Jim Brown, Malcolm X, and Sam Cooke were together celebrating after Clay's defeat of Sonny Liston, a moment captured in a famous photograph.  It's a fascinating exploration of these four complex, charismatic men.  There's a lot of joy and drama to be found in imagining what these four men might have had to say to one another, and how they might have bounced off of one another.
One Night in Miami was directed by Regina King.  Ms. King is a spectacular actress.  (Most recently I've been blown away by her work in Watchmen and the second season of The Leftovers.)  This film proves she's a skilled director as well.  This is her feature film directorial debut, but you'd never know it.  There's a confident simplicity to the way the film is staged.  Most of this movie is just a bunch of guys talking in a small hotel room, but Ms. King ensures the film always has a life to it, and a strong visual energy that gives her four incredible leading men plenty of room to shine.  The film was written by Kemp Powers, adapting his own play.  Mr. Powers has had a heck of a year; he also co-directed and co-wrote Pixar's terrific film Soul.  
The film is a phenomenal showcase for the four extraordinary actors who Ms. King has assembled for the main roles.
Kingsley Ben-Adir is magnetic as Malcolm X.  Malcolm X has often been reduced by (white) historical retellings to a simplistic antithesis to Martin Luthor King, Jr.; I love how this film allows him to live and breathe as a real, multi-faceted human being.  I love how the film, and Mr. Ben-Adir's performance, doesn't shy away from mining humor from his straight-laced, even nerdy qualities (it's pretty funny how he wants to celebrate Cassius Clay's major victory with some ice cream in his tiny hotel room; and I loved how obsessed we see Malcolm be regarding his camera), while also giving him moments of compelling oratory in which his powerful charisma bursts forth.
Aldis Hodge (Hidden Figures, the wonderful "Calypso" Star Trek short film) is dynamite as football star Jim Brown, who is just around the point in which he'd transition into making movies.  (I just recently watched the 1968 film The Split, in which Jim Brown starred.  He was by far the best part of the film!!)  Mr. Hodge portrays Jim Brown with a quiet gentleness, but we can see the strength coiled within.  I loved his sweet embarrassment when his friends tease him about leaving football for the movies, and I also loved seeing the intensity in Mr. Hodge's eyes in the moments when Mr. Brown was talking about matters of deep importance to him.
Eli Goree brings a child-like glee to his ebullient portrayal of Cassius Clay.  For a man who made his mark on the world due to his incredible physicality, it's fascinating to see Clay portrayed here as a joy-filled young man (it's incredible to consider how young ALL four of these men were at this time), who seems to want little more in this moment than to be able to celebrate his dramatic boxing win with his three friends.  At the same time, it's also interesting to see the peeks beneath the surface at Mr. Clay's preparing to announce to the world his conversion to Islam, an action which was, at the time, quite a news-worthy event.
Finally we come to Leslie Odom Jr. (who, of course, originated the role of Aaron Burr in Hamilton) as the talented singer Sam Cooke.  Mr. Odom Jr.'s incredible voice is well-used here; he's magnificent at channeling Mr. Cooke's vocals.  Even more important, of course, is Mr. Odom Jr.'s incredible dramatic skills.  There are some key moments in which we see Mr. Cooke's depth and his struggles, and Mr. Odom Jr. really lets his fire loose in those scenes.  What a performance.
The film belongs to those four men, and their strong work is the main reason to watch this.  But it was also great fun to see two alumni of The Wire pop up in supporting roles: Lance Reddick as Brother Kareem, one of Malcolm X's two bodyguards; and Lawrence Gilliard Jr. as Drew Bundini Brown, one of Cassius Clay's trainers & cornermen.  I also enjoyed seeing Michael Imperioli as Angelo Dundee, Mr. Clay's head trainer; and Beau Bridges in a one critical scene as a wealthy Georgia neighbor of Jim Brown's who winds up being pretty terrible to him.
As might be expected, One Night in Miami plays a little fast and loose with historical facts.  Obviously we know that the events of this evening are entirely fictionalized.  But there's a lot of other sliding around of the chronology.  The events of the prologue (in which we see each of the four men dealing with a particular challenge in their lives) took place over the course of many different years, rather than all being shortly before the events of this One Night in Miami, as the film is structured to suggest.  Most notably, from what I have read, the film seems to be factually incorrect in suggesting that Sam Cooke hadn't recorded any socially relevant music up to that point during his career.  The film's epilogue depicts Mr. Cooke performing the song "A Change is Gonna Come," suggesting that he only did so after being challenged by Malcolm X during this eventful night.  But Mr. Cooke had already recorded AND performed that song on live television (apparently on The Tonight Show with Johnny Carson) BEFORE the events of this evening.  (Click here for an article that dives more deeply into the historical basis of the events of this film.)
In general, I always knock historical films that contain inaccuracies.  I'm a little more forgiving of this film, which I know is a fictionalized imagining of what MIGHT have happened on the night these four men got together.  Still, I do wish such a major aspect of the film's storyline (Malcolm X's challenging Sam Cooke to be more involved in the "cause") wasn't based on an incorrect retelling of these men's actual history.
Despite that flaw, I was deeply hooked into this film.  It's a riveting character study of these four fascinating and important African American men; it's a wonderful recreation of a very specific historical era; and it's a (sadly) still extremely relevant tale.
Click here to purchase my "Maclunkey" Star Wars/Highlander mash-up t-shirt!

Please support MotionPicturesComics.com by clicking through one of our Amazon links the next time you need to shop!  We'll receive a small percentage from any product you purchase from Amazon within 24 hours after clicking through.  Thank you!