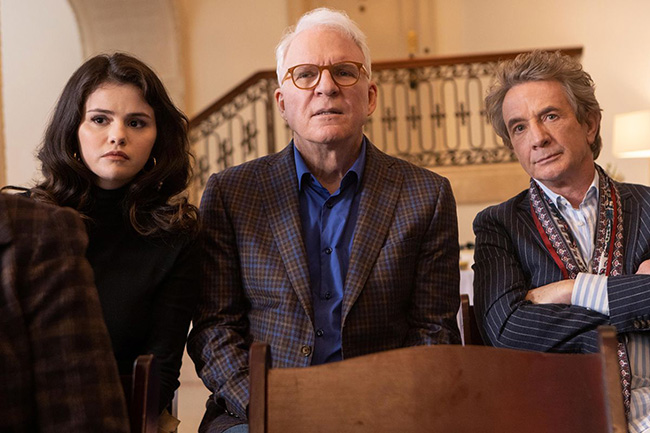 Josh Reviews Only Murders in the Building
In Only Murders in the Building, Steven Martin plays Charles Haden Savage, who years ago starred in a popular TV crime show called Brazzos as the titular detective.  Martin Short plays Oliver Putnam, who used to be a successful Broadway producer before several outlandish flops sunk his career.  And Selena Gomez plays Mabel Mora, a young woman living in her aunt's mostly gutted apartment building.  The three are total strangers, but they all live in the same luxury Manhattan apartment building, the Arconia, and they're all huge fans of true-crime podcasts.  When a young man named Tim Kono dies in their building, the three of them doubt the police's determination that it was a suicide.  They suspect foul play, and set out to find the truth, charting their investigation in a true-crime podcast of their own.
I adored this first season of Only Murders in the Building.  It's a near-perfect concoction.  It's a very funny show that is also a compelling drama and an engaging mystery, whose twists and turns are perfectly paced to carry us through this first ten-episode season.
Steve Martin and Martin Short have been comedic collaborators for many decades, and it is tremendously joyous to me to see that not only are they continuing to work together on new material, but that they both still demonstrate such fierce comedic powers.  Watching these two men play off of one another is like watching two master musicians at work.  To say their comic timing is flawless would be to understate matters.  Is this edgy, groundbreaking comedy?  No.  It's something very different: it's two grand masters at work.
Pairing these two older comic actors with Selena Gomez is an inspired idea, but it's also one that I could have easily seen sounding good on paper but failing in execution.  But I was delighted by how wonderful Selena Gomez is in this show, and how seamlessly her energy and style meshes with that of Steve Martin and Martin Short.  The three very quickly become a magnificently synchronized trio, and the show is always at its best when the three of them are on screen together.  I'm impressed with Ms. Gomez's ability to go toe-to-toe with these two comedic giants, and with how skillfully she's able to create a fascinating character in Mabel; someone mysterious and also someone for whom the audience never loses empathy.  It's a terrific performance and I was immediately captivated.
If this was twenty years ago, Steve Martin and Martin Short would be collaborating on a new movie.  But because it's 2021, this project is a TV show, and I am impressed at how smoothly these two talents have been able to apply what worked on the big screen to the structure of a ten-episode TV series.  The show, created by Steve Martin and John Hoffman, is perfectly paced over the course of these ten half-hour episodes.  I loved the way the mystery unfolded, allowing the characters and the audience to put the pieces together fast enough to avoid frustration, but slowly enough (and with enough twists and turns) that I was engaged right up to the closing moments of the finale.  I love the way the series was able to shift perspectives, with different episodes focusing on different characters' points of view… and even more impressively, how later episodes were able to continue introducing new and significant characters in a way that continued to deepen and enrich the story and add fascinating new wrinkles to the tale.  Most importantly, shows like this need to balance a compelling mystery story with equally compelling development of the main character(s), and this show did that incredibly well.  While I wanted to find out the answer to who killed Tim Kono, I loved how the show kept me equally interested in learning more about Charles, Oliver, and Mabel themselves.  That was skillfully done.
These three heavyweights were surrounded by a terrific supporting cast.  Nathan Lane is a delight as Teddy Dimas, the owner of a chain of delis who had backed Oliver's previous theater projects only to get burned, before getting roped into financing this new podcast.  James Caverly is terrific as Teddy's son Theo Dimas, a deaf young man with secrets.  (The late-in-the-season spotlight on Teddy was one of my favorite of the show's shifts in perspective.  I'd love to see more of Teddy in the future.)  Da'Vine Joy Randolph (so memorable in Dolemite is My Name) is fantastic as the seen-it-all detective in charge of investigating Tim Kono's death.  Jane Lynch pops up late in the season and is hilarious as Sazz Pataki, Charles' former stunt double.  (I never didn't laugh at the carefully choreographed scenes in which Ms. Lynch would perfectly mimic Steve Martin's actions and mannerisms.)  Amy Ryan is phenomenal as always as Jan, a bassoonist who lives in the building and who Charles starts dating.  The great Tina Fey makes a few brief but perfect appearances as true-crime podcast superstar Cinda Canning.  Aaron Dominguez is great as Oscar, Mabel's childhood friend who's just gotten out of prison after serving time for a decade, for a crime he seems to have been innocent of.  Michael Cyril Creighton is very funny as the cat-loving Arconia resident Howard Morris.  Sting appears, playing himself, for a terrific story-line in the middle of the season.  And there are many, many other wonderful performers who do great work as the other denizens of the Arconia, a wonderful community of bizarre and interesting people.  I love how well-cast even the minor supporting players are in this show!  Together they create a wonderfully distinct and memorable universe in which this show takes place.
The season comes to a reasonably satisfying end, while also ending on a cliffhanger designed to propel us into a season two.  Watching the show, I wondered whether this was intended to be a done-in-one mini-series or the start of a multi-season show.  The finale left no doubt it was the latter.  I'm happy for that!  (My only quibble of a complaint is that I think it was a bit of a cheat that the show only caught up to the striking sequence that opened the first episode, of Mabel and a dead body in the building, at the very end of the finale, with the full story of those events left untold until season two.  I'd expected that we'd have gotten more of the story of that tease of an opener.  Oh well.)
This first season of Only Murders in the Building was a pleasure to watch.  I'm excited that there will be a season two!  I can't wait.
Click here to purchase my "Maclunkey" Star Wars/Highlander mash-up t-shirt!

Please support MotionPicturesComics.com by clicking through one of our Amazon links the next time you need to shop!  As an Amazon Associate, I earn from qualifying purchases.  That means I'll receive a small percentage from any product you purchase from Amazon within 24 hours after clicking through.  Thank you!