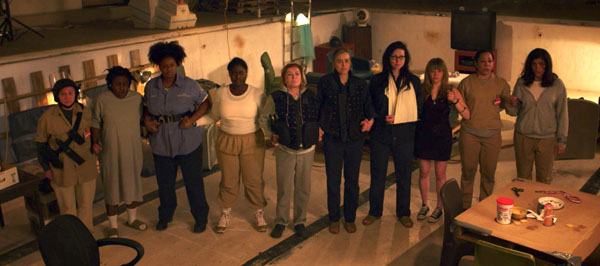 Josh Reviews Orange is the New Black: Season Five
Wow, I can't believe Orange is the New Black is already five years old!  While I have found the series to be somewhat inconsistent, I have enjoyed the ride, and season five was no exception.  The new season picks up seconds after the cliffhanger ending of season four, with Diaz holding a gun to one of the guards.  The entire fifth season follows the events of the prison-riot that follows.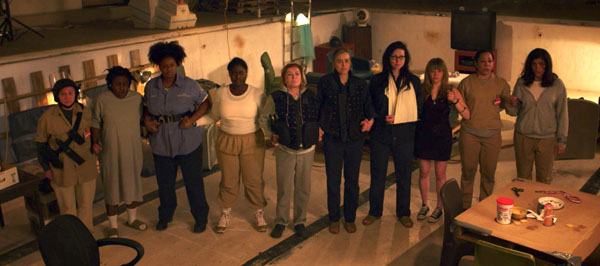 I was excited to see creator Jenji Kohan and her writers explore this new narrative structure, with the entire season depicting the crazy few days of this riot.  It was fun to see the show try out this new structure, and by diving so deeply into the hours of these events, we were allowed to spend a significant amount of time with almost every member of the show's sprawling ensemble, to see how these events affected each of them differently.  The best aspect of this season was the way it allowed us a deeper focus on so many of the show's characters.  (The show mostly dropped its flashback format this year, and I am happy about that.  Those flashbacks were great at first — albeit hugely derivative of Lost — but I'd long-since grown tired of them.  I am glad this season mostly focused on the events happening in the here-and-now at Litchfield prison.)
While the first season was primarily about Piper (Taylor Schilling), the show has long-since re-structured itself to have Piper be just one member of a much larger ensemble.  This was a smart change to make.  I enjoyed following Piper's story in season one, but Orange is the New Black became a much more interesting version of itself as it transformed into such a strong vehicle for telling stories about women of many different colors.  The show has sometimes struggled with trying to still find interesting things for Piper to do.  (I thought the whole business of Piper starting an underground underwear-selling company which then sort of turned into a gang war to be the weakest part of seasons three and four.)  I was pleased that, here in season five, we still followed Piper's story (in a refocusing on her relationship with Laura Prepon's Alex Vause) without having to have Piper involved in every single important event of the riot.
Danielle Brooks has been a standout since the very beginning as Taystee, and she really got to shine this season, as we followed her impassioned efforts to try to get some sort of justice for the murder of her friend Poussey.  Ms. Brooks is absolutely amazing.
I missed Natasha Lyonne as Nicky Nichols after she seemed to get abruptly written off of the show in season three, so I was delighted that she was back playing such a major role here in season five. We've gotten lots of small moments between Nicky and Yael Stone as Lorna Morello, but I loved how this season really focused on their complicated relationship.  The scenes between those two were a highlight of the season for me.
Uzo Aduba didn't have quite as much to do this year as Suzanne, but nevertheless, every scene she was in was fantastic.  Ms. Aduba is phenomenal, as always.  (It's a mark of how carefully she and the show's writers have crafted this character that it feels wrong to call her "Crazy Eyes".  She is more than that.  She is Suzanne Warren.)
Adrienne C. Moore has been so funny, since the very beginning, as Black Cindy, and she got lots of great material this year as well.  She commands every second she is on screen.  I enjoyed Amanda Stephen as Alison Abdullah when she joined the group in season four, and she had a lot of good stuff this season as well.  Her dynamic with Black Cindy continues to be comedic gold.
Kate Mulgrew's Red has long been one of if not my favorite character on the show, though I don't think she was served too well by season five.  (She was one of the few characters who wasn't.)  Orange is the New Black has often asked the audience to follow along through abrupt tonal shifts from comedy to tragedy, but it didn't work for me how Red's story went from the goofiest of the season — accidentally hopped up on chemicals — to the most horrifying — getting tortured at the hands of the brutal guard Piscatella (Brad William Henke).  Individually both pieces worked, but zigging from one to the other felt wrong to me.
Seeing Lea DeLaria, as "Big Boo," dressed in a suit and defending Taryn Manning as "Pennsatucky" Doggett in a bizarro Law and Order scene was a definite highlight of this season.  I love how Boo, who was one of the scarier inmates back in season one, has turned into one of the most consistently funny characters at this point.  Pennsatucky's journey continues to be one of the more fascinating story-arcs of the show.  She started out as a hateable villain, but the show has turned her into one of the most sympathetic characters on-screen.  I don't think I have ever felt for the character as much as I did watching her get hounded to the point of being forced to urinate in a hallway this year.  I have also been fascinated by the story of the way she has forgiven, and continued to love, the guard who forced himself on her.  This is a tricky, tough story — with Pennsatucky making a choice that I and I suspect most audience members don't agree with — but the great writing and Ms. Manning's performance make this feel so honest and human.
Nick Sandow as Joe Caputo has also transformed from a hateable character to a sympathetic one.  Poor Caputo goes through the wringer this season — as do all the guards, wow — but despite all the shitty things we've seen Caputo do or allow to happen in previous seasons, he also seems to be one of the few non-inmate characters on the show who is actually trying his best to make life as not-horrible as possible for everyone at Litchfield.  I loved seeing Caputo's reunion with Alysia Reiner as Figueroa.  That was so great.
Bravo to all the actors who played the guards this season, who had to spend almost the entire season in their underwear.  Every one of them was great, and I loved how the season gave a few great moments to each and every one of those captured guards.
I was happy to see Laverne Cox back as Sophia Burset, after she'd been mostly absent from the show ever since Sophia was sent to solitary in season three.  But then Sophia quickly vanished again, a few episodes in.  Is Ms. Cox just too busy to be more involved with the show these days?  I miss this character.
I was also surprised that, after a major role as the inmate with a gun in the early going, Dascha Polanco's Daya wound up pushed to the background for much of this season.  After she surrenders herself for the shooting of that guard at the end of the season, is this the last we're going to see of Daya?  That'd be a shame, as she was one of the most interesting inmate characters in the show's first few seasons.
I've been writing for a while, and I haven't even mentioned so many other great characters from this show's amazingly deep ensemble who got great moments in season five: Flaca and Martinez cultivating a social media presence with their prison fashion-tips videos; Frieda's incredible hidden bunker; Soso's struggle with her grief for Poussey; Leanne and Angie's increasingly despicable partnership; Blanca getting a makeover; Mendoza's conflicted loyalties as she desperately tries to find a way to get out to see her injured son; Aleida Diaz's confrontation with Judy King on live TV, and so many other wonderful moments.
And how funny did that skinhead Brandy turn out to be??  Who'd have thunk it?
Also — I was delighted by the surprise return of Pornstache!  That was great!
A lot of crazy things happened this season.  Probably too many.  Was this a "jump the shark" season for the show?  While outlandish things have certainly happened before on Orange is the New Black, for the most part the show's power has come from its honesty, and the way it presents the mostly sad stories of all of these women, stories that feel like real, true-to-life sorts of stories.  There are a lot of real-life people, just like this, sitting in prisons around the U.S. right now.  That, to me, has always been the key to this show's strengths.  While I loved seeing the events of season five unfold, and all the new situations and character interactions that the prison riot story-line allowed us to see, I wonder if the show has stepped too far into fantasy-land with this story.  All season long, I wondered, where is this all going?  How can the show possibly go back to any sort of status quo after this?  While I enjoyed the season five finale and found that to be a satisfactory ending to this season's story-lines, I find myself wondering where the show will go from here.  Most of these characters can't possibly go back to a minimum-security prison after this, can they?  I am very eager to see where and how the next season picks up all of these storylines.  I hope we won't look back at this season as the point where the show lost its way.
But for now, I love that Jenji Kohan and her partners chose to shake up the show's story-telling style for this season.  Season five was a blast, and I am eager to see where the show goes from here.