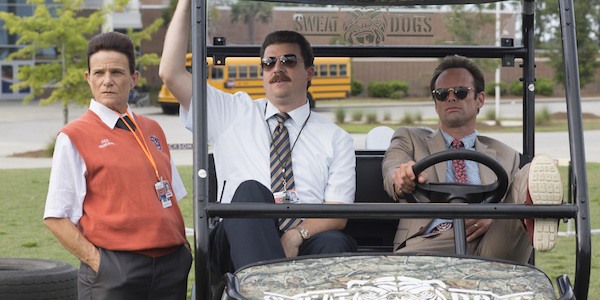 Josh Reviews Vice Principals: Season Two
I quite enjoyed the first season of Danny McBride & Jody Hill's latest collaboration, Vice Principals.  (Mr. McBride starred in Mr. Hill's first film, The Foot First Way, and the two co-created Eastbound and Down.)  That first season chronicled the messed-up partnership between the two vice principals of North Jackson High School, Neil Gamby (Danny McBride) and Lee Russell (Walton Goggins), working to take down the newly-appointed principal, Dr. Belinda Brown (Kimberly Hebert Gregory), since they both wanted her job.  At the end of the season, it looked like Gamby and Russell had finally defeated their nemesis and driven her away, but then, well, things went in some even crazier directions.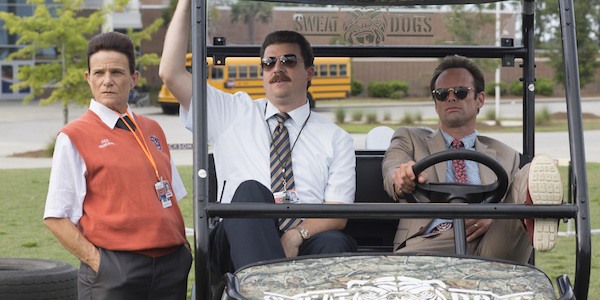 There's a lot to enjoy in season two of Vice Principals, as long as you don't mind a plentiful amount of both raunchiness as well as humor borne from extreme awkwardness and uncomfortable situations.  Personally, I preferred the first season, both because I found the balance between laughs and awkward cringes to be tilted a little more towards the laughs, and also because it felt a little more straightforward, narratively, to me.  The show was over-the-top right from the beginning — I believe that it was only in the second episode in which Gamby and Russell burned down Dr. Brown's house! — but as crazy as it got, I liked the central concept of these two horrible people, Gamby and Russell, united together in pursuit of their shared, very selfish goal.  Without Dr. Brown as a central enemy for these two numb-skulls to work against, season two bounced all over the place.  The individual episodes were mostly strong, but the story as a whole didn't grab my interest as much as the first season did.  It felt a little like they didn't quite have enough story to stretch over two full seasons, which is something of a surprise seeing as the show was, from the beginning, designed to run for just these two seasons.  (What a rarity that is, to have a show created right from the beginning with a planned beginning, middle, and end!)
On the other hand, I love the way the show allowed you to sort-of root for these two a-holes in season one, and then turned the tables in season two as they, and the audience, were forced to reckon with what they had done.  That's careful, crafty storytelling there.  I also want to emphasize that, despite my criticisms, the show in season two still had the ability to make me laugh out loud and gasp in horror at what was unfolding.  I couldn't look away, even when the characters were at their most distasteful!
Danny McBride is, as always, fantastic as the dim bulb Neal Gamby.  This type of character is Mr. McBride's specialty — someone who is not nearly as clever as he thinks he is, who does horrible things but who somehow manages to keep the audience on his side, rooting for him.  Mr. McBride makes it look easy, but that's not to discount his near-perfect comedic chops which are displayed in every scene.  But it is Lee Russell who is the show's masterpiece: a selfish, twisted, fiendishly clever, petty little man who you can love to hate.  I have always enjoyed Walton Goggins' work, but Lee Russell is his greatest creation.  The character is over-the-top-insane, but Mr. Goggins' intensity demands that you never look away.  It's an amazing piece of work.
We don't see as much of Busy Philipps and Shea Whigham (as Gamby's ex-wife Gale and her new husband, Ray) in season two as we did in season one, but they're both great whenever they pop up.  (In particular, I am head over heels in love with the way Mr. Whigham plays the mellow, good-natured Ray.  He kills me with every single line delivery.)  Georgia King as Amanda Snodgrass and Sheaun McKinney as Dayshawn are just as much fun as they were in season one.  Season two introduces a few new characters, most notably Dale Dickey as Nash, who is instantly memorable as Lee Russell's bulldog-like new assistant.  She is hilarious.  I also enjoyed seeing Fisher Stevens as Snodgrass' new author-boyfriend.  Edi Patterson was in season one as Jen Abbott, a Spanish teacher with a huge crush on Gamby, but her character took on new prominence in season two as that crush took a crazy turn.  Ms. Patterson was very funny playing an increasingly unhinged version of this character.
Whereas season one was entirely directed by series co-creator Jody Hill, all nine episodes of season two were directed by David Gordon Green (Pineapple Express).  I love when TV shows have this kind of consistency of direction.  Mr. Gordon Green maintained continuity with the look and feel of season one, while not being afraid to give this second season his own spin.  I thought both he and Mr. Hill did terrific work.
Although there were times in season two when I questioned where this was all going, I was delighted by how well everything was wrapped up in the finale.  We got a very satisfying resolution to most of the story-lines and characters that had been woven through these two seasons.  While I won't spoil anything, I will say that I thought that both Gamby and Russell wound up in exactly the right place.  I put a lot of weight into how well a story is able to be brought to a conclusion, and Vice Principals left me very satisfied.
In an era in which some stories (in both movies and TV) seem to outstay their welcome and go on and on and on, Vice Principals is a complete comedic concoction in only eighteen episodes.  It's not for everyone.  I enjoyed it, and there were still some scenes that I watched through the hands covering my face!  But I'm glad to have seen it.  Neal Gamby and especially Lee Russell are characters I won't soon forget.