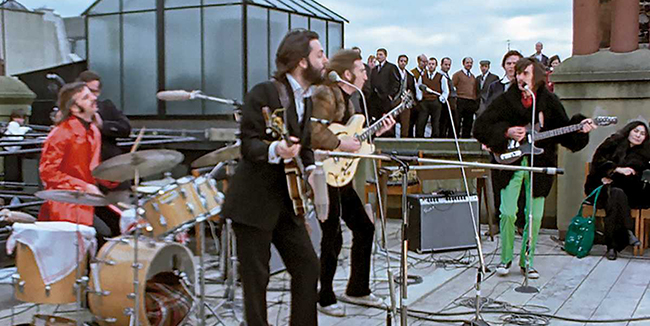 Josh Reviews Peter Jackson's Magnificent Get Back!
Peter Jackson's epic-in-length Beatles mini-series, Get Back, is a miracle, and a source of pure joy for a hard-core Beatles fan like myself.  I listed it as my favorite TV series of 2021, and that was an easy choice!
The film presents a fly-on-the wall look at the 21 days in January, 1969, in which the Beatles assembled to record a new record.  Crazily, they decided to challenge themselves by writing and recording an entirely new record in only 2-3 short weeks, while being filmed the whole time.  If that sounds like a project doomed to failure, it almost was.  The material the Beatles worked on here remained mostly unreleased and unfinished until the Let it Be album was released in May, 1970 (though some of the songs also appeared on Abbey Road, released in September, 1969), and the live performance concert that was supposed to be the culmination of the project never materialized (though we did get the band's famous rooftop performance atop their London studio).
The reputation of these January 1969 recording sessions (begun in the cavernous Twickenham film studios and then moved to the Beatles' Apple Studio) was that these tense sessions led directly to the Beatles' breakup.  But remember, the Beatles didn't publicly announce their break-up until a year and a half later (mid-1970), and this delightful mini-series gives us a close look at how much fun these four still were having, playing and creating music together, at this point in early 1969.
As you're probably aware, to create Get Back, Peter Jackson and editor Jabez Olssen have delved back into the sixty-plus hours of video footage (and apparently an additional sixty-some hours of audio) that was filmed by Michael Lindsay-Hogg and his team back in 1969.  This footage was originally used for what would become the 1970 film Let it Be.  That film shows the process of recording the Beatles' final released album, Let it Be.  Released after the Beatles' break-up, the Let it Be film seemed to give fans insight into what had gone wrong within the band.  The footage portrayed what often seemed to be an awkwardness or contentiousness between the Fab Four.
But Mr. Jackson's project reveals an entirely different take on this time-period.  Whereas the original Let it Be film seemed to present a band at each other's throats and on the verge of a breakup, Get Back paints an entirely different picture.  Yes, we see some moments of disagreement and tension, but most of what we see is a joyous, laugh-filled collaboration.  That's the most important of the many new revelations that this eight-hours-long mini-series gives us.  And I must say, it is pure joy.  Yes, we see some differences of opinion within the band.  But most of what we see is four amazing musicians at the height of their power having fun together and making music.
Yes, the Beatles are having fun together throughout the vast majority of the footage we see in Get Back!  This was pure joy for me as a Beatles fan to watch!
We see the Beatles laughing together, joking together, jamming together.  This isn't a band out-of-sync with one another, as the reputation of this time-period would have it.  Quite the opposite; it's incredible to see what an amazing collaboration these men still had with one another at that point.
Get Back's luxurious run-time allows us as an audience to see and understand that dynamic far better than the much-shorter Let it Be film ever could.  Take, for instance, the famous George-Paul argument that was seen in the original Let it Be film.  This was a seminal moment in Let it Be: George, apparently fed up with Paul's bossiness, sarcastically snaps at Paul to just tell him how to play the song and he'll do whatever he wants.  We see that same moment in Get Back.  But in this longer mini-series, we also get to see the whole almost ten-minutes-long interaction that leads up to the moment, and for me that context was critical in casting this interaction in an entirely different light.  I don't think Paul was being rude or disrespectful to George, which was how it seemed in Let it Be.  I think he was struggling to convey the vision in his head for the song, and while Paul probably could have been more welcoming to George's input, I think George's reaction was a bit overblown.  (I think George just wasn't in the headspace of wanting to be there in that studio recording; this seems clear to me because soon after that argument he quits the band just as fellows were breaking for lunch.  George's announcement that he's leaving comes seemingly out of nowhere, and surely wasn't caused purely by that relatively mild disagreement with Paul.)  But whether you side with Paul or George in that exchange, the point is that you get an entirely new viewpoint on the whole thing when you're able to watch the entire interaction and not a 1-2 minute snippet.
That's the greatness of the length of this mini-series.  We really get to live with the Beatles over the course of Get Back's nearly eight-hour run-time.  Some people have complained about the eight-hour run-time, but I tell you, I could have watched eight hours more.
I can't describe how incredible it is to get to see them this way; to see the four Beatles both as real normal human beings and at the same time as artistic giants in the prime of their powers.
It is absolutely extraordinary to get this inside glimpse into how the Beatles went about their process of creating new songs.  Get Back allows us to watch the steps of the Beatles figuring out their songs, taking ideas and crafting them into the incredible music we still know and love, decades later.  But what's really wild for me, watching Get Back, is that even though the mini-series allows us to watch the Beatles at work in far greater depth than ever allowed before — even though we get to watch every step — somehow I still don't exactly know how they did it!  That's the genius of The Beatles.  Like watching a great magician, I can watch every step and still be mystified and amazed at how they did it.  Watching the Beatles create these great songs, seemingly out of nothing, is truly astonishing.  I loved it.
Get Back is full of new insights, big and small.  One example: when the Beatles released the Anthology recordings in the nineties, I was struck that we heard recordings of One After 909, a song off the Beatles' last album, included among some of the earliest Beatles tracks on the Anthology.  I never understood that until watching Get Back.  In a rush to come up with new material to record, we see the band jamming out in a medley of some of the songs they used to play in their earliest touring days.  Among the many songs is, you guessed it: One After 909.  So now I understand: that was actually an EARLY Beatles song, that made it onto their final album because they needed more songs.  Cool!
Get Back also debunks the myth that Billy Preston was called in as a "ringer" in order to stop the Beatles from arguing with one another.  That's been the story I'd heard told and retold for years.  Get Back, though, paints an entirely different picture.  First off, we've mostly seen the Beatles having fun with one another even before Billy arrives.  Second, we get to see how Paul is struggling with wanting to sing and play guitar on several songs that also call for a piano or keyboard.  Getting to see Paul trying to figure out how to manage that totally recontextualizes why the band was so quick to invite Billy Preston to sit in with them, when he wanders into their studio to say hi.  We'd already seen that they needed a piano/keyboard player!
By the way, getting to see so much of Billy Preston was a highlight of Get Back to me.  Mr. Preston was a musical genius, and a huge contributor to quite a number of Beatles songs from this era.  It's so much fun to watch him clearly having a blast getting to play with the Beatles.
Another highlight: getting to finally see the complete concert the Beatles performed on the rooftop of their Abbey Road studios.  That was an absolute delight and a perfect conclusion to this mini-series.
What a pleasure this show was.  I'm delighted that Peter Jackson expanded what was originally intended to be a feature film into this eight-hour extravaganza.  It's so long — and yet, I was so sad when out ended!  As I wrote above, I could have easily and happily watched eight hours more!  This is essential viewing for all Beatles fans.  I am so glad it exists.
Click here to pre-order my graphic novel José and the Pirate Captain Toledano!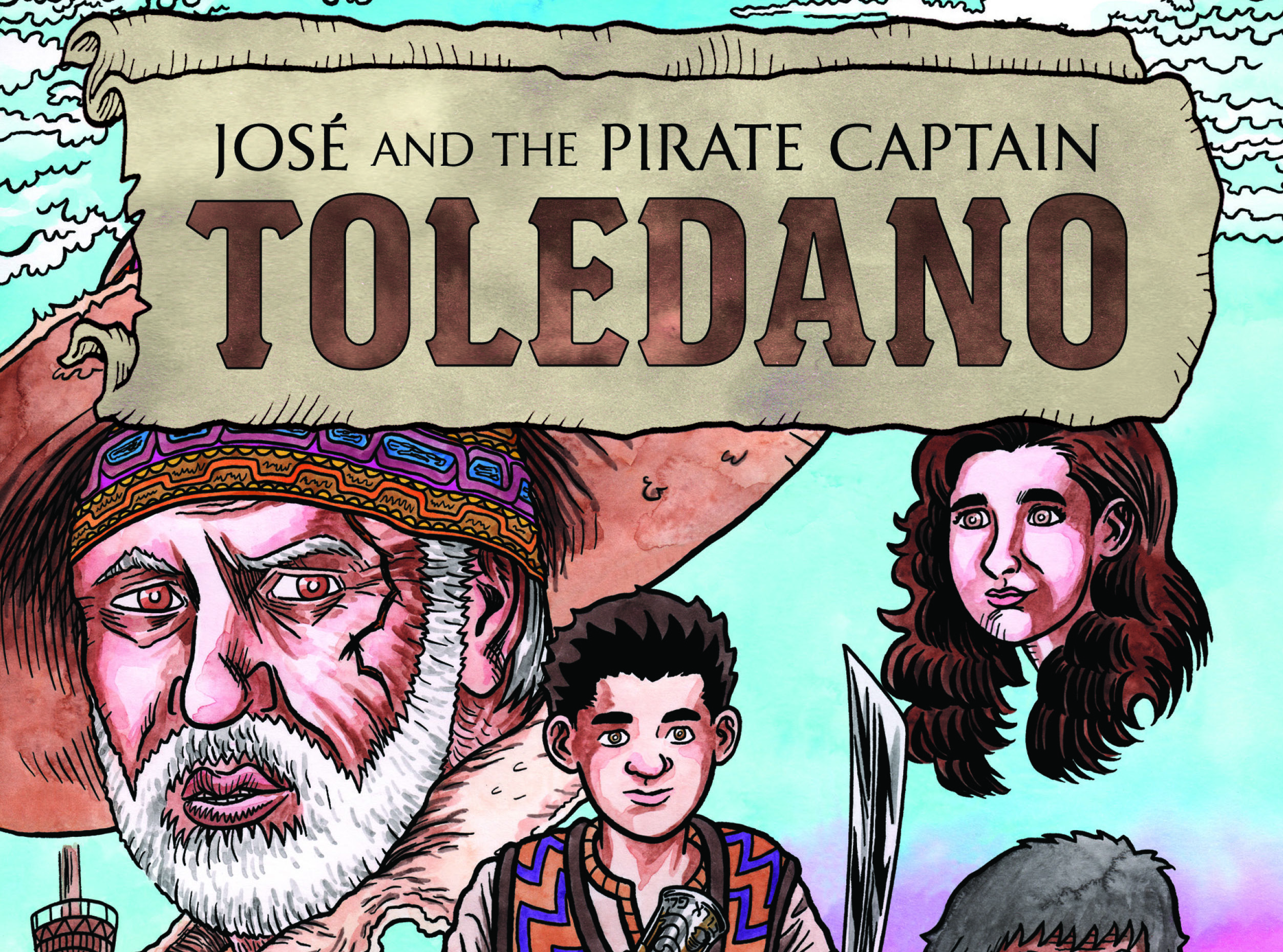 Click here to purchase my "Maclunkey" Star Wars/Highlander mash-up t-shirt!

Please support MotionPicturesComics.com by clicking through one of our Amazon links the next time you need to shop!  As an Amazon Associate, I earn from qualifying purchases.  That means I'll receive a small percentage from any product you purchase from Amazon within 24 hours after clicking through.  Thank you!