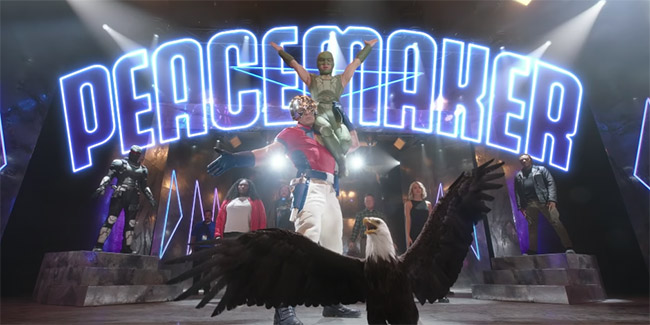 Josh Reviews Peacemaker: Season One
Peacemaker was one of the most enjoyable surprises to come down the road in quite some time!  I was not expecting to fall as head-over-heels in love with this show as I did!  Writer/director James Gunn has crafted a beautiful and ferociously entertaining show.  It's absolutely hilarious, gloriously violent and profane, and also deeply emotional and moving.  I loved every second of it!
I can't believe this show exists.  Who'd have thought James Gunn would ever do a TV show?  Who'd have thought the folks at DC/Warner Brothers would ever OK a TV show spin-off of a movie that was mostly ignored (unjustly!!) on its theatrical release last summer?  (Thank heaven the show was produced before The Suicide Squad was released.)  If you haven't seen James Gunn's The Suicide Squad film, it's well worth your time.  Ignore the dreadful 2016 Suicide Squad film and dive into Mr. Gunn's rebooted version.  (Click here for my review.)
Peacemaker spins off from The Suicide Squad, focusing on John Cena's character of Peacemaker, the mass murderer who thinks he's a super hero.  ("I cherish peace with all my heart. I don't care how many men, women, and children I need to kill to get it.")  The show also brings back Argus agents Harcourt (Jennifer Holland) and Economos (Steve Agee).  Harcourt and Economos are part of a group of secret agents overseen by DC's spymaster Amanda Waller (played by Viola Davis in both Suicide Squad films; she pops up briefly in the show) that is fighting a secret war against an alien menace.  The team also includes Waller's daughter Leota Adebayo (Danielle Brooks) and the unemotional team leader Murn (Chukwudi Iwuji).  The group needs a killer on their side, so they rope in Peacemaker, accompanied by his jovially bloodthirsty buddy Vigilante (Freddie Stroma).  But Peacemaker's experiences in The Suicide Squad movie have changed him; he's not so sure any longer that killing people in the name of peace is the right thing to do…
This show is an absolute joy from start to finish.  James Gunn — who wrote all eight episodes and directed five of them — is able to work his unique magic to create something very special.  He's dug deeply into the weird, little-known characters of the DC universe to assemble a show filled with oddballs and misfits.  Mr. Gunn knows exactly how to use these characters in a way that is so, so funny, but that always maintains an emotional realism.  Mr. Gunn has tremendous empathy for all of the broken characters he brings to life on screen.  Every character in the series has an arc, and it's a pleasure watching them learn and grow and change.  I defy you not to fall in love with these characters over the course of these eight episodes.  It's incredible.  And did I mention the show is hilarious?  The series rarely goes a minute without a giving us a laugh out loud exchange or sequence.
I also want to commend Mr. Gunn for crafting one of the most perfectly paced streaming series I have ever seen.  Peacemaker is definitely one big eight-part story.  Each episode ends with a fantastic cliffhanger that left me counting the moments until the next episode was released.  But at the same time, each episode was a completely satisfying story unto itself.  Taken together, the eight episodes were perfectly structured.  Plot twists and character revelations unfolded at exactly the right pace over the course of the season.  There were enough mysteries and layers to keep me interested, but they weren't over-stretched in a way that was frustrating or confusing.  And everything — all the plot points, all the character arcs — were woven together in a beautifully satisfying and moving way by the end of the finale.  Truly, this might be the most impressive aspect of this very impressive TV show.
Or is the opening credits the most impressive aspect of this very impressive TV show?  Peacemaker boasts one of the all-time greatest opening credits scenes.  Mr. Gunn has described it as his attempt to do away with the familiar streaming "skip credits" button.  It worked for me; I couldn't wait to watch the opening credits in full each week.  I love the song, I loved the dance moves, I loved all the funny and weird little touches (such as that extra second of everyone breathing heavy at the very end).  I loved it.
The cast was extraordinary, top to bottom.  John Cena has proven himself to be a terrific actor in a variety of projects in recent years.  He killed it in The Suicide Squad movie and I was thrilled to see him take center stage in this show.  Mr. Cena brought tremendous depth and nuance to Peacemaker.  I love the way the show takes the time to explore just how this man got as twisted up as he is.  We can see that he is starting to understand how messed up he is, and that he wants to be better, but also that he doesn't quite know how.  Mr. Cena is able to have fun with Peacemaker's abhorrent behavior while also keeping the character lovable and human.  There are a number of moments in which Mr. Cena is called upon to display deep emotion as well as subtle shifts of perspective, and he nailed it every time.  (I do wish the show had made a better attempt to explain just how Peacemaker survived his injuries in The Suicide Squad movie, though.  This is one of my only complaints about the show!  The dude was shot in the throat!!  How did he live through that??)  And Mr. Cena dazzled with his piano-playing skills in one of the show's most surprising and emotional moments!
It's a great pleasure to see Jennifer Holland and Steve Agee back as Harcourt and Economos.  I loved the way the show turned these supporting players into richly developed leading roles.  I was very impressed by how well Ms. Holland played Harcourt.  Never for an instant did I doubt that this was an ass-kicking warrior woman, and yet at the same time Ms. Holland was able to show us little peeks behind Harcourt's armor to allow us to understand who she is and why.  When Harcourt is forced to step into a leadership role late in the season, it's deeply satisfying.  Steve Agee is a skilled comedic actor and he gets a number of incredibly funny moments throughout the show.  And when we get to the payoff to the "dye-beard" jokes late in the season, Mr. Agee nails that emotional monologue.  Spectacular.  I loved all the times the series allowed Economos to step up and be a hero and save the day.  And I also loved how he stupidly — and oh so humanly — injured himself at the end as well.  So funny.
Danielle Brooks was one of the best parts of Orange is the New Black, and she's marvelous as Leota Adebayo.  What a great new character!  Adebayo is the audience surrogate character, the "every-person" who reacts as we would react to all of the craziness on the show.  I loved the way her story of finding herself — for herself, not for her mother — unfolded over the course of the show.  I loved the development of her unexpected friendship with Peacemaker.  I love the early moments when we see how skilled she is at her job (like when she easily manipulates Vigilante into going into the prison to take out Auggie), and I loved watching her transition from being uncomfortable with violence (such as in the very the sequence early on, in which we see her comedically shooting only the bodies that had already been killed) to someone able to jump in and mix it up in the finale.
Freddie Stroma (Cormac McLaggen from the Harry Potter films!) steals the show again and again and again as Peacemaker's buddy Vigilante.  Vigilante shares Peacemaker's love of violence, but he has even less self-awareness.  I love this character.  He is absolutely hilarious.  I love how jovial Vigilante is, despite being a maniac!  It's delightfully endearing.  Mr. Gunn apparently replaced another actor with Mr. Stroma well into filming.  They then had to go back and reshoot large chunks of the first half of the season.  It was worth it.  Vigilante is an all-time great character, and Freddie Stroma is absolutely perfect.  (There are so many amazing Vigilante moments in the season.  One of my favorites is when he unflappably sits down at a table in prison with Auggie and his white-power thugs and, without blinking an eye, tells them all off and then kicks their asses.)
Robert Patrick (The T1000 from Terminator 2!!) is terrific as Peacemaker's abhorrent white supremacist father, Auggie.  Mr. Patrick is perfectly loathsome.  He's a terrific villain!  Chukwudi Iwuji is terrific as Clemson Murn.  It's hard to play a mostly unemotional, deadpan character.  And yet Mr. Iwuji is so good, and so hilarious!  He can say so much with just a tiny flicker of expression.  Annie Chang and Lochlyn Munro are very memorable as Detectives Song and Fitzgibbon.  I'd love to watch a spin-off show of the two of them solving crimes in the DCU!  Elizabeth Ludlow does good work as Leota's wife Keeya; she makes quite an impression in not too many scenes.  Speaking of making an impression: I loved Nhut Le as the master fighter, Cheeto's-loving Judomaster.  And Rizwan Manji (Ray Butani on Schitt's Creek) destroys in his few brief appearances as the janitor Jamil.
The show looked terrific.  I didn't see any noticeable difference between the movie The Suicide Squad and this TV show spin-off.  The story was epic.  The action was terrific, with lots of great fights in lots of different styles.  When we got visual effects, they were totally convincing (such as the look of the Butterflys and especially their Cow, or White Dragon's aerial combat).  All levels of the production did top-notch work.
Other thoughts:
I liked the way the show made use of flashbacks from The Suicide Squad movie at key moments.
I loved Eagly!!
I loved all of the different Peacemaker helmets.
I loved Auggie's very comic-book-ish secret technology lab.
I loved Lenny Jacobson (Wayne Cobb on For All Mankind!) & Alison Araya as the bickering couple Peacemaker takes hostage in episode two.
I loved the talking gorilla!  How very DC Comics!
I was not expecting the DCU cameos in the finale.  I know that Peacemaker is a part of the DC cinematic universe that began with Man of Steel, but I didn't expect to see such a direct connection between those all-ages DC superhero movies and this profane little show.  Kudos to those actors (I won't spoil them here) for reprising their roles in this series, and kudos to Warner Brothers for allowing it.
I loved the extra bit of comedy at the end of each episode's end-credits!
I got so much joy from this series.  Bravo to James Gunn and all of his collaborators.  I am over-the-moon happy that the show was renewed for a second season!  I can't wait!!
Please support MotionPicturesComics.com by clicking through one of our Amazon links the next time you need to shop!  As an Amazon Associate, I earn from qualifying purchases.  That means I'll receive a small percentage from any product you purchase from Amazon within 24 hours after clicking through.  Thank you!