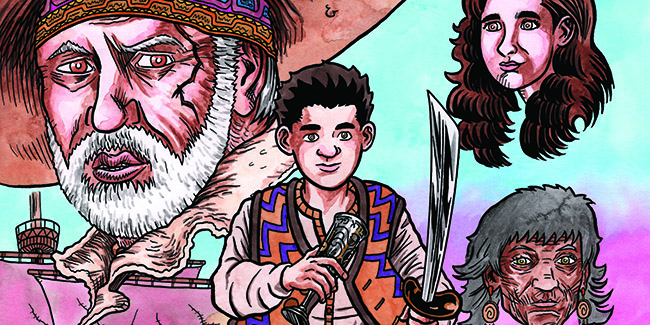 A Look Inside the Making of José and the Pirate Captain Toledano!
We're fast approaching the May 1st release of my graphic novel José and the Pirate Captain Toledano!
You can pre-order it on Amazon right now!
Set in the shadows of the Spanish Inquisition, José and the Pirate Captain Toledano is the coming-of-age story of José Alfaro, a young refugee who forms a powerful bond with the mysterious Pirate Captain Toledano.  It's also a dynamic pirate adventure on the high seas, with hand-to-hand combat and ship-to-ship action, and the powerful story of a dark time in history when people took different paths to survive.
Arnon Shorr (the book's author) and I have recently put together some videos exploring the process of creating the graphic novel.
In this video, we take a look at a key prop in the story, the Chanukiyah that José (the main character)'s father hid away in an attempt to keep their past a secret:
In this next video, we dig into the real-life history of the actual Kiddush Cup we used as a model for the Kiddush Cup that plays such an important part in our story:
Here's a short video of the moment in which I unboxed my authors' copies, and got my very first look at the finished graphic novel, the result of many years' worth of work:
And here's a short video in which Arnon tells the story of our first positive review:
Thanks for reading!  You can click here to pre-order José and the Pirate Captain Toledano!
Please support MotionPicturesComics.com by clicking through one of our Amazon links the next time you need to shop!  As an Amazon Associate, I earn from qualifying purchases.  That means I'll receive a small percentage from any product you purchase from Amazon within 24 hours after clicking through.  Thank you!