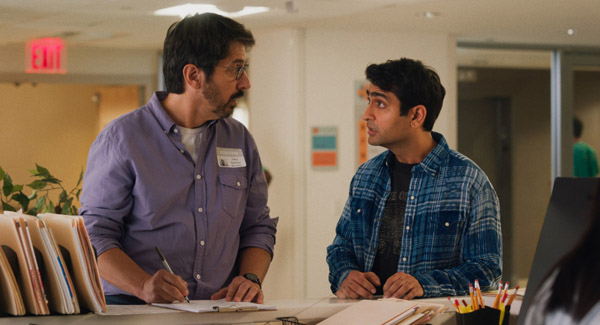 Josh Reviews The Big Sick
The Big Sick, written by Kumail Nanjiani and Emily V. Gordon and directed by Michael Showalter, is based on the true story of Kumail and Emily's relationship.  As the film opens, the two meet at one of Kumail's shows and begin to date, and while they are clearly compatible, Kumail (who plays himself in the film) keeps the relationship a secret from his Pakistani family, who are attempting to arrange a marriage for Kumail with a Pakistani woman.  When Emily (played by Zoe Kazan) discovers this and Kumail admits that he is not sure they have a future together, she leaves him.  This seems like the end of their relationship, but soon after Emily takes ill and unexpectedly is placed in a medically induced coma.  Kumail, called to the hospital by one of Emily's friends, signs the permission form, and remains at the hospital at Emily's side.  The second half of the film chronicles this experience, alongside Emily's parents (played by Holly Hunter and Ray Romano).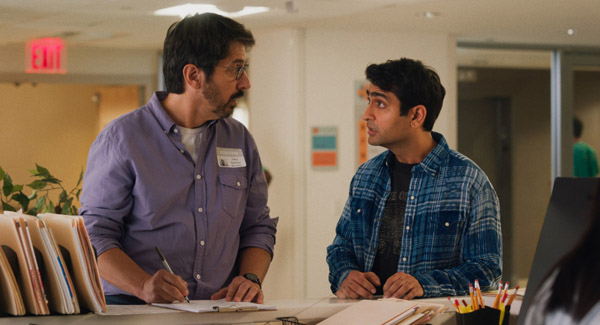 That sounds like the makings of a Very Serious Drama.  But while The Big Sick is a very emotionally engaging film, and one that deals with a number of serious topics, the magic of the movie is that it is also extremely funny throughout, telling the story with an enchantingly light touch.  I loved it.
I have been a fan of Kumail Nanjiani's ever since I discovered his The X-Files Files podcast a few years back, and he is consistently hilarious on Silicon Valley.  The Big Sick is a tremendous showcase for Mr. Nanjiani, and it's exciting to see him crush it.  This is a very personal story, being so directly inspired by Mr. Nanjiani and Ms. Gordon's actual experiences, and Mr. Nanjiani proves to be an extremely engaging lead.  He conveys an enormous likability that helps carry the audience through the film even when we see Kumail make some very poor choices in the film.  Mr. Nanjiani is an expert comedian, and he is so funny throughout the film, bringing every punchline to life.  What's even more impressive is how well he is able to sell the dramatic moments.
Zoe Kazan steps into the role of Emily, and she's great.  I had seen Ms. Kazan in a few roles here and there (Me and Orson Welles and Revolutionary Road), but I was not that familiar with her work.  She has great chemistry with Mr. Nanjiani and does a great job at conveying the spark between the two of them.  Her work in the first half of the film is strong enough to keep Emily alive as a character in the second half, when she is put into a coma and so drops out of the film.  This is harder to accomplish than it might seem, and Ms. Kazan makes it look easy.
The Big Sick is a great showcase for Kumail Nanjiani, but it is also an incredible showcase for Holly Hunter and Ray Romano, who are both extraordinarily great as Emily's parents.  What a joy it is to see these two great performers given such juicy parts.  They absolutely knock it out of the park, and their work is a huge reason to go see this movie.
I also love the film's focus on Kumail's Pakistani family.  As was the case with Aziz Ansari's Master of None, it is wonderful to see such loving and human portrayals of Muslim Americans.  I love the work by Anupam Kher and Zenobia Shroff as Kumail's dad and mom, and Adeel Akhtar is also very funny as Kumail's older brother.  In our current political atmosphere, these sorts of portrayals of Muslims are more important than ever.  And in the context of the film, getting to know Kumail's family helps flesh out his character and allows us to understand and empathize with the conflicting pulls of modernism and tradition with which he is wrestling.
I also love the peek the film gives us into the life of a stand-up comedian.  Bo Burnham and Aidy Bryant and Kurt Braunohler are fun as Kumail's comic buddies.  This is a relatively minor aspect of the film, but it's a fun glimpse into a world that Mr. Nanjiani obviously knows very well.
The Big Sick is a wonderfully original story, a very funny film that is also rich with emotion and drama.  The terrific cast, anchored by Kumail Nanjiani in the star role, brings these characters to wonderful life.  I loved this film dearly and can't wait to see it again.
If you're interested in exploring what is true and what isn't in the film, click here and  here and here.  Here is a great interview with Kumail Nanjiani discussing the film and lots more.