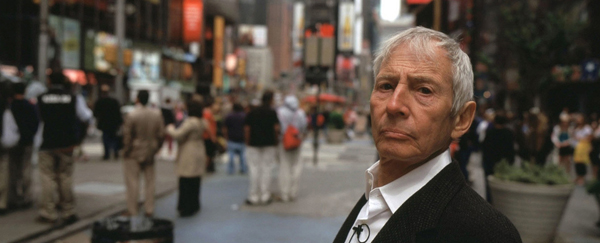 Josh Reviews The Jinx
HBO's riveting six-episode true-crime documentary series, The Jinx, is one of the most compelling pieces of television I have seen in a long time.  This is edge-of-your-seat television, and the twists and turns of the story are so staggeringly jaw-dropping because these things really happened.  The events you see unfold in The Jinx are so extraordinary, so unbelievable, that they feel like this must be fiction.  But all of these events actually happened!!
The Jinx has been in the new quite a lot recently, as it's main subject was arrested on the eve of the airing of the finale.  But somehow, luckily, though I had seen the headlines, I had avoided reading too much about the show.  When I started watching the first episode, I went in pretty cold.  I didn't really have any idea what The Jinx was going to be about, or what sort of story it was going to tell over the course of its six episodes.  The show immediately sunk its hooks into me, and I could not stop watching.  I marathoned all six episodes in one afternoon.  I was home sick for the day, and though it wasn't my intention to spend the entire afternoon on the couch watching TV, once I started watching The Jinx I could not turn it off.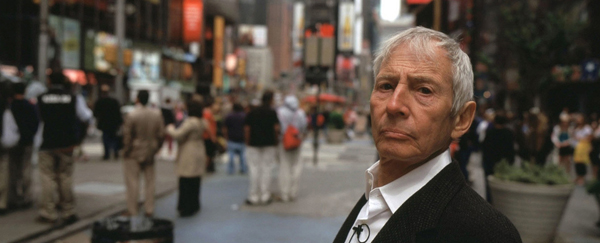 The Jinx focuses on Robert Durst, now 71 years old.  Mr. Durst is a member of an extremely wealthy family of real estate developers in New York City.  Unbelievably, Mr. Durst has been suspected of involvement in the deaths of three separate people over a span of 33 years.  In 1982, his first wife, Kathleen Durst disappeared.  In 2000, Mr. Durst's close friend Susan Berman was murdered in her home.  And in 2001, Mr. Durst dismembered his neighbor in Galveston, Texas, and threw the dead man's body parts into Galveston Bay.  Mr. Durst was tried for that third death, and even though he admitted to killing the man and to cutting up his body and throwing the pieces, wrapped in garbage bags, into the bay, Mr. Durst was acquitted.  (His lawyers argued that the man's death was self-defense, not murder.)
The story of how The Jinx came to be is almost as fascinating as that of Mr. Durst (though less violent!).  In 2010, Andrew Jarecki directed a feature film called All Good Things that told the story of Robert Durst and the disappearance (and presumed murder) of his first wife Kathleen.  The film starred Ryan Gosling & Kirsten Dunst.  Following the release of that film, Mr. Jarecki got a phone call from his film's subject: Robert Durst himself.  Surprisingly, it was not an antagonistic conversation.  In fact, Mr. Durst expressed an interest in being interviewed by Mr. Jarecki, so that he could tell his side of the story.  Thus began a documentary project that would depict the events told in All Good Things and lots more.  Five years later, The Jinx was released by HBO as a six-episode series.
Although The Jinx does depict Mr. Durst's side of things, as I watched the show unfold it became quickly clear that the show was taking the point of view, rather definitively, that Mr. Durst was guilty of murdering all three people.  As the show continues, one begins to learn why that is.  There are revelations in episode five and six that are staggering.  These are the types of third-act twists that you'd expect to see in a piece of crime-fiction, but this is all real.  It's absolutely unbelievable.
The Jinx reminded me, quite favorably, of David Fincher's Zodiac.  That wonderful, slow-burn of a film also tells the true-story of a murderer who, for decades, went uncaught.  Zodiac also captured the painfully slow way that true-life investigations sometimes unfold, and how having these cases remain unsolved and open-ended for decades can be so painful for everyone involved, desperate for a closure that never comes.  The Jinx strikes many of the same tones.  The Jinx also reminded me of a haunting documentary that I'd seen about a decade ago, called Capturing the Friedmans.  I was stunned then to discover, after finishing watching The Jinx and starting to read more about the show and its development, that Capturing the Friedmans and The Jinx were both directed by the same person: Andrew Jarecki!
The centerpiece of The Jinx is a long interview that Mr. Jarecki conducted with Mr. Durst.  A great deal of the thirty-year-spanning story depicted in The Jinx is presented to us in Mr. Durst's own words.  I have never seen anything like the way Mr. Durst presents himself during that interview.  I truly can't describe it, it has to be seen.  It is creepy and unsettling and absolutely extraordinary.  If Mr. Durst thought that he could sway viewers to his point-of-view through his interview, he was quite mistaken.  Watching Mr. Durst speak is chilling, but also absolutely gripping.  I could not look away.
The sixth and final episode of The Jinx ends with a perfect gut-punch of a moment.  It is a stunning, perfect, I-cannot-believe-this-is-true ending to the story.  It is an amazing ending and one that is completely satisfying.  At the same time, it also left me absolutely desperate to know more.  I felt a powerful NEED to learn what happened after the events depicted in that final episode (which, I believe, took place about two years ago).  The Jinx and its makers (Andrew Jarecki and his producer Marc Smerling) have gotten involved in the actual police investigation of Mr. Durst.  It's no coincidence that Mr. Durst was arrested immediately before the airing of the show's with and final episode.  I feel that there has got to be a lot of fascinating story that has unfolded over the last two years that has ben left untold by the end of The Jinx.  I very much hope that we will see, if not a full season two, then at least an epilogue episode to chronicle what happened after the events of that sixth episode.
The Jinx is a stunning piece of work, a fiercely gripping true-crime story.  As HBO viewers await the second season of True Detective, which launched with such a smash last year, I feel like The Jinx serves as a perfect temporary substitute for True Detective season two, a wonderful thematic accompaniment to it.  As great as True Detective was (click here for my review), I think The Jinx was even better!  I enjoyed every moment and, as I have described, I literally could not stop watching it until it was over.  Do not miss this show, my friends.