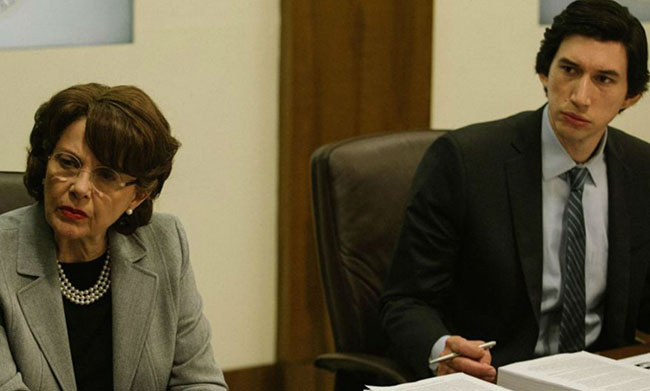 Josh Reviews The Report
Amazon's film The Report, written and directed by Scott Z. Burns, depicts the years-long process in which the Senate Intelligence Committee investigated the C.I.A.'s use of torture of detainees after September 11th.  The investigation was led by Daniel Jones, a staffer for Democratic Senator Diane Feinstein, who chaired the Senate Intelligence Committee.  Mr. Jones worked with a small team for six years on the report, which wound up totaling more than 6,700 pages.  The full unreacted report remains classified to this day, although a 535 page "Executive Summary" was released by Senator Feinstein and the Committee in December, 2014.  The film is partially based on the Vanity Fair article "Rorshach and Awe" by Katherine Eban.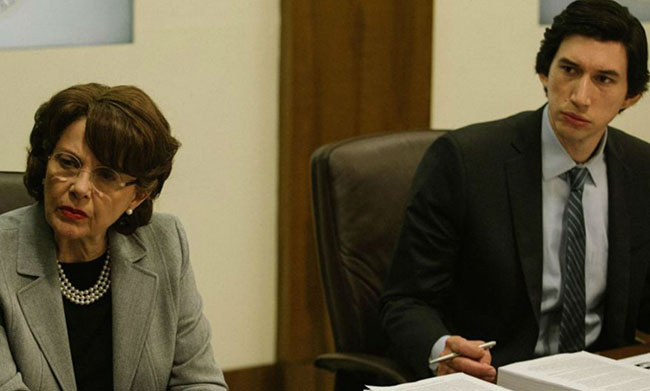 The subject matter of The Report is very challenging.  The film's first half contains several flashbacks that present instances of the C.I.A.'s "enhanced interrogation techniques," which I found extremely difficult to watch, even though the scenes are brief.  On the other hand, the rest of the film mostly depicts subject matter that can be extremely dry.  Daniel Jones worked for years with a small team in a windowless room, reading e-mails and files and other documents.  That's a hard subject matter to dramatize.  The sequences of committee hearings and political back-room conversations aren't much easier!  Mr. Burns and his team had quite a challenge to weave this all into something compelling that could sustain an audience's interest.
I am impressed by what they have done.
Now, be warned: The Report doesn't have the momentum of a film like Spotlight.  Despite the best efforts of Mr. Burns and his terrific cast, I have to admit that there are portions of this very talky film in which I struggled somewhat to remain focused.  At the other end of the spectrum, as I'd noted above, there were sequences — the flashback to the C.I.A. interrogations — that were extremely unpleasant and tough to get through.
But the power of this incredibly important and relevant story shone through.  And the terrific cast was a huge factor in bringing this story to life successfully.  Adam Driver is fantastic in the lead role as Daniel Jones.  This is the least flashy role I have ever seen Mr. Driver play.  There's not a single moment of the type of explosive energy that has characterized many of his best roles, from Adam in Girls to Kylo Ren in the Star Wars sequel trilogy.  This is a very internal performance.  Mr. Driver keeps all of his energy tightly bottled up.  And yet, his charisma shines through his stillness.  Daniel is like a coiled spring throughout the film, and that intensity blazing forth behind Mr. Driver's eyes kept me, as a viewer, riveted to what this character was doing.
Annette Bening is also fantastic as Senator Dianne Feinstein.  This too is a very quiet, subdued, internal performance.  There's not a moment of a Hollywood-ized big argument or big speech with triumphant music swelling behind it.  And yet, just as Mr. Driver does, Ms. Bening's focused performance brings her scenes to life.  She shows us, in tiny movements and subtle facial expressions, how Senator Feinstein was struggling with the difficult choices set before her.  This is beautiful work.
The film belongs to Mr. Driver and Ms. Bening, but there are many other cats-members who also do great work, bringing their supporting characters to life.  Jon Hamm (Mad Men) is all Washington smoothness as Denis McDonough, President Obama's Chief of Staff at the start of his second term.  Ted Levine (whose work as Alan Shepard I was just enjoying in my latest rewatch of the 1998 miniseries From the Earth to the Moon) is terrific as the terse, growly C.I.A. director John Brennan.  Maura Tierney (Newsradio) plays a C.I.A. officer involved with overseeing the enhanced interrogation sessions, while Tim Blake Nelson (O Brother, Where Art Thou?, The Ballad of Buster Scruggs, Watchmen) pops up briefly as someone who objects to those techniques.  Corey Stoll (Ant Man, First Man, and he was terrific in season three of The Deuce) is stellar in a few brief but critical scenes as a lawyer with whom Daniel consults.  Matthew Rhys (The Americans, A Beautiful Day in the Neighborhood) brings a lot of warmth and humanity to the roll of a New York Times reporter who wants Daniel to leak the report to him.  (It's funny to me that Mr. Rhys also had a small but key role, albeit on the other side of things, in The Post, another movie based on a lengthy document exposing crimes and cover-up by those working in the service of the United States.)
This is an important story, one that every American should know about.  I applaud Mr. Burns and Amazon for their work in creating this film.  This is not a fun film to watch, but I am so grateful that this film exists in the world, and I am so glad to have seen it.
Please support MotionPicturesComics.com by clicking through one of our Amazon links the next time you need to shop!  We'll receive a small percentage from any product you purchase from Amazon within 24 hours after clicking through.  Thank you!