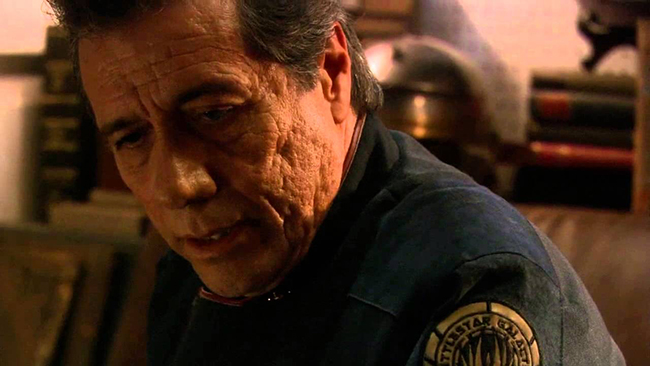 Josh's Guide to Watching Battlestar Galactica!
I hope you enjoyed my recent series, giving a step-by-step guide to watching (and falling in love with) Star Trek!  After getting to Deep Space Nine, my strong recommendation is that, rather than continuing with any of the mediocre series or movies that came after Deep Space Nine, you shift to a different show that, to me, is a perfect next step after watching DS9: the reimagined Battlestar Galactica!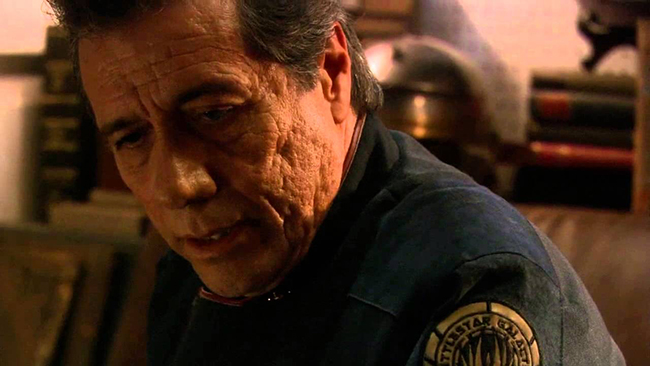 The "reimagined" Battlestar Galactica was a reboot of the original Galactica series from 1978.  This new Galactica ran for four seasons on the Sci-Fi network between 2003-2009.  That show was created and overseen by Ronald D. Moore and David Eick.  Mr. Moore was one of the best writers from Star Trek The Next Generation and Deep Space Nine.  Battlestar Galactica was a huge leap forward in the types of stories that Trek had been developing through Next Gen and then DS9.  It's much darker than Trek, and the episodes are much more tightly connected than Trek episodes ever were.  But it's very cool to see how ideas (characters, themes, approaches to storytelling, etc.) that Mr. Moore and the other Trek writers were playing with were taken to the next level on this different series.
If you've followed my recommendations and watched and enjoyed Star Trek: Deep Space Nine, the end of DS9 will flow very smoothly for you into the start of Battlestar Galactica.  And, of course, the series completely stands on its own, so even if you've never seen ANY Star Trek, I highly recommend you give Battlestar Galactica a try!
I really love this show.  It's one of my favorite sci-fi shows ever.  But, seriously, Battlestar Galactica is not just an amazing sci-fi show, it's an amazing TV show, full stop.  Don't let the title stand in your way!  If you like ambitious modern TV dramas, you will enjoy Battlestar Galactica!  As co-creator David Eick once famously put it: "we set out to make a space opera that would be appealing for people that hated fucking space operas."  The series was included in Rolling Stone's list of the 100 greatest TV shows of all time; Time Magazine called it one of the 10 best shows of the 2000s; Alan Sepinwall included a lengthy section on the show in his wonderful book How the Revolution was Televised, about groundbreaking dramas that changed TV forever; I could go on and on.
The series began with a two-part, three-hour mini-series (which is terrific), and then it ran for four seasons.
It's all pretty fantastic!!  (I will be upfront that the fourth and final season is a bit wobblier than I wish it was.  That season has some amazing episodes, to be sure!  But in the final stretch, the series became a bit too much about its plot-related mysteries, like Lost, mysteries that didn't all get wrapped up as satisfyingly as I might have hoped.  But that final season doesn't ruin my enjoyment of the show as a whole, the way Lost's epic catastrophe of a final season totally sunk my enjoyment of the show.  I have rewatched Battlestar Galactica several times from start-to-finish, and I love it every time.)  OK, let's dig in:
Here's how to watch Battlestar Galactica:
* The two-part mini-series.
* Season one – 13 episodes.
* Season two – 20 episodes.  Be sure to watch the extended version of "Pegasus," episode ten, the mid-season finale.
The Resistance – Watch these webisodes BEFORE watching the season three premiere.  It looks like these are available in a variety of places online now, such as here.  (There is a HUGE SPOILER on screen the second you click on that link, so do NOT to click before you are ready to watch, otherwise you'll have the season two finale spoiled for you!!!)
* Season three – 20 episodes.  Episode nine, "Unfinished Business" has an extended episode that, while not essential like the other extended episodes, is nevertheless worth your time.
* Razor – Watch this special BSG direct-to-disc movie between seasons three and four.  Be sure to watch the extended version.
* Season four – 20 episodes.  Some notes:
* The Face of the Enemy – watch these webisodes in between episode 11 ("Sometimes a Great Notion") and 12 ("A Disquiet Follows My Soul").  You can find these webisodes here.  (The webisodes were actually released in the mid-season break between episodes 10 and 11, but chronologically their events fit better in between episodes 11 and 12.)
* Episode 12 – "A Disquiet Follows My Soul" – Watch the extended version of this episode.
* The Plan – This was a special Battlestar Galactica direct-to-disc movie that was released AFTER the series finale.  However, all of the events are set earlier in the show, so many people think for newbies it is best watched between episodes 15 ("No Exit") and 16 ("Deadlock") of season four.  There's nothing about The Plan that fits between those specific episodes, but it's a good spot to watch it before getting to the final run of episodes.  That way, the series finale is the last BSG you watch, which seems fitting.  OR you can wait to watch The Plan until after the finale, as fans originally did.  To be honest, I'm not sure what's best.  You can't really go wrong either way.
* Episode 18 – "Islanded in a Stream of Stars" – Be certain to watch the extended version of this episode.  It is ESSENTIAL viewing.
* Episodes 19/20 – series finale – "Daybreak" – Be certain to watch the extended version of this episode.
Do not – I repeat – DO NOT google or otherwise search for the names of the specific episodes/movies/webisodes I list above until you're ready to watch them.  Also, DON'T click on the links I provided until you are at that point.  I don't want you to be accidentally spoiled on the awesome plot twists that lie ahead!!  Please be careful about this!!!
Ron Moore's podcast commentaries – Creator and showrunner Ronald D. Moore recorded amazing podcast commentaries for almost every single episode of the show.  The first batch came out late in season one, but the rest were released the day of or the day after each episode originally aired.  They're fantastic to listen to, to get all the behind the scenes skinny, warts and all, on the making of the show.  Seasons 1-3 are archived here.  (I'm not sure why the season 4 ones don't seem to be easily found on the internet, although they're included on the DVDs.)  If you only listen to one of these podcasts, make it the infamous "mea culpa" podcast for season two's "Black Market," a stinker of a mid-season episode for whose failings Mr. Moore humbly and amusingly falls on his sword.
The main Battlestar Galactica series was followed by a spin-off called Caprica that lasted for one season.  I only made it through half of that season.  I found it very mediocre.  One of these days I do intend to go back and finish watching it, mostly out of curiosity.  But I don't think it's worth your time.  There was also a direct-to DVD/blu-ray spin-off film called Blood and Chrome.  It was a web-series that became a pilot for a spin-off prequel series that never happened.  It's nowhere near the quality of the main series, and it's far from essential viewing, but I liked it and think it's worth a look.  It's a shame that neither of these failed spin-off attempts worked out.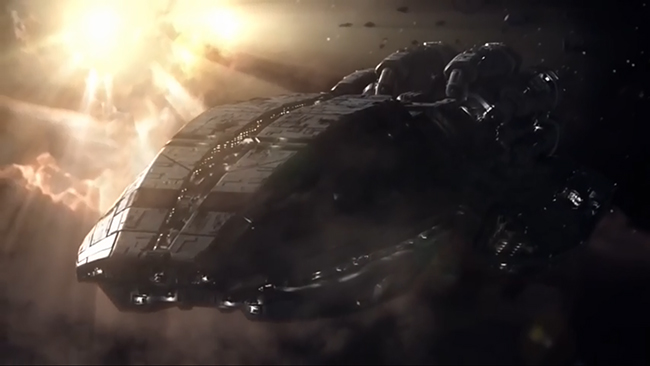 I hope you enjoyed this guide to Battlestar Galactica, one of my very favorite TV series ever!
Please support MotionPicturesComics.com by clicking through one of our Amazon links the next time you need to shop!  We'll receive a small percentage from any product you purchase from Amazon within 24 hours after clicking through.  Thank you!