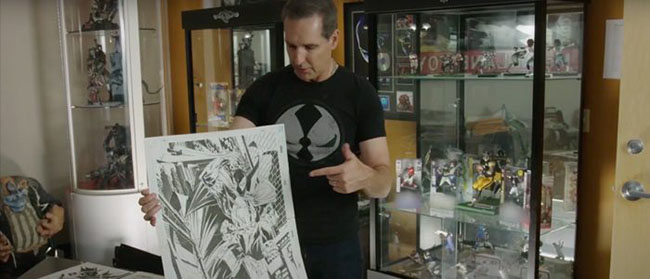 Josh Reviews Todd McFarlane: Like Hell I Won't
The documentary Todd McFarlane: Like Hell I Won't shines a spotlight on the incredible career of superstar comic book artist Todd McFarlane.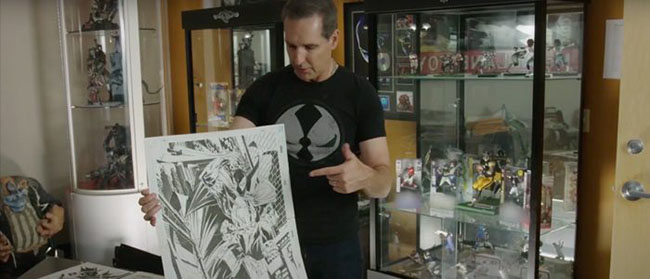 Todd McFarlane shot to super-stardom in the late eighties when he took over as the artist of Marvel's The Amazing Spider-Man comic book series.  His incredibly unique and dynamic illustrations won him legions of fans, as well as the ire of many editors and older comic-book pros who didn't care for his break-all-the-rules approach to comic book illustration.  I remember clearly discovering Mr. McFarlane's work on Amazing Spider-Man and being absolutely blown away.  I eagerly followed him when Marvel gave him his own brand-new Spider-Man book to write and draw (a book whose first issue smashed all previous sales records, selling 2.5 million copies).  In the nineties, Mr. McFarlane and a group of other superstar Marvel artists broke away to form their own company, Image.  This was an industry-shaking event at the time, and Image continues to thrive to this day.  At Image, Mr. McFarlane created his own new super-hero, Spawn.  That comic continues to be published today, recently publishing its three hundredth issue, a record-breaking number for an independently-published, creator-owned comic book.  (Dave Sim's Cerebus was published for 300 issues.  No other series has even come close… though Erik Larsen's Savage Dragon, another Image book, is getting there…!)  I followed Mr. McFarlane to Spawn in 1992 when the series began, and I read the series for about 50 issues.  (Ultimately, I didn't love Mr. McFarlane's writing, and the series didn't hold my interest after the excitement of the initial few years.)
Mr. McFarlane is one of the most famous and successful comic book artists of all times.  He's notable not just for his incredible art skills, but for his role in creating Image, a place where comic-book artists could create and own their own projects (as opposed to doing work-for-hire jobs for Marvel or DC).  Mr. McFarlane has succeeded in expanding his character, Spawn, into a movie and a TV show, and he is the CEO of McFarlane Toys, a company that revolutionized the collectible toy market.  Mr. McFarlane has long has a reputation for his forward-thinking and his deep stubbornness, characteristics that have contributed to his successes and also gotten him into trouble over the years.
He's a terrific subject for a documentary, and I was eager to learn more about his life and work in this film.
I enjoyed Todd McFarlane: Like Hell I Won't.  I appreciated seeing the curtain pulled back (somewhat) on Mr. McFarlane's life.  It was fun getting to see his offices; getting to see him work on illustrating comic book pages (I was interested to see that draws using both traditional pen and ink and also a computer/stylus); meeting some of his family and co-workers; hearing from several of his Image parters and other people who'd worked with him.
However, I was disappointed that the documentary was far more superficial than I'd hoped.  First off, the film is less than an hour in length.  This was the first documentary production of SYFY Wire.  It's a slickly-produced affair, but it's hamstrung by is length.  I appreciated the time spent on Mr. McFarlane's early days in the comic book industry, charting his rise through to the foundation of Image.  That was great stuff.  But I was bummed that the documentary blew by pretty much the rest of his career after 1992.  I wanted to learn more about how he got that Spawn movie made (in 1997) and the Spawn animated HBO series (from 1997-1999).  I wanted to learn more about this struggles to get a second Spawn movie into production.  (Jamie Foxx was attached for a while.)  I wanted to hear his comments on his dispute with author Neil Gaiman (which has its origins way back in Spawn issue #9, which Mr. Gaiman wrote).  I wanted to hear his thoughts on his news-making 1998 purchase of Mark McGwire's 70th home run ball for 2.5 million dollars.  I wanted to get his perspective on the multi-million dollar lawsuit he lost to hockey player Tony Twist (who objected to the use of his name as a villain in Spawn) and his company's bankruptcy struggles in the early aughts.
Sadly, none of that is to be found in the film.  (The Spawn movie and HBO series were covered in about 30 seconds.  The lawsuits and bankruptcy were given about a minute.  Both topics were covered in narrated voice-over.  We never got to hear from Mr. McFarlane about any of that.)
There is still merit in this documentary.  I enjoyed the extended interview with Mr. McFarlane that forms the backbone of the film.  He's quite a character, and it's fun (and also occasionally eye-rolling) to listen to him tell his story.  (There's a lot of hero-worship in the film, which I'd expected.  Some of the dramatic shots of Mr. McFarlane walking or thinking were a little silly.  But I could go with it.)  Mr. McFarlane is quite a talker, and he's very charismatic, and I enjoyed getting to hear him talk about his work and his philosophies.
I also enjoyed the running clips that showed Mr. McFarlane and his team's preparations for the publication of Spawn's milestone issue #300.  (Though here too, I wanted more!  We see in one scene that some sort of screw-up happened and they needed to deliver the issue's cover to the printer within four hours, or risk having the issue's publication date delayed.  But we never see what caused the mistake or how they managed to make that crazy deadline!)
For comic-book fans who know and enjoy Mr. McFarlane's work, this will be a fun watch.  But if you're not already a fan, this probably isn't for you.
Please support MotionPicturesComics.com by clicking through one of our Amazon links the next time you need to shop!  As an Amazon Associate, I earn from qualifying purchases.  That means I'll receive a small percentage from any product you purchase from Amazon within 24 hours after clicking through.  Thank you!