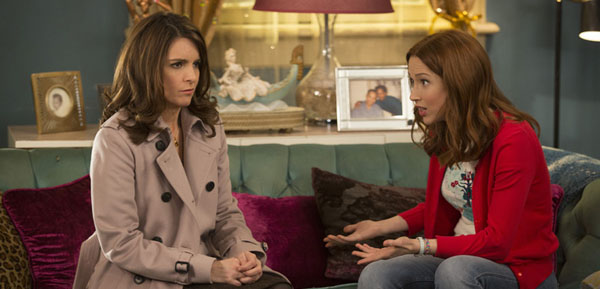 Josh Reviews Unbreakable Kimmy Schmidt Season Two!
I adored the first season of Unbreakable Kimmy Schmidt and so of course I was hugely excited for the second season.  Thankfully it does not disappoint!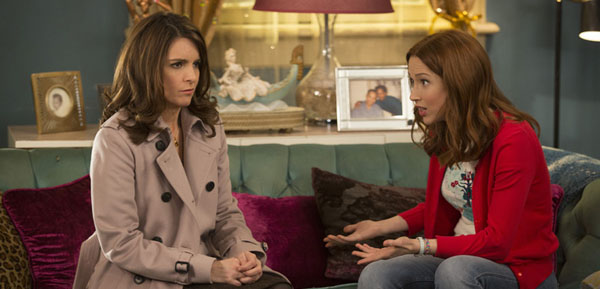 The series was originally developed by Tina Fey for NBC, as a follow-up to her recently-completed show 30 Rock.  NBC however, demonstrating the great wisdom of broadcast networks, declined to air the show even after the first thirteen-episode season had been completed.  Fortunately Netflix came to the rescue, releasing the first season and commissioning a second.
For anyone not in the know, the series stars Ellie Kemper as Kimmy, a young woman who, at the start of the series, has just been rescued from 15 years of being held in captivity by a crazy Reverend.  Just as her unrelentingly positive attitude allowed her to survive for fifteen years as a "mole-woman," Kimmy's spirit drives her to move to New York to attempt to create a new life for herself.  There, she surrounds herself with a wonderful cadre of weirdos and wackos, all of whom at first find Kimmy's naive positivity to be out of place in cynical New York, but who eventually find themselves touched and inspired by her good nature.
The show is a riot, a perfect continuation of the fast-paced, gag-a-second style that Ms. Fey and her team had developed on 30 Rock.  It's a show that is willing to embrace actual character-based story-telling (this second season features a surprisingly in-depth examination of the psychological damage that even the eternally-positive Kimmy must have suffered during her captivity) while also being able to be very, very silly.  This balance of tone is why the show works, and it's a testament to the incredible writing and the show's tremendous cast.
Ms. Kemper continues to show that this is the part she was born to play.  She's marvelous in the lead role, able to effortlessly show how Kimmy has become the center of gravity for all of her friends and acquaintances.  She brings such sweetness to Kimmy, and wow can she hit a joke out of the park.  Titus Burgess is equally as perfect and iconic as Titus Andromedon.  This is a character who could so easily be a one-note flamboyant gay joke, but Mr. Burgess plays the part with such sincerity that he's able to give Titus tremendous depth and heart while continuing to behave terribly and, yes, to play up some very flamboyantly gay, somewhat stereotypical characteristics.  Possibly the best contribution that Unbreakable Kimmy Schmidt has made to our society is it's giving a regular platform to the great Carol Kane, who is so perfect and such endless fun as Kimmy and Titus' brash, elderly landlady Lillian Kaushtupper.  Every moment Ms. Kane is on-screen is a joy.  Finally, the main cast is rounded out with Jane Krakowski as Kimmy's formerly-wealthy employer Jacqueline White.  At first I thought that Ms. Krakowski didn't fit into this show — she stuck out as a hold-over from 30 Rock.  But by now she has perfectly meshed into the ensemble, and she's so great as Jacqueline that I find I have totally forgotten about Jenna Maroney.
This second season of Unbreakable Kimmy Schmidt was the first created for streaming, as opposed to season one which was intended to have been broadcast on NBC.  I was curious to see whether the show would change for this second season, but thankfully Unbreakable Kimmy Schmidt is pretty much the same great show in season two that it was in season one.  The main difference is that the episodes now run a little longer (averaging closer to 30 minutes as opposed to a network-length twenty-two-ish minutes).  There were a few episodes early in season two that I felt were a little flabby, and I wondered if they might not have been stronger at a slightly tighter, shorter run-time.  But by the back half of the season I felt the show had found its rhythm and I enjoyed the extra minutes spent each episode with these characters and in this work.
Thankfully, unlike many streaming shows, Kimmy Schmidt continues to be created with a focus on each episode telling an individual, complete story.  That being said, I also enjoyed that this second season gave each of the characters interesting, season-length story-arcs.  I was impressed that the show chose to dive more deeply into exploring the psychological repercussions of Kimmy's decade-and-a-half of being held in captivity.  Whereas in season one I thought the end-of-the-season run of episodes in which Kimmy had to confront the Reverend (Jon Hamm) didn't quite work, I adored the story-line at the end of this second season in which Kimmy attempts to go to therapy.  Similarly, while I thought Tina Fey's season one appearance as a Marcia Clark-like lawyer was surprisingly unfunny, Ms. Fey is magnificent here in season two in the new role of Kimmy's crazy, alcoholic therapist.  I loved this character, and I loved seeing Ms. Fey and Ms. Kemper on-screen together.
I was surprised by the choice to introduce a new steady boyfriend for Titus, in the form of newly-out construction worker Mikey Politano (Mike Carlsen).  I loved Mr. Carlsen's work as the dim but sweet Mikey, and I enjoyed the dimension this gave to the usually self-centered Titus.
I was also surprised but happy by the season-long story-line they gave to Lillian, as she attempts to fight the increasing gentrification of her beloved New York neighborhood.  I found this to be a surprisingly affecting story-line, as Lillian is ultimately forced to admit defeat and accept that her old neighborhood has forever changed.  It also led to some brilliant comedy as we got to see old crusty Lillian take on young hipsters (including one played hilariously by Girls' Zosia Mamet).
The revelation of rich white Jacqueline White's Lakota heritage was a bizarre and surprising twist in season one, and I love that the writers didn't ignore than but instead doubled down on it here in season two.  Every appearance of Jacqueline's Lakota parents was phenomenal and very funny, and I loved the way this story continued to pop up throughout the season — particularly in her discovery in the finale that her new boyfriend's family owns the Redskins.  Genius.  It was also great fun this season seeing the rich, arrogant Jacqueline brought down a few pegs and forced to face her newly not-rich status.  This led to some great comedic story-lines (such as the one featuring her fancy rug — which to my delight continued to pop up throughout the season — and later in the season her possibly stolen-from-Jews painting).
As is to be expected from a Tina Fey show, this second season of Unbreakable Kimmy Schmidt featured some terrific guest stars.  The great Amy Sedaris was brilliant as Jacqueline's also-formerly-rich "friend" Mimi Kanasis.  David Cross popped in to great effect as the hapless, foot-nipple-possessing lawyer Russ who Jacqueline pursues at the end of the season.  Anna Camp (Pitch Perfect) was great as Jacqueline's rival Deirdre (and she featured in the season's very best joke, the brilliant parody of Game of Thrones' "Hardhome" in which Jacqueline raised her arms just like the Night King, summoning all of the wealthy men at Deirdre's fundraiser to walk out and join hers).  Jeff Goldblum was great fun as the TV psychiatrist Dr. Dave.  Pernell Walker is great (funny and emotionally affecting) as Vonda, the woman who a not-yet-out Titus abandoned on their wedding day.  I enjoyed seeing Ki Hong Lee again as Dong, and Suzan Perry was brilliant as the crazy, lonely Sonja.  (The gag about Dong pretending to believe Sonja's fantasy that she has an invisibility helmet was so funny).  But of course my favorite guest star of season two has to be Fred Armisen as Lillian's once-and-future boyfriend "Bobby" (a brilliant parody of The Jinx's Robert Durst).
Some other comments:
I also have to praise the brilliant casting of Kimmy's mom in the season two finale.  I won't spoil who they cast, but a) she is the perfect choice and b) she delivers a tremendous performance.
I wonder why we only saw Xanthippe in one episode this season?  Her rivalry with Kimmy is fun, so I hope we see more of her in season three.
I was thrown at first by the opening scene to the season premiere, which doesn't make any sense until you get to episode 8.  That was an interesting choice, but I'm not sure it quite worked.
I'm not sure anything can ever equal season one's "Pinot Noir," but season two featured a ton of wonderful new songs and song-parodies.  The fake show-tunes in "Kimmy Gives Up!" were a hoot, as were the "Now That Sounds Like Music!" public-domain versions of famous songs from "Kimmy Meets a Drunk Lady!"
I also must highlight the wonderful animated peek inside Kimmy's head in the episode "Kimmy Goes to Her Happy Place!".  Genius!
How great are Titus' continuing array of nicknames for Kimmy??  This running gag could be my favorite part of the show.
I adore this show, and I think it is one of if not the best TV comedy currently in production.  I can't wait for season three.