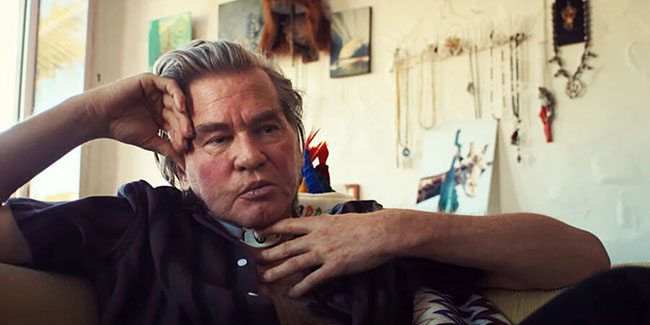 Josh Reviews Val
The documentary Val, directed by Leo Scott and Ting Poo, explores the life and career of Val Kilmer.  Utilizing the epic trove of home video footage that the actor has recorded throughout his life, both at home and on the sets of many of the movies in which he has performed, the documentary is remarkably intimate.  It's also bittersweet, as Mr. Kilmer has lost the use of his beautiful voice due to throat cancer (something I had no idea had happened until I saw the first trailer for this film).  Val is currently available to stream on Amazon Prime Video.
Mr. Kilmer is without question an extraordinary actor, and I'm a big fan of his work in films such as Heat, Pollock, Kiss Kiss Bang Bang, and many others.  At the same time, Mr. Kilmer has been someone dogged by controversy throughout his career for being difficult or hard to wrangle.
I enjoyed the film's look back at Mr. Kilmer's fantastic career in the movies, and I was also very interested to see some of what his life is like now.  It's fascinating, and a little sad, to see this passionate, driven performer as an old man, robbed of his voice.  The Val Kilmer we see in the present-day footage of Val is a much more mellow fellow than his "bad boy" reputation of old.  He has had to make a new life for himself now that work as an actor seems to be out of his reach.  That must have been enormously challenging for him to deal with, but the film presents a Val Kilmer who seems at peace.  I wonder if this is truly the case?  I'd like to believe it is.
But of course, it's hard to be sure because this is not exactly an impartial view of Mr. Kilmer.  While the film was directed by Leo Scott and Ting Poo, it sort of feels as if the film was directed by Mr. Kilmer himself.  That's the film's strength, and also perhaps a weakness.
This is not a documentary with lots of talking head interviews.  No, the film is mostly comprised of footage taken from the uncountable hours of video footage that Mr. Kilmer has apparently been shooting his entire life.  This encompasses home movies of his family from when he was a kid (including amazing clips from the elaborate mini-movies that he and his brothers made growing up together), as well as fascinating behind-the-scenes footage of his many movies.  This footage is extraordinary, and it feels incredibly intimate to be given this peek behind the curtain into Mr. Kilmer's life and work.
The film is narrated by Mr. Kilmer's son Jack, who reads his father's words, reflecting back on his life.  Jack Kilmer is magnificent and haunting reading the film's narration.  He sounds so much like his father; it really does feel like Mr. Kilmer himself is speaking to us, and this enhances the film's intimate, confessional tone.
At the same time, I don't think anyone would mistake this for being an unbiased outsider's view of Mr. Kilmer.  Most of the most public instances of his reportedly bad behavior are ignored by the film.  The few minutes spent on The Island of Dr. Moreau (a film infamous for its crazy behind-the-scenes stories) don't feel like a very impartial representation of when went down on the set of that film.  There are two sides to every story, but from what I've read both Mr. Brando and Mr. Kilmer were, shall we say, not very easy on that film.  (Interestingly, the film includes a video clip of an argument between Mr, Kilmer and the film's replacement director, John Frankenheimer.  I get the sense that it was included to show how mean Mr. Frankenheimer was towards Mr. Kilmer, but I interpreted it the other way; I can understand why a director would get upset if one of his actors refused to stop recording him on his home camera!)  Similarly, the film covers Mr. Kilmer's divorce from Joanne Whalley, but it feels one-sided; we don't get any of her perspective on their marriage/divorce, nor does the film spend much time allowing us to hear Mr. Kilmer's reflections on what might have gone wrong in that relationship.
Now, that's OK!  Not every film needs to cover every angle.  This film doesn't set out to be a completely impartial assessment of Mr. Kilmer.  Quite the opposite: it's a very personal look into his current life and look back at his life and career so far.  If you can judge the film on that level, there is so much here to enjoy.
I loved how Mr. Kilmer's weird, goofy humor fully infuses the film.  There are lots of little funny moments captured in the footage, and the film itself keeps a light and playful tone.  I laughed out loud, for instance, at a silly on-screen caption drawing one's attention to Anthony Edwards' ball-hugging eighties shorts.
I really enjoyed getting to see how hard Mr. Kilmer had to work to get his early film roles, creating elaborate audition tapes and mini movies.  (Which, of course, we get to see clips of, which I thought was very cool.)  I was pleased that the film didn't shy away from addressing his early failures; we see his audition tapes for Full Metal Jacket and Goodfellas, two major films in which he did not succeed in getting cast.
I was very interested in the film's time spent looking back at his near-complete immersion in the role of Jim Morrison for Oliver Stone's Doors movie.  I must admit that Mr. Kilmer's obsessive behavior seems almost psychotic to me, and the film hints that his behavior during this time significantly damaged his marriage.  At the same time, though, the film shows us how the seeds were planted for that sort of behavior in an earlier sequence in which we see video footage of Mr. Kilmer being berated by a Julliard teacher when Val, discussing a scene he'd just played as Hamlet, mentions that unlike Hamlet, he's never had suicidal thoughts.  The teacher strenuously objects to that, saying that actors must go to all of those dark places and experience those thoughts and feelings.
I thought it was very sweet seeing how close Mr. Kilmer appears to be with his son Jack and his daughter Mercedes.  (Though, weirdly, though Jack appears throughout the film, Mercedes isn't mentioned until fifty minutes in.)
While I felt the film glossed over Mr. Kilmer's experiences making The Island of Dr. Moreau, I really enjoyed the segment addressing Batman Forever.  I thought it was very interesting to hear him speak honestly and vulnerably about his childhood connection to Batman and the challenges and disappointments of the reality of trying to act in that movie.
I didn't know anything about Mr. Kilmer's late in life focus on Mark Twain, but I loved seeing Mr. Kilmer's work as Twain in the play, Citizen Twain, that he wrote and performed.  WOW, Mr. Kilmer was amazing creating Mark Twain's voice!  And he really looked like Twain in makeup and costume!!  It's sad to learn that Mr. Kilmer really wanted to create a great movie about Mark Twain, something that now will likely never happen.  The end of this film reminded me somewhat of the bittersweet ending of the John Milius documentary Milius, in which we also saw a bombastic man taken down by illness late in life, with his final projects unfinished.
But Mr. Kilmer speaks of having found healing in the end, and for his sake I certainly hope that is true.
I enjoyed this film's glimpse behind the characters he played into the character of Mr. Kilmer himself.  It's interesting to see him being reflective, and also seeing him being silly… and also a pain in the ass!  When we see him, for example, spraying silly string at his family on their way to his mom's funeral, or freaking out the filmmakers by pretending to pass out when they're shhoting him, one can see the idiosyncratic mind of this man who clearly many people loved and who also drove many of those same people absolutely crazy.
Click here to stream Val on Amazon right now!
Click here to purchase my "Maclunkey" Star Wars/Highlander mash-up t-shirt!

Please support MotionPicturesComics.com by clicking through one of our Amazon links the next time you need to shop!  As an Amazon Associate, I earn from qualifying purchases.  That means I'll receive a small percentage from any product you purchase from Amazon within 24 hours after clicking through.  Thank you!