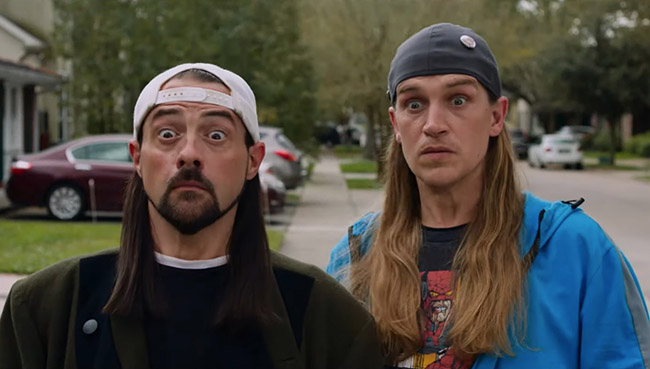 Josh Reviews Jay and Silent Bob Reboot
In Jay and Silent Bob Reboot, the two "hetero life-mates" get out of an arrest for selling pot, but while in court they discover that they've lost the rights to use their names "Jay and Silent Bob."  It turns out that the "Bluntman and Chronic" comic book movie franchise based on their characters is being rebooted by Hollywood, and so the studio wants full control of their names.  (The "Bluntman and Chronic" comic book, based on Jay and Bob, first appeared in Kevin Smith's 1997 film Chasing Amy, while the movie based on that comic book was at the center of 2001's Jay and Silent Bob Strike Back.)  And so, in a meta revisition of the plot of Jay and Silent Bob Strike Back, the two stoners once again travel across the country from New Jersey to Hollywood in an attempt to stop the movie from being made.  Along the way, they meet up with a group of kids also heading to Hollywood.  One of them, named Millennium (played by Mr. Smith's real-life daughter Harley Quinn Smith), turns out to be Jay's daughter with Justice (Shannon Elizabeth), the former diamond thief he got together with back in Jay and Silent Bob Strike Back.  This unexpected revelation might force Jay to maybe, just maybe, have to grow up for the first time in his life…
There was a time in my life when Kevin Smith was one of my very favorite filmmakers.  I loved all five of his first films (Clerks, Mallrats, Chasing Amy, Dogma, and Jay and Silent Bob Strike Back).  But 2004's Jersey Girl was a big disappointment to me, and since then I haven't cared for any of Mr. Smith's films.  I thought 2006's Clerks II and 2008's Zack and Miri Make a Porno were both OK but not great.  I never saw the 2011 horror film Red State (it didn't interest me).  I thought 2014's Tusk was dreadful, and I skipped 2016's Yoga Hosers because it was described as a spin-off of Tusk and it looked like more of the same.  But when I heard that Mr. Smith was writing and directing a new film bringing back his and Jason Mewes' Jay and Silent Bob characters, I was interested.
I'm pleased to report that Jay and Silent Bob Reboot is easily Mr. Smith's best film in two decades.
Is it as good as any of those first five films that I used to love?  No.  Is this a brilliant and innovative new comedic masterpiece?  For sure no!  But it's a delightful reunion with these two characters who I've long enjoyed, as well as many other familiar faces from Mr. Smith's interconnected "View Askewniverse".
I really dug the film's playful, self-aware concept.  Jay and Silent Bob rail against Hollywood's dearth of original ideas and relentless "rebooting" of old franchises.  At the same time, the Jay and Silent Bob Reboot film is an attempt to do just that, and the film's story follows the exact same beats as 2001's Jay and Silent Bob Strike Back.  I thought that was clever and funny, and as a long-time fan I was delighted to see so many members of Mr. Smith's ensemble return for small roles in this movie, and I laughed a lot at the way this film revisited certain scenes and sequences from Strike Back.
Quite a few actors (big-time celebrities and less famous but still much loved members of the "View Askewniverse") pop up in this film, including but not limited to Jason Lee as Brodie; Joey Lauren Adams as Alyssa Jones; Shannon Elizabeth as Justice; Brian O'Halloran as Dante; Matt Damon as the demon Loki; Justin Long as the lawyer Brandon St. Randy; Diedrich Bader as the studio security guard, and many more.
Mr. Smith makes you wait a long time to see Ben Affleck (who first appeared in Mallrats, but here he's reprising his Chasing Amy role as Holden McNeil), but he's fantastic when he finally arrives. Easily the best actor in the film, Mr. Affleck delivers a great, classic Kevin Smith lengthy monologue about becoming a father and learning to be Thomas Wayne rather than Bruce.  It's a hell of a speech, beautifully delivered by Mr. Affleck.  (And it contains a spectacular "Martha" joke, easily my favorite joke in the movie!)
Many other actors who've preciously appeared in Mr. Smith's films appear here playing new characters, such as Rosario Dawson (who was in Clerks II) and Mr. Smith's wife Jennifer Schwalbach Smith.  There are so many other great comedic performers who pop up for a scene here and there: Fred Armisen, Molly Shannon, Craig Robinson, Joe Manganiello, Melissa Benoist, Tommy Chong, and many more.  I also have to praise the brilliant use of Val Kilmer.  Mr. Kilmer has tragically lost the use of his voice in recent years, but he's perfectly used by the film and it's a delight to see him on screen again.
In more major roles, the film introduces a group of kids.  I've already mentioned Harley Quinn Smith as Millennium; there's also Aparna Brielle as Jihad (her name is a joke, but not a very funny one), Treshelle Edmond as Sopapilla, and Alice Wen as Shan Yu.  All four young women are strong, and they are fun additions to the Jay and Silent Bob world.
Despite all that I enjoyed about this film, I freely admit, as I noted above, that Jay and Silent Bob Reboot can't really compare with any of those first five of Mr. Smith's films.  The film looks a little flat and over-lit to my eyes.  The editing is a little choppy and amateurish, often just switching back and forth between one character and then back to Jay and Bob's reactions in a two-shot.  (It's pretty obvious that many of the famous people who appeared in the film didn't all shoot their scenes together and were combined in editing.)  Speaking of editing, the film's pacing felt a little off to me; there were a number of scenes that I felt ran long or where the timing of the joke didn't quite land.  The film is very leisurely paced; I think it would have been stronger had it been more tightly edited.
I also felt that the music was very weak; it was way too on the nose "comedic" or "dramatic" in a way that I found obvious and distracting.  We've fallen a long way from, say, Howard Shore's score for Dogma.
But there were enough good jokes and funny moments in Jay and Silent Bob Reboot that this was easily my favorite Kevin Smith movie since Jay and Silent Bob Strike Back from two decades ago.  I'm glad to have seen it!
Click here to purchase my "Maclunkey" Star Wars/Highlander mash-up t-shirt!

Please support MotionPicturesComics.com by clicking through one of our Amazon links the next time you need to shop!  As an Amazon Associate, I earn from qualifying purchases.  That means I'll receive a small percentage from any product you purchase from Amazon within 24 hours after clicking through.  Thank you!