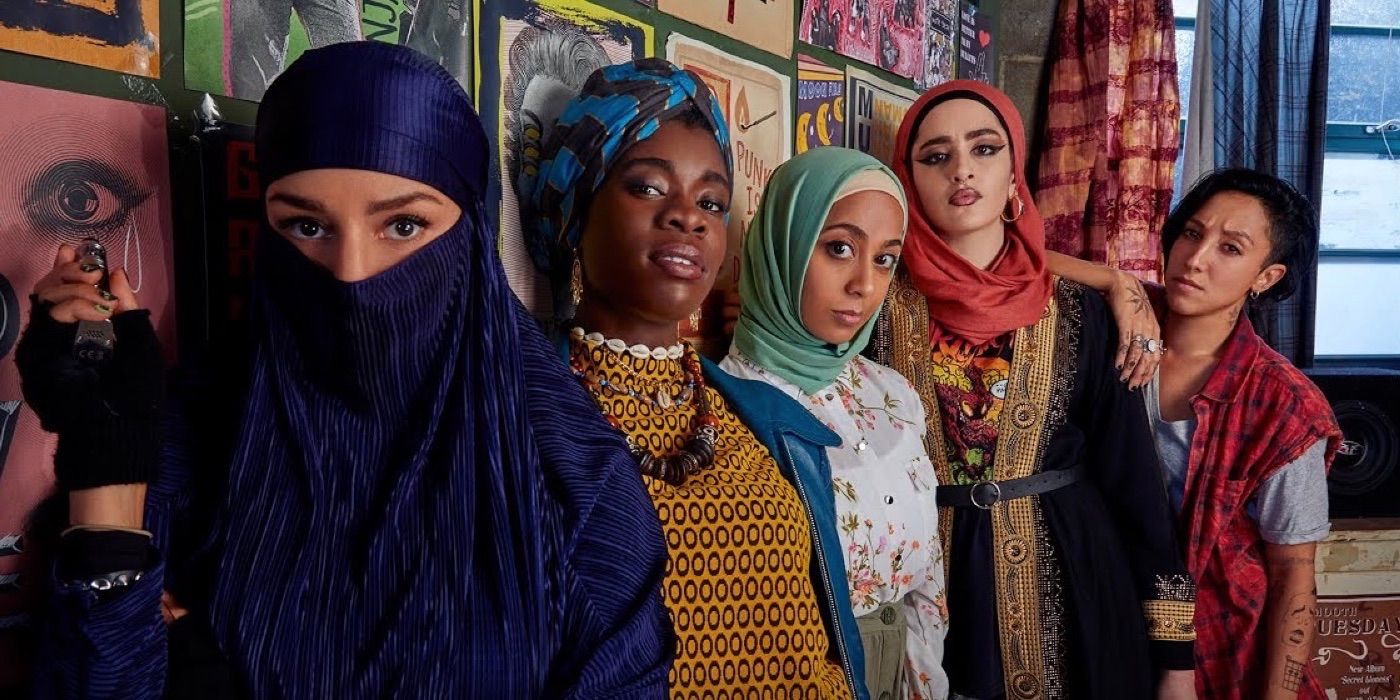 Josh Reviews We Are Lady Parts
We Are Lady Parts is a wonderful six-episode British TV series created, written, and directed by Nida Manzoor.  The series is about an all-female, all-Muslim punk band in London.  It first aired in the UK in 2021 and then came to Peacock, which is where I saw it.  I loved this funny, sweet, moving show!
It's a pleasure to see a series focusing on Muslim women.  All five major Muslim female characters (the band's four members and their manager) are delightfully distinct, memorable characters.  And, interestingly, they each represent very different types of modern Muslim women.  The show feels incredibly diverse without feeling simplistic or pandering.  These aren't caricatures, they're wonderfully fleshed out characters.
The lead of the show, and our audience surrogate character, is Amira (Anjana Vasan).  She's a PhD student who is trying her best to be a good Muslim young woman.  But her wild internal fantasy life, and her deep love for music, draws her into the world of Lady Parts, the Muslim punk band she discovers (and who are in need of a new member).  Amira longs to be a part of the group, but fears it as well.  She doesn't want to step off what she sees as the proper path for a Muslim young woman like herself.  Ms. Vasan is magnificent, appearing nearly effortless as she carries us through the show's story.  She has a wonderfully expressive face (and striking large, bright eyes), and she seems equally skilled at broad, almost slapstick comedy as she is with internal character drama.  It's a tremendous lead performance.
Saira (Sarah Kameela Impey) is the band's lead singer.  Lady Parts is Saira's baby, and she has put her heart and soul into the group.  She is deeply unhappy at the thought that the band might not succeed and she'll have to stick to her life working at a halal butcher shop.  Saira acts and dresses like a modern young woman (with short hair and usually very causal attire of ripped jeans and t-shirts); she doesn't have any of Amira's hang-ups about being a female and performing punk music.  But she is closed-off and internal, which gets her into trouble with her boyfriend and, eventually, her band-mates.
Bisma (Faith Omole) is the sweetest of the bunch.  She's married with a daughter; so she seems the most settled.  But in addition to her being in a punk band, she's also an underground comix cartoonist!  Bisma is of West African descent; it's great to see this type of Muslim included in the show's representation.  Bisma might have been my favorite character on the show; Ms. Omole's wide smile is very endearing.
Ayesha (Juliette Motamed) is the hilariously grumpy drummer.  Her "I have no patience for any of this" attitude reminded me a lot of Aubrey Plaza's character April on Parks and Recreation.  Ayesha usually dresses in abayas and headscarves, though she off-sets that traditional look with strikingly dramatic eyeliner.  Ayesha is a lesbian (again, I love how diverse this group of Muslim young women is) and she winds up with a big crush on Zarina (Sofia Barclay) the writer and influencer who the band is hoping will help promote them.  (It doesn't quite go as planned…)
Finally there is Momtaz (Lucie Shorthouse), the band's firecracker of a manager.  We don't see anything more of Momtaz than her eyes, because she keeps her face and body almost entirely covered.  For this reason, I felt more distant to Momtaz than I did to the other characters.  However, I was happy that the show's writing, and Ms. Shorthouse's strong performance, help overcome this to develop Momtaz as an individual as much as the others.  And I love that she's just as full of contradictions as the others.  Yes, she looks like the most traditional, conservative of the bunch.  But not only is she passionate about this punk band, but we learn that her day job is selling lingerie!
Zaqi Ismail is terrific as Ahsan, the hot young man on whom Amira has a huge crush.  (He also happens to be Ayesha's brother).  I was pleasantly surprised by how endearingly likable Ahsan wound up being.  And I loved the opportunities the show gave for Mr. Ismail to show his range, particularly in Amira's flights of fancies (like the moment in which Ahsan transforms into an old-style dashing leading man out of a Casablanca-style movie).  Aiysha Hart is very strong as Noor, Amira's beautiful best friend who strongly disapproves of Amira's flirtations with this punk band.  I also loved Shobu Kapoor as Amina's surprisingly hip, modern mother Seema.  (I was glad the show avoided the cliche of the overbearingly traditional mother who just doesn't understand her daughter.)
We Are Lady Parts is extremely funny!  This is a great comedy; but at the same time it's also a remarkably well-realized drama and character study.  Each of the main female characters goes through a journey over the course of these six episodes.  This is a tricky balancing act, but that the show succeeds so well both comedically and dramatically is key to why it works so well and why I enjoyed it so much.  Also critical: the show is, at its heart, cheerfully upbeat and optimistic.  This was one of my favorite aspects of We Are Lady Parts.
I also have to highlight the terrific music.  Over the course of the six episodes we get to hear a numbers of terrifically funny and memorable original songs performed by Lady Parts.  Tunes like "Bashir with the Good Beard" and "Voldemort Under my Headscarf" have definitely stuck with me ever since I finished watching this show!
As is often the case for British TV series, this six-episode season tells a satisfyingly complete story.  However, I was delighted to discover, soon after finishing the sixth and final episode, that a second season is in the works!  Fantastic.  I cannot wait to return to these characters and to see where they go from here.
Please support my website by clicking through one of our Amazon links the next time you need to shop!  As an Amazon Associate, I earn from qualifying purchases.  That means I'll receive a small percentage from any product you purchase from Amazon within 24 hours after clicking through.  Thank you!