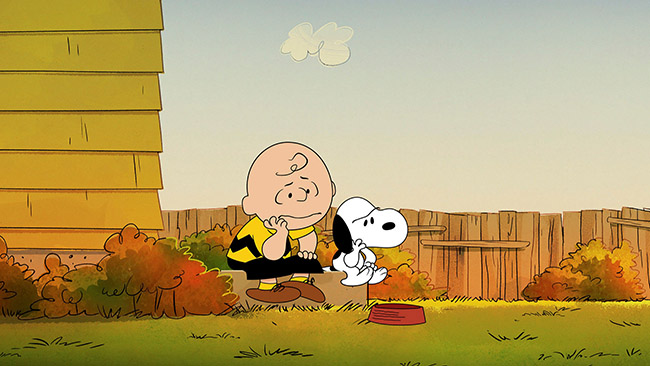 Josh Reviews Who Are You, Charlie Brown?
Who Are You, Charlie Brown? is a lovely short documentary on Apple TV+, exploring the life of Charles Schultz and the development of his classic Peanuts comic strip and its characters.  The documentary was produced by Ron Howard & Brian Grazer's Imagine Documentaries and directed by Michael Bonfiglio.
The film is narrated by Lupita Nyong'o, whose beautiful voice is guides us through a concise summary of the life and career of Charles Schultz, the man everyone called "Sparky".  The film features some great archival interviews with Mr. Schultz himself, and a wealth of new interviews.  It's interesting and insightful to hear from many of the people who knew and worked with Mr. Schultz, including his widow Jean.  It's also great fun to hear from an array of successful creative people who loved Peanuts, including Drew Barrymore, Al Roker, Kevin Smith, Billie Jean King, Paul Feig, Ira Glass, Chip Kidd, Lynn Johnston (writer/artist of For Better or For Worse, an iconic comic strip in its own right and a woman who deserves her own documentary feature) and many others.
To my surprise, the documentary aspects of this film were intercut with a new animated Charlie Brown story, in which he struggles to write a school essay answering the question of "Who am I?".  I quite enjoyed these animated sequences.  The animation style was modern but simple, with beautiful backgrounds and smooth animation.  The animation had a modern look but it was also very much in the style of the classic Charlie Brown animated specials that I loved watching when I was a kid.  The characters and sound effects matched my memory of those old cartoon specials.  They did a great job blending a modern approach with the classic "feel" of those old animated specials.  And I must admit I was surprised by how happy I felt seeing all of the classic Peanuts gang brought to (animated) life again!
My complaint about the film is that it's too short, and far more superficial than I had hoped.  The actual film is only about fifty-some minutes long, and with all of the animated segments that doesn't leave much time to actually dig too deeply into Mr. Schultz's remarkable life and career.  Time and again I'd be enjoying a sequence and then it would end and we'd cut back to an animated segment; as much as I enjoyed those animated segments, I really wish we'd been able to spend more time exploring Mr. Schultz and the development of Peanuts.  For instance, the film only spends about a minute on the classic Peanuts animated specials.  I'd have loved to have learned more about how they came about; how involved was Mr. Schultz in their production; what did he think of the specials; whose idea was it for the teacher to only be heard in the form of those iconic honky noises; etc. etc.
For all that this film salutes Charles Schultz and Peanuts and its influence on our popular culture, watching it I felt sad for the demise of the classic newspaper comic strip, and I wondered whether Peanuts will truly be known in another few decades.  I'm a huge comics and cartooning nut and I myself haven't actually read a Peanuts strip since I was a kid.  I know that Fantagraphics produced a series of high-quality collections of the classic Peanuts strips, but I must admit that I never actually bought any of them.  I hope Peanuts does truly survive… and that the comic strip medium will also survive and prosper, perhaps in some different form, in the years to come.
Who Are You, Charlie Brown? is a fun and interesting look back at Charles Schultz and Peanuts.  It'll be nostalgic for old-time fans, and it's also a decent way for someone who doesn't know much about Peanuts to learn more about what made that comic strip so special and memorable.  For me, as someone who was already a fan, I just wish there was more meat on these documentary bones.  But I'm glad to have seen it!
Click here to purchase my "Maclunkey" Star Wars/Highlander mash-up t-shirt!

Please support MotionPicturesComics.com by clicking through one of our Amazon links the next time you need to shop!  As an Amazon Associate, I earn from qualifying purchases.  That means I'll receive a small percentage from any product you purchase from Amazon within 24 hours after clicking through.  Thank you!