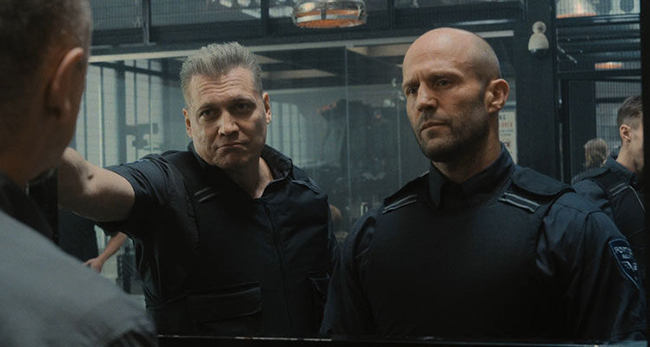 Josh Reviews Wrath of Man
Wrath of Man is the latest film directed by Guy Ritchie.  Jason Statham stars as the man nicknamed "H," a security guard for an armored truck company.  In the film's opening sequence, we see a group of armed men attack and rob one of the company's trucks, leaving two guards and one bystander dead.  As the story unfolds, we see that this crew is continuing to target the company's trucks, but the mysterious "H" seems up for the challenge…
I was immediately taken by Guy Ritchie's first two films: Lock, Stock and Two Smoking Barrels and Snatch.  I still love those films even today; I rewatch them every few years and always enjoy them.  For two decades I've been waiting for Mr. Ritchie to make a film that can equal either of them.  For the most part I've been disappointed.  Don't get me wrong, I have enjoyed some of Mr. Ritchie's adventures in big-budget, mass-audience entertainment — I think Sherlock Holmes is his most successful film of that type — but I've been longing for years for him to make another great, gritty, funny crime film.  I thought Mr. Ritchie's 2020 film, The Gentlemen, was his best film in years and very enjoyable (even with its flaws).  I was excited to see Mr. Ritchie's latest film, Wrath of Man, but for the most part, I thought this film was a dud.
I wish it were otherwise, but I found very little of interest to me in the film.  There's a lot of well-staged action and violence, so if you like that sort of thing, you'll find that to enjoy.  But I felt the film was high on juvenile cuss-words and violence but low on witty dialogue or anything resembling character development.  There's a dark, grim, dour vibe to the whole undertaking that I didn't find that engaging.
In specific, I found the first 20-or-so minutes of the film to be terribly off-putting.  I was not engaged by the macho tough guys on screen or their juvenile name-calling, and the nihilistic violence was not my cup of tea.  Also, I found the the brooding soundtrack to be extremely oppressive.  I actually thought the film got more interesting in its second half, but I almost stopped watching after that first twenty-to-thirty minutes.  (Honestly, if Guy Ritchie's name hadn't been on this film, I might have.)
I think Jason Statham has terrific movie-star presence, and he can be a very entertaining leading man.  I loved him in Lock, Stock and Snatch.  I've particularly enjoyed when he's been allowed to show some humor on screen, such as in his role in the Melissa McCarthy film Spy.  I was excited to see him reunited with Mr. Ritchie, but I don't think this film used Mr. Statham particularly well.  Wrath of Man feels like yet another in the many generic action movies that Mr. Statham has made a career out of for the past two decades.  If that's all you're looking for, then OK.  But I believe that both Mr. Statham and Mr. Ritchie are capable of more.
Whereas The Gentlemen had an all-star cast, Wrath of Man is made up of mostly lesser-known actors, aside from Mr. Statham.  I assume this was an intentional choice by Mr. Ritchie and his team. I'd love to know more about their reasoning, because I wonder if a stronger cast might have elevated this material.  But the cast of the film do their best.  Holt McCallany is very memorable, albeit somewhat one-dimensional, as "Bullet".  Josh Hartnett is fun but, again, rather one-dimensional as "Boy Sweat."   I did rather enjoy the always-reliable Eddie Marsan, who plays the manager of the truck company.  I was (pleasantly) surprised to see Andy Garcia and Rob Delaney pop up in small cameos.  I wish they'd been in more of the film!
I got more into the film in the second half, when we actually started to unravel the story and learn a bit more about "H" and the overall situation.  Interestingly, the film followed the basic structure of many of the Parker novels, in which we follow a tough, brutal, not-very talkative main character on a violent adventure.  The film is also reminiscent of the Parker novels in that the story is divided into several sections, with one of middle sections flashing back to show us how the main character was wronged, and then allowing him to kick ass and get retribution in the final part.  This is interesting because not only did I recently spend a lot of time watching many film adaptations of Donald E. Westlake (written under the pseudonym Richard Stark)'s Parker novels, but the last Parker movie I watched was actually the 2013 film Parker that starred Jason Statham!  Wrath of Man is based on the French film Cash Truck; I've never seen that film, so I cannot evaluate it.  But Wrath of Man seems to me to be clearly inspired by the Parker stories.  "H" could totally be the Parker character.
When I started to understand that Wrath of Man was basically a Parker story, rather than a more fun/funny romp like Lock, Stock or Snatch, I was able to settle in and find some enjoyment in Wrath of Man for what it is, rather than what I'd hoped/expected it to be.  Still, this isn't a film I can really recommend.  I'm hoping for better with whatever Guy Ritchie does next…
Click here to purchase my "Maclunkey" Star Wars/Highlander mash-up t-shirt!

Please support MotionPicturesComics.com by clicking through one of our Amazon links the next time you need to shop!  As an Amazon Associate, I earn from qualifying purchases.  That means I'll receive a small percentage from any product you purchase from A