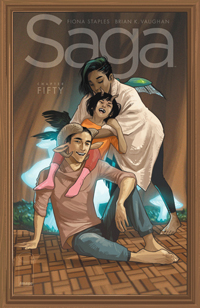 Josh's Favorite Comic Book Series of 2018 — Part Three!
Please click here for part one of my list of my Favorite Comic Book Series of 2018, and click here for part two.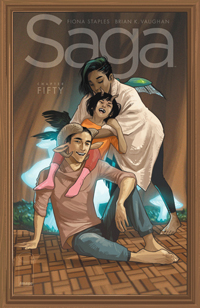 5. Saga (by Brian K. Vaughan and Fiona Staples) — This wild and crazy, funny and deeply moving sci-fi fantasy adventure continues to surprise and delight me at every turn and just seems to get better and more emotionally rich with each passing year.  Mr. Vaughan is a Joss Whedon-level master at creating characters that we fall in love with, and then putting them (and therefore the audience!) through torturous hell.  There's no other comic book out there that is anything like Saga, with its roller-coaster-ride style of storytelling, merging an overwhelming amount of stunningly original ideas and concepts with deeply affecting character arcs.  Saga is funny and weird and terrifying and heartbreaking.  Fiona Staple's gorgeous artwork never disappoints, and is evidence, panel-after-panel and page-after-page, that she is one of the very best illustrators working in this business.  This Saga only gets richer and more emotionally wrenching with every issue.  I adore it.  (And the back-of-the-book letters page is the best in comics today.)  (The best place to begin is with Saga Book One, available on Amazon.)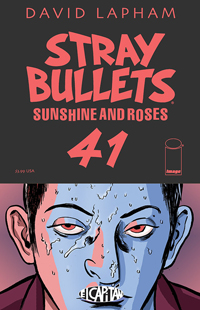 4. Stray Bullets: Sunshine and Roses (by David Lapham) — I have been a fan of Stray Bullets since I first picked up issue #1 of the original run back in 1995.  The series went away for almost a decade in the aughts, but miraculously returned in 2014 for a new run that has been just as compelling and heartbreaking as those original stories.  This series is the greatest comic book noir I have ever encountered, filled with hard-luck cases for whom life usually goes from bad to worse.  This latest run is theoretically a mini-series, subtitled Sunshine and Roses, but it's been going on for over forty issues and doesn't seem to show any sign of stopping.  Which is fine by me!  This latest story has looped back in time to depict the adventures of Orson, Beth, and Nina, on the run after stealing money and coke from a group of criminals.  We already know their fates from the early issues of Stray Bullets' original run, and I wouldn't have thought there was any more story to tell.  Boy was I wrong!  This is one of the most brilliant, idiosyncratic books out there.  I am so glad it has returned from the dead.  I will have a much longer post about Stray Bullets to share soon!  (Click here for a much longer post in which I sing the praises of Stray Bullets!)  (Dive into the sage with the first, and still probably the best, installment, The Innocence of Nihilism, available on Amazon.)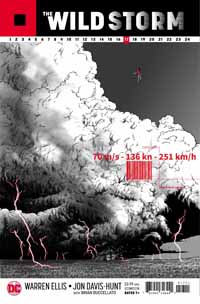 3. The Wild Storm (by Warren Ellis and Jon Davis-Hunt) — The great Warren Ellis has taken the task of reinventing and reimagining the Wildstorm universe (the comic-book universe that spun out of Jim Lee's early work for Image Comics in the nineties) from the ground up.  I dipped in and out of the original Wildstorm comics over the years that they were published.  I loved Jim lee's original run on WildCATS, and Mr. Ellis' own work on Stormwatch and the Authority was a standout.  There were some other fun series, but also a lot of stuff that I just wasn't interested in.  I was intrigued by the notion of bringing back these characters and concepts, many of which I thought still had great potential.  Mr. Ellis' involvement sealed the deal on my interest, and the series has not disappointed.  It's a wonderfully bizarre, enigmatic story that blends Mr. Ellis' knack for futuristic-science postulations, terrific characters, and his very funny snarky attitude.  Mr. Ellis' story features a vast ensemble of characters (most of which are fascinating new interpretations of classic Wildstorm characters) with vastly different personalities and motivations.  It's complicated and layered but never hard to follow.  Mr. Davis-Hunt's style is perfect for the project, hyper-detailed but also with a certain type of cartoony stylization that gives the artwork a unique style.  I am loving this series, and sad that we've entered what I believe is the final story-arc!  (Click here to purchase The Wild Storm vol. 01 on Amazon.)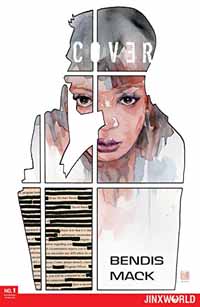 2. Brian Michael Bendis' Jinxworld titles (Pearl illustrated by Michael Gaydos, Cover illustrated by David Mack, Scarlet illustrated by Alex Maleev, The United States vs Murder Inc. illustrated by Michael Avon Oeming) — Well, this is obviously a huge cheat in my including all four of Brian Michael Bendis' newly-relaunched-at-DC Jinxworld series, but they're all fantastic and I couldn't pick a favorite.  Pearl re-teams Mr. Bendis with Jessica Jones co-creator Michael Gaydos for the tale of a young woman tattoo artist who is mixed up with the Yakuza.  Cover re-teams Mr. Bendis with Echo co-creator and Alias/Jessica Jones cover artist David Mack on the story of a comic book artist who becomes an undercover C.I.A. operative (a tale loosely based on Mr. Mack's own experiences!).  Scarlet re-teams Mr. Bendis with Alex Maleev (who has illustrated MANY of Mr. Bendis' previous comic book stories, most notably a long, incredible run on Daredevil), and tells the story of an angry young woman in Portland, railing against corruption in the police force and in politics, who winds up starting a new American revolution.  Finally, the United States vs Murder Inc. re-teams Mr. Bendis with Powers co-creator Michael Avon Oeming for a story of a world in which the mob ("Murder Inc.") eventually took over a large portion of the Eastern seaboard and went to war with the U.S. government.  All four titles are fantastic original creations, illustrated by four of the very best artists working in comic books today.  These books are everything that I think great comic books should be.  Brian Michael Bendis has been doing incredible mainstream superhero work for two decades, but I have loved his independent projects even more.  Its' been a frustration that his creator-owned projects have been much fewer and farther between in recent years.  This explosion of new creative projects (and the return of pre-existing ones like Scarlet and The United States of Murder, Inc.) in the past six months has been a thrill.  I hope that Mr. Bendis and his collaborators can keep this new work coming.  (And I hope that Powers returns soon, having been interrupted mid-story a few years ago…)  (To enjoy Powers, I suggest you start at the very beginning with Powers volume one, available on Amazon.  You can also purchase Pearl vol 01, Cover vol. 01, Scarlet book one, and The United States vs Murder Inc vol 01 (though, note that is actually volume 2 of the story, the series begins with The United States of Murder Inc., vol 01: Truth.)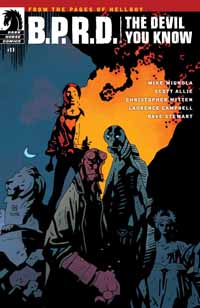 1. Mike Mignola's Hellboy Universe (by Mike Mignola, John Arcudi, Chris Roberson, and many others) — What else could top my list?  Once again this year, no series has given me more joy than Mike Mignola's continuing, ever-expanding Hellboy saga.  A few years ago, I re-read the entire Hellboy saga from the beginning (starting all the way back with Seed of Destruction from over twenty years ago), and I've been writing about it here on the site.  This re-read project has only increased my enormous love and admiration for what Mr. Mignola and his ever-growing team of collaborators has created.  (Here is my most recent Hellboy post, and I have a lengthy new post reviewing most of the 2018 series coming soon.)  What began as a series of mini-series about a big red paranormal investigator who likes to punch things has expanded into a huge saga encompassing an array of wonderful characters.  Mr. Mignola now oversees multiple titles following multiple different characters and set in multiple different years, and yet they all have consistent quality and they all fit together into a larger, expanding saga.  It's quite extraordinary, and I can't think of a single other shared universe, in any media, that shares such a singular vision.  The incredible inter-connectedness between all of these stories, the way Mr. Mignola and his collaborators will often wait years before making a connection or expanding on a detail or a small piece of back-story, is astounding.  Each of these mini-series or story-lines stand alone, but together they fit into a hugely entertaining tapestry.  It is incredible.  Highlights from this year include the long-awaited return of Hellboy to the B.P.R.D. in B.P.R.D.: The Devil You Know; the gorgeous and haunting origin for Koschei (who battled Hellboy back in The Wild Hunt) in Koschei the Deathless; a look into the past of Hellboy's two "fathers," Trevor Bruttenholm and the evil Rasputin, in Rasputin: The Voice of the Dragon; the origin of Lobster Johnson and B.P.R.D. villain the Crimson Lotus in Crimson Lotus; a great new Witchfinder mini-series Witchfinder: The Gates of Heaven; and the continuing series chronicling Hellboy's early days as an agent of the Bureau: Hellboy and the B.P.R.D.: 1955 and 1956.  This is the best comic book universe out there today, and whenever a new Hellboy universe comic comes out (usually multiple times a month, thanks to all the various series!) it goes right to the top of my to-read list.  I can't wait to see where Mr. Mignola and his extraordinary team of collaborators takes us in 2019.  (If you're new to the Hellboy universe, you can dip your toes into the water with the Hellboy Omnibus vol. 01: Seed of Destruction, a relatively inexpensive lengthy collection of the first several Hellboy mini-series.  If you're a current fan, may I suggest you check out the collected edition of Koschei the Deathless, or B.P.R.D.: The Devil You Know vol o2: Pandemonium, in which two-decades of storytelling begins to come to fruition.)
Thank you for reading all of my Best of 2018 lists!  We're already almost two months into 2019, and I have LOTS of new reviews coming your way starting on Monday.  Thanks for reading!!