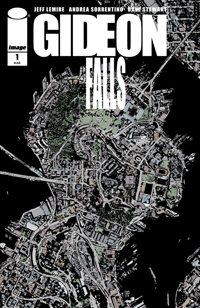 Josh's Favorite Comic Book Series of 2018 — Part Two!
On Monday I began my list of my Favorite Comic Book Series of 2019!  And now, onwards: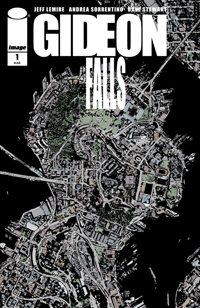 15. Gideon Falls (by Jeff Lemire and Andrea Sorrentino) — This mindbending story follows Norton, a lonely, possibly mentally-ill man living in a big city, collecting pieces of garbage that he is convinced can be assembled into something important, and Father Fred, a elderly Catholic priest with a secret in his past who has been assigned to the small town of Gideon Falls.  The two men are linked by the mystery of the Black Barn, an urban legend that both Norton and Father Fred gradually become convinced is very real… and very evil.  I don't have any idea where this story is heading, but I am loving the ride so far.  Andrea Sorrentino's endlessly inventive page layouts are dynamite.  (Click here to purchase vol 01 from Amazon, and click here to purchase vol 02.)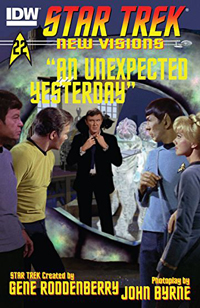 14. Star Trek: New Visions (by John Byrne) — I've been a fan of John Byrne since I first started reading comics in the early eighties.  It was always clear that he was a Star Trek fan, since I caught the various little Trek references and nods he'd work into his artwork, and I enjoyed the handful of Star Trekmini-series that Mr. Byrne has written and drawn in recent yearsfor IDW.  But he has created an entirely different beast with his New Visions series.  Each issue is a 48-page square-bound publication, and none of the artwork is hand-drawn.  Instead, Mr. Byrne has revitalized the old style of a "photo-play," using still photos from the original Star Trek series assembled to tell an entirely new story!  As this series has progressed, Mr. Byrne has grown more adept at using Photoshop to manipulate these still-photos, so that he can get more adventurous with his storytelling.  The style works remarkably well, and I have been hugely enjoying these brand new adventures off Kirk, Spock & co. that Mr. Byrne has been crafting.  I am very sorry that the series ended this year!  (Click here to purchase the latest collected volume on Amazon.)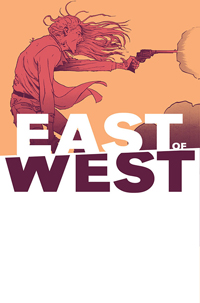 13. East of West (by Jonathan Hickman and Nick Dragotta) — How do I even begin to describe this super-weird series?  It depicts a dystopian future in which the Civil War never ended and what we know as the U.S. has been divided into several different still-warring territories.  It's also about the reincarnated four horsemen of the apocalypse, and their efforts — along with their followers — to bring about the end of the world.  I love the sci-fi-meets-western vibe of the series.  Nick Dragotta draws the way I wish I could — with a master's eye for character and setting, and a genius-level ability for cartooning — and I'm endlessly fascinated by the rich alternate world that Mr. Hickman has created.  The story is packed full to overflowing with remarkably unique characters and situations.  My brief summary doesn't begin to do it justice.  I'm not sure I quite understand everything that's going on, but I love every page.  I wish it came out more frequently, but this series is worth the wait.  (Start reading this great series with volume 01.)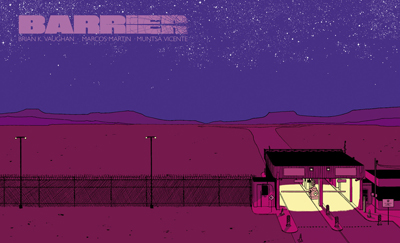 12. Barrier (by Brian K. Vaughan and Marcos Martin) — This five-issue limited series was a brilliantly inventive and moving story that addressed the very-current debate over immigration with ba sci-fi lens.  The story follows Oscar, a Honduran man, and Libby, a Texas rancher, when both wind up kidnapped by aliens.  It's a zany concept, and the story goes to some wild places, but as always, Mr. Vaughan anchors the nuttiness with real, well-developed characters.  The journey of Oscar and Libby is the heart of the story, and I was quite powerfully affected by the tale's emotional climax.  Mr. Martin's illustrations are gorgeous — this is a master cartoonist at work — and I loved his unusual horizontal page-layouts.  This re-teaming of the creators of The Private Eye did not disappoint.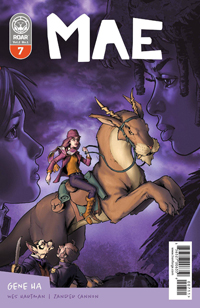 11. Mae (by Gene Ha) — Mae is a young girl living in a small town whose older sister, Abie, has been missing for years.  When she finally reappears, Mae discovers that Abie has been off having fantastic adventures in a fantasy world!  When Abie again disappears, Mae goes off to find her.  This sweet, all-ages comic book series is a gloriously fantastical adventure, filled with crazy characters and settings.  I love the strong female characters, including Mae ands her sister Abie and also Mae's best friend Dahlia.  Gene Ha's art is glorious, intricately detailed and able to convey both wonderfully subtle facial expressions and also all of the fantasy craziness of the story.  (Click here to purchase vol. 01 on Amazon, and click here to purchase vol. 02.)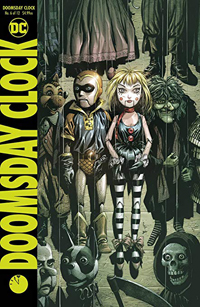 10. Doomsday Clock (by Geoff Johns and Gary Frank) — I think the idea of other creators making a sequel to Alan Moore and Dave Gibbons' seminal 1986 work Watchmen is close to blasphemous.  (I completely skipped reading any of DC Comics' Before Watchmen project from several years back.)  But I admit to being intrigued by the premise of Doomsday Clock, a story which promised to bring the Watchmen characters into the main DC universe.  I picked up the first issue, and I was hooked by the mysterious story (which depicted what happened after the events of Watchmen #12, as well as a dark vision of the near-future of the mainstream DC universe), the mind-glowingly gorgeous art by Gary Frank, and the careful way Mr. Frank and Mr. Johns structured their story to be a reverential homage to Mr. Moore and Mr. Gibbons' work while also treading new ground to tell an all-new story.  Doomsday Clock feels live a reverential continuation of Watchmen in so many ways: Mr. Frank's page layouts respect Mr. Gibbon's tight nine-panel-grid layouts and carry on the Watchmen style of each issue's cover serving as the first panel of the issue.  Mr. Frank has a style all his own and yet the beautiful, intricately detailed pages feel like a worthy successor to the great Dave Gibbons.  Mr. Frank has been an incredible artist working in the comic book industry for decades, but his work here far outshines anything he has done before.  It is masterful and my jaw is on the floor with envy as I read every page.  Mr. Johns' story is a taut mystery filled with interesting characters and a real sense of danger and menace.  Mr. Johns has long proven himself a master of the main DCU characters, and I'm loving reading his interpretations of the Watchmen characters, and I'm also enjoying the number of intriguing new characters the series has introduced.  This series has been very slow in coming out, but when a new issue arrives it always jumps to the top of my must-read stack.  I can't wait to see where this story is going.  I hope the conclusion will be satisfying.  So far I am hooked.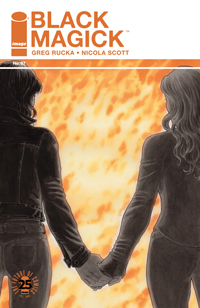 9. Black Magic (by Greg Rucka and Nicola Scott) — Detective Rowan Black is a homicide cop in Portsmouth.  She is also a witch, part of a long line of witches.  Mr. Rucka has crafted a fascinating alternate world, in which witches are real and have been living among us for centuries.  I am enjoying the pleasure of pealing back the mysteries surrounding Rowan and this world.  In Rowan, Mr. Rucka has created another in his long line of wonderful strong, complex, fascinating female characters.  The book is beautifully illustrated by Nicola Scott, who uses an extraordinary technique of grayscale washes to bring her amazingly intricate and realistically detailed panels to life.  It is incredible, career-making work that has me green with envy.  I wish this book came out more often.  I am chomping at the bit for the series' third story-arc to begin.  This is something special.  (Click here to purchase vol. 01 from Amazon, and click here to purchase vol. 02.)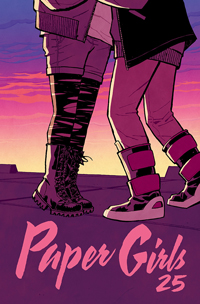 8. Paper Girls (by Brian K. Vaughan and Cliff Chiang) — In 1988, four young girls on their paper-route confront what appears to be an alien invasion, and then find themselves flung across time, to 2016, 1999, the ancient past, and the far future.  Even several years in, I still don't really know what the heck is going on in this series, which is filled with monsters and time-travel and apple products from the future, but I am loving every page.  Mr. Vaughan is a master at creating a unique tone to every one of his series, and with Paper Girlshe has once again created a complex, rich fantasy world, albeit one whose beginning was in a very real, normal 1988.  He's also a master at developing characters, and I love the way he has fleshed out the four titular paper-girls, each a distinct and interesting personality in her own right.  Mr. Chiang's distinct style is a joy to behold; he's just as skilled at illustrated magnificently weird splash-pages of sci-fi craziness as he is at bringing to life the subtle facial expressions of each of the four girls.  This is a great character piece and a compelling sci-fi adventure.  It started off amazing and has only gotten better and better and better as the series has continued.  (Start reading the saga with vol. 01.)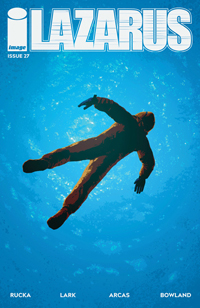 7. Lazarus (by Greg Rucka and Michael Lark) — In the future, the planet has regressed into an almost feudal system, with several warring families controlling the planet.  The young woman named Forever is the "Lazarus" of the Carlye family, her family's ultimate warrior/protector. Lazarus is an incredible example of world-building, as Mr. Rucka and Mr. Lark have put enormous effort into fleshing out every detail of this world they have created.  With each and every issue, more fascinating pieces of this world come to light, an enormously entertaining journey of discovery for the audience.  And yet Lazarus works as well as it does not just because of the depth of this world that has been created, but because of the array of wonderful characters who inhabit that world.  I love Lazarus for the politics and combat, but I also love it for the coming-of-age story of Forever herself (what was I just saying, in discussing Black Magic, about Mr. Rucka's skill at writing fantastic female characters?), and for the exploration of the many flawed characters who also populate the book.  I read each issue of Lazarus with my stomach clenched, hoping for the best for the characters I have grown to love, but fearing the worst. As for Mr. Lark's art, I don't think I have enough compliments with which to praise his work.  He is as skilled at capturing individual characters and their subtle facial expressions as he seems to be at drawing any location, any vehicle, anything at all.  Amazing, inspiring work on every page.  This year, I enjoyed the conclusion of the six-issue mini-series, Lazarus X+66 (which refers to the year in which the story takes place, 66 years after a pivotal event that changed the world), and the final (for now) two issues of the main series.  The book is on temporary hold now, though it's supposed to be relaunching soon in a new format of longer stories published just a few times a year.  I hope Mr. Rucka and Mr. Lark will be able to provide a regular fix of Lazarus for a long time to come…!  (I suggest beginning your journey into Lazarus with vol. 01.)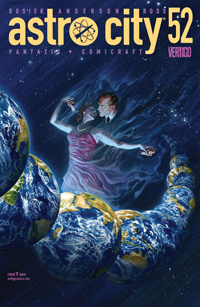 6. Astro City (by Alex Ross and Brent Anderson and others) — The latest incarnation of Kurt Busiek and Brent Anderson's magnificent series Astro City drew to a close this year, which makes me sad but also excited to see where this series goes next (into, apparently, a series of graphic novels).  I have been following Astro City through all of its different incarnations, at a variety of different publishers, since it first began so many decades ago.  The series is as fantastic as it has ever been.  It's a gloriously joyous version of a super-hero "universe," one that is set in a world that feels realistic and yet is filled with super-heroes, super-villains, aliens, monsters, time travel, magic, and all sorts of other comic-book crazy stuff.  Mr. Busiek uses the framework of this series to tell a variety of different short-stories, most just a single-issue long, though some carry over multiple issues, focusing on different characters and settings within this world that he has created.  The result is an extraordinarily rich, emotionally deep series, filled with complex, vibrant characters.  It's an incredible achievement, one that is truly unique.  This latest run has been the most consistent run the series has ever had, with over fifty incredible issues being published since 2013.  This series still has a huge amount of life to it, and I am eager for it to return in its latest form.  I wrote a lot more about Astro City here.  (If you've never before read Astro City, I suggest you begin with the collection of the very first Astro City mini-series, Life in the Big City, available here from Amazon.)
Please join me back here on Friday for my Five Favorite Comic Book Series of 2018!