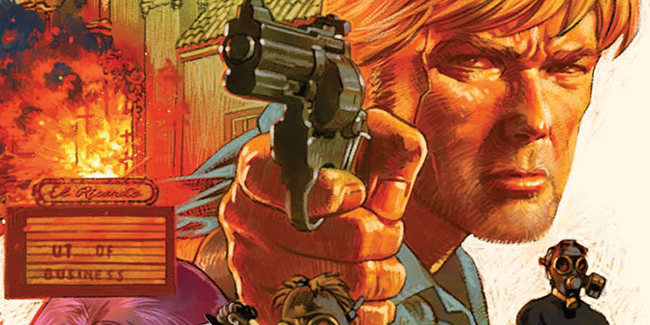 Josh's Favorite Comic Book Series of 2021 — Part One!
There were so many wonderful comic book stories published in 2021!  It fills me with joy that this medium I love so much is still so vibrant.  Maybe you're a reader of this site who likes some of the movies and TV shows I write about, but you've never been into any comic book stuff?  If so, I hope you'll take a look through this list and pick something that interests you.  You won't regret it!
Graphic novels:
Reckless: Friend of the Devil and Reckless: Destroy All Monsters (by Ed Brubaker & Sean Phillips) — The unbeatable team of Ed Brubaker and Sean Phillips published two new installments of their Reckless graphic novel series this year, and I loved them both so much!  The series tells noir mystery/crime stories set in Los Angeles in the eighties.  These are perfect pieces of pulp entertainment.  (Click here to find the first Reckless story and away you go!)
Autobiographix — Dark Horse Comics republished their 2003 collection of short, black-and-white autobiographical stories, written and drawn by some of the best talents in comics, including Will Eisner, Sergio Aragonés, Gabriel Bá and Fábio Moon, Stan Sakai, and many more.  What a great demonstration of the power of this medium and of the short story.  (Click here to find it.)
The Other History of the DC Universe (by John Ridley & Giuseppe Camuncoli & Andrea Cucchi) — This gripping, heartbreaking story tracks the history of several African American characters through many years of DC Comics' continuity.  The series brilliantly expands upon the stories that have been told with these characters over the decades, weaving them in and out of other major events within the DC universe.  Written by 12 Years a Slave screenwriter John Ridley, the story is a compelling and important exploration of the lives of these Black characters, giving them a richness they didn't always have in the hands of other creators.  The story is a wonderful look back at the history of the DC universe, as well as a tale that feels completely of the moment.  I loved the extensive prose style of the book.  Giuseppe Camuncoli's art has never been better.  This is a major work; it blew me away.  (Click here to find the collected edition.)
Catwoman: Lonely City (by Cliff Chiang) — It's ten years after the death of Batman and Selina Kyle has just been released after a decade in prison.  Returning to a Gotham City transformed by a militaristic police force (that replaced the costumed superheroes of yore), Selina endeavors to pick up the pieces of her shattered life.  But a promise she made to a dying Bruce Wayne, and her sense that things are not right in her city, draw her back into one last adventure.  This gorgeous noir-ish adventure story is fun and moving and I love it so much!  The great Cliff Chiang has never been better.  (Click here to find book one.)
Friday, Book One (by Ed Brubaker and Marcos Martin) — Friday Fitzhugh grew up in a small New England town, solving crimes and mysteries with her brilliant best friend Lancelot Jones (an Encyclopedia Brown-type character).  But now Friday has gone away to college, and when she returns to her hometown on break, everything has changed.  And yet, one more mystery draws her into its web.  Wowsers, I could not have loved this story more, and I am out of my mind with anticipation for the next installment!!  Mr. Brubaker, as always, has crafted a deliriously entertaining noir mystery, and Marcos Martin's beautiful artwork dazzles me with its simple brilliance.  I grew up reading the Encyclopedia Brown books and this salute to those types of characters and stories filled me with joy.  (Click here to find it.)
Wonder Woman: Historia (by Kelly Sue DeConnick & Phil Jimenez) — This gorgeously illustrated retelling of the origin of the Amazons (from whom Wonder Woman would spring) blew me away.  Ms. DeConnick has crafted a fascinating, richly-researched reimagining of the mythology behind Wonder Woman, and each page illustrated by Mr. Jimenez is an astounding work of art that I could stare at for hours.  (Click here to find book one.)
Monsters (by Barry Windsor-Smith) — I've been a forever fan of Mr. Windsor-Smith's ever since the issues of Chris Claremont's X-Men that he illustrated in the eighties.  (Mr. Claremont and Mr. Windsor-Smith's "Lifedeath" story in Uncanny X-Men #186 remains the greatest issue of a super-hero comic ever made, in my humble and correct opinion.)  I've followed Mr. Windsor-Smith from project to project over the years, through his brilliant but killed-before-its-time Storyteller series from two decades ago.  Mr. Windsor-Smith has mostly disappeared from the field since then, but I've been longing for him to return.  My wishes were granted with this enormous, staggeringly beautiful graphic novel.  This 380-page magnum opus weaves together the stories of multiple characters across multiple decades into a shattering tragedy.  This is comic book writing and artwork at its very finest, my friends.  (Click here to find it and clear your schedule.)
Comic book series:
30. Fantastic Four 60th Anniversary Tribute — Celebrating the 60th anniversary of Fantastic Four (which is one of my all-time favorite comic book series, ever since I was a kid), an incredible array of artists has assembled to redraw Stan Lee & Jack Kirby's Fantastic Four #1 and Fantastic Four Annual #3 (the marriage of Reed Richards and Sue Storm).  Each page of this recreation was illustrated by a different artist.  The result is an astounding array of artistic talent and a wonderful salute to the World's Greatest Comic Magazine.
29. The Next Batman: Second Son/I Am Batman (by John Ridley, Travel Foreman, & Olivier Coipel) and Wonder Girl (by Joëlle Jones) — I've enjoyed reading these two new series that spun out of DC Comics' "Future State" event.  The Next Batman tells the story of an African-American Batman, when the estranged son of Lucius Fox returns to Gotham and picks up the mantle of the Bat.  Wonder Girl, meanwhile, introduces a new, younger, Brazilian Amazon who might one day inherit the mantle of Wonder Woman.
28. X-Men Legends (By Fabian Nicieza, Louise & Walter Simonson, Peter David, Larry Hama, and others) — I love the idea: bring back big-name creators who have worked on the X-Men during their long history and allow them to tell new in-continuity stories to elaborate upon, or perhaps bring closure to, stories, characters or concepts from their initial run.  That's a great idea, and they've gotten some big names (including Louise & Walter Simonson, who guided the early days of X-Factor; Peter David, who wrote a terrific later run on X-Factor; and Larry Hama, who wrote a long and defining run on the Wolverine solo book).  This would be higher on my list, except I've found most of the stories to be surprisingly inconsequential so far.
27. Star Trek: The Mirror War (Scott and David Tipton, Carlos Nieto & Gavin Smith) — So far, I'm enjoying this latest story in IDW's recent series having fun with the Mirror Universe during the Next Generation era.
26. Green Lantern: Season Two (by Grant Morrison & Liam Sharp) — This loony storyline sure leaned into the sci-fi & fantasy weirdness.  I loved seeing talented writer Grant Morrison's efforts to create new and original sci-fi characters and settings for this Green Lantern storyline, and it was fun to see how inventive Liam Sharp's artwork was in every issue, pushing into all sorts of wild new directions.  Gorgeous work.  This series would be higher on my list if I had any idea what was actually happening in the super-confusing stories, though…
25. Jupiter's Legacy: Requiem (by Mark Millar & Tommy lee Edwards) — I thought Mark Millar & Frank Quitely's Jupiter's Legacy series had a perfectly satisfying ending back in 2017, but I was happy to see the series and characters return for another go-round, set several years further ahead in the story's future.  Once again, the next generation of young superheroes has to clean up the mess made by their parents… and also the mess they've made for themselves.  Tommy Lee Edwards' artwork is remarkable, and the first issue featured what I believe is the final artwork by the late, great John Paul Leon.  (I'm also enjoying Mark Millar's The Magic Order 2 and King of Spies.)
24. Joy Operations (by Brian Michael Bendis and Stephen Byrne) — I'm enjoying this fun original sci-fi story.  I'm impressed with the series' world-building so far in developing the future setting.  Brian Michael Bendis' dialogue is fun as always, and Stephen Byrne's gorgeous artwork is absolutely next level brilliant.
23. Robin & Batman (by Jeff Lemire & Dustin Nguyen) — This prestige-format three-part miniseries was a wonderful spotlight on Dick Grayson's early days in the custody of Bruce Wayne, training to be Robin.  Mr. Lemire's story was clever and original, and Dustin Nguyen's painted artwork was beautiful.
22. Checkmate (by Brian Michael Bendis & Alex Maleev) — It's always a pleasure when Brian Michael Bendis and Alex Maleev team up, and I'm enjoying their reinvention of the Checkmate franchise.  In this iteration, a diverse group of heroic but also somewhat shady characters from across the DC universe have come together to defeat the new organization called Leviathan.  It doesn't seem like Mr. Bendis' intention of creating a major new threat to the DC universe, in the form of Leviathan, has quite caught on the way he'd hoped.  Still, I quite enjoyed this weird, tense little espionage story.  Mr. Bendis' beautiful dialogue and Mr. Maleev's gorgeous, innovative artwork work so well together.  (I'm also enjoying Mr. Bendis' current run on Justice League.)
21. Fantastic Four: Life Story (by Mark Russell & Sean Izaakse) –– I adored last year's Spider-Man: Life Story mini-series, by Chip Zdarsky and Mark Bagley, in which we followed the life of Peter Parker and his friends and enemies, decade by decade, if time actually moved forward at its proper pace in the years following Spidey's origin in the sixties.  (They released a follow-up annual this year, focusing on J. Jonah Jameson, that was magnificent!!)  This Fantastic Four mini-series set out to do the same thing for the FF.  I quite enjoyed this series as well, though it doesn't feel as definitive or thorough as the Spidey story.  This FF story diverges quite a lot from the traditional FF right from the start (for example: here Ben Grimm was actually Johnny's friend, not Reed's!).  This is also a fairly negative depiction of Reed Richards.  Still, I love the FF and this is a compelling alternate universe story that I'm enjoying very much.
I hope you'll come back tomorrow for the conclusion of my list!
Click here to pre-order my graphic novel José and the Pirate Captain Toledano!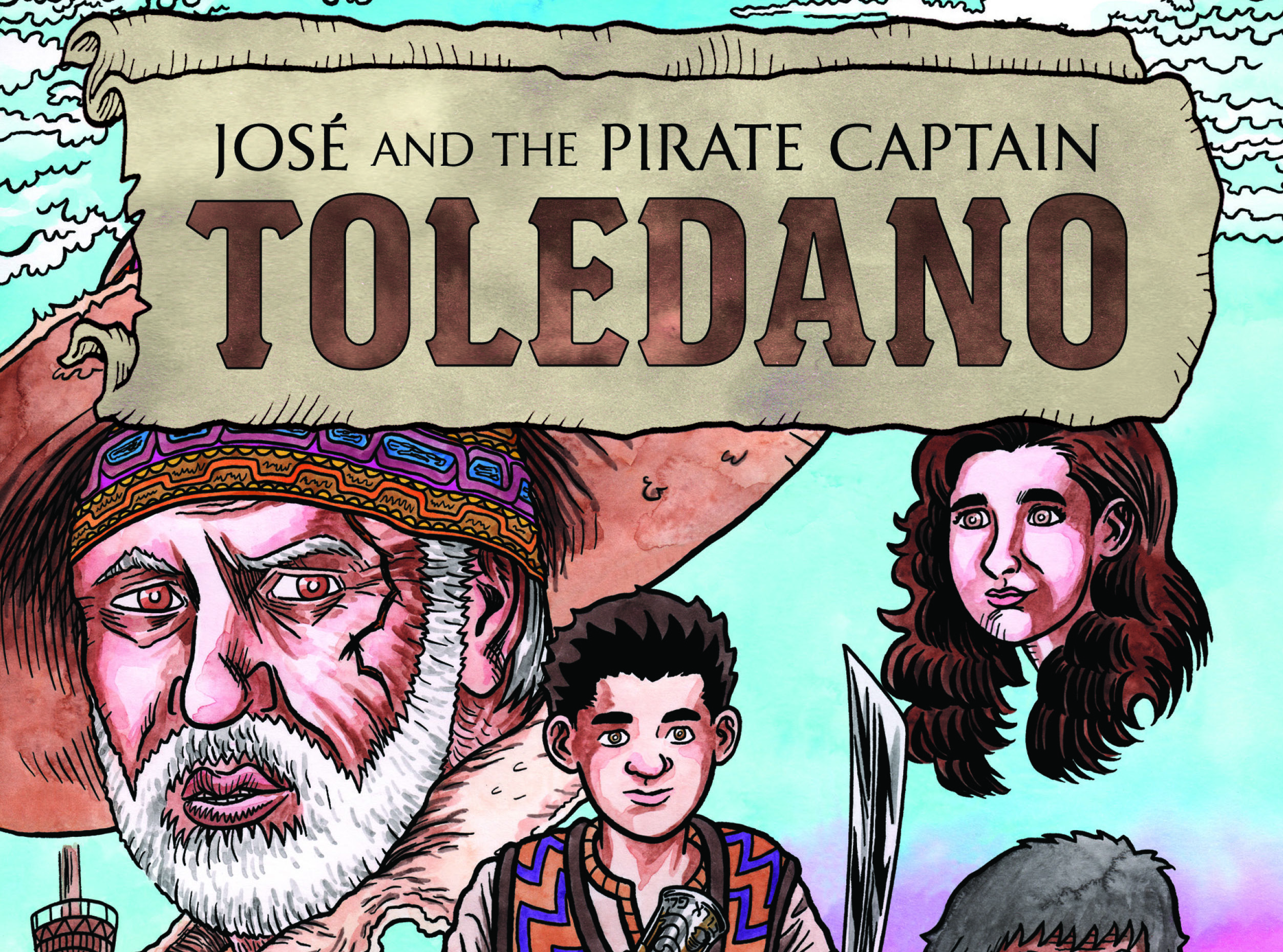 Click here to purchase my "Maclunkey" Star Wars/Highlander mash-up t-shirt!

Please support MotionPicturesComics.com by clicking through one of our Amazon links the next time you need to shop!  As an Amazon Associate, I earn from qualifying purchases.  That means I'll receive a small percentage from any product you purchase from Amazon within 24 hours after clicking through.  Thank you!