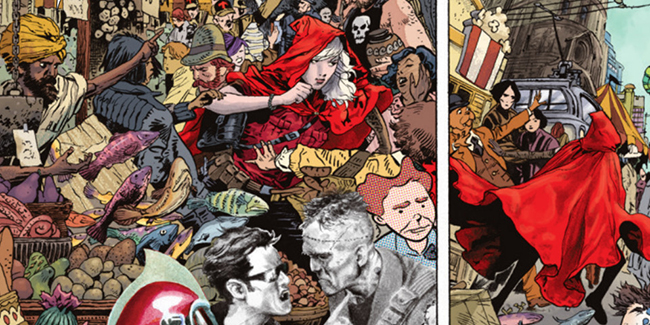 Josh's Favorite Comic Book Series of 2021 — Part Two!
Yesterday I began my list of my favorite comic book series of 2021!  Here's the conclusion of my list:
20. Dune: House Atreides (by Brian Herbert & Kevin J. Anderson & Dev Pramanik) — Despite my love for Dune, I didn't care for the prequel novels written by Mr. Herbert & Mr. Anderson.  But Jae Lee's gorgeous cover got me to buy the first issue, and I've been surprised how much I've been enjoying this comic book retelling of those novels' stories.  Mr. Herbert & Mr. Anderson did a good job with this adaptation, paring down the story's complications for an entertaining twelve-issue run.  It's a fun return back into the world of Frank Herbert's Dune.
19. Batman: The Adventures Continue Season Two (by Alan Burnett, Paul Dini, Ty Templeton, & Rick Burchett) and Justice League: Infinity (by James Tucker, J.M. DeMatteis, & Ethen Beavers) — I am thoroughly enjoying these two series which tell new stories in the continuities of, respectively, Batman: The Animated Series and the Justice League/Justice League Unlimited shows.  I adored both those animated series, and it's great fun to read new stories set after the final episodes of each of those two shows.
18. Batman '89 (by Sam Hamm & Joe Quinones) and Superman '78 (by Robert Venditti & Wilfredo Torres) — Similarly, I am loving these two mini-series, each of which tells a new story set in the events of those iconic movies: Tim Burton's 1989 Batman and Richard Donner's 1978 Superman: The Movie.  Batman '89 is centered on Harvey Dent, played memorably by Billy Dee Williams.  We never got to see Mr. Williams become Two-Face in the movies, but we get that story here, and it's a lot of fun so far.  The series also, to my surprise, picks up on the end of Batman Returns and brings back a still-alive Catwoman, who re-enters the life of Bruce Wayne/Batman.  Sam Hamm co-wrote the screenplay for Tim Burton's 1989 Batman film, and was credited for the story of Batman Returns.  It's fun to see what he might have done with this franchise if left to his own devices!  Meanwhile, Superman '78 tells a cool story of Brainiac's arrival in the Metropolis of Richard Donner's Superman film.  Brainiac was often rumored to appear in a live-action Superman film; this is a fun way to imagine what that might have been like!  I'm particularly enjoying artist Wilfredo Torres' depictions of Christopher Reeves' Clark Kent/Superman, Margo Kidder's Lois Lane, and Gene Hackman's Lex Luthor.  This is a cool alternate version of what Superman III might have been (or should I say: should have been)!
17. Marvel's Voices (by various writers and artists) — This series of one-shots contains different short-stories written & illustrated by a wonderfully varied array of writers and artists.  Each issue spotlights Marvel characters and creators from different backgrounds: African Americans, Indigenous peoples, members of the LGBTQ+ community, Asian Americans, and more.
16. Firefly (by Greg Pak, Simona Di Gianfelice, Jahnoy Lindsay, Jordi Perez, & others) and Firefly: Brand New 'Verse (by Josh Lee Gordon & Fabiana Mascolo) — I'm continuing to enjoy Greg Pak's run on the Firefly comic.  While his run began by telling new stories set before the movie Serenity, this year we jumped ahead to several years after the events of that film, and I'm more hooked than ever with the ongoing saga of the Firefly gang.  I also quite enjoyed the six-issue mini-series Brand New 'Verse, set about two decades after the events of Serenity and focusing on Zoe and Wash's baby daughter, now all grown up.
15. Newburn (by Chip Zdarsky & Jacob Phillips) — Easton Newburn is an enigmatic detective who works for various crime families, solving problems for them and keeping the peace.  I've loved the first two issues of this noir mystery series, and I can't wait for more!
14. Moonshine (by Brian Azzarello & Eduardo Risso) — The team behind 100 Bullets (one of my all-time favorite comic book series) re-teamed for this story of prohibition, gangsters, booze, dames, and werewolves.  What's not to love?  Mr. Azzarello & Mr. Risso brought the story to a satisfying conclusion this year.
13. Marvel's Star Wars comics — It's pretty impressive how consistently good-to-great Marvel Comics' Star Wars series have been!  This year, their main series caught up to the events of The Empire Strikes Back, and I enjoyed the exploration of what Vader and our heroes were up to during that time-frame.  The "War of the Bounty Hunters" crossover was fun (even though it did stretch my credulity to follow all the complications Boba Fett faced in this story while trying to deliver Han Solo, frozen in Carbonite, to Jabba the Hutt on Tattoine.  I was surprised and delighted that Crimson Dawn and the character of Q'ira, from the Solo film, entered the story this year!  I'm eager to see what is next for her character…
12. The Eternals (by Kieron Dwyer and Esad Ribic) — I'm really digging this latest re-invention of The Eternals.  The series is in gentle continuity with the previous Eternals stories, while also going its own way to depict new versions of these characters and their world and history.  Kieron Dwyer has added some fascinating new wrinkles to the Eternals mythology (the secret regarding their resurrections was a big surprise to me), and I love how he's incorporated Thanos into his tale.  (This Thanos is out of continuity with Jim Starlin's Thanos stories from recent years; I love those stories, and since Mr. Starlin is Thanos' creator, to me, his Thanos is the definitive Thanos.  On the other hand, Mr. Starlin moved Thanos away from being a simple villain many years ago.  I can understand why Marvel wants to keep Thanos as a straight villain, and I really like the way Mr. Dwyer handles this villainous Thanos — as brilliant and vicious.)  Esad Ribic's painterly artwork is extraordinary; beautiful and epic.
11. Joker (by James Tynion IV, Sam Johns, Guillem March, & Mirka Andolfo) — I am not a fan of spin-off titles based on villainous characters.  Most feel like a waste of time, and weirdly incomplete — the yin of the villain without the yang of the hero they usually fight.  But I was drawn in by the gorgeous variant covers on the early issues of this series, and I was pleasantly surprised by how quickly I got hooked into James Tynion IV & Sam Johns' story of James Gordon (no longer police commissioner of Gotham City) on a globetrotting hunt to find and finally kill the Joker.  This feels like a difficult story to end in a satisfying way (since we all know Gordon isn't actually going to kill the Joker), but I'm loving the ride so far.
10. The Marvels (by Kurt Busiek & Yildiray Cinar) — Kurt Busiek's latest Marvel epic digs deeply into the vast history of the Marvel universe, weaving together old characters and concepts along with lots of fun new characters and ideas.  The story seems to be centered on a long history of trouble in the fictional nation of Sin-Cong, and the various heroes and villains whose stories have brought them there.  Seven issues in and I'm still not sure I have any idea where this is all going, but I'm enjoying the ride.  Yildiray Cinar's art is terrific, and the gorgeous Alex Ross covers are magnificent.
9. Kang The Conquerer (by Collin Kelly, Jackson Lanzing & Carlos Magno) — Kang the Conquerer is a terrific villain with a tremendously complicated comic book history.  This mini-series provided a compelling new version of Kang's origins that respects and also straightens out his long history.  I'm loving the complicated story that Collin Kelly & Jackson Lanzing chose to tell, weaving their narrative in and around many of Kang's most famous previous adventures.  Carlos Magno's artwork was suitably epic and wonderfully detailed.
8. The Batman's Grave (by Warren Ellis & Bryan Hitch) — Revelations in 2020 about Warren Ellis' gross and wildly inappropriate behavior have torpedoed his career and colored my view of his work.  I can understand if some choose never to read another word he wrote.  I'd started reading this series before the news of Mr, Ellis' misconduct came out, and I decided to finish reading the story.  I'm glad I did, because I found it to be riveting and ferociously entertaining.  I thought the mystery story was very interesting, and I loved the way the series explored the relationship between Bruce Wayne and Alfred.  Their bantering scenes were an absolute delight.  Meanwhile, Bryan Hitch's incredibly detailed artwork was a gorgeous wonder to behold, as always.  In many respects, this is a perfect model for what I'd like to see in a Batman movie.  (Except for the very last few pages, which I thought were needlessly downbeat.)
7. The Old Guard: Force Multiplied (by Greg Rucka and Leandro Fernandez) & The Old Guard: Takes Through Time (by various writers & artists) — The second miniseries, Force Multiplied, chronicling the adventures of this group of extremely long-lived warriors (which was adapted into a Netflix film this past year!) was just as entertaining as the first one.  (And far stronger than the movie.)  I really dug this series, which has just the right balance of drama, violence, and whimsy.  This second volume ended on a hell of a cliffhanger; I can't wait for the next story!  In the meanwhile, I quite enjoyed Tales Through Time, the anthology series allowing a wonderful array of talented writers and artists to tell short stories with these characters.
6. Batman: Black and White and Superman: Red and Blue and Wonder Woman: Black and Gold and Harley Quinn: Black and White and Red (by various writers & artists) — Batman Black and White began in 1996, overseen by Mark Chiarello.  The premise was that a variety of different writers and artists would tell short Batman stories (generally 8 pages each).  The result was an incredible array of wonderfully original stories.  The series has come and gone over the years.  I was delighted to see the idea resurrected this year in a beautiful six-issue prestige-format mini-series.  I was even more delighted to see the series expand in a variety of other mini-series, telling stories of Superman (using the colors red and blue), Wonder Woman (adding gold to the black and white) and Harley Quinn (adding red to the black and white).  I adored these short short stories!!  It was a pleasure seeing so many brilliant creators tell stories of these characters, using their incredibly diverse styles and approaches.  I hope DC continues to publish these types of stories and series!
5. Marvel's X-Men comics (overseen by Jonathan Hickman) — The "Krakoan Age" of X-Men comics has continued this year, overseen by Jonathan Hickman.  I'm continuing to get a lot of enjoyment out of this reinvention of the X-Men mythos!  I haven't been this excited about new X- Men stories in years.  The main X-Men book written by Mr. Hickman (which ended earlier this year) continued to be a dazzling burst of originality and weirdness each month.  The new X-Men book, by Gerry Dugan and Pepe Larraz, is a little more traditional but still a hoot.  I loved the Excalibur series, by Tina Howard and Marcus To, which has been digging deeply into the mythology of the Captain Britain comics from many decades ago, exploring Excalibur and Saturnyne and lots of other fun stuff.  My favorite continuing X-book, though, has been Marauders, written by Gerry Duggan with art by Matteo Lolli and others.  I loved that this series has spotlighted Kitty Pryde (one of my long-time favorite characters), Emma Frost (a character who I've never found too interesting, until now!) and a variety of other mostly shady characters, many of whom have been connected to the Hellfire Club.  Mr. Hickman wrapped up his tenure on X-Men with the Inferno four-issue mini-series, illustrated by Valerio Schiti.  It was a thrilling conclusion to Mr. Hickman's run (though I feel like there was still so many more stories Mr. Hickman could have told!!)  I hope the X-Men line continues to entertain next year now that Mr. Hickman has moved on.
4. Lazarus (by Greg Rucka & Michael Lark) — In the future of Lazarus, global society has regressed into a feudal system, with several warring families controlling the planet.  The young woman named Forever is the "Lazarus" of the Carlye family, her family's ultimate warrior/protector.  I've been enjoying the series' quarterly format; I love all of the supplemental material to be found in each issue (most particularly the short stories and Mr. Rucka's great letter column, a rarity in comics these days).  The world of Lazarus grows deeper and deeper with each new issue; I love all of these characters and fear for them deeply.  Mr. Lark's artwork continues to astound me page after page.  He is as skilled at capturing individual characters and their subtle facial expressions as he seems to be at drawing any location, any vehicle, anything at all.  Amazing, inspiring work on every page.  Lazarus is a truly brilliant and well-researched piece of speculative fiction; it's a gripping character drama; and it's one of the very best comic book series I have ever read.  I just wish we'd gotten more than one new issue in 2021!!!
3. The Human Target (by Tom King & Greg Smallwood) — Justice League B-Lister Christopher Chance, the Human Target, has been poisoned and has only days to live.  In this incredible new mini-series, Chance makes his way through the DC universe (in particular, the "bwa-ha-ha" era of Justice League International) in an attempt to solve his own murder.  Tom King's brilliant mix of noir mystery and the DC superhero universe is incredible.  And Greg Smallwood's sumptuously beautiful artwork is some of the best I have ever seen in a monthly series.  The series has a compelling retro sixties feel to it, while also being incredibly modern.  I am deeply hooked, and I can't wait to see where this story goes.
2. Echolands (by J. H. Williams & Haden Blackman) — This extraordinary new original series creates a compelling future/fantasy world in which characters from every type of visual story you could imagine coexist and rub shoulders.  Young thief Hope Redhood and her motley group of friends are on the run from an evil wizard and his unstoppable daughter.  The series is thrillingly original.  I love the choice of each issue being in a horizontal format (it's basically the dimensions of a normal comic book, just turned on its side).  J. H. William's artwork is beyond gorgeous; it's breathtakingly inventive.  Each new page is dazzling, and I could spend hours just luxuriating in the details he works into every panel, and every page.  It's glorious to behold.  And the story is pretty great too!  Echolands is the best new creation of 2021 and one of the very best comic book series I've read in ages.
1. Hellboy (by Mike Mignola & co.) — Well, yet again Mike Mignola's continuing Hellboy saga tops my list, but wow, this was a tougher choice than ever this year, because almost any of the comic book series in my top ten could have been my number one choice this year.  All of these series were amazing.  But in the end I felt I had to go with Hellboy.  What began as a series of mini-series about a big red paranormal investigator who likes to punch things has expanded into a huge saga encompassing an array of wonderful characters.  Mr. Mignola now oversees multiple titles following multiple different characters and set in multiple different years, and yet they all have consistent quality and they all fit together into a larger, expanding saga.  It's quite extraordinary, and I can't think of a single other shared universe, in any media, that shares such a singular vision.  The incredible inter-connectedness between all of these stories, the way Mr. Mignola and his collaborators will often wait years before making a connection or expanding on a detail or a small piece of back-story, is astounding.  Each of these mini-series or story-lines stand alone, but together they fit into a hugely entertaining tapestry.  It is incredible.  I wasn't sure if the Hellboy series had run out of gas after Mr. Mignola ended his long-running B.P.R.D. series (and basically destroyed the entire planet and killed off all of his characters), but this year the series continued to expand, with multiple wonderful new stories set across the decades of the Hellboy saga.  I loved them all.
Thanks for reading!
Click here to pre-order my graphic novel José and the Pirate Captain Toledano!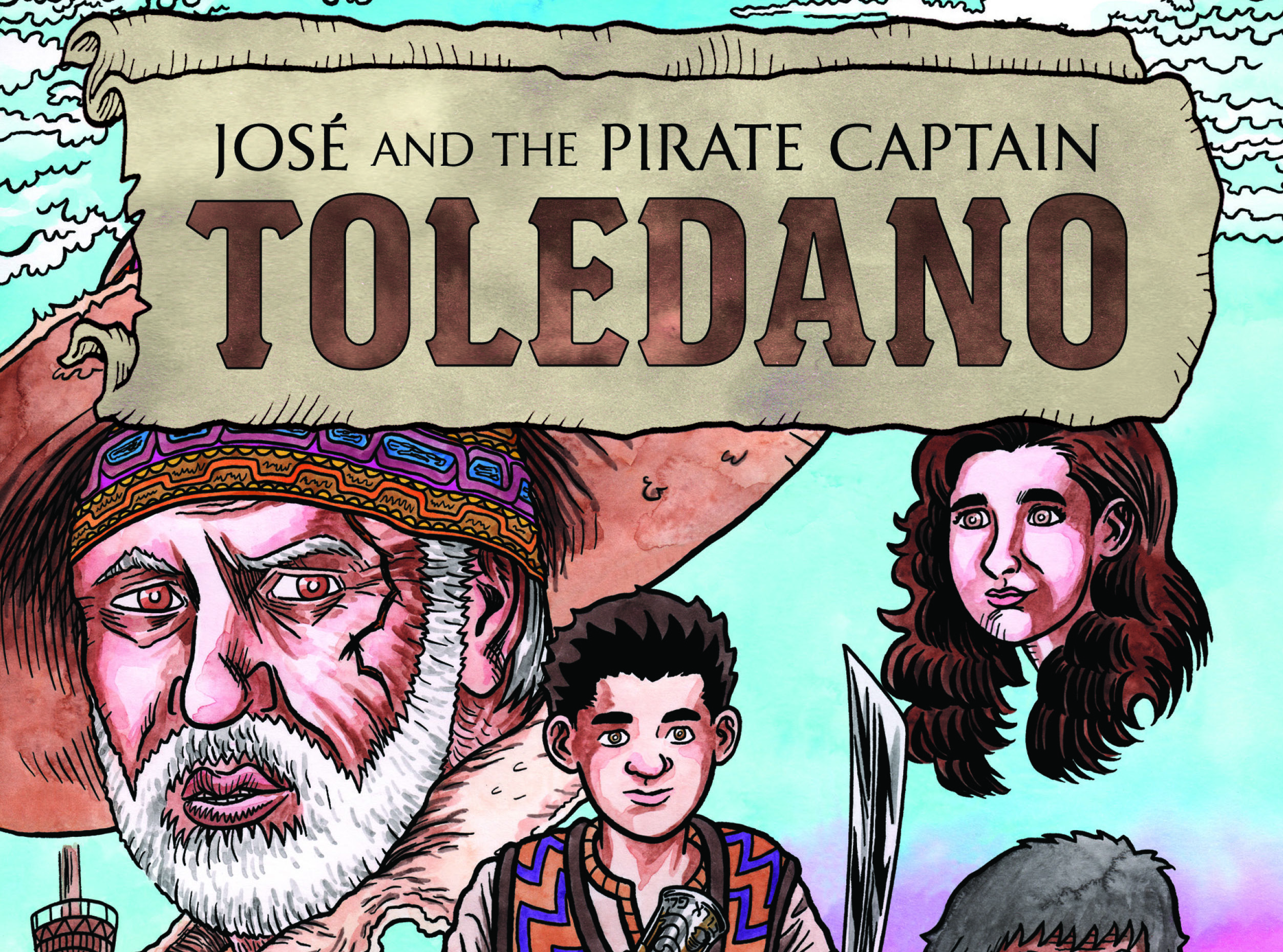 Click here to purchase my "Maclunkey" Star Wars/Highlander mash-up t-shirt!

Please support MotionPicturesComics.com by clicking through one of our Amazon links the next time you need to shop!  As an Amazon Associate, I earn from qualifying purchases.  That means I'll receive a small percentage from any product you purchase from Amazon within 24 hours after clicking through.  Thank you!