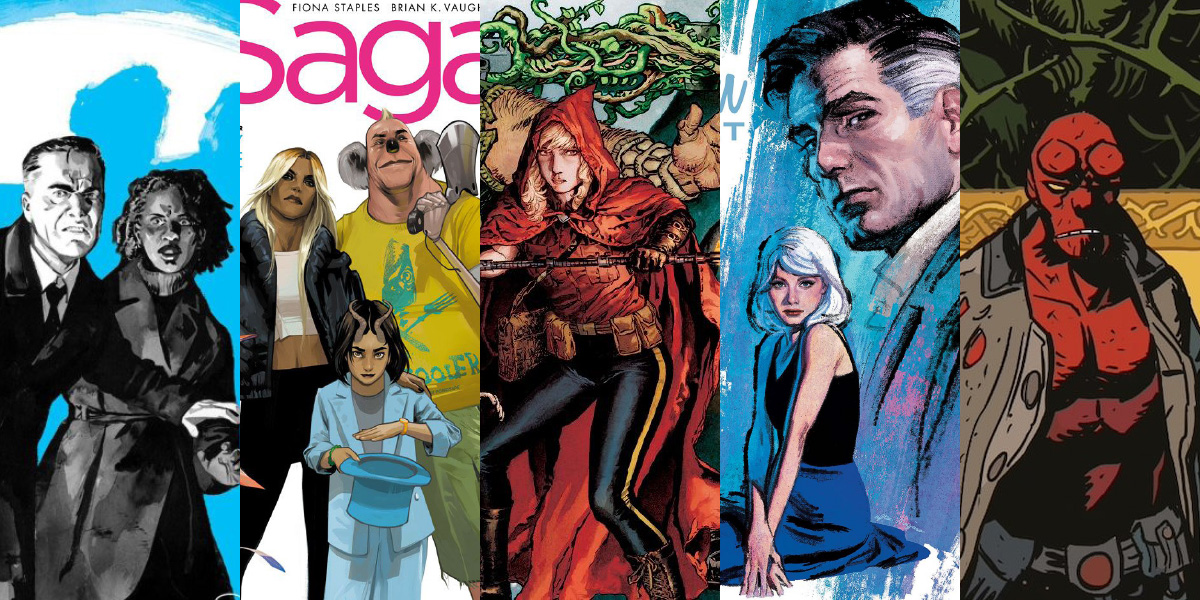 Josh's Favorite Comic Book Series of 2022!
Thanks for reading my list of my favorite graphic novels of 2022!  And now, here's my list of my favorite comic book series of 2022:
21. X-Men Legends (by Roy Thomas, Ann Nocenti, Whilce Portacio, and others) — I love the idea: bring back big-name creators who have worked on the X-Men during their long history and allow them to tell new in-continuity stories to elaborate upon, or perhaps bring closure to, stories, characters or concepts from their initial run.  That's a great idea, and I've enjoyed this trip back to great eras of the X-Men from decades past.  I just wish the stories being told felt more significant.  If they did, this would be higher on my list.
20. Batman and the Joker: Deadly Duo (by Marc Silvestri) — What fun it is to have the great Marc Silvestri back drawing monthly super-hero comics!!  (I first started reading Uncanny X-Men during his run drawing the book with writer Chris Claremont.)  This weird, violent Batman story has been wild so far.
19. Love Everlasting (by Tim King & Elsa Charretier) — In this truly bizarre series, we follow a young woman who seems to be trapped inside classic romance comic book stories.  I don't know what's going on, but I'm loving the ride.
18. Dark Spaces: Wildfire (by Scott Snyder & Hayden Sherman) — This tense crime story depicts a team of incarcerated women who risk their lives as firefighters.  The story kicks off when one of the women gets an idea for a heist they can pull as a way to get back at the wealthy businessman who destroyed her life.  You know it's not going to go smoothly.  I loved the hook of this inmate firefighter program, and the mounting tension drips off of each page.
17. The Magic Order 3 and Prodigy: The Icarus Society (by Mark Millar, Gigi Cavenago, & Matteo Buffagni) — I always enjoy the raucous stories written by Mark Millar.  These two sequels were both a lot of fun, and I was delighted to return to these worlds.  The Magic Order is about a secret group of magicians who do their best to protect the world, while Prodigy is about the smartest man in the world, who has trained himself to be a globetrotting adventurer.
16. The Marvels (by Kurt Busiek & Yildiray Cinar) — Kurt Busiek's latest Marvel epic digs deeply into the vast history of the Marvel universe, weaving together old characters and concepts along with lots of fun new characters and ideas.  It was fun to take this deep dive back into Marvel history, which nobody knows better than Mr. Busiek.  Yildiray Cinar's art is terrific, and the gorgeous Alex Ross covers are magnificent.
15. Junkyard Joe (by Geoff Johns & Gary Frank) — In WWII, a robotic soldier saved the life of young Muddy Davis, and then vanished.  Decades later, Muddy is an old man, and the mysterious Joe renters his life.  This is a lovely salute to veterans and a fun tale with a sci-fi twist.  Gary Frank's artwork is phenomenal; he's a true master of the comic book page.
14. Old Dog (by Declan Shalvey) — Jack Lynch is a CIA operative who, after a mission-gone-wrong, wakes up years later, somehow rejuvenated.  I'm not sure what exactly is happening in this story yet, but I'm enjoying each chapter's tense little spy yarn.  Declan Shalvey's art is gorgeous.  I love the way he draws so much!
13. The Ones and Pearl (by Brian Michael Bendis & Jacob Edgar & Michael Gaydos) — I'm always a fan of the creator-owned work of Brian Michael Bendis.  The Ones is about the team-up, in the face of a hell-on-Earth event, of various heroes who had previously thought they were a "chosen one".  The third volume of Pearl continues the story of a young tattoo artists who winds up enmeshed in a violent Yakuza mess.
12. Marvel's Star Wars comics — I'm continuing to enjoy Marvel Comics' interconnected Star Wars series!  The main batch of titles is set between the events of The Empire Strikes Back and Return of the Jedi.  It's been fun to see how they've involved Crimson Dawn and the character of Q'ira, from the Solo film, into the story!
11. Star Trek (by Collin Kelly & Jackson Lanzing & Ramon Rosanas and others) — It's a pleasure to see the start of a new ongoing Star Trek comic book series, from IDW, set after the events of the 24th century shows and movies!  It's an even greater pleasure that the series is so steeped in DS9 (my favorite of the Trek series), bringing back Benjamin Sisko as the main character.  I'm intrigued by the story (in which Sisko is on the trail of a new villain that is managing to wipe out various god-like entities from the Trek universe) and Ramon Rosanas' art in the first issue was spectacular.  (I wish he'd stuck around as the series' main artist; I'm not loving the way each issue so far has had a different artist.)
10. The Eternals (by Kieron Dwyer & Esad Ribic and others) — I loved this latest re-invention of The Eternals.  Kieron Dwyer has added some fascinating new wrinkles to the Eternals' mythology (the secret regarding their resurrections was a big surprise to me), and I love how he's incorporated Thanos into his tale.  The series built to a massive crossover with the X-Men and Avengers books, called "Judgment Day," that was a lot of fun.
9. Damn Them All (by Simon Spurrier & Charlie Adlard) — Ellie is a tough-as-nails young woman who knows a thing or two about the occult; she also sort of works for the mob.  She's started looking into the mysterious death of her mentor when she discovers that someone seems to have set all the demons of hell free on Earth.  This delightful series is clever and original, with terrific world-building and compelling characters.  I can't wait to see where it's all going.
8. Marvel's X-Men comics — The "Krakoan Age" of X-Men comics has continued this year, and I'm continuing to get a heck of a lot of enjoyment out of this Marvel's interconnected X-Men books!  This year my favorites were X-Men: Red (written by Al Ewing and primarily illustrated by Stefano Caselli), which delved deep into the society of Arakki mutants living on Mars, now ruled by Storm, and Immortal X-Men (written by Kieron Gillan and primarily illustrated by Lucas Werneck), which focused on the conflicting political machinations of the super-powered heroic and villainous mutants who sit on Krakow's ruling "Quiet Council."
7. The DC work of Tom King: Batman/Catwoman, Killing Time, Supergirl: Woman of Tomorrow, Gotham City: Year One — Wowsers did Tom King write a number of amazing DC books this year!!!  Batman/Catwoman wrapped up Mr. King's years-long Batman storyline in style, with a moving story set across decades of Batman and Catwoman's shared history.  Killing Time was a fun crime story involving a number of classic Batman villains, beautifully illustrated by David Marquez.  Supergirl: Woman of Tomorrow was a brilliant reinvention of the character, setting her in a wonderfully weird sci-fi story.  Bilquis Evely's illustrations were wonderfully unique and memorable.  And then there's Gotham City: Year One, a thrilling noir tale set in Gotham's past and focusing on private eye Slam Bradley.  This grim, downbeat story has surprised me at every turn so far.  I can't wait for the conclusion.  There's also one more amazing DC project written by Tom King that I've loved this year, which I've given its own entry on this list… so keep reading!
6. Lazarus (by Greg Rucka & Michael Lark) — In the future of Lazarus, global society has regressed into a feudal system, with several warring families controlling the planet.  The young woman named Forever is the "Lazarus" of the Carlye family, her family's ultimate warrior/protector.  I adore this series, and if they'd published more than one issue in 2022 it would be higher on my list.  This is an astonishing rich piece of speculative fiction, with a thoroughly thought-out vision of a world gone wrong that feels perilously real and possible.  I love all of the characters in this story and fear for them deeply.  Mr. Lark's artwork continues to astound me page after page.  He is as skilled at capturing individual characters and their subtle facial expressions as he seems to be at drawing any location, any vehicle, anything at all.  Amazing, inspiring work on every page.
5. Newburn (by Chip Zdarsky & Jacob Phillips) — Easton Newburn is an enigmatic detective who works for various crime families, solving problems for them and keeping the peace.  The idea of a detective with a strict code who nevertheless works for criminals is a delicious hook.  Each issue is a terrific page-turner of a yarn.  I'm loving this slow-burn story, in which we're gradually peeling back the layers of the series' main characters.  I can't wait for more.
4. Saga (by Brian K. Vaughan & Fiona Staples) — After a painful three-year hiatus, I was so happy to have Saga back in 2022!!  This gloriously weird and wonderful sci-fi story is one of the most original comic book stories I've ever encountered.  This universe is gloriously rich and deep.  The world-building is amazing, and the character-development is even better.  I could spend all day listing all the characters in this comic — they're all so beautifully unique and well-developed, and I love them all so much!  Fiona Staples' artwork is perfection — just dazzling in its beauty, its originality, and its incredible storytelling.  (And I don't think there's a better character-designer working in comics today than Ms. Staples.)
3. Echolands (by J. H. Williams & Haden Blackman) — This extraordinary new original series creates a compelling future/fantasy world in which characters from every type of visual story you could imagine coexist and rub shoulders.  Young thief Hope Redhood and her motley group of friends are on the run from an evil wizard and his unstoppable daughter.  The series is thrillingly original.  I love the choice of each issue being in a horizontal format (it's basically the dimensions of a normal comic book, just turned on its side).  J. H. William's artwork is beyond gorgeous; it's breathtakingly inventive.  Each new page is dazzling, and I could spend hours just luxuriating in the details he works into every panel, and every page.  It's glorious to behold.  And the story is pretty great too!  Echolands is the best new creations in years.  I can't wait for more.
2. The Human Target (by Tom King & Greg Smallwood) — Justice League B-Lister Christopher Chance, the Human Target, has been poisoned and has only days to live.  In this incredible mini-series, Chance makes his way through the DC universe (in particular, the "bwa-ha-ha" era of Justice League International) in an attempt to solve his own murder.  Tom King's brilliant mix of noir mystery and the DC superhero universe is incredible.  And Greg Smallwood's sumptuously beautiful artwork is some of the best I have ever seen in a monthly series.  The series has a compelling retro sixties feel to it, while also being incredibly modern.  Each issue is a beautiful and poignant short story, that's also a piece of a perfectly plotted twelve-issue mystery.  There's only one issue left, and I truly don't want this series to end!!
1. Hellboy (by Mike Mignola & co.) — I'm not sure if any series will ever knock Mike Mignola's continuing Hellboy saga from the top of my annual list (though the last several series I've listed are truly amazing!!!)  What began as a series of mini-series about a big red paranormal investigator who likes to punch things has expanded into a vast, decades-long saga encompassing a staggering array of wonderful characters.  Mr. Mignola now oversees multiple titles following multiple different characters and set in multiple different years, and yet they all have consistent quality and they all fit together into a larger, expanding saga.  It's quite extraordinary, and I can't think of a single other shared universe, in any media, that shares such a singular vision.  The incredible inter-connectedness between all of these stories, the way Mr. Mignola and his collaborators will often wait years before making a connection or expanding on a detail or a small piece of back-story, is astounding.  Each of these mini-series or story-lines stand alone, but together they fit into a hugely entertaining tapestry.  It is incredible.  I wasn't sure if the Hellboy series had run out of gas after Mr. Mignola ended his long-running B.P.R.D. series (and basically destroyed the entire planet and killed off all of his characters), but to my delight, in the last few years the series has continued to expand, with multiple wonderful new stories set across the decades of the Hellboy saga.  I loved them all.
Whew! Thanks for reading all of my best of 2022 lists!!  This has been fun!  I hope you've enjoyed that, and I hope that perhaps I've given you some ideas of a few new things to watch or read.
Please support my website by clicking through one of our Amazon links the next time you need to shop!  As an Amazon Associate, I earn from qualifying purchases.  That means I'll receive a small percentage from any product you purchase from Amazon within 24 hours after clicking through.  Thank you!