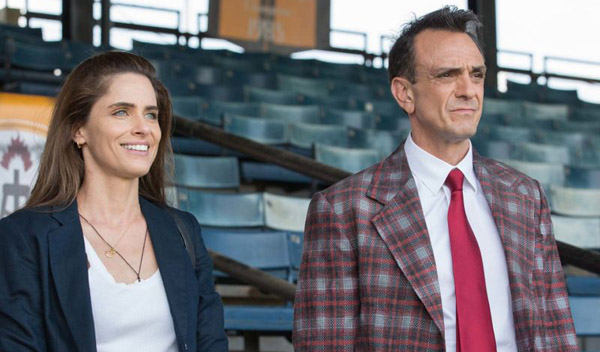 Josh's Favorite Episodes of TV of 2017 — Part Five!
And so, we arrive, at last, at My Five Favorite Episodes of TV of 2017!  (Click here for part one of my list, click here for part two, click here for part three, and click here for part four.)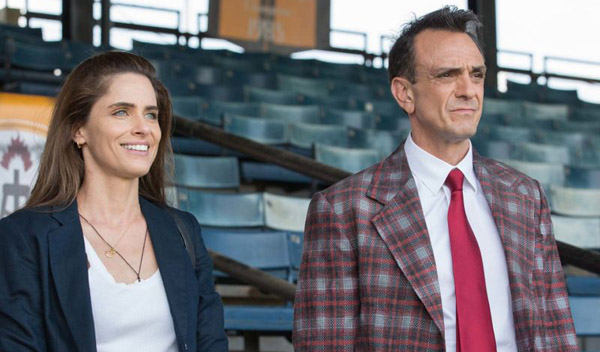 5. Brockmire: "Rally Cap" (season one, episode one, aired on 4/5/17) — We enter my TOP FIVE with what is probably my favorite new show of 2017, Brockmire.  Hank Azaria stars in the role he was born to play as Jim Brockmire, a disgraced, alcoholic former baseball announcer hired to do play-by-play for a tiny minor league baseball team in a small, middle-American town.  This is a brilliant comedic set-up, and Hank Azaria bites into the role of the brash, profane, and deeply broken Brockmire with aplomb.  Mr. Azaria can make anything sound funny with his "baseball announcer" voice, but the miracle of the show is how they are able to slowly craft Brockmire into a fully-realized character, not just a one-dimensional punchline.  Amanda Peet has perfect chemistry with Mr. Azaria as Jules, the baseball-loving team owner who hired Brockmire.  Every single one of their scenes together is dynamite.  I almost put episode six, "Road Trip," on this list, for the insane and hysterical scene in which Brockmire accidentally snorts Jules' abortion pill, but in the end I had to go with this first episode, which was a note-perfect introduction to these characters and this world.  It also contains the moment which made me laugh harder than almost anything else I saw on TV in 2017: a drunken Brockmire's post-it-note suicide letter, which he asks Jules to give to his ex-wife who humiliated him ("She'll know what it's in regards to").  It was very dark and jaw-droppingly hilarious.  I loved it.  (Click here for my full review of Brockmire season one.)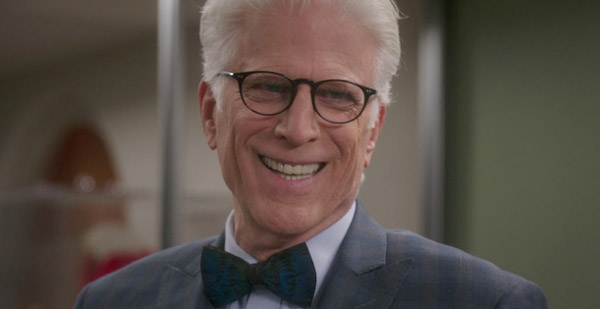 4. The Good Place: "Michael's Gambit" (season one, episode thirteen, aired on 1/19/17) — Far too many TV shows these days are built around twists or "surprises" that the audience figures out way before the show wants us to, resulting in disappointing and anticlimactic story-telling.  So bravo to Parks and Recreation's Michael Schur for crafting this incredible first season of The Good Place, which culminated in this staggeringly good twist that reshaped everything we thought we knew about the show.  The first season of The Good Place was fantastic even before the twist (which is where most shows built around twists fail), and it holds up marvelously well even when you know the twist, because of how perfectly everything fits together (which is where most OTHER shows built around twists fail!).  I loved this season from start to finish, but it was the moment of revelation in this episode that absolutely blew me away.  Michael's laugh was a perfectly crafted moment of television magic, one that hit me like a ton of bricks and that bowls me over even now whenever I think about it.  Ted Danson is a television god, and the way he delivered that moment and played that laugh was staggering in its greatness.  I am in awe.  Put that all together with a cliffhanger ending that was heart-stopping and sweet (Eleanor's "Find Chidi" note to herself) in equal measure, and we had an incredible capper to a fantastic first season.  That the second season has used this twist as a jumping-off point for even more surprising and inventive storytelling — while maintaining the show's impressive joke-per-minute ratio — is the icing on the cake.  (Click here for my full review of The Good Place season one.)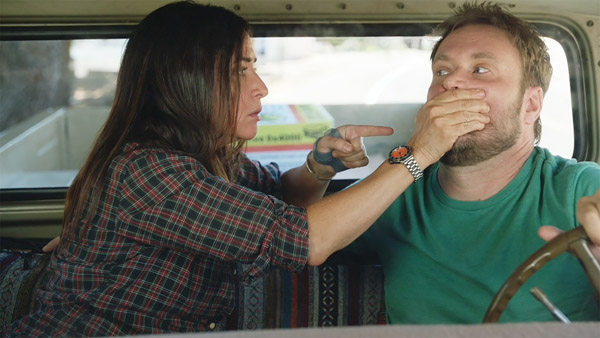 3. Better Things: "Blackout" (season two, episode seven, aired on 10/26/17) — Better Things is a treasure, a magnificently original show starring Pamela Adlon, who wrote or co-wrote seven of the ten season two episodes AND directed ALL TEN season two episodes.  Wowsers.  Ms. Adlon plays Sam Fox, a working but not super-famous actress, raising three girls on her own.  Better Things is fictional, but it draws heavily from Ms. Adlon's real-life as a working but not super-famous actress raising three girls on her own.  The show is incredibly rich, focusing deeply on exploring the lives of Pam, her three daughters, and also Pam's mother Phil who lives next-door to them. I love the show's focus on strong, interesting female characters.  I love the show's stubbornly inventive approach to narrative, rejecting all the usual ways that you would expect stories to play out on a TV show.  I love how touching the show can be, and how fiercely funny.  Almost every episode from this fantastic second season could have made it on this list, but it was the "No, Jeff!" moment, pictured in the above image, that made this the episode I had to choose.  Each of the two previous episodes that I have written about on this list were highlighted by one particular stand-out moment, but the extended laugh I got from "No, Jeff!" surpassed them.  It was one of the most memorable moments of TV of the year for me.  Amazing.  (Click here for my full review of Better Things season two.)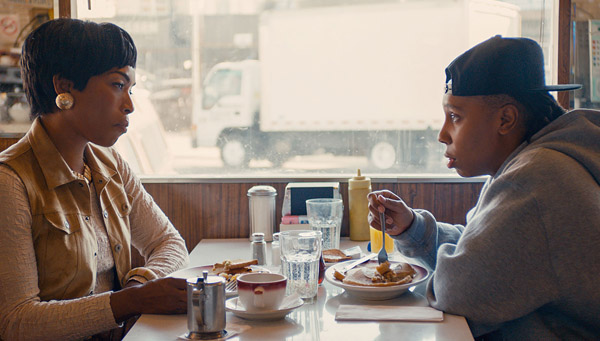 2. Master of None: "Thanksgiving" (season two, episode eight, released on 5/12/17) — Looking at all of the shows on this list, and in particular this top five, I am struck by how lucky we are to be living in this era of Peak TV.  Each of these shows is so unique, so special in its own specific way, so different from everything else that is out there.  I loved Aziz Ansari's work on Parks and Rec, and I think he's a terrific stand-up comedian, but these two seasons of Master of None that he has overseen (along with co-creator Alan Yang) are absolutely extraordinary.  Master of None, as a whole, is a wonderfully unique and original work, but what truly makes it stand out is how each and every episode is also created with that same approach.  Each episode of this show is markedly different from the others in tone, style, structure, and content.  It's a staggering accomplishment.  As with Better Things — and, frankly, all five of the shows in my top five — almost every single episode from this season of Master of None could have gotten a spot on this list.  But in a season of standout episodes, "Thanksgiving" was my favorite.  In this episode, which takes place over the course of many years, we track Dev (Aziz Ansari) and his friend Denise (Lena Withe, who co-wrote the episode with Mr. Ansari) through many of the Thanksgivings they have celebrated together since they were little kids.  The story is a tender spotlight on Denise and her journey towards allowing her family to see her for who she truly is, and their journey towards accepting her.  One of the many praise-worthy qualities of Master of None is the show's emphasis on telling stories about characters who you don't usually see on TV, but whose stories deserve to be told.  This tale of Denise, an African-American lesbian young woman, is powerful and moving, and I am delighted that the show allowed her to become the focus of this episode.  (Click here for my full review of Master of None season two.)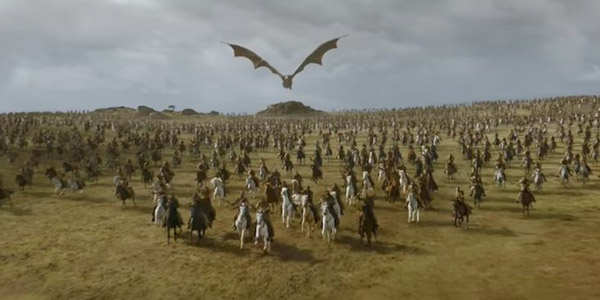 1. Game of Thrones: "The Spoils of War" (season seven, episode four, aired on 8/6/17) — And so we arrive at last at Game of Thrones, which has again claimed the top spot in my Best TV of the Year list.  This penultimate season of the show was extraordinary, filled with incredible imagery and one wonderful new character pairing after another, as the show found fascinating and joyful ways to bring together characters who had never-before met (and yet who were somehow connected) and, even better than that, gave us the reunions of characters who had been separated since season one.  This season paid off a lot of story-lines that had been building over the course of all seven seasons.  The season also had its weak points, most notably the ludicrous mission across the wall in "Beyond the Wall."  There were a LOT of incredibles stand-out moments to choose from this season, but for me, it was the Loot Train Assault here in episode four, "The Spoils of War," that was the most extraordinary thing Game of Thrones had to show us this year.  But this was an incredible episode even before we got to that!  After so many years apart, we finally got to see Sansa, Arya, and Bran Stark reunited at Winterfell!!  That was an extraordinary moment so-long delayed.  We also got that fantastic sparring duel between Arya and Brienne, two strong female characters who are so different from one another and yet who have such similarities — what a joy it was to see them brought together.  I loved the tense, perplexing scene between Bran and Littlefinger, in which Bran quoted Littlefinger's "chaos is a ladder" mantra back at him (a deep dive into the show's continuity).  And then, at last, there was that fantastic climax, in which the show finally delivered something that had long-been teased: a full-scale dragon attack.  Like Jamie and Bronn, I was NOT expecting that!  This was visual spectacle at the show's finest.  I can't believe how far this show has come since its first season in terms of its visual canvas.  At this point, the show delivers blockbuster movie-caliber visual effects every single episode, and this was possibly the high-water mark so far.  Finally seeing the Dothraki horde ride into battle was amazing (look at them standing atop their horses!!), and the dragon attack on the Lannister convoy was everything we'd always dreamed it would be.  But what made this all work so well was the clever way in which the show managed to based all of this action/carnage in its characters, and how the narrative was crafted to ensure that there were characters we loved on BOTH sides of the battle.  When Bronn turned that enormous crossbow on Dany and her dragon, my heart nearly stopped.  I dearly wanted Dany to win the day and finally vanquish her enemies, but I didn't want the great character of Bronn to get killed off!!  That I was rooting for both sides of the conflict was a sign of how well-made this episode, and this entire saga, has been.  (Click here for my full review of Game of Thrones season seven.)
I hope you enjoyed this look back at all of this great TV from 2017!!  C'mon back on Monday for the beginning of my list of my Favorite Movies of 2017!  See you there!