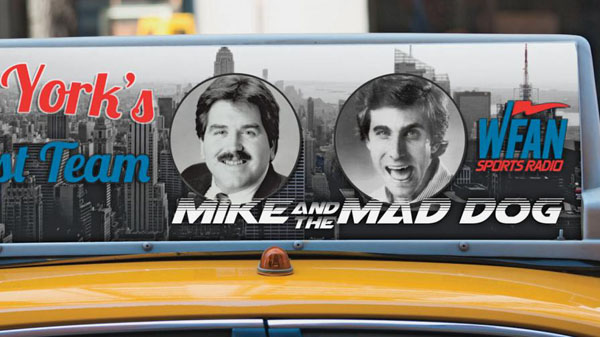 Josh's Favorite Episodes of TV of 2017 — Part One!
I am super-late putting together my Best of 2017 lists — sorry about that!  I've been so busy that I wanted a chance to see a few more 2017 shows and movies, and indeed in the past few weeks I have been able to catch up with some terrific entertainment that wound up making it onto my lists.  But as we've gotten deeper into January I've had to accept that there is way more great stuff than I'll ever have time to get to, and I didn't want to wait any longer to get these lists out into the world.
And so, buckle up!  Let's begin with my Favorite Episodes of TV of 2017!
When I began making these lists, I did this as a Top Ten.  But in today's era of Peak TV, this has ballooned to a Top Twenty-Five!!  Wowsers!  My apologies!  Is this indulgent?  Well, yes, but there is so much great TV out there that this could have easily been a Top Fifty!!  I tried to limit myself to just one episode from every TV show I loved — though there are a few shows for which I couldn't resist including two episodes.
Even with a list this long, there were other shows that I quite enjoyed this year that didn't make the cut, including: Wet Hot American Summer: Ten Years Later, Vice Principals, Orange is the New Black, and American Gods.  I have loved Seth Myers' "A Closer Look" segments this year, and I wish I'd had a spot to highlight those.  And if this had been a Top Twenty-Six, that slot would have gone to the Star Wars Rebels episode "Twin Suns" (season three, episode twenty, aired on 3/18/17), in which the show visited Tatooine and a pre-Star Wars, in-hiding Obi-Wan Kenobi for an emotional final confrontation with Darth Maul (a character who had been resurrected and surprisingly well-developed by the previous animated Clone Wars series).  It's an essential piece of the larger Star Wars story that also, stunningly, puts a fascinating new spin on all of that "Chosen One" nonsense from the Prequels.
Reading this lengthy list, you might think that I watched a lot of TV in 2017 — and you'd be right!  But in this era of Peak TV, there are still a LOT of interesting-looking shows that I did not get to this year (and that I hope to catch up with eventually!), including The Marvelous Mrs. Maisel (which I am actually watching now, and loving), The Handmaid's Tale, The Leftovers, Halt and Catch Fire, Mindhunters, Fargo season 3, Bojack Horseman, Rick and Morty, Review, Glow, Veep, and I am sure there are lots more that I am forgetting…
OK, enough dawdling, here is my list: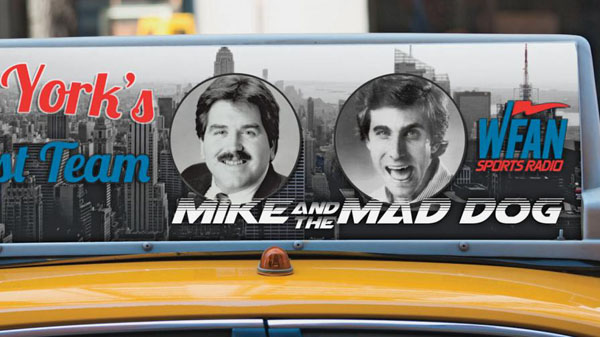 25. ESPN 30 For 30: "Mike and the Mad Dog" (volume III, episode 17, aired on 7/13/17) — I grew up listening to WFAN Sports Radio.  I loved Imus in the Morning and Steve Summers on overnights and, of course, Mike and the Mad Dog in the afternoons.  This episode of ESPN's 30 For 30 series spotlighted this radio duo.  If you didn't live in the New York/Connecticut area, you might not have any idea who Mike and the Mad Dog are, but to fans of a certain age and within a certain geographical radius, these two are an iconic, beloved duo.  This phenomenal documentary chronicles the early days of WFAN and the events that brought Mike Francesa and Chris Russo, two very different personalities, together, and follows their partnership through its almost two-decade run until their breakup in 2008.  I loved this.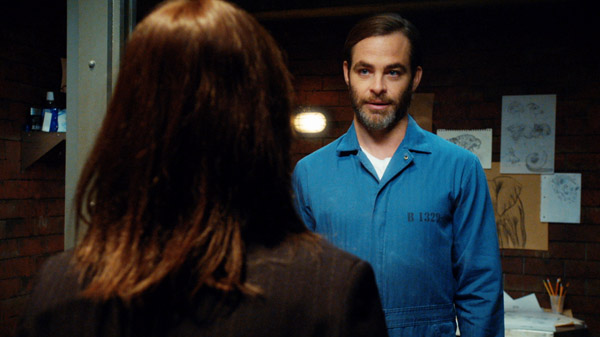 24. Angie Tribeca: "Welcome Back Blotter" (season three, episode one, aired on 4/10/17) — Angie Tribeca doesn't have a very high profile, but I love this very silly show.  This episode made it onto this list for introducing Chris Pine (Captain Kirk in J.J. Abrams' rebooted Star Trek) and his hilarious parody of Sir Anthony Hopkins' Hannibal Lecter.  Chris Pine is a big movie star, but he's killed it in some comedic TV appearances (including Wet Hot American Summer: First Day of Camp) and his Lecter impersonation here has to be seen to be believed.  It's wonderful.  And, of course, Rashida Jones and the rest of Angie's wonderful ensemble are great as always.  (Click here for my full review of Angie Tribeca season three.)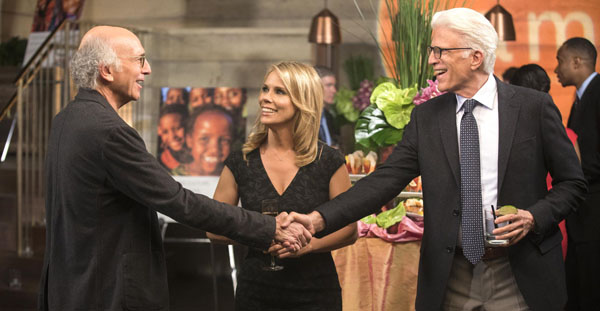 23. Curb Your Enthusiasm: "Foisted!" (season nine, episode one, aired on 10/1/17) — This was an imperfect season of Curb, but the joy I had watching "Foisted!", the first new Curb Your Enthusiasm episode in six long years, was a wonderful feeling.  This initial episode was jam-packed with wonderful comedic gems: Larry's hemming and hawing over when to hold a door open for a woman ("type plus distance…"); his bickering with Richard Lewis over whether a sympathy text is sufficient in the case of the death of one's pet; his realization that his lousy assistant was "foisted" on him and his plan to do the same to Susie; and, of course, his idea for a musical about Salman Rushdie called "Fatwa!" that winds up getting a fatwa declared against him.  All of that and the episode teases the idea of Cheryl getting together with Ted Danson (an intriguing story-line with terrific comedic potential that the season sadly didn't develop deep enough to suit me).  (Click here for my full review of Curb Your Enthusiasm season nine.)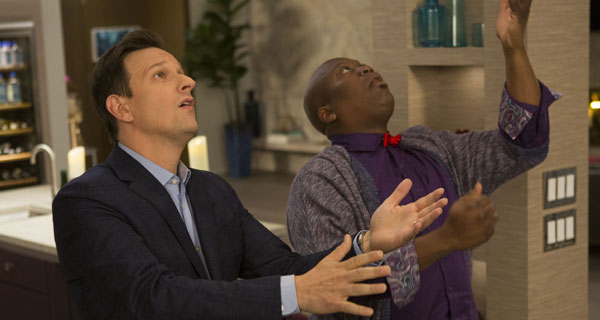 22. Unbreakable Kimmy Schmidt: "Kimmy is a Feminist!" (Season three, episode six, released on 5/19/17) — I thought that this third season of Kimmy Schmidt got off to a bit of a shaky start, but things clicked into gear with this episode, which built into a fantastic, hilarious farce in which Jacqueline attempts to keep Russ' brother Duke (Sports Night's Josh Charles in a fantastic recurring guest-star role) attracted to her without actually cheating on her husband (played by David Cross before his whole body got "smooshed" in an accident) with him, while Titus pretends to be Jacqueline's gay best friend Flouncey McGoo, who also has a thing for her.  Jane Krakowski and Titus Burgess were perfection.  This episode also mined a lot of laughs out of poking fun at hyper-sensitive "woke" millennials, as Kimmy has trouble navigating today's college campus environment.  (Kimmy's misunderstanding of what "ghosting" is was very funny!)  (Click here for my full review of Unbreakable Kimmy Schmidt season three.)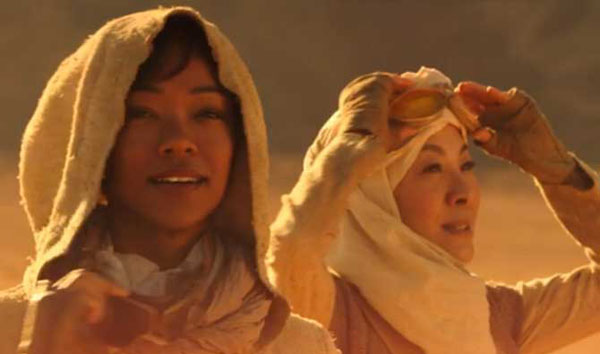 21. Star Trek: Discovery: "The Vulcan Hello" (season one, episode one, aired on 9/24/17) — This first season of Star Trek: Discovery was not at all what I'd hoped it would be.  And yet, I can't deny that this premiere episode, the first new Star Trek episode on TV since the Enterprise finale back in May, 2005 was a truly joyous moment for me.  This episode wound up being one of the strongest of Discovery's first season, delighting me by presenting the type of noble, ideals-minded Star Trek crew that I had been missing from the only new official Star Trek we'd gotten in the last decade-plus, J.J. Abrams' rebooted Trek films.  ("We come in peace… isn't that the whole idea of Starfleet?" Burnham states in her very first line of dialogue.  YES.)  I loved that this first episode focused on two interesting, strong female characters: Michelle Yeoh's Captain Georgiou, and Sonequa Martin-Green's Michael Burnham.  I loved the beautiful visual effects, giving us one of the best-looking Star Trek TV episodes that I had ever seen.  I wish the rest of the season had been more in line with this episode.  (Click here for my full review of the two premiere episodes of Star Trek: Discovery.)
C'mon back on Monday for the next installment of my list!