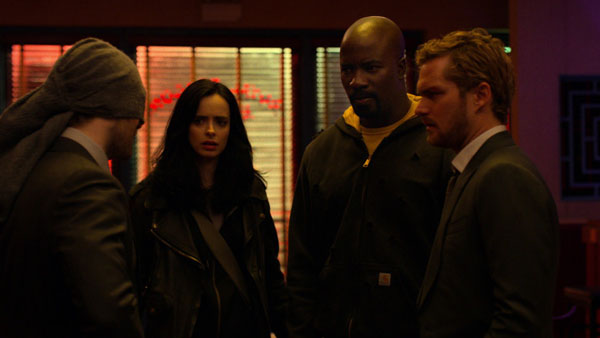 Josh's Favorite Episodes of TV of 2017 — Part Two!
Click here for part one of my list of My Favorite Episodes of TV of 2017!  Let's continue…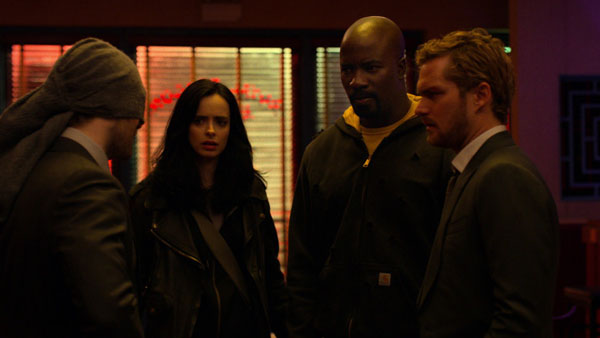 20. The Defenders: "Royal Dragon" (season one, episode four, released on 8/18/17) — Just as Marvel Studios' Phase One of super-hero films culminated in the unprecedented crossover film The Avengers, Netflix's Marvel shows (Daredevil, Jessica Jones, Luke Cage, and Iron Fist) were similarly structured to culminate in a crossover show featuring all four main characters, The Defenders.  Overall The Defenders was more mediocre than I'd hoped (mostly because of its bungling of the Hand and lack of a compelling villainous threat for our heroes to face), but the highlight was this episode, which finally brought its four main characters together.  Actually, the four had already come together for a fight sequence at the end of the previous episode, but this episode, set almost entirely inside a Chinese restaurant where our heroes stop to regroup and have a bite after the fight, allows the characters to truly interact with one another.  And it is a hoot.  I love that the show allowed for this "pause" episode, giving the characters and the audience a chance to catch their breath.  It's a great idea that the heroes would want to stop and actually have something to eat, and it allows for a ton of fun character moments as we get to see these four very different characters size each other up and begin to work together.  I wish the rest of the show had been as much fun.  But for this episode, this was exactly the show I wanted it to be.  (Click here for my full review of The Defenders.)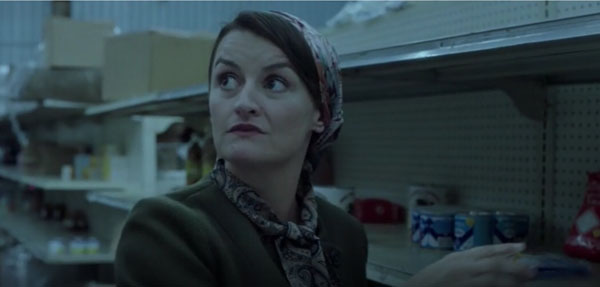 19. The Americans: "The Midges" (season five, episode three, aired on 3/21/17) — This was another great taut episode of The Americans, an under-watched show about Russian spies in the U.S. in the eighties.  Philip and Elizabeth break into a facility that they believe is developing midges that will attack Soviet wheat, and an unfortunate worker in the wrong place at the wrong time is brutally dispatched (as the show again tests the audience's bonds with its two central characters).  Meanwhile, we see that Oleg, who has grown into probably the show's most sympathetic character, is in trouble because he had done the right thing and helped Stan Beeman.  But this episode made this list for the phenomenal, blink-and-you'll-miss-her reappearance of Martha (seen shopping, alone, in a sad, barren Russian market that Oleg had just visited)!  Fans wondered whether we'd ever see Martha — formerly one of the main characters — when she boarded that plane for Russia back in season four, and so this moment was a stunning one for fans of the show.  (And a clever, audacious bit of story-telling, tossing in this quick cameo.)  I was pleased that we got a few more significant scenes with Martha later in the season, but had this been all we'd gotten, I would have been satisfied.  (Click here for my full review of The Americans, season five.)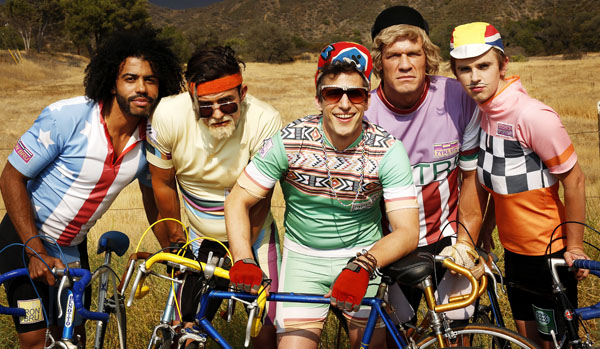 18: Tour de Pharmacy (aired on 7/8/17) — Andy Samberg's hilarious sports mockumentary tells the (entirely fake) story of the five main competitors in the 1982 Tour de France: the (white) Nigerian Marty Hass (Andy Samberg); Italian cyclist and groper-of-women JuJu Peppi (Orlando Bloom); the woman-disguised-as-a-man Adrian Baton (Freddie Highmore); Jackie Robinson's nephew "Slim" Robinson (Daveed Diggs), who wants to do for cycling what Jackie Robinson did for baseball; and the bulked-up-on-steroids Austrian Gustav Ditters (John Cena).  There are a LOT of fantastic jokes and crazy set-pieces packed into this forty-minute short film.  The main cast is spectacular, with Andy Samberg setting a perfect tone of insane silliness that also holds together into a coherent story.  And there are so many other amazing comedic performers who appear: Jeff Goldblum (perfectly cast as the older version of Andy Samberg's Marty Has), James Marsden, Maya Rudolph, Will Forte, Kevin Bacon, Phylicia Rashad (!), Adewale Akinnuoye-Agbaje (Lost's Mr. Echo), Dolph Lundgren, Julia Ormond, Danny Glover and, in the show's most amazing piece of casting, Lance Armstrong himself as a cyclist talking to the media about doping in cycling.  Wow.  That just about knocked me out of my seat.  Tour de Pharmacy is a fantastic comedic concoction.  I loved every second of it.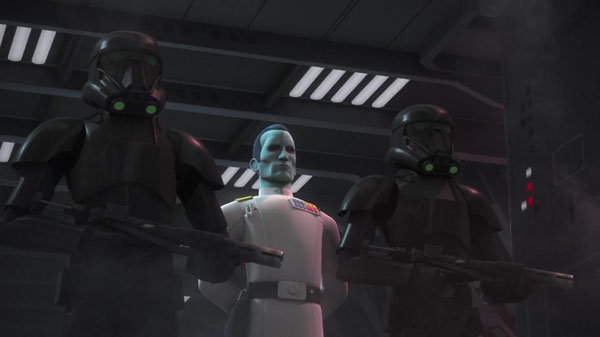 17. Star Wars Rebels: "Zero Hour" (season three, episodes 21/22, aired on 3/25/17) — It took a little while for me to warm up to the animated Star Wars Rebels, and for the show to find its footing.  But from the season one finale onwards, this terrific show has been an indispensable piece of the larger Star Wars canon.  Season three was a lot of fun from start-to-finish, bringing to the screen, for the first time, the character of Grand Admiral Thrawn (created by Timothy Zahn for his "Heir to the Empire" trilogy, which was the first canonical Star Wars story set after Return of the Jedi, released long before the modern wave of new Star Wars films or even the Prequels).  Everything comes to a head in this two-part finale, in which Thrawn unleashes a campaign of hell upon our Rebel heroes.  It was a pleasure to see Thrawn's machinations finally bear fruit, and the episodes features a glorious extended space battle that I adored.  The animation was incredible.  I particularly loved the lightsaber fight on the hull of a starship — what a cool Star Wars idea!  This was a riveting hour of television, and one that left me breathless for the show's fourth and final season.  (Click here for my full review of Star Wars Rebels season three.)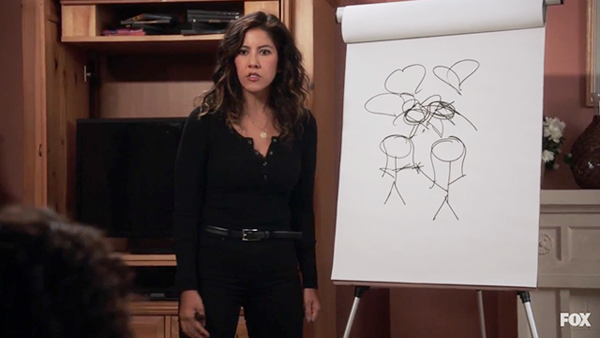 16. Brooklyn 99: "Game Night" (season five, episode ten, aired on 12/12/17) — Wow, Andy Samberg's second appearance on this list!  I have grown to love Brooklyn 99 for its lovable characters and consistent silliness.  This episode was a rare instance in which the show tried to tell a more serious story, in which Santiago comes out as bisexual to her parents (following on the heels of actress Stephanie Beatriz's similar recent announcement).  This could have gone wrong in a lot of ways, but the result was a story that was beautiful and moving — and still very funny in the classic Brooklyn 99 fashion.  Ms. Beatriz has always been one of the best secret weapons of the show, and she was note-perfect in this episode.  I was so happy by the absolutely perfect casting of Danny Trejo (Machete) as Santiago's dad!  I wouldn't have ever expected to get misty-eyed watching an episode of Brooklyn 99, but this sad and sweet episode made that happen.
C'mon back tomorrow for numbers 15 through 10!