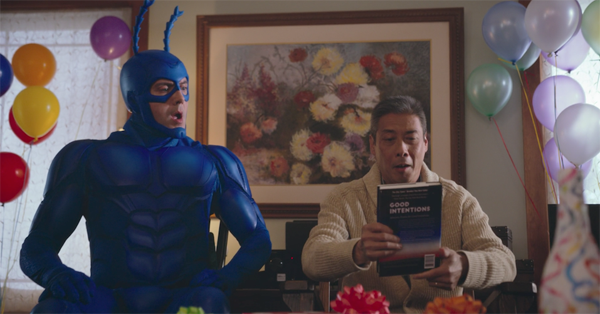 Josh's Favorite Episodes of TV — Part Three!
I have been reviewing My Favorite Episodes of TV of 2017!  Click here for part one, and here for part two.  And now, onward to part three: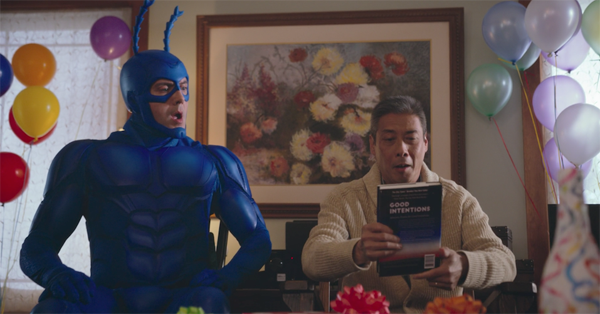 15. The Tick: "Party Crashers" (season one, episode four, released on 8/25/17) — Just as Arthur is getting drawn deeper in the world of super-heroes (embodied by the Tick and the vigilante Overkill) and super-villains (Miss Lint and the Terror), he has to attend his step-father's birthday party in the suburbs.  Of course, both the Tick and Miss Lint crash the party, and the result is the comedic highlight of this very funny first batch of episodes.  Peter Serafinowicz is amazing as the Tick, and he's particularly funny when placed into the very non-superhero-like setting of a birthday party in the suburbs.  This was also the episode in which I fell in love with the beleaguered former super-villain hench-woman Miss Lint.  (The scenes with her ex-husband Derek, with whom she is apparently still sharing an apartment, were so funny.)  Miss Lint is the best new character in this version of The Tick.  I was also so happy to see François Chau (Pierre Chang from Lost!) as Arthur's stepfather Walter.  I have loved The Tick since its humble beginnings as an independently published black-and-white comic book in the eighties, through all three (!) of its TV incarnations.  This Netflix version might be the best one yet — if your'e not watching it (and most of you aren't), you should remedy that immediately.  (Click here for my full review of The Tick: season one, part one.)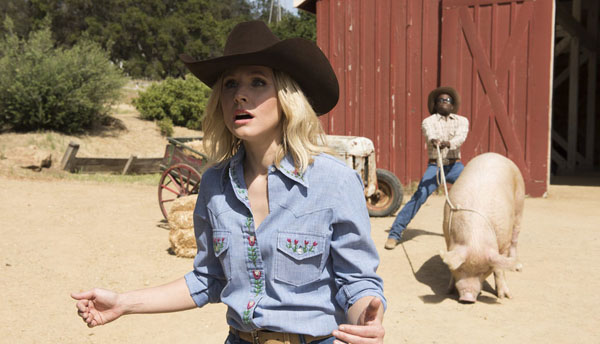 14. The Good Place: "Dance Dance Resolution" (season two, episode two, aired on 9/28/17) — The season finale of The Good Place's first season (which, ahem, I will discuss in detail later on in this list) upended the show's status quo in a magnificent and surprising way.  I thought that meant that the second season would tell a similar, season-long story in this new set-up, but this second episode of season two threw that all out the window in a spectacularly audacious manner.  I am reluctant to say too much, because if you haven't yet seen this show I don't want to spoil any of the fantastic surprises that await you.  Let me say that this wonderfully insane episode takes place over the course of hundreds of years and demonstrated that this is a show in which anything can happen, one in which the writers will fearlessly take the characters and the show in dramatically new directions when you least expect it.  Narratively bold and, as always, absolutely fall-on-the-floor funny (I laughed so hard at Michael's description that the time when even Jason was able to figure out that [REDACTED] was [REDACTED] was "a real low point"), this episode cemented me as a forever fan of this series.  (Season two is still in process, but click here for my full review of season one of The Good Place.)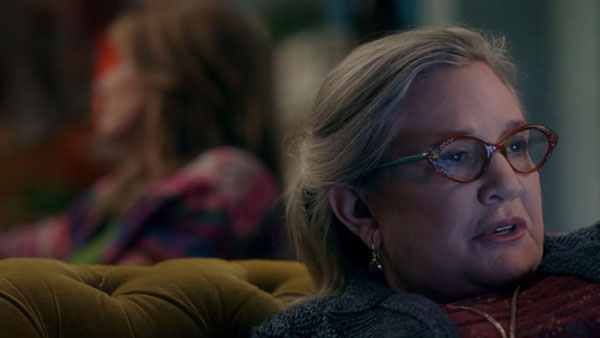 13. Catastrophe: "Episode 6" (season three, episode six, aired on 4/4/17) — All six episodes of Catastrophe season three were winners, but it was the finale, featuring Carrie Fisher's final performance, that was my favorite.  Sharon's father has died ("I wasn't done with him," Sharon says to Rob, and that simple declaration was so much more emotionally affecting than most TV shows' histrionics-filled representations of grief), and the family gathers in Ireland for the funeral, joined by Rob's cantankerous mother, Mia, played to perfection by Carrie Fisher.  Every second of interaction between Rob's mom and Sharon's mom was just perfect.  (The show mines a lot of humor and suspense out of the way we're prepared for those two women to explode against one another; that the episode then goes in a different direction was a perfect choice.)  Ms. Fisher's monologue as Mia, in which Rob admits to her that he has fallen off the wagon, and she details her husband (Rob's father)'s alcoholism, was heartbreaking.  (As was the episode's final moments, which I wouldn't dare spoil here.)  Throughout, the show remained gloriously profane and savagely funny.  I am desperate for new episodes.  (Click here for my full review of Catastrophe season three.)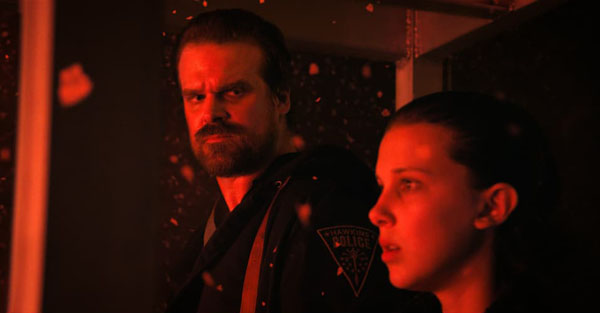 12. Stranger Things: "Chapter Nine: The Gate" (season two, episode nine, released on 10/27/17) — The first season of Stranger Things was a phenomenon; it would have been easy for season two to have succumbed to the pressures of everyone's heightened expectations, but though the sophomore season wasn't perfect, it was just as fun and entertaining as the first year.  Like that first year, things started small and then built up to a barn-burner of a finale.  Things get big (and the show's visual effects rise to the challenge), as the kids face off against a pack of demo-dogs in the tunnels, while Eleven and Hopper descend into hell and El goes all "Dark Phoenix" in order to close the humongous gate to the Upside Down.  That this season turned Steve Harrington (Joe Keery) into such a lovable, sympathetic character was one of the show's greatest achievements, and this episode gives him so many great Adventures in Babysitting moments as he tries his best to keep the younger kids away from harm.  ("I promised I'd keep you shitheads safe, and that's exactly what I'm going to do!")  Joyce's plan to burn the Mind-Flayer out of Will gave us one of the show's most harrowing scenes (and a magnificent acting showcase for Noah Schnapp, who plays Will).  The "Snow Ball" epilogue was sweet (particularly Nancy's wonderful moment with Dustin), and left me eager for season three.  (Click here for my full review of Stranger Things season two.)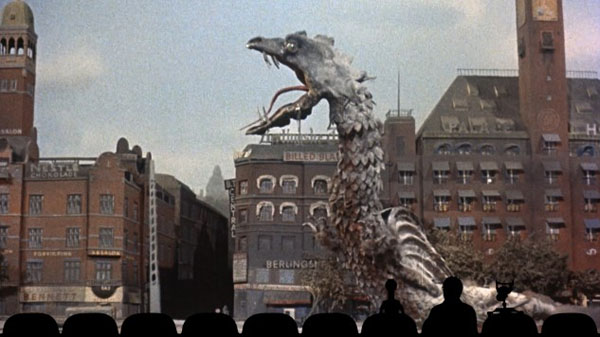 11. Mystery Science Theatre 3000: The Return: "Reptilicus" (season eleven, episode one, released on 4/14/17) — I loved Mystery Science Theatre 3000 as a kid, and when I read about creator Joel Hodgson's Kickstarter campaign to resurrect the series, I was super-excited.  I donated to the campaign, and I was beyond thrilled at how well the Kickstarter went, funding a whopping thirteen new episodes that eventually got picked up by Netflix.  I am still making my way through these new episodes (each episode is feature-length so they are time-consuming to watch, and also I had been waiting so long for new episodes that I didn't want to rush things, and have instead been doling them out to myself slowly), but while this new season is filled with highlights, it's clear to me that it was the first episode that had to make my list.  The excitement of an actual brand-new episode of Mystery Science Theatre 3000 was thrilling.  The new cast is perfect, headlined by Jonah Ray, Patton Oswalt, and Felicia Day.  Oh my goodness they are all so great.  There are some new touches (the new opening credits sequence and theme are fantastic), but thankfully Joel and his team realized that the Mystery Science Theatre 3000 formula wasn't broken.  The movie being riffed in this initial new installment, a lame-o Godzilla rip-off called Reptilicus, is a perfect MST3K subject for mockery.  This show made me laugh a LOT, and it also made me grin ear-to-ear with joy that, at long last, Mystery Science Theatre 3000 was BACK.  (Click here for my full review of this first episode of Mystery Science Theatre 3000: The Return.)
My TOP TEN will begin tomorrow, so I hope to see you all back here soon!