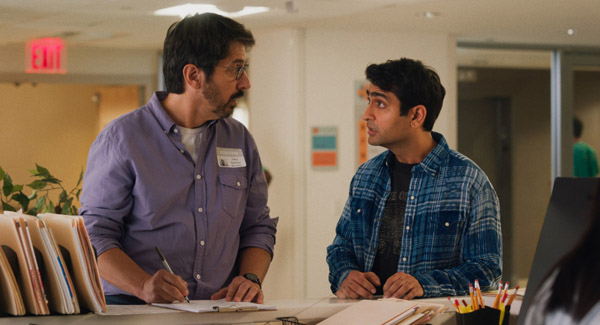 Josh's Favorite Movies of 2017 — Part Four!
And so we reach the end of my look back at my favorite movies of 2017!  Click here for part one of my list, click here for part two, and click here for part three!  And now, here are my five favorite movies of 2017: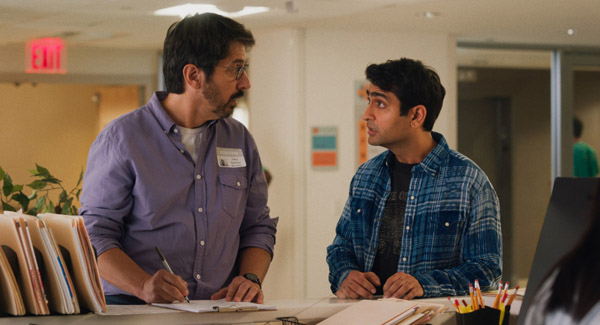 5. The Big Sick — The Big Sick, written by Kumail Nanjiani and Emily V. Gordon and directed by Michael Showalter, is based on the true story of Kumail and Emily's relationship.  The first half of the film feels like a romantic comedy, and then things take a dramatic shift when Emily falls into a coma.  This film is deeply emotional and also very, very funny.  It feels like the heir to the great comedic-dramatic films of James L. Brooks (such as Broadcast News, one of my favorites).  Mr. Nanjiani and Ms. Gordon's script is sharp and deep, able to bring the funny in a big way while also diving deeply into these characters and, particularly, Kumail's struggles to balance the expectations of his Muslim family with his personal life choices.  It's a delight to see Mr. Nanjiani step so effortlessly into this leading-man role, while Holly Hunter and Ray Romano are spectacular as Emily's parents.  The film is as much about them as it is about Kumail and Emily, which is a bold choice and a key ingredient of this film's greatness.  I love this film dearly.  (Click here for my full review.)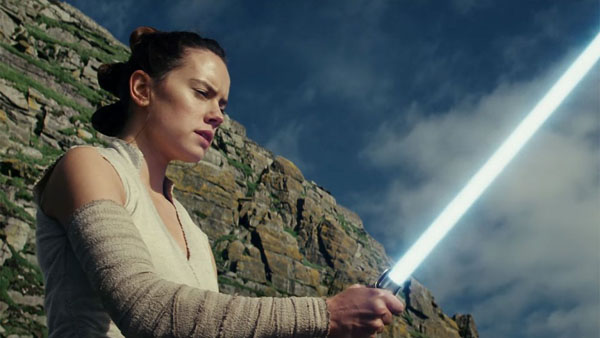 4. Star Wars: The Last Jedi — It's hard to imagine a Star Wars film being underrated, and yet, I have found the on-line anger directed towards Star Wars: The Last Jedi to be quite perplexing.  The film is not perfect.  The mid-movie digression to Canto Bight doesn't work and feels like a colossal waste of time, and the slow starship chase that forms the spine of the film's narrative is ridiculous (why the First Order ships couldn't use light speed to zip in front of the fleeing rebel spaceship is a mystery to me), which weakens the entire film.  And yet, there is so much to love in this film.  First of all, I love the film for constantly defying expectations.  Every time I thought I knew where the film was going, it surprised me.  Sometimes those choices worked and sometimes they didn't, but while many seem to be frustrated that this is not the Star Wars film they'd expected it to be, I love The Last Jedi for that.  (If you want to watch The Empire Strikes Back, they already made that movie!  So go and watch it!)  I love that The Last Jedi attempts to expand our understanding of the Force.  I love Mark Hamill's work as an old, broken Luke Skywalker.  I love Carrie Fisher's final appearance as Leia (and, haters be damned, I think her use of the Force to save herself was one of the best scenes in the film).  I love every second of Adam Driver and Daisy Ridley's scenes together.  I love that throne room fight.  I love the entire action finish on Crait, particularly the Luke-Kylo Ren fight.  And while it shocked and somewhat mystified me, that final shot in the film of Luke Skywalker, Jedi Knight, was just about perfection.  (Click here for my full review.)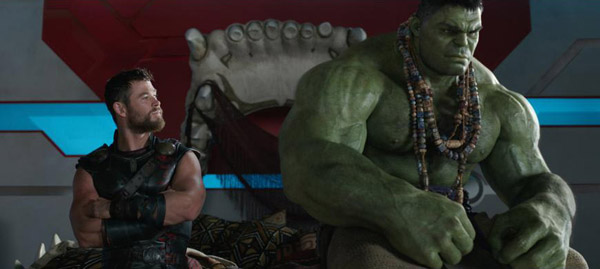 3. Thor: Ragnarok — I cannot get over what an achievement it is that this third Thor movie, and the SEVENTEENTH film in the inter-connected Marvel Cinematic Universe, is as full of life and joy and creativity as was Thor: Ragnarok.  Director Taika Waititi gave the series a huge shot in the arm, injecting his unique brand of humor and whimsy and giving Chris Hemsworth the opportunity to bring the funny in a big way, while still crafting a film with dramatic weight and rich character development.  The film is non-stop hilarious, and it's also a deep dive into cosmic aspects of the Marvel comic-book universe that I never, ever, ever thought I'd see on the big screen.  (The Grandmaster, for goodness sake!!)  I love the film's "buddy-movie" focus on Chris Hemsworth's Thor and Mark Ruffalo's Hulk/Bruce Banner.  I love the film's fantastic ensemble (Jeff Goldblum, Cate Blanchett, Tom Hiddleston, Karl Urban, Tessa Thompson, Idris Elba, and more).  The film's visual effects are extraordinary (the amount of screen-time that the Hulk has is incredible) and I love the film's brightly-colored visual palette.  The Marvel Cinematic Universe has grown into a vast, rich continuing story that is far beyond my wildest hopes and dreams for this series when it began with 2008's Iron Man.  The many joys of Thor: Ragnarok demonstrate the power of this type of long-form story-telling.  I can't believe how lucky we are that this film, and this continuing series, exists.  (Click here for my full review.)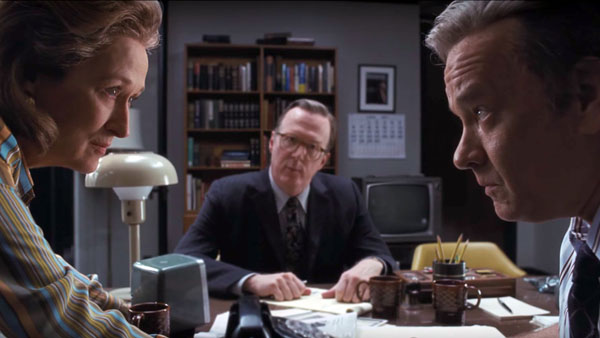 2. The Post — The Post would be a magnificent film had it been released at any previous point in Steven Spielberg's career.  But coming now, at this point in time, it is not just a great film, it is an important one.  The film, telling the story of the Washington Post's refusal to bow to the demands of the Nixon administration and halt their publication of the Pentagon Papers, is set almost forty years ago, and yet it feels like it could be taking place today.  The Post depicts a Presidential administration that chooses to deflect criticism by attacking the media, by whipping up public sentiment against the press and taking actions to curtail the very existence of an independent press.  It is striking to see the many way in which the story of the Pentagon Papers and the Nixon White House's battles against the Washington Post echo the news we are reading about in the newspaper right now.  These philosophical battles for the soul of our nation that are depicted in The Post are taking place, again, right now, whether most Americans realize it or not, and the results will determine the future of our democracy.  Once again Steven Spielberg has crafted a masterpiece, and both Tom Hanks and Mary Streep deliver riveting performances as Ben Bradlee and Katharine Graham.  This film came very, very close to being my favorite film of 2017.  (Click here for my full review.)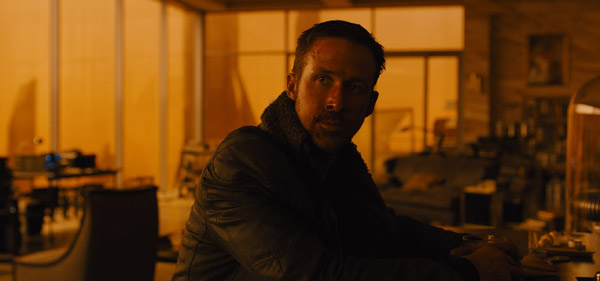 1. Blade Runner: 2049 — I cannot believe that this film actually exists.  (I'd read for years that a sequel to Ridley Scott's seminal 1982 film Blade Runner was in the works, but I never believed it would actually happen.)  I cannot believe that I liked the film as much as I did.  I cannot believe that this is my favorite film of 2017!!  And yet, as I considered all of the films that I saw and loved in 2017, I kept coming back to Blade Runner: 2049.  This sequel is as mysterious and thoughtful and enigmatic as the original, asking deep questions about the nature of humanity and about our relationship with technology.  The film is visually stunning and richly emotional.  I saw it in glorious IMAX and it absolutely blew me away.  Roger Deakins' cinematography is extraordinary.  Blade Runner: 2049 is a parade of breathtaking imagery, from the rain-slick, grimy urban nightmare of downtown Los Angeles; to the water imagery inside the stark, pyramid headquarters of the Wallace Corporation (formerly Tyrell); to the bright, desolate sand-filled wasteland that was once Las Vegas.  The visual effects are extraordinary, gorgeously recreating and building upon iconic imagery from the original film, while also creating many memorable new images.  The new cast is fantastic: Ryan Gosling does terrific work as the android Blade Runner K; Ana de Armas' Joi is one of the most intriguing and unique characters I saw in any 2017 film; Robin Wright's tough LAPD Lieutenant could be the lead in her own film; and there are so many more.  And then there is Harrison Ford, reprising his role as Rick Deckard.  I'm sort of stunned at how good Mr. Ford is.  There's one scene in particular which features an extreme close-up of Mr. Ford's face, in which we see him react to some pretty heavy shit; it's probably the best acting Mr. Ford has done on-screen in two decades.  Arrival made me a fan of director Denis Villeneuve, but Blade Runner: 2049 made me a devotee for life.  This is a magnificent film, and it's my favorite of 2017.  (Click here for my full review.)
I hope you enjoyed this look back at the many great movies of 2017!