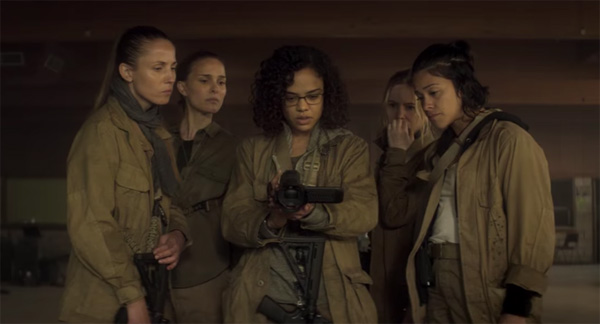 Josh's Favorite Movies of 2018 — Part One!
I hope you enjoyed my list of my Favorite Episodes of TV of 2018!  (Click here for part one, click here for part two, and click here for part three.)
And now, let's dive into my list of my Twenty Favorite Movies of 2018!
I did a lot better this year about seeing all the movies I'd wanted to see than I did in getting to all of the TV shows I wanted to watch.  Still, there were a lot of movies that looked great that I just didn't get to, including: Operation Finale; The Other Side of the Wind; They'll Love Me When I'm Dead; Love, Simon; Don't Worry, He Won't Get Far on Foot; The Sisters Brothers, The Front Runner, If Beale Street Could Talk, Ralph Breaks the Internet, and more.  So if you want to know why those films don't appear on my list, now you do.
I also want to begin by mentioning Three Billboards Outside Ebbing, Missouri, which would surely have made my Best of 2017 list had I seen it it time, but I didn't get to see it until well into 2018.  Click here for my full review.
OK, here we go: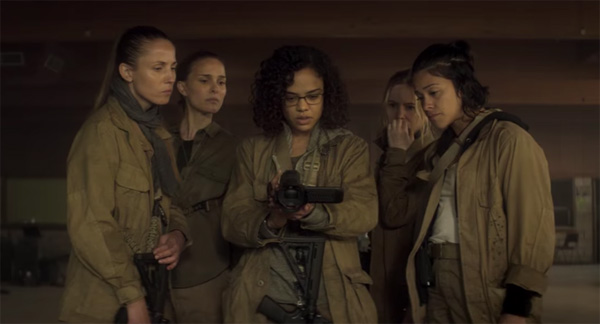 Honorable Mention: Annihilation — Alex Garland's follow-up to the brilliant Ex Machina is flawed, but I admire its huge ambition.  I love that this film is a cerebral sci-fi story, one that is filled with tension without ever devolving into a shoot-em-up.  This is speculative fiction at its best, one that sets up an intriguing sci-fi mystery and then allows its characters to explore and investigate that premise.  I love the cast of female leads, each of whom is terrific: Natalie Portman, Tessa Thompson, Jennifer Jason Leigh, Gina Rodriguez, and Tuva Novotny.  (Oscar Isaac and Benedict Wong are also pretty great in the film's two main supporting male roles.)  This is a film that is deeper than it might at first seem, as its story can be seen as an allegory for depression, self-destruction, and mental illness.  This film was mostly ignored this year (though it did make Barack Obama's list of his favorite 2018 films!!), but it's definitely worth a look.  (Click here for my full review.)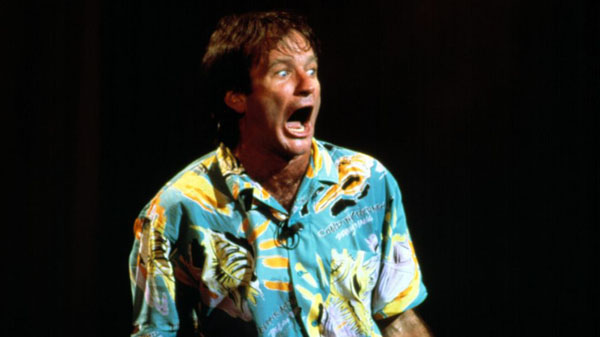 20. Robin Williams: Come Inside My Mind — Marina Zenovich's documentary, Robin Williams: Come Inside My Mind, is a fascinating and funny look back at the life and career of Robin Williams.  The film is somber at times, as we explore some of the troubles Mr. Williams faced over the course of his life.  His too-early death hangs over the whole film like a shadow.  But the film is also very very funny, giving lots of time for archival clips of Mr. Williams' comedy — both from his stand-up work and also his performances on TV and in film — from throughout his life.  Many wonderful and insightful interviews from comedy luminaries are woven throughout the film, but I loved how much of the voice-over narration of the film was from Mr. Williams himself, with audio drawn from interviews and other sources from throughout his life.  It feels almost as if Mr. Williams is telling his own story.  This is a wonderful approach that keeps the focus squarely on Robin himself, which is just the way it should be.  (Click here for my full review.)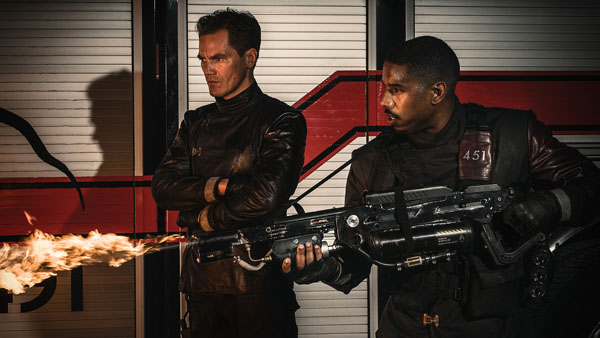 19. Fahrenheit 451 — Ray Bradbury's Fahrenheit 451 is one of my very favorite books.  The novel, written in 1953, is every bit as relevant today as it was all those decades ago when it was first published, a fact made clear by this new HBO adaptation.  The film occasionally stretches at the boundaries of its relatively low budget, but it all works because of the powerhouse performances of its main leads.  Michael B. Jordan gives a gripping performance as the "everyman" main character, Fireman Guy Montag.  We follow this story through Guy's eyes, and Mr. Jordan allows us to be right there with Guy as the illusions he has so carefully constructed for himself slowly collapse, one by one.  Equally great is Michael Shannon as Captain Beatty, the head Nazi in this world.  Mr. Shannon's intensity is perfectly served by this role, showing us Captain Beatty's terrifying power while also showing us Beatty's humanity underneath.  (Which only makes Beatty even more monstrous.)  Sofia Boutella is also great as the young woman around whom the story pivots.  (I enjoy that the film gave more life and agency to this character from the novel.)  Fahrenheit 451 remains an essential story for our time.  (Click here for my full review.)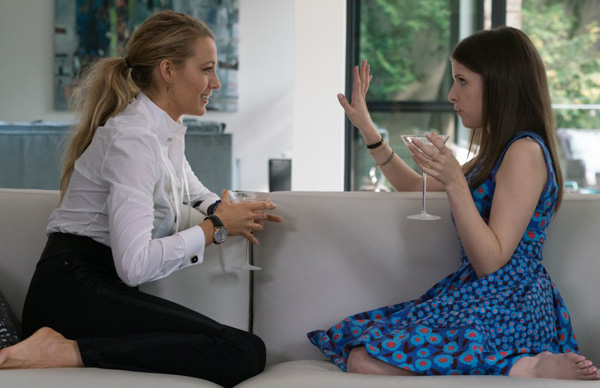 18.  A Simple Favor — Paul Feig is a master of comedy (Bridesmaids, The Heat, Spy), but A Simple Favor represents his first film foray in quite some time into drama.  Still, those of us who knew and loved Freaks and Geeks have always known that Mr. Feig could handle drama just as skillfully as he could handle comedy.  For the first twenty-or-so minutes of A Simple Favor, I wasn't sure if this was going to be a film I would like at all.  Anna Kendrick's goody-two-shoes single mom Stephanie was so over-the-top annoying I wasn't sure I could take it.  But I should never have doubted Ms. Kendrick's skill as an actress or Mr. Feig's careful hand on the wheel.  When Stephanie meets and befriends the mysterious, dynamic, sexy Emily (Blake Lively), the film takes the first of many right-hand-turns.  This is a film that constantly kept me guessing.  I was never sure what was going to happen next or what type of movie this was going to be.  It's so rare that I can be surprised by a movie these days!  Both Ms. Kendrick and Ms. Lively are fantastic, and the supporting cast is very strong (including Linda Cardellini, Andrew Rannells, Jean Smart, Rupert Friend, Henry Golding, and more).  And the ending: perfection!  (My full review will be coming soon.)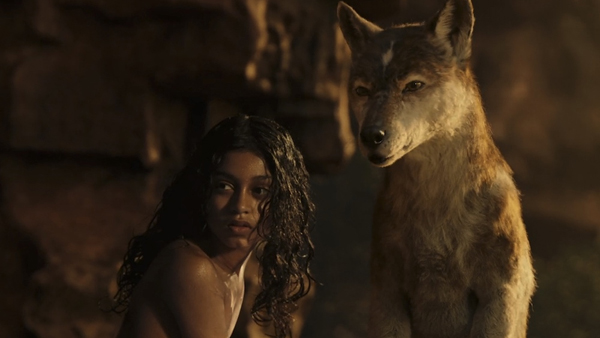 17.  Mowgli — Andy Serkis is a master of performance capture, and Mowgli, which Mr. Serkis directed and stars in, is a phenomenal showcase for his skill and vast imagination.  Working as director and guiding his talented cast, Mr. Serkis has created an extremely unique-looking film, in which every frame of the film is filled with remarkable CGI characters who are nevertheless fully inhabited by and guided by the flesh-and-blood performers.  The cast is extraordinary: Christian Bale, Benedict Cumberbatch, Peter Mullan, Naomie Harris, Tom Hollander, Matthew Rhys, and more.  The film is absolutely gorgeous, with a phenomenal blending of real-life locations with very realistic-looking CGI.  This is a darker-than-might-be-expected interpretation of Rudyard Kipling's Mowgli stories.  The animals all have a beaten-up, lived-in look, and there is a goodly amount of dirt and blood in the film.  But I think the best fantasy films have a certain darkness and scariness to them.  I'm delighted that Netflix gave Mowgli a release.  (Click here for my full review.)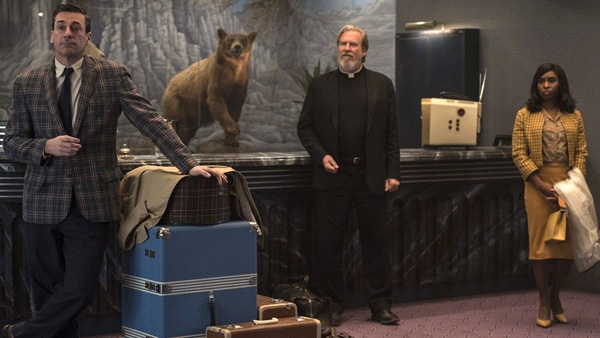 16. Bad Times at the El Royale — Does Bad Times at the El Royale feel like something of a Tarantino knock-off?  It does indeed.  But it's so good and so much fun that I find it hard to complain too much about that.  Written and directed by Drew Goddard, the film is a delirious puzzle-box, with a fractured timeline and an array of characters who each have secrets to hide.  Jeff Bridges gives an all-time great performance, and the rest of the cast is spectacular as well: Jon Hamm, Cynthia Erivo, Chris Hemsworth, Dakota Johnson, and more.  I love the clever choices Mr. Goddard makes in terms of what information to give us and when.  (In particular, I love the way the first half of the film follows the events unfolding in one room at the titular El Royale hotel at a time.)  The film looks great, the dialogue is sharp, and Mr. Goddard is able to build and hold tension with masterful skill.  (My full review will be coming soon.)
C'mon back on Monday for the continuation of my list…!