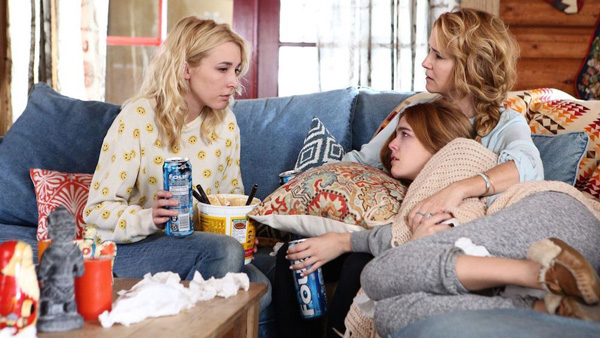 Josh's Favorite Movies of 2018 — Part Two!
On Friday I began my list of my Favorite Movies of 2018!  Onwards: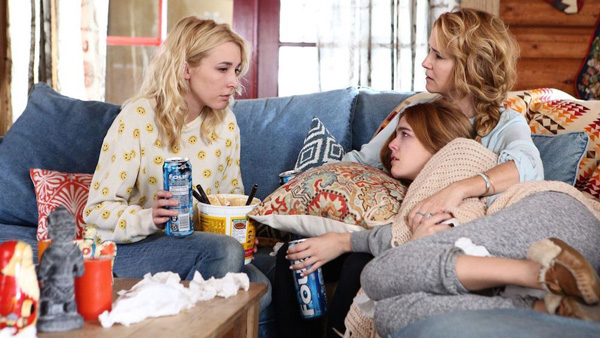 15. The Year of Spectacular Men — Madelyn Deutch wrote and stars in The Year of Spectacular Men as an upbeat but somewhat lost young woman, Izzy.  The film co-stars Madelyn's sister, Zoey Deutch, as Izzy's far more successful and together younger sister, Sabrina, and it was directed by their mother, Lea Thompson (who also plays Izzy & Sabrina's mother in a supporting role in the film).  I love that this film is a family affair!  But the joy of discovering that American treasure Lea Thompson is also a great director is only one reason this film is on my list.  I found the movie to be pleasingly endearing; a warm, good-hearted look at a young woman's fumbling journey towards taking some control of her life as she steps into adulthood.  (Really, I should say the film is about three women's journeys, because while Izzy is clearly the focus, the film takes the time to flesh out Sabrina and their mom Deb's stories as well.)  I love how fully-realized all of the women in this film are.  And I also enjoyed that, while none of the many men who Izzy bounces between during the year chronicled by the film are worthy of her (the film's title is, ahem, sarcastic), I appreciated that they, too, were fleshed out and presented as (mostly) three-dimensional human beings with strengths and weaknesses.  The film is very well-written (there are some very funny sequences!) and I was impressed by the strong acting of both Deutch sisters.  Emotionally honest but never too downbeat, I found the film to be an enjoyable, funny delight.  (My full review is coming soon.)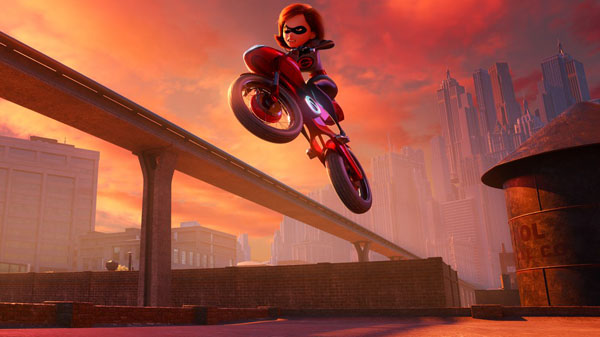 14. Incredibles 2 — Fourteen years after the spectacular first film, we finally got a sequel to The Incredibles!  And while it doesn't, perhaps, match the fierce originality of that first film, I was pleased by how effortlessly Incredibles 2 was able to draw us right back into this world and these characters.  The film is fast-paced and very funny, with lots of fantastic and entertaining super-heroic derring-do, along with a strong focus on these rich, complex characters.  It's a delight to get to spend more time with everyone in the Incredibles world, and I was pleased that the film was able to find interesting ways to move each character's story forward.  The animation is gorgeous, the cast is terrific, and Michael Giacchino's score is top-notch.  Bring on Incredibles 3…!  (Click here for my full review.)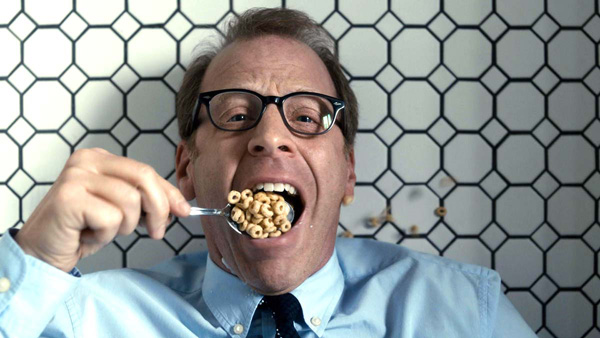 13. Song of Back and Neck — Paul Lieberstein (Toby from The Office) wrote, directed and stars in this wonderfully bizarre and idiosyncratic movie about a sweet, mousy man named Fred Trolleycar who suffers from debilitating chronic back pain.  His journey to deal with that pain leads Fred to some delightfully unexpected places.  The film is loosely based by Mr. Lieberstein's own personal experiences with back pain, and how he addressed what he discovered were the psychological underpinnings of his affliction.  (I'm not sure I quite buy any of that, but Mr. Lieberstein makes a strong case for the truth behind his own personal experiences in this wonderful, lengthy in-depth interview on Kevin Pollak's Chat Show, which is where I first discovered that this movie existed.)  I was taken by this film right from the wonderfully funny opening sequence, in which we see the crazy lengths that Fred has to go through in order to get dressed and out the door in the morning.  The story that follows is funny and sad and sweet and moving.  It's weird, but it all works.  Mr. Lieberstein is terrific in the leading role, and the supporting cast (including Rosemary DeWitt and also Paul Feig and Ike Barinholtz in small but great roles) is dynamite.  Mr. Lieberstein has produced a very personal and unique piece of work.  I'm so glad to have seen it.  (My full review is coming soon.)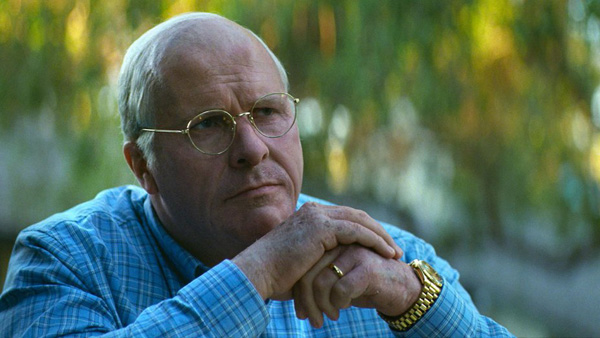 12. Vice — Adam McKay's film is a tremendous broadside aimed at the modern Republican party and, in specific, at former Vice President Dick Cheney.  Mr. McKay, who wrote and directed the film, is clearly angry as heck and has a very specific point of view, and he has crafted this film like a bomb to deliver that message in a take-no-prisoners way, a task at which he has succeeded admirably.  Mr. McKay uses every device in his considerable arsenal to get your attention and to raise your blood pressure (while also making you laugh — this film is very funny).  This film is designed to make you mad, to wake you up and see what Mr. McKay argues are the subtle and insidious ways in which our politics have been corrupted.  While I don't agree with all of Mr. McKay's positions, I found Vice to be a vitally important piece of work.  (If you have vastly different political opinions than Mr. McKay, I suspect you also found this film to be infuriating, albeit for very different reasons.)  Christian Bale's transformation into Dick Cheney (admirably assisted by a tremendous assist from the film's hair and makeup team) is extraordinary, leading me to believe that there is nothing that chameleon-like actor cannot do.  Sam Rockwell's George W. Bush is hysterical and must be seen to be believed.  Amy Adams, Steve Carell, Jesse Plemons, Alison Pill, Tyler Perry, Eddie Marsan, Shea Whigham, Alfred Molina, Naomi Watts, and many more wonderful performers fill out this extraordinary cast.  (My full review is coming soon.)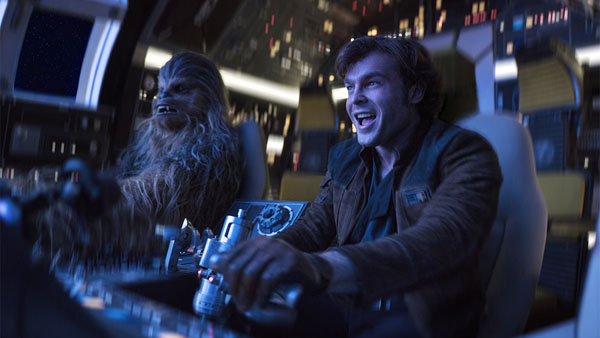 11. Solo — I don't believe this movie needs to exist.  I have never needed nor wanted a "young Han Solo" story.  I was never desperate to know the origin of Han's blaster, or those dice on the Millennium Falcon, or how Han got the last name "Solo," or exactly how and why Han first met Chewie, or how Han acquired the Falcon from Lando, etc.  I wish the Star Wars films would go forward and explore new territory, rather than continuing to play around in prequel-land.  That all being said, I thought Solo was a great Star Wars film, one that deserved a lot more love than it received upon its sort-of whimper (at least, by Star Wars standards) of a theatrical release.  Donald Glover's amazing performance as Lando alone makes this movie worth watching.  The film gives us some terrific action and takes us into a number of fun, interesting new locations and allows us to meet a number of wonderful and interesting new characters (Woody Harrelson as Tobias Beckett; Emilia Clarke as Qi'ra; Phoebe Waller-Bridge as the droid L3-37; Paul Bettany as Dryden Vos; Thandie Newton as Val; Jon Favreau as Rio, Linda Hunt as Lady Proxima, and many more).  The film looks spectacular (that magnetic train heist sequence is a triumph of visual effects), and I enjoyed the many fun nods to Star Wars continuity.  (The cameo appearance by you-know-who late in the film was a highlight, but I also loved little details like hearing of the death of Aurra Singh and seeing the Pykes in live action.)  It's not my ideal vision of a new Star Wars film, but I'll take Solo over the Prequels any day of the week!  I suspect I'll be re-watching this film a lot in the years to come.  (Click here for my full review.)
C'mon back on Wednesday as we enter my top ten!