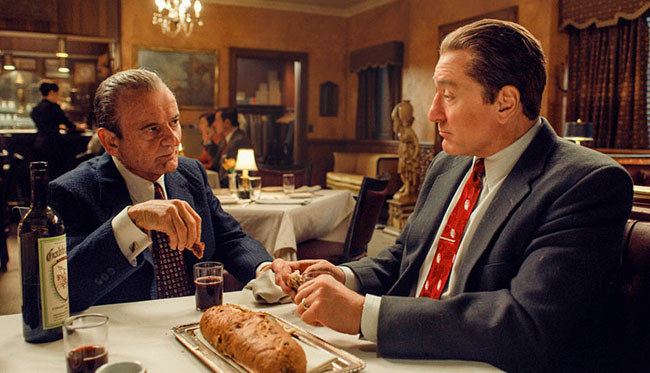 Josh's Favorite Movies of 2019 — Part Four!
We have arrived at the conclusion of my list of my favorite movies of 2019!  Please click here to read numbers twenty through sixteen, click here for numbers fifteen through eleven, and click here for numbers ten through six.  And now, without further delay, here are my FIVE FAVORITE movies of 2019: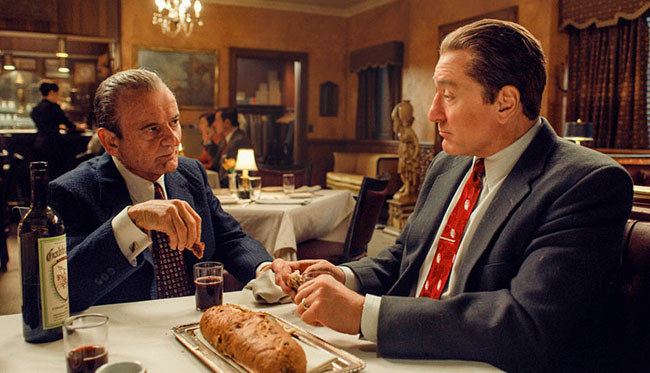 5. The Irishman — The Irishman tells the story of Frank "The Irishman" Sheeran, who was a hitman for the Bufalino crime family.  Frank claims to have been the man who killed Jimmy Hoffa.  The film chronicles decades of Frank's life, from his first involvement with the Bufalino family, through his close friendship with Hoffa, and eventually through Hoffa's death and the long, lonely years of the rest of Frank's life.  It is an absolute delight to see Robert De Niro and Al Pacino together on-screen in so many deliciously meaty scenes in this film.  Both men turn in strong performances, and their on-screen chemistry together is everything you'd want it to be.  But Joe Pesci, who hasn't been seen on-screen in years, absolutely steals the movie right out from under them in his role as Russell Bufalino, a powerful mob figure who becomes Frank's mentor.  Mr. Pesci is so great!!  I loved the film's interwoven structure of flashbacks within flashbacks, as we follow Frank and the other characters across the decades.  I was very impressed with the CGI and makeup effects used to age and de-age Mr. De Niro, Mr. Pesci, and others.  For the most part, that work was seamless.  Even in those few moments in which the visual effects trickery doesn't quite work, I admired the film's ambition in telling this broad story.  I know some have complained that the film is too long, and that the last half-hour drags, but I loved that last half-hour!  Those final sequences were critical to the film — we need to see the fall-out from Frank's violent life.  I didn't find the ending boring at all; I thought it was the most moving part of the film.  What a delight that the master Martin Scorsese is still creating films as epic and engaging as this one!  (Click here for my full review.)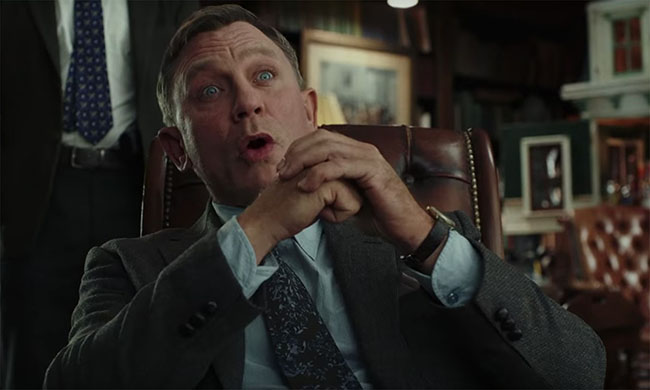 4. Knives Out — When wealthy author Harlan Thrombey (Christopher Plumer) is found dead in his home, many of his family members and others in his orbit all seem to have a possible motive. Enter: detective Benoit Blanc (Daniel Craig), who has been hired to get to the bottom of the whole bloody affair.  I have so much love in my heart for this film!!  Knives Out, written and directed by Rian Johnson, is a ferociously entertaining film, a delightfully funny and twisty whodunnit.  Daniel Craig is a delight as the unusual, brilliant, and slightly loopy detective Blanc.  The expansive supporting cast is extraordinary: the afore-mentioned Christopher Plummer, Ana de Armas (Blade Runner 2049), Jamie Lee Curtis, Don Johnson (Watchmen), Chris Evans (Captain America), Michael Shannon (The Shape of Water), Toni Collette (The Way Way Back), Lakeith Stanfield (Atlanta and Uncut Gems, which made an appearance earlier on this list), Katherine Langford, Jaeden Martell (It), Noah Segan, Riki Lindhome, Edi Patterson (Vice Principals), Frank Oz, and M. Emmett Walsh (Blood Simple) are all amazing, each creating wonderfully compelling and memorable characters who spend the film bouncing off of one another.  The twisty-turny story kept me continually guessing, and I was pleased by how well all the pieces came together for a very satisfying conclusion.  For a film whose story is centered around a murder, I love that Knives Out's central message is about the importance of being NICE.  That's the film's biggest and most pleasing surprise!  (Click here for my full review.)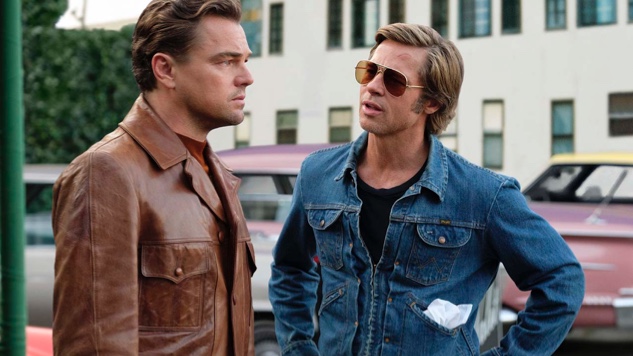 3. Once Upon a Time… in Hollywood — A new Quentin Tarantino film is always a cause for jubilation, and Once Upon a Time… in Hollywood does not disappoint!  The film is a glorious deep dive into a very specific era of Hollywood history, which Mr. Tarantino and his team have recreated with love and affection.  The pairing of super-stars Leonardo DiCaprio and Brad Pitt is as electric as I might have hoped.  Both actors are tremendously skilled at handling the film's dramatic turns and also the comedic beats.  This is a very funny film, despite the sense of dread that hangs over the whole thing because of the presence of Sharon Tate, whose true-life story we know ends in tragedy.  Margot Robbie is spectacular and luminous as Sharon Tate.  (My only complaint about this film is that I wish Ms. Robbie's Tate had a larger part in this otherwise very male-centric film.)  Many of Mr. Tarantino's films are jammed full of plot and incident, but I love that this film isn't.  It's very leisurely paced, allowing us to luxuriate in this world and these characters.  (For an almost three-hour-long film, there's not much actual plot!)  I love that about this film.  I could have sat in a theater listening to Mr. Tarantino's brilliant dialogue, and living with these characters, for several hours more.  (Click here for my full review.)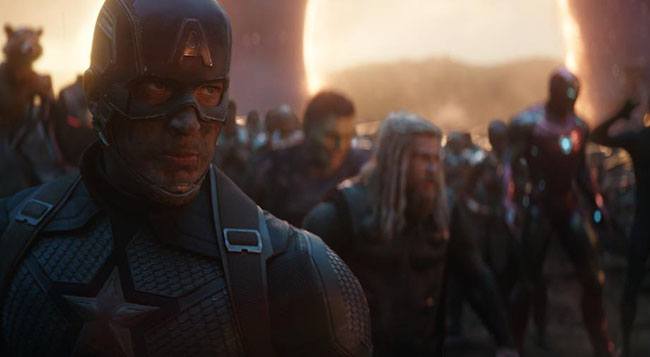 2. Avengers: Endgame — I still can't quite believe that this movie, and the entire wonderfully interconnected Marvel Cinematic Universe, actually exists.  Avengers: Endgame, the astonishing TWENTY-SECOND film in the MCU, accomplished the extraordinary task of weaving together stories and characters that trace back through the previous twenty-one films into an epic, deeply moving, completely satisfying finale.  A real ending to a long-running pop-culture franchise is a very rare thing, and it's exciting to see this accomplished so skillfully.  And yes, I know that Endgame isn't really the end of the MCU.  There's already been a twenty-third film, Spider-Man: Far From Home, and there will be many, many more Marvel movies in our future.  But Endgame is a definitive ending to this first decade of the MCU, and it's a glorious pay-off to this unprecedented experiment of an interconnected movie universe.  (It's so easy to take this for granted now, because Marvel Studios has made it look so easy.  But just look at how many other studios have tried and failed to imitate the MCU's approach, and you can see how nearly-impossible this is to actually accomplish — Warner Brothers' interconnected DC Universe flamed out; Universal's "Dark Universe" of horror characters died aborning after The Mummy; the Hasbro universe, which was intended to link G.I. Joe, Transformers, Micronauts, and more, never came to be; I could go on…!)  Endgame isn't perfect.  I think they made a big mistake in preserving the Five Years Later time-jump at the end, as that creates all sorts of logical problems for the characters and the universe that I don't think they ever intend to truly explore; and for a film with the balls to mock other time travel stories, the time travel here doesn't make a whole heck of a lot of sense.  But what works in this movie is so strong that it easily overcomes those problems.  Endgame is a love letter to the entire MCU, and the film is remarkable in the way that it establishes that EVERY previous film in the MCU is important (even weaker entries like Thor: The Dark World or Iron Man 2).  There are call-backs to moments and lines of dialogue going all the way back to the very first Iron Man from 2008, and as a hard-core fan of this series who knows these movies backwards and forwards, those moments filled me with glee.  Endgame is an enormous spectacle with extraordinary visual effects, and I am agog that this type of epic comic-book mayhem was brought to life on-screen.  But Endgame's greatness is found in the way that it is laser-focused on its characters. Yes, that crazy action in the film's final 30 minutes, featuring pretty much every single surviving character of any importance from all the previous MCU films, was hugely fun and a visual effects triumph.  But the film's most memorable moments — and they are myriad — are the smaller, quieter moments between these characters.  Endgame goes to some very emotional places, and there were multiple times in the film when I was deeply moved.  The film also wisely continues one of the main keys to the MCU's success, in that, despite the very dark ground this film travels, it is so FUN and funny throughout!  Most importantly of all, the film's ending was incredibly poignant, and the final (for now, at least) fates of all the main characters felt absolutely right to me, and left me with a feeling of deep pleasure and satisfaction.  (Click here for my full review.)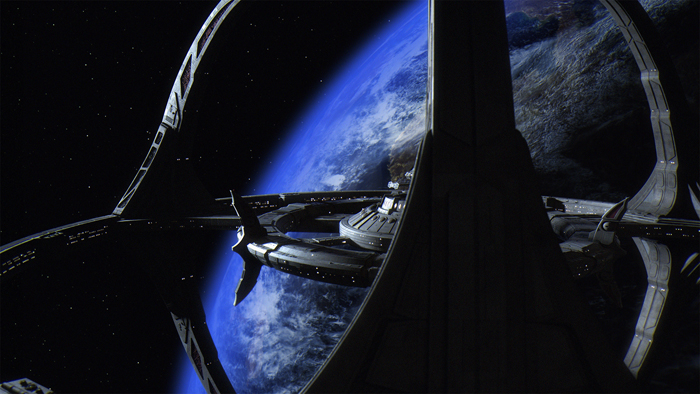 1. What We Left Behind — I'd expected that Avengers: Endgame would be the number one film on my list, but after deep consideration, I realized that no 2019 film was more special or precious to me than this beautiful, moving, funny documentary on my favorite of the Star Trek series, and one of my very favorite TV shows of all time, Star Trek: Deep Space Nine.  This crowd-funded documentary was directed by Ira Steven Behr, who was the show-runner of DS9 for most of its run, and David Zappone.  It's a beautiful, heartfelt love-letter to the show, to the men and women who worked so hard to create it, and to the fans who loved it (and love it still).  This isn't a standard, boring, talking-heads documentary; instead, it's as quirky and unique as Ira Steven Behr and the show itself.  The doc isn't linear: it jumps around in time and bounces from story to story in a pleasingly stream-of-consciousness way.  It's filled with all sorts of fun digressions, from getting to see several of the actors sing a song about the show, barbershop quartet style (that sounds like it could have easily been embarrassing, but they're really great singers!), to seeing Mr. Behr and Andrew Robinson (who played Garak) arguing about when in the doc they should show the big space battle from "The Sacrifice of Angels".  Mr. Behr is a big part of the doc, and I love how he's woven into the story of the film, and I really enjoyed all the times we'd see the process of his interviewing people in the film.  This is the stuff usually left on the cutting room floor or only seen in behind-the-scenes featurettes, but here we often got to see what was happening before or after an interview, or between the questions.  It was fun to see Mr. Behr banter and joke and occasionally bicker with the people being interviewed.  These casual moments of these talented people having fun and interacting as real people who love one another was really sweet and touching.  I found it very moving to see what an impact the show had on the people who made it.  But the best part of the documentary, for me, was getting to see clips from DS9 in gloriously beautiful HD.  Deep Space Nine was filmed on film, but it was edited on video as a cost-saving measure, and all of the visual effects were created at that low resolution.  So the show, sadly, tragically, only exists in SD, and could only be released in HD if CBS/Paramount were willing to fund a total re-editing of the show from top-to-bottom, which seems hugely unlikely.  (You can read more about this here.)  But the filmmakers crowdfunded their efforts to scan all of the clips from the show (twenty-plus minutes, throughout the film) into HD, and let me tell you, those clips were jaw-droppingly beautiful.  It's a revelation to see how amazing the sets, the costumes, the props, and everything else looks in HD (and on the big screen, where I first saw this film).  And we also got to see one of DS9's many spectacular battle sequences: a fully-HD version of the battle between Starfleet and the Dominion fleet from "The Sacrifice of Angels".  It was extraordinary.  This isn't a film I'd suggest that someone who's never seen DS9 watch. Although there are several sequences that I'd love to show to someone on-the-fence about watching DS9, because they're all about how great and groundbreaking this show was, there are also plenty of spoilers in the film of important plot developments from the course of the series that I wouldn't want revealed to a newbie.  This film is really made for the fans.  As someone who has loved DS9 since it originally aired, and who has deeply enjoyed revisiting the series several times in the years since, I felt like this film was made just for me.  (Click here for my full review.)
Before I wrap up this post, please allow me to make a request for everyone reading this to support my work here by clicking through to Amazon from any of the links on this site.  If you do, I'll get a tiny percentage of the price of any purchase you make on Amazon for the next 24 hours.  You can use the Amazon banner ad at the top of the page, or any specific Amazon link within one of my blogs.  You don't have to purchase the specific item I linked to!  Just use one of my links to get to Amazon, and then purchase whatever you normally would.  If all the readers of this site would just click through to Amazon through one of my links, whenever you do your shopping, it'd be a huge help towards keeping the lights on here.
Thanks for reading!  I truly value every one of you.  My journey back through 2019 isn't over, so I hope you'll join me back here on Monday…!