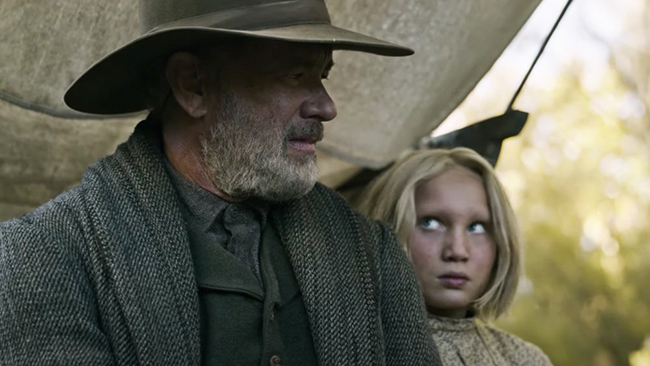 Josh's Favorite Movies of 2020 — Part Three!
Click here for part one of my list of my Favorite Movies of 2020, and click here for part two.  And now, let's dive into my top Five Favorite Movies of 2020!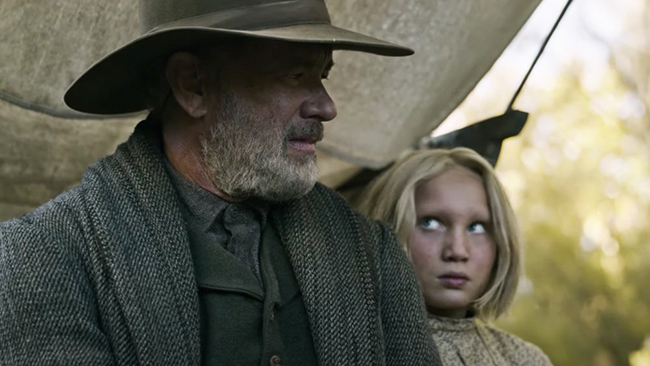 5. News of the World — I wrestled with which 2020 Tom Hanks film I preferred: News of the World or Greyhound.  Ultimately I gave News of the World the higher ranking, but I wonder if I'll feel differently a year from now.  They're both great films!  In News of the World, Mr. Hanks plays Captain Jefferson Kyle Kidd, a veteran of the Civil War who now eeks out a living by traveling from town to town to read from newspapers for the townspeople's entertainment and edification.  Captain Kidd winds up entangled with a young girl named Johanna, who was kidnapped from her family years ago and raised among a tribe of Native Americans; now she is alone and Captain Kidd sets out to reunite her with her surviving family members.  The film is adapted from the novel by Paulette Jiles and directed by Paul Greengrass.  I thought the film was a delightful departure for Mr. Greengrass — it's far more slowly paced and elegiac than the intense dramas and action films for which Mr. Greengrass is best known.  But his skill is on display in every frame of their beautiful, melancholy film.  Tom Hanks gives yet another spectacular performance.  (There's a scene, late in the film, in which Captain Kidd finally faces the grief he's buried, and it's an extraordinary few moments of film.)  This is classical movie-making of the best kind.  (My full review is coming soon.)
4. On the Rocks — Sophia Coppola's latest film stars Rashida Jones as Laura, a woman who begins to suspect that her husband Dean (Marlon Wayans) is cheating on her.  So Laura enlists the aid of her wealthy, lecherous, "man about town" father, Felix (Bill Murray, reuniting at last with Ms. Coppola for the first time since Lost in Translation), to track Dean and get to the bottom of what's going on.  On the Rocks is very funny at times — the pairing of Mr. Murray and Ms. Jones yields as much comedic fruit as I'd hoped — while also being a moving, sometimes sad story of the complicated relationship between Laura and her father.  I love how nuanced this film's storytelling is.  No one is reduced to a simple character, a hero or a villain.  Everyone in this film is imperfect, and Ms. Coppola demonstrates an endearing amount of affection for these broken, flawed people.  I love that about the film.  (My full review is coming soon.)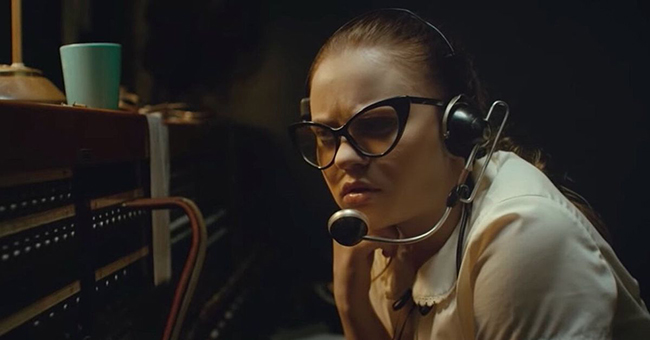 3. The Vast of Night — First-time filmmaker Andrew Patterson has exploded onto the scene with this wonderful sci-fi drama.  In a small New Mexico town in the 1950's, on a night in which most of the town is gathered in the local gymnasium for a basketball game, the young switchboard operator Fay (Sierra McCormick), and her friend, local radio DJ Everett (Jake Horowitz ), hear a mysterious sound that they come to believe is extra-terrestrial.  The film was made for a tiny budget (less than a million dollars) and it is beautifully simple, featuring a very small cast.  But Mr. Patterson and his team have stretched their resources with incredible skill to create a wonderfully fully-realized film that feels much larger than it actually is.  Mr. Patterson's camera-work and technical virtuosity is impressive.  The film is structured around a series of lengthy takes that are visually stunning and that also do a terrific job at ratcheting up the tension.  (In particular, there's one tracking shot that moves through a huge stretch of the town that absolutely blew me away.)  The film's two young stars, Ms. McCormick and Mr. Horowitz, rise to the challenge of having to perform, in these long, theater-like takes.  (There's one especially stunning sequence in which Ms. McCormick performs a lengthy sequence, all alone, while she's working the switchboard; I had a huge grin on my face by the time they finally cut.)  Both Ms. McCormick and Mr. Horowitz deliver compelling and very memorable performances.  I was delighted by pretty much every minute of this film.  I'm so glad it's available on Amazon for all to see.   (My full review is coming soon.)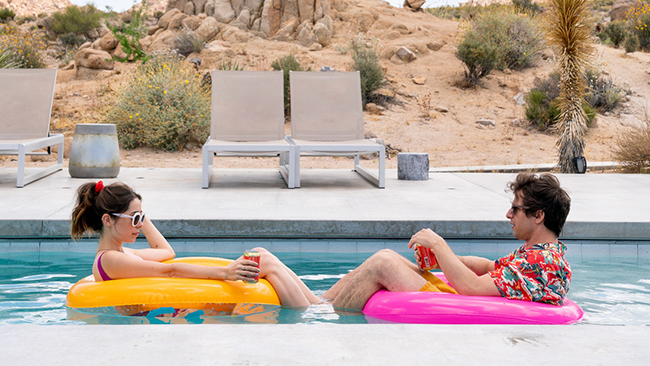 2. Palm Springs — Who knew how much I would love yet another riff on Groundhog Day?  (Already last year I fell in love with the Groundhog Day type story of Russian Doll.)  Andy Samberg stars as Nyles, a man who, we quickly discover, has been living the same day over and over and over.  That day happens to be the wedding of Tala and Abe, and Nyles is there because his girlfriend Misty is a bridesmaid.  Nyles has already arrived at the point that we saw Bill Murray get to in the middle of Groundhog Day — he's already lived this day uncounted times, and he's become resigned to his fate that he will continue reliving that day forever.  But then something changes: Nyles hooks up with the bride's sister Sarah (Cristin Miloti), and she winds up stuck in the time-loop with him!  Things get crazier from there.  I was completely surprised by how much I loved this film, written by Andy Siara and directed by Max Barbakow.  It's perfectly paced, and the story has a number of fun twists and turns that kept me guessing.  Andy Samberg and Cristin Miloti are both terrific, and J. K. Simmons kills in a small but critically important role.  I suspect this is a film I will enjoy rewatching a lot.  (My full review is coming soon.)  (Photo above by Chris Willard, courtesy of Sundance Institute.)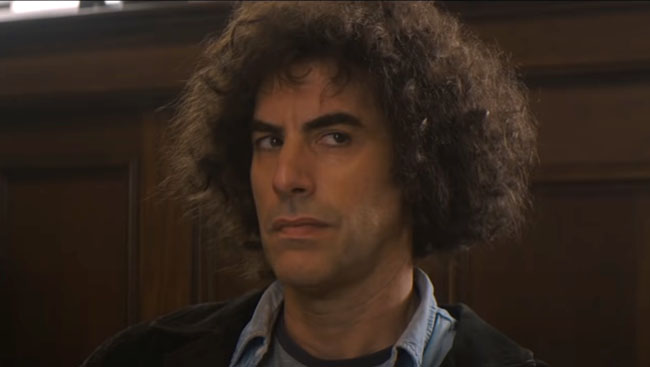 1. The Trial of the Chicago 7 — The Trial of the Chicago 7, written & directed by Aaron Sorkin, tells the story of the seven men (really eight, counting Bobby Seale, the co-founder of the Black Panthers) who were put on trial by the U.S. government following the violence between the Chicago Police and the anti-war and counter-culture protests at the 1968 Democratic National Convention.  The film is a story about members of our government using their political power to try to destroy their enemies.  It's about how our criminal justice system can be twisted by bad-faith actors to be used as a weapon against against our citizenry.  And it's about men and women protesting what they see as the wrongs of our society and being met by anger and violence from the police.  In short, this is not only a critical history lesson that's important for every American — it's also a film that is very much about what has been happening in the United States of America throughout 2020 (and into 2021).  I found the film to be absolutely riveting.  It's funny and it's horrifying.  As intended, it made me very angry,  but it's not a depressing slog.  Mr. Sorkin's skill with dialogue ensures that almost every single scene is so brilliantly written that you'll be dazzled by the word-play.  His skill with structure ensures that he is able to dramatize a trial that went on for month after long month, so that as you watch the film unfold, you're carried along with the drama of the story.  The cast is an extraordinary assemblage of talents, and Mr. Sorkin gives each of them a chance to shine: Sacha Baron Cohen, Yahya Abdul-Mateen II, Mark Rylance, Eddie Redmayne, Frank Langella, Joseph Gordon-Levitt, Michael Keaton, Jeremy Strong, John Carroll Lynch, Alex Sharp, Ben Shenkman, Noah Robbins, Daniel Flaherty, and many others do incredible work.  This was easily my favorite film of the year.  (Click here for my full review.)
Thanks for reading!
Please support MotionPicturesComics.com by clicking through one of our Amazon links the next time you need to shop!  As an Amazon Associate, I earn from qualifying purchases.  That means I'll receive a small percentage from any product you purchase from Amazon within 24 hours after clicking through.  Thank you!