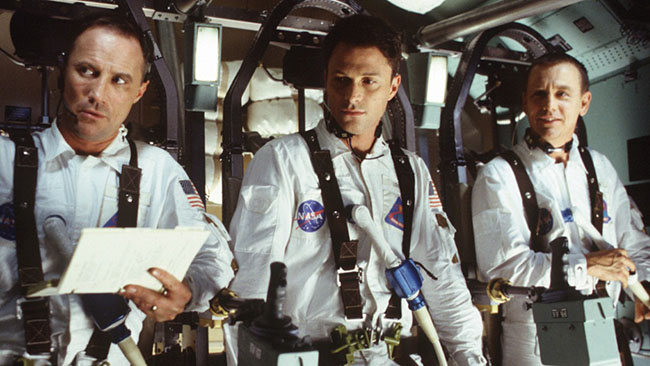 Josh's Favorite TV Series of 2019 — Part One!
I am excited to begin my Best of 2019 lists!  Let's kick things off with my list of my favorite TV series of 2019.  What a year this was for TV!!!  I watched SO MUCH great TV, and even so, there were still so many shows I wanted to see but didn't get to, including but not limited to: the third season of The Marvelous Mrs. Maisel, Russian Doll, Barry, Living With Yourself, Undone, The Expanse, Fosse/Verdon, Chernobyl, Unbelievable, Ramy, Modern Love, Sex Education, and so many more shows.
Despite that, I had no trouble coming up with a whopping TWENTY-FIVE shows from 2019 that I absolutely loved.  Let's take a look, shall we?
Before we dive in, though, please allow me to make a request for you to support my work here by clicking through to Amazon from any of the links on this site.  If you do, I'll get a tiny percentage of the price of any purchase you make on Amazon for the next 24 hours.  You can use the Amazon banner ad at the top of the page, or any specific Amazon link within one of my blogs.  You don't have to purchase the specific item I linked to!  Just use one of my links to get to Amazon, and then purchase whatever you normally would.  If all the readers of this site would just click through to Amazon through one of my links, whenever you do your shopping, it'd be a huge help towards keeping the lights on here.
OK, here we go: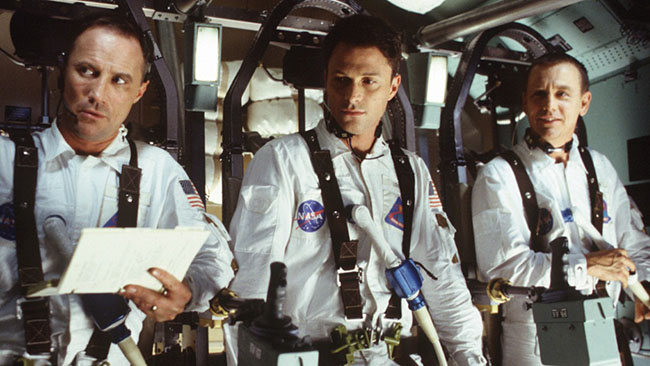 25. From the Earth to the Moon — OK, I'm starting the list off with a cheat.  This HBO mini-series came out back in 1998!  But this year, the series was released on blu-ray.  It was extraordinary to see the show in HD, and I was delighted that they took the time to redo the series' visual effects, which were originally created in Standard Definition!  That was very cool and not anything I'd ever expected.  (The series would be even higher on my list if they hadn't made the boneheaded decision to crop the original 4×3 full-screen presentation to a 16×9 image.  Growing up, I hated when widescreen films were cropped for 4×3 TVs, and the reverse is no better!!)  I adore this mini-series, executive-produced by Tom Hanks and Steven Spielberg, which charts the Apollo missions that first put a man on the moon.  It's as entertaining, and vitally relevant, as it ever was.  If you've never seen it, do yourself a favor and check it out.  Each one of the series' twelve episodes is magnificent.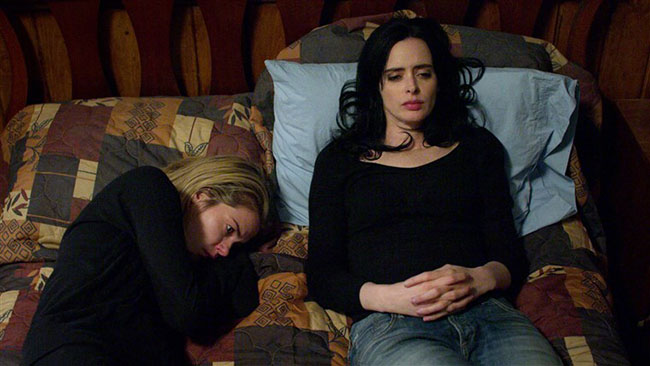 24. Jessica Jones — The biggest disappointment of the inglorious end of Marvel's Netflix shows was the loss of this show, which still had a lot of gas in its tank.  Neither the second or third seasons could hold a candle to the amazing first season, but there was still a lot to enjoy here.  Krysten Ritter is fantastic as Jessica, the stubborn, hard-drinking woman who doesn't want to be a hero.  I loved this show and I'm sorry it is gone.  (Click here for my full review of season three.)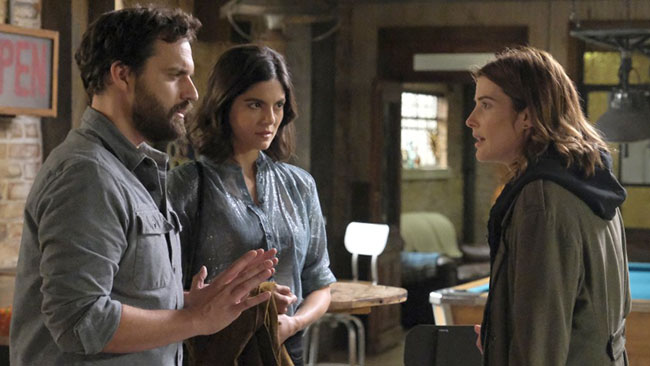 23. Stumptown — I adore the Stumptown comic-book series, written by Greg Rucka and illustrated by Matthew Southworth and Justin Greenwood, and the TV adaptation has been a fun surprise.  Who knew a network hour-long could be so good?  The series is twisty and interesting, without ever losing its light, funny tone.  Cobie Smulders is great as Dex Parios, a screwed-up young woman trying to get her life in order and find a way to help people.  (She's a worthy successor to Jessica Jones!)  The ensemble cast is tremendous, and the show overall is a hoot.  (Click here for my review of the season premiere.)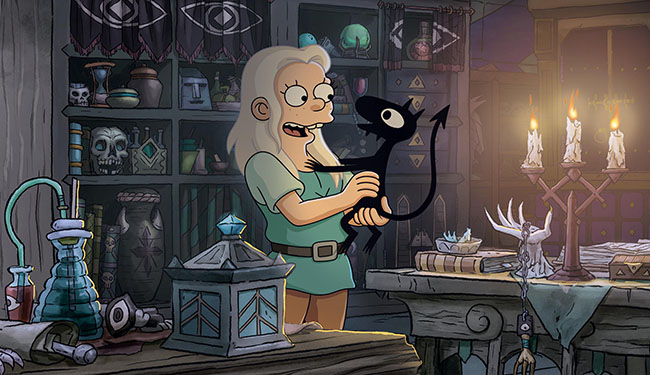 22. Disenchantment — The second season of Matt Groening's animated fantasy spoof/homage was just as much fun as the first.  I love the worldbuilding, as Mr. Groening and his team continue to flesh out this world and its characters.  The great voice cast comes to play, the animation is beautiful, and most of all, it's very funny and sweet.  Does this equal the very best of The Simpsons?  No, of course not.  But it's a fun and original animated saga, and I am really enjoying it.  (Click here for my review of season one.  My full review of season two will be coming soon.)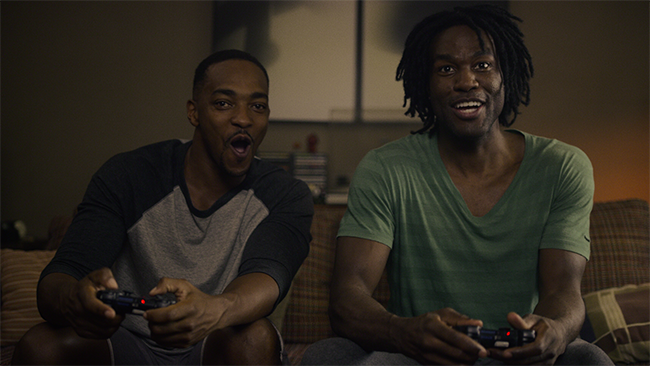 21. Black Mirror — I enjoyed all three of the new episodes that were released this past June.  In "Striking Vipers", Anthony Mackie (the Falcon!) and Yahya Abdul-Mateen II (who was so great on Watchmen!) play two friends who discover a new virtual reality fighting game that forces them to confront their sexuality.  In "Smithereens", Andrew Scott (Moriarty on Sherlock and the "hot priest" on Fleabag) plays a damaged rideshare app driver who kidnaps an employee of a huge social media company.  And in "Rachel, Jack and Ashley Too", Miley Cyrus plays pop-star Ashley O; there's more than meets the eye to the small, cute interactive robots modeled after her.  With amazing talent in front of and behind the camera, this show remains as fascinating and prescient as ever.  (These Netflix seasons don't equal the high of the original six British episodes, but that doesn't mean they're not still pretty great.)  I can't wait for more.  (Click here for my full review of season five.)
C'mon back TOMORROW for numbers twenty to sixteen!
Please support MotionPicturesComics.com by clicking through one of our Amazon links the next time you need to shop!  We'll receive a small percentage from any product you purchase from Amazon within 24 hours after clicking through.  Thank you!